Las Vegas Wedding Photographers
I have always loved Las Vegas and I have always wondered how the local Las Vegas Wedding Photographers liked working in that market.  Because, for me it would seem like a dream come true.  Mountains, desert, nightlife, it really seems to have it all, (granted I am from Vermont and moved to Miami in 2008.. so I can appreciate a bit more of a "diverse" landscape).  But, before I get too far into Las Vegas Wedding Photographers.. let me give you some of the back story on what I think will be one of the most impressive and interesting blog posts I may ever do 🙂
It was early November, 2018 and I was laying in bed one morning (this is a true story) and I was doing what I generally do, going through my Instagram feed getting ready for my daily post.  This time tho, I was a bit sad because it just seemed that all of the content that I post is the same (to me).  It's the same places, the same look and feel and it's not that there is anything wrong with that… it's just… I am tired of the same thing over, and over again.  Can you blame me?   Don't get me wrong, I love making images and I know from the average client's perspective this is all you want from me anyway.  So, in that sense it's okay.  But, for me as a person and someone who is supposed to be "driven" by my work, and truly excited each time I grab my camera… I was in a creative "rut", and was seeking something different.
Now, as some of you (or none of you) know I teach photography.  I teach business, I teach lighting, composition, posing, the list goes on.  The simple fact is that I have done this now for a long, long time (10 years full time) and many people are drawn to my style and want to learn from me.  I am flattered and at times I put together workshops to teach others.  So, I jumped on my Instagram story and basically said "I want to shoot bridal styled session out in the desert!, whos in?"
I was shocked at the DM's I got shortly after.
I had both models, former brides and students all asking for details.
I put the whole thing together in just a few days and what started off as a simple dream, had now become a full blown production.  I was excited beyond words and hopefully this is something that many Las Vegas Wedding Photographers can learn from and be inspired by, although for them..  shooting in the local area is probably "old hat" to them (just as I often feel about Miami).  This proves a point that I often speak about.. hiring a Destination Wedding Photographer is always the best idea.  Why?  Because you get a very excited and motivated person looking to move the world for results and the thrill of the trip vs. another "same'ol game at the local venue".  Make sense? 🙂
So, first let me introduce to you the team..
It was myself (obviously), my good friend and aspiring cinematographer Joe from Vermont (and his amazing wife who came to also help).  Then, I had a former bride of mine (Rita) come and rock her amazing Berta wedding dress (cost as much as a new Toyota), then I also flew out a model friend of mine from Miami (Maria) who I could use for both my own photos and to teach others.  Then, I had two students fly in from Alberta Canada (Tommy and Peter).  Two of the nicest guys I have ever met in my entire life.  Lastly, I connected with a local Las Vegas makeup Artist (Krystal) who is beyond words amazing, and has become a real friend of mine (even took her to Paris some months later for another amazing photo trip..  stay tuned for that 😉   Then, in addition to all of this I hired a few local models in Las Vegas who were also stunning (you will see below).    All of this, because I had a dream and passion for something different.  To say this trip changed me would be an understatement.  This has been one of the most needed events in my life so far.
Now before I go any further..  let me share with you a video preview of this trip..
Okay, lets jump into this..
I am going to start with my bride Rita.  Her Berta dress was to die for and I think this trip was the perfect "excuse" to wear it again (which for most brides never happens)
Now, I did A LOT of research before I left Miami in terms of "where" I was going to be shooting.  I had my heart set on three places.  The Valley of Fire (National Park).  The dry lake beds (near Henderson, NV) and then at this really cool place called "Nelson's Ghost Town".  Two of the three places required advance (and costly) permits to shoot.
Let's start with the Valley of Fire National Park.  They required, REQUIRED a mandatory site visit (which could not be the same day as the shoot BTW) to tour the land and then show the rangers where *exactly* I wanted to shoot.  This was not a simple process, and many of the locations I wanted were declined by them.  However, I was able to get a few great locations and it was well worth it.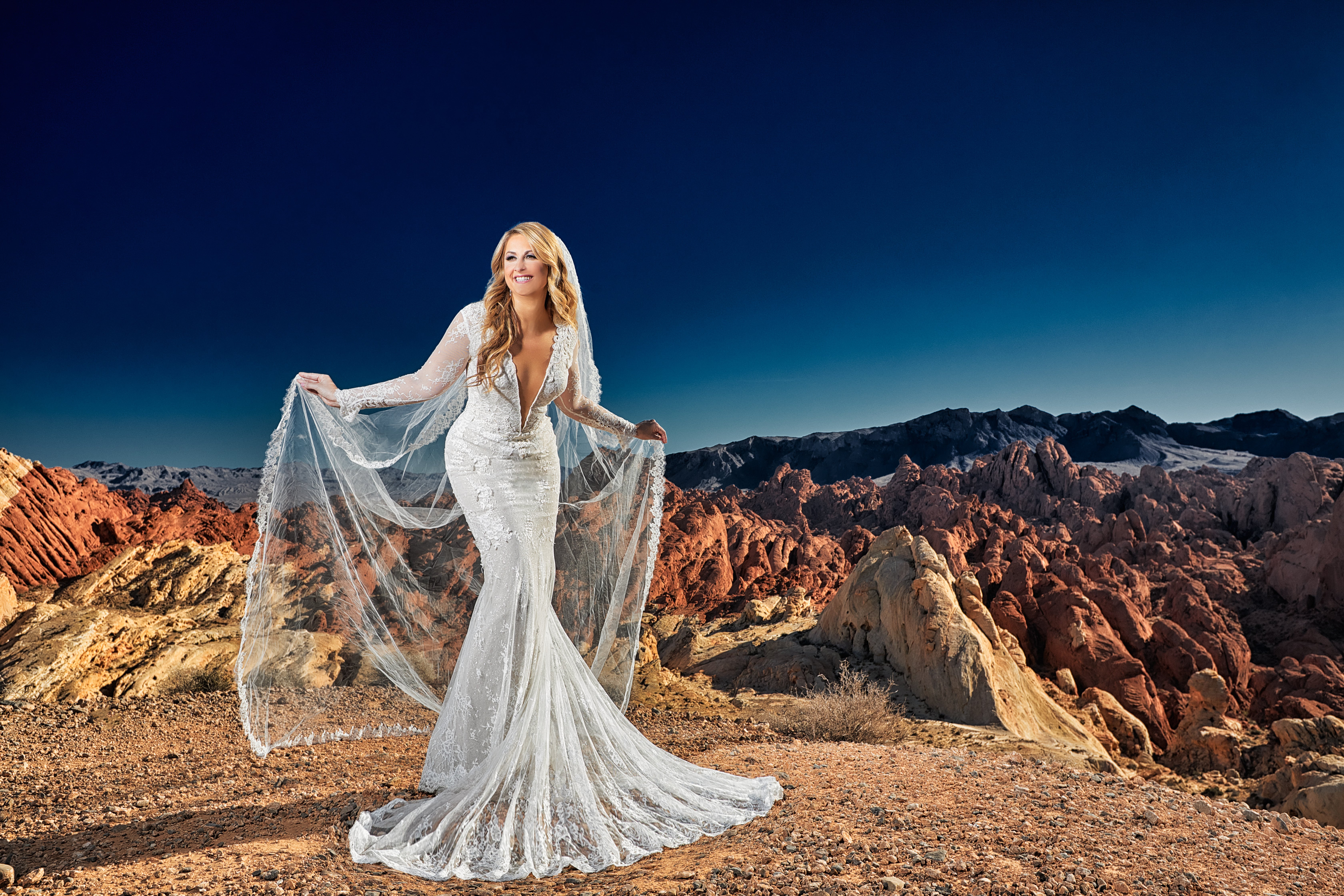 Notice what a difference the lens choice makes in the above and below image of Rita?!   In the top, I was using the 16-35mm and this was perfect to include much of the landscape around her and have a nice depth of field (background in focus).   But, then switching over to a 200mm lens (70-200) proved to give the opposite effect.  In this case Rita was sharp and in focus and the background became more of a "graphic" and this was a great idea to mix the two together.  It's important to always think about your location in terms of lens selection.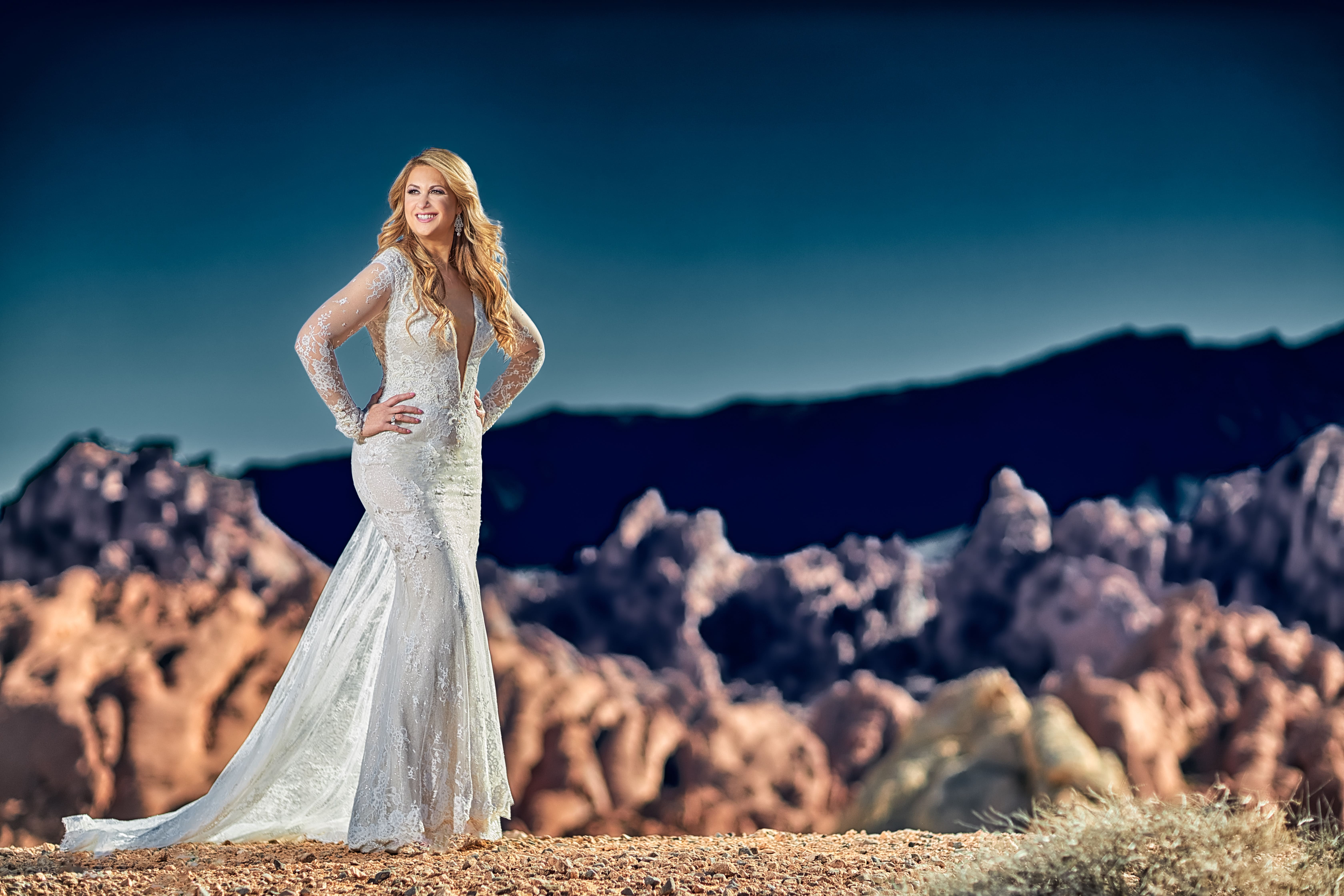 I don't think many Las Vegas Wedding Photographers have done shoots like this, with this type of drive, focus, and excitement.  THIS is the advantage of flying me in from Miami to shoot your Las Vegas Wedding!  The flights are cheap, I know the area, and am more motivated than likely ANYONE else in the local Las Vegas market because for me its the whole "experience" that I am after and ability to write about it on my blog.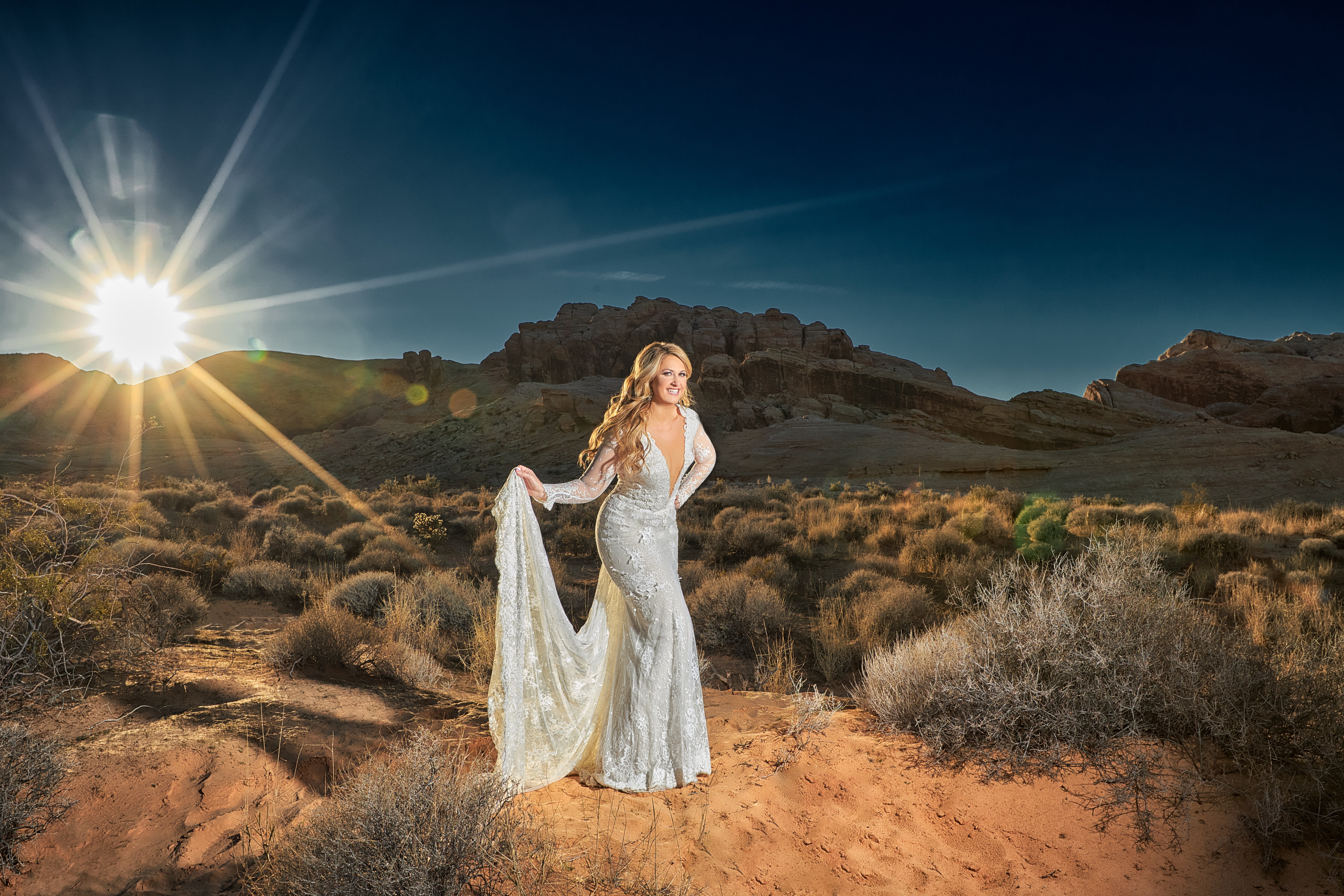 The other very important aspect to producing super high quality images?..  Time of day.  The "correct" time of day is absolutely important so that you can get clear and well defined shots.  For example (above) the sun was close to setting and I have positioned it behind Rita.  This allows for a nice hair light on her, as well as all of the little bushes in the background to "pop" and create some nice texture.  I also timed the shot so that the sun was just barely over the rock line to give a nice "explosive" effect in camera.  This is achieved by stopping down your lens to around f/16 or smaller.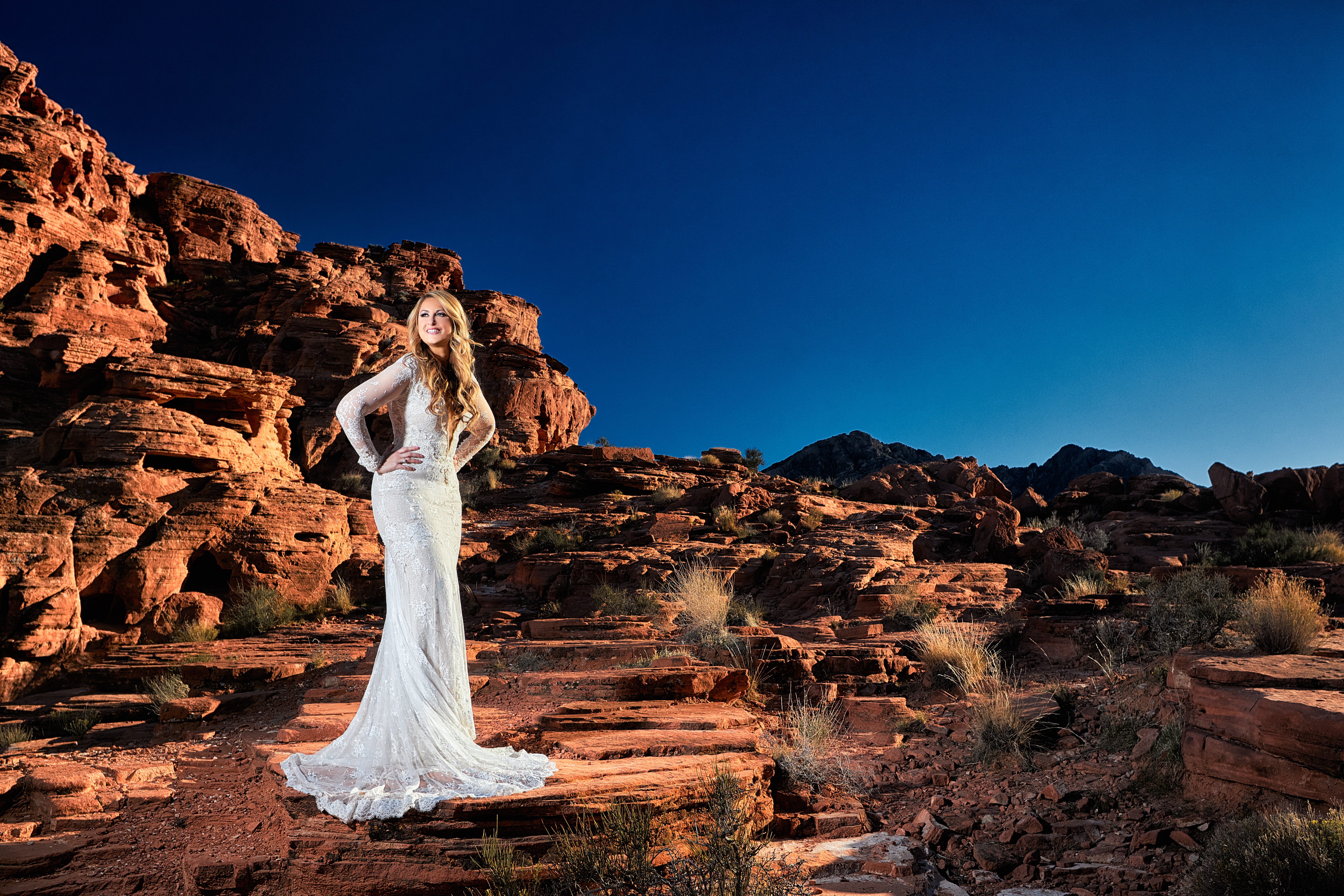 If it looks like she is standing on the edge of a big cliff… it's because she is. 😉  Now, notice the texture I was able to create here on the rocks.  This was due to the late day setting sun.  We had to double back to this location late in the day (although we had been here in the am) because the background was so much better with that directional light on the rocks.  This made all of the difference in the world.
Here is a little 60-second video showing us behind the scenes shooting Rita at this unreal location:
Now, here are some other images from my good model friend Maria..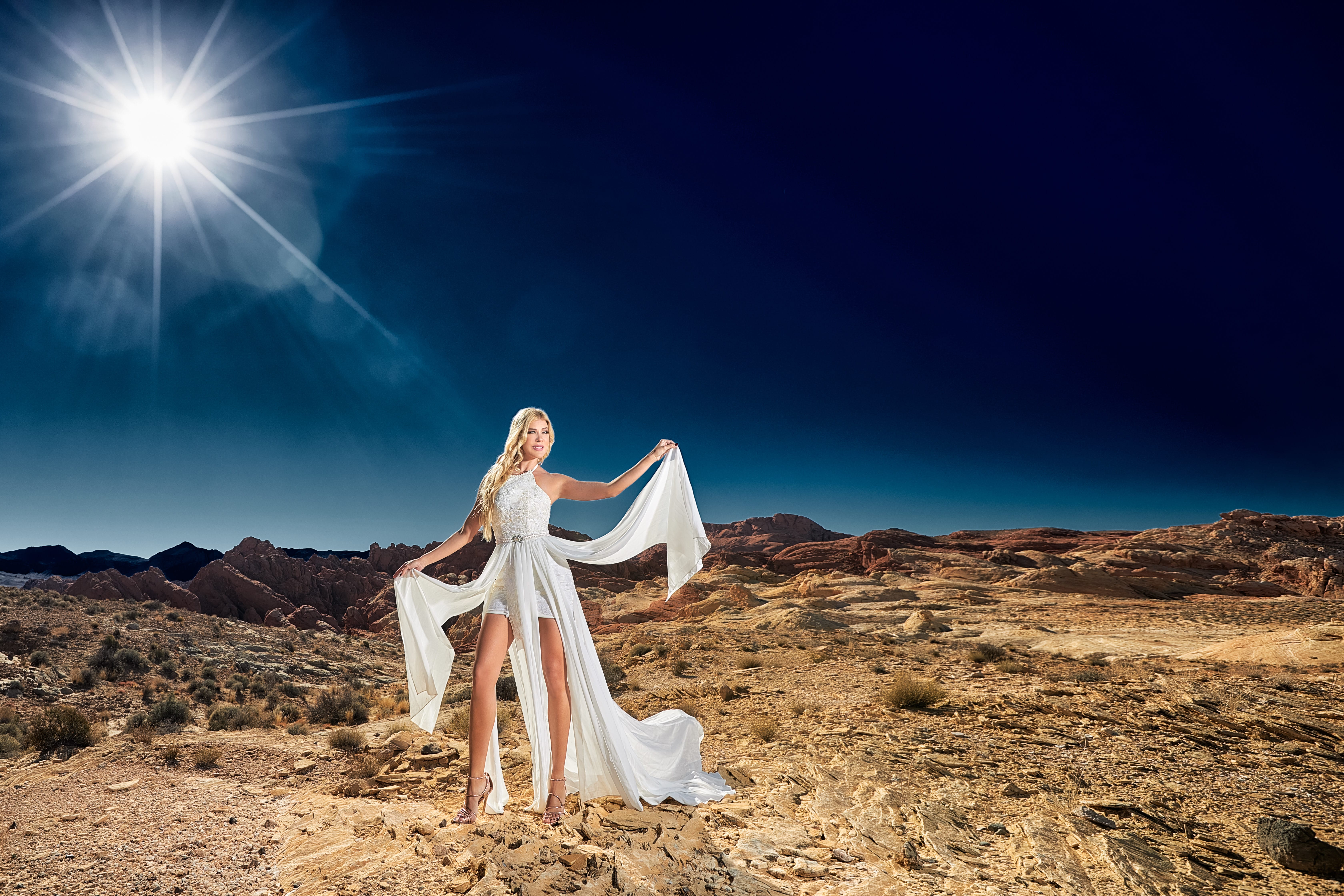 This first image of Maria (above) is actually one of my fav. shots from the whole trip.  Mainly because it's just so damn incredible!  First of all, it looks like I went to the planet MARS!  Second, it was hands down one of the most complicated shots to pull off.  This was because that dress was SO HARD to work with!  Every two seconds one of the little fabric parts would fall, or the wind would take it to a place that I did not want.  I truly was getting pretty frustrated (and can be seen on the video if you watch the whole 90-min film) but, in the end it was well worth it.  I also love it, because It shows a short wedding dress (almost unheard of) and lots of sexy legs 🙂  Shots like this are a Las Vegas Wedding Photographers dream come true!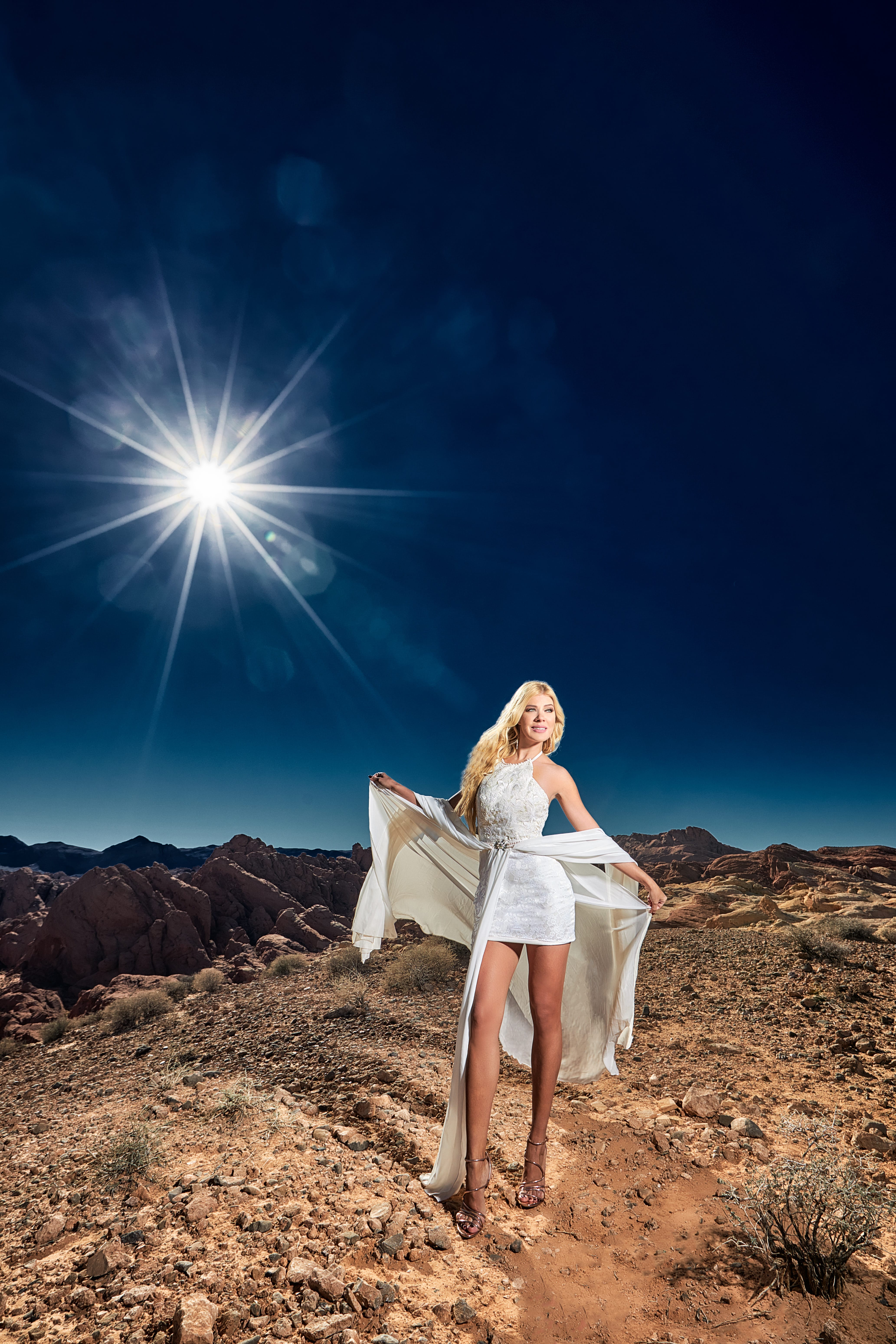 I love legs and short dresses in general.  Beyond it being a personal thing, it makes posing really easy and very well defined.  Plus it always looks sexy.  AND.. how often do you see a SHORT MINI SKIRT wedding dress?  Well, here you go.  This is a Las Vegas Wedding Photographers dream come true!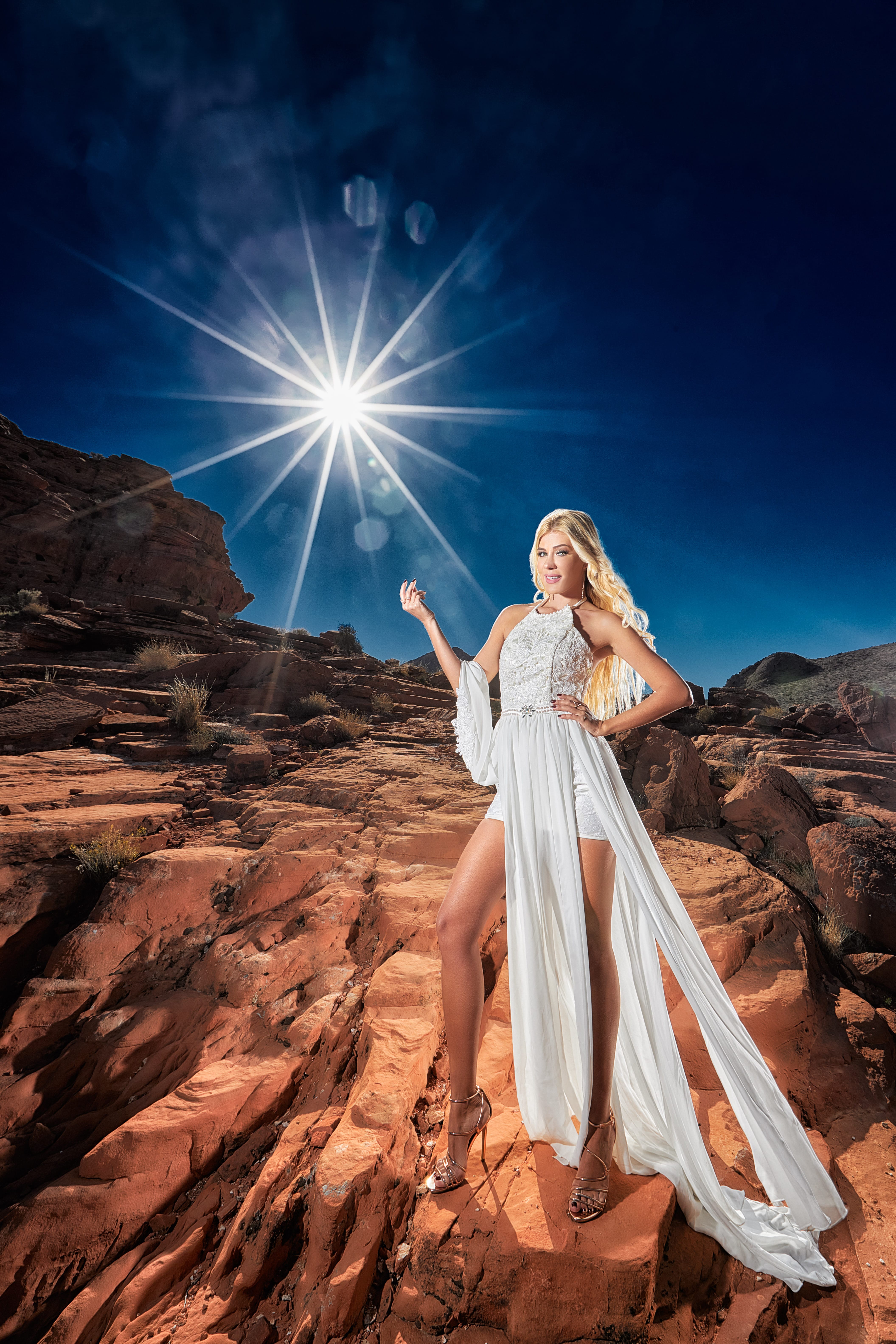 We spent all day here, got a ton of amazing shots and it was just incredible.   Now, I am going to take you to another location just outside of Las Vegas, called "Nelson's Ghost Town".  This was all shot on a different day and this time I had some other models come and join as well.  Here are some of my best shots taken in this location"
Now let me take a moment and fully tell you about the two shots of Maria in the purple "dress".   I say "dress" simply because..  we made it, out on location.. in the freezing cold.  (see the quick video below to see what I am talking about).  Thankfully, the image above has become one of the most iconic images that any Las Vegas Wedding Photographers has ever taken.  This shot was planned before I even got on the plane and left Miami, FL for this experience.  I knew the time of the day I wanted, I knew the location I wanted, I knew the lighting that I wanted, I had the whole thing pictured in my head perfectly.  EXCEPT, I did not think about how COLD it was going to be!   The ambient general daytime temp. was perfect all day.  However, as it got closer to sunset.. this temp falls off FAST!  Also, when your working on the big open dry lake bed like this.. wind becomes the biggest challenge and make it FREEZING cold.  It was just a tick above 32F for this shot.
It was well worth it.  Even Maria agrees 🙂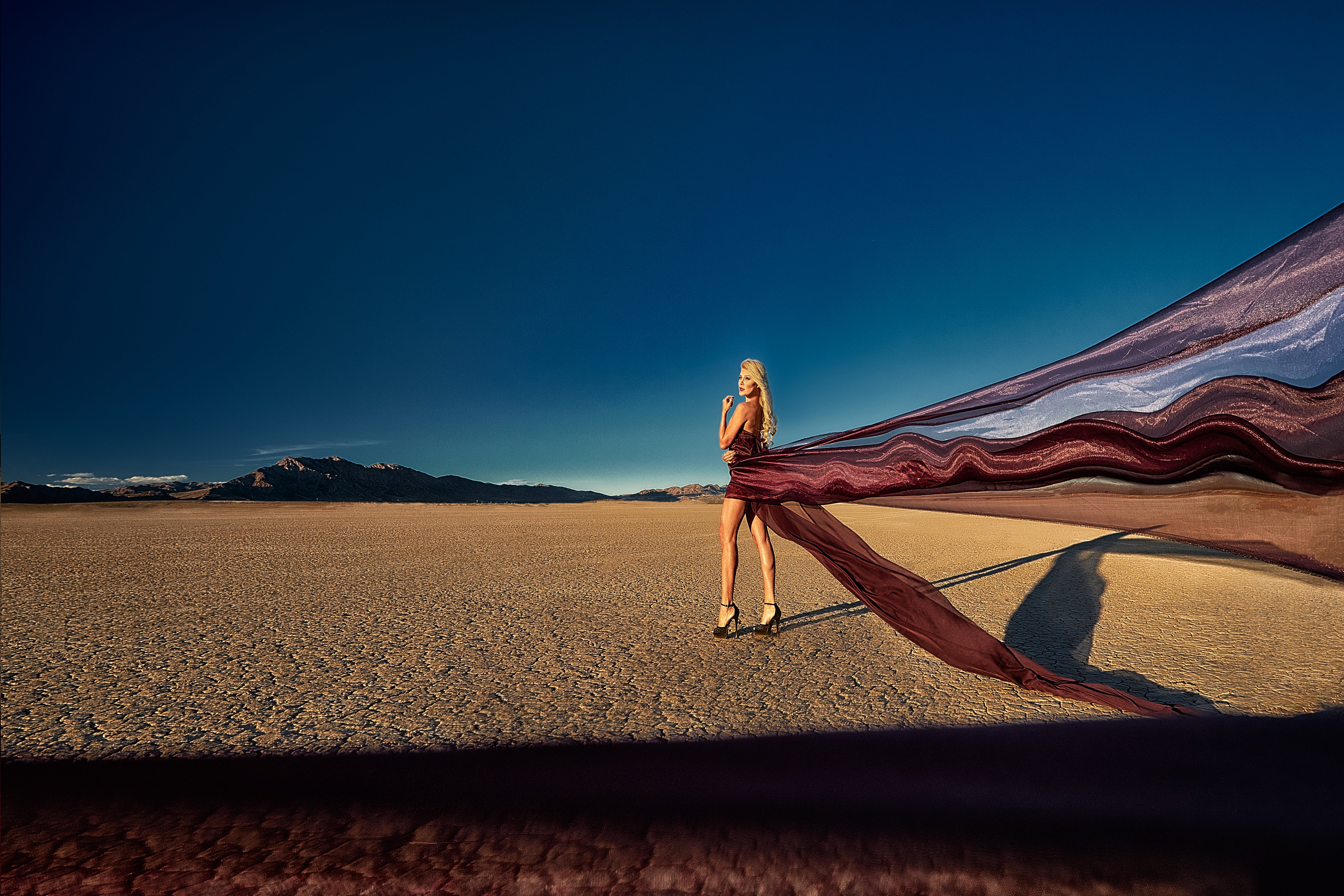 Here is a quick 60-sec preview of the shoot with Maria out in the FREEZING cold dry lake bed, as we create one of the most iconic images of any of the Las Vegas Wedding Photographers out there! Enjoy.
One of the other advantages over most all Las Vegas Wedding Photographers, is that I have a background in shooting models.  Having started back in 2009 working with magazines and talent agency's this (at one point) was at the core of what I did.  Having that experience, vision and confidence (especially working with women) really gives me a nice base to work from regardless if I am shooting a wedding, an engagement session or simply just a set of images of someone out in the field.   To make my point, most Las Vegas Wedding Photographers (and wedding photographers in general) typically only have experience with just that.  Weddings.  So, they are limited and used to doing the "same old thing" day in and day out.  For me, this crushes creativity and is a quick way to the bottom in a crowded market where "everyone" thinks they are a wedding photographer.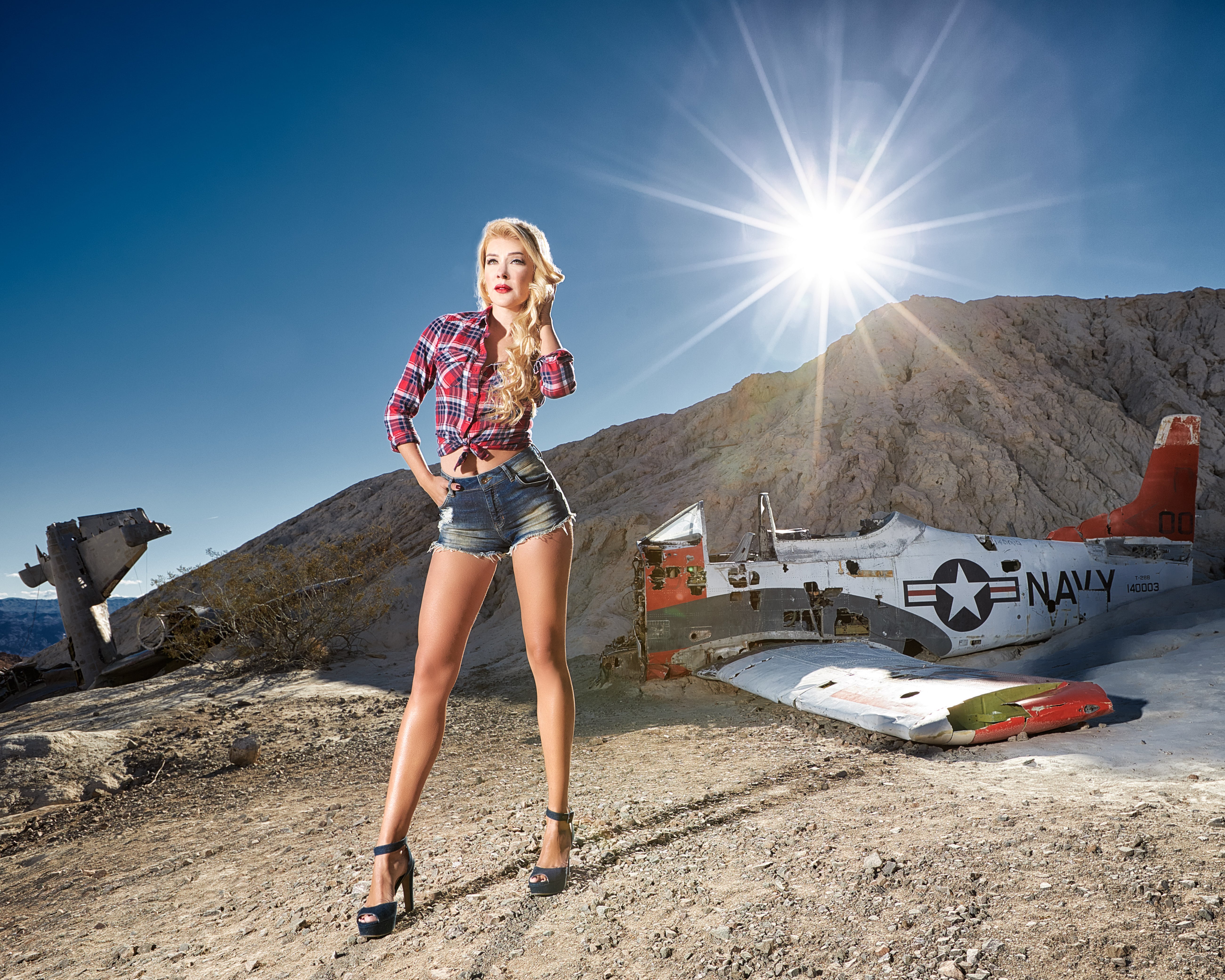 This location (link in the top of this page) was just amazing.  I made the sun do this, in camera by stopping down the lens to f/18.  This gives a kinda "explosive" feel to the images and when you look at the background it really works well.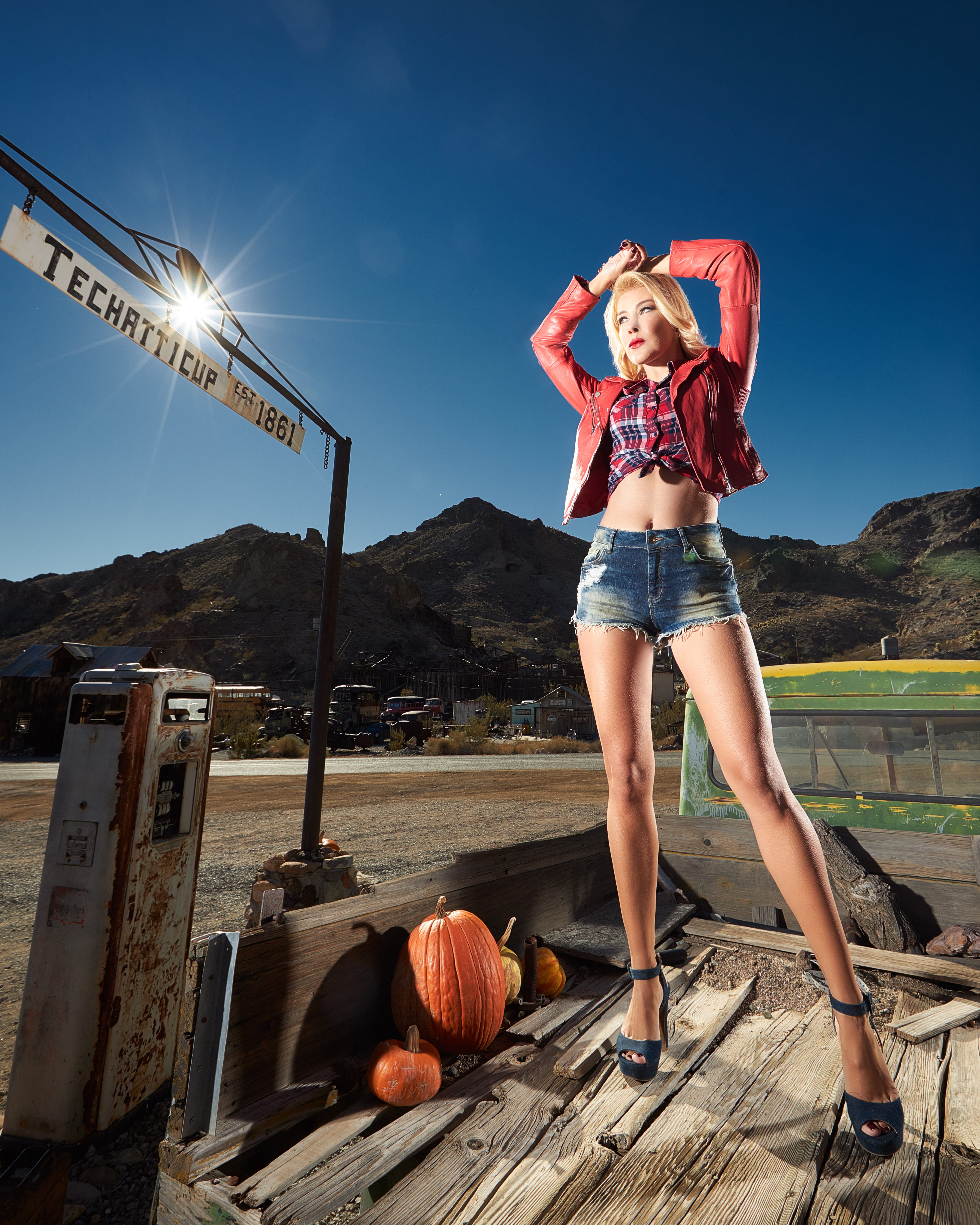 This shot was just about making Maria bigger than life (see full video for that).  How long can I make her legs look on camera?  Well, this long. 🙂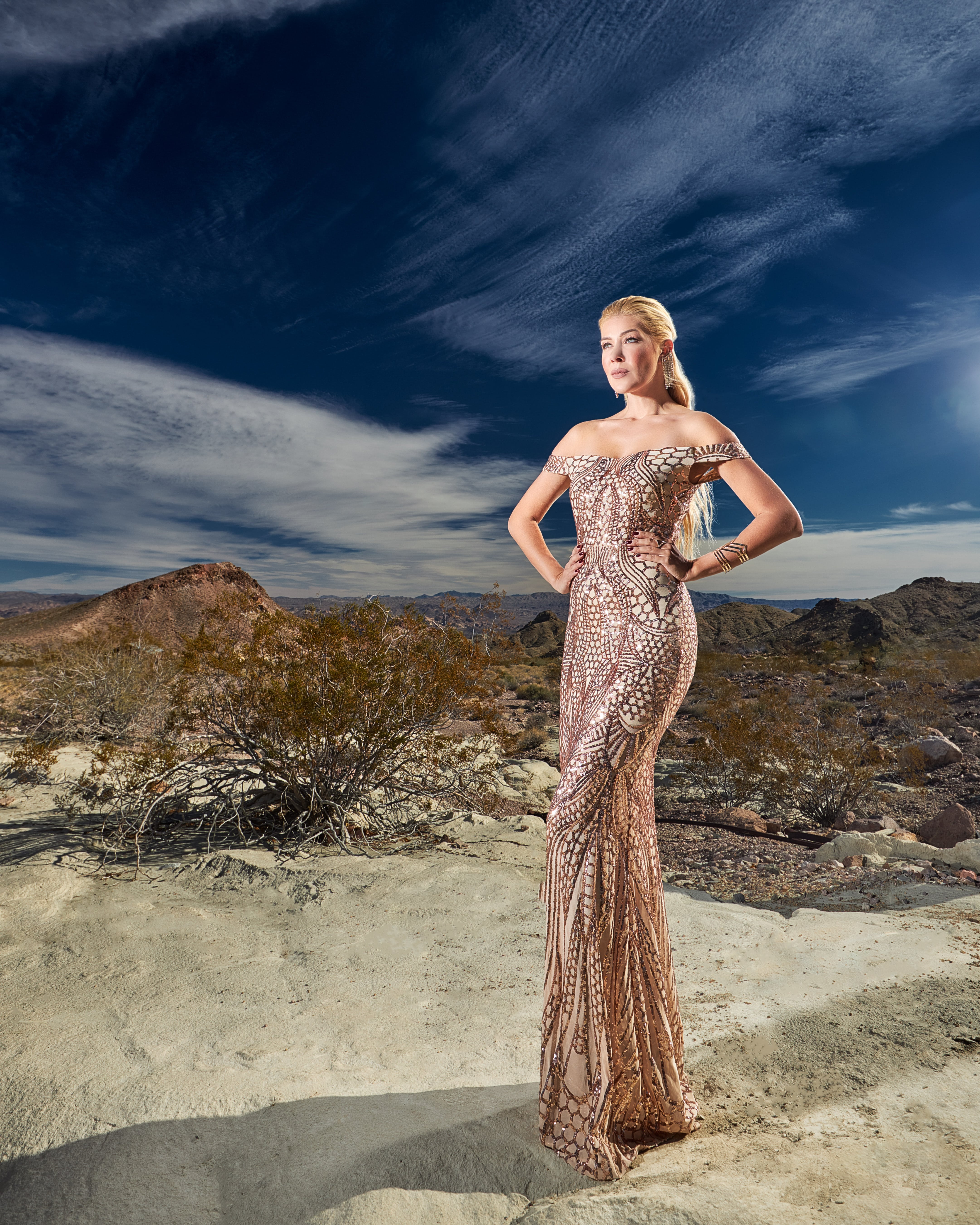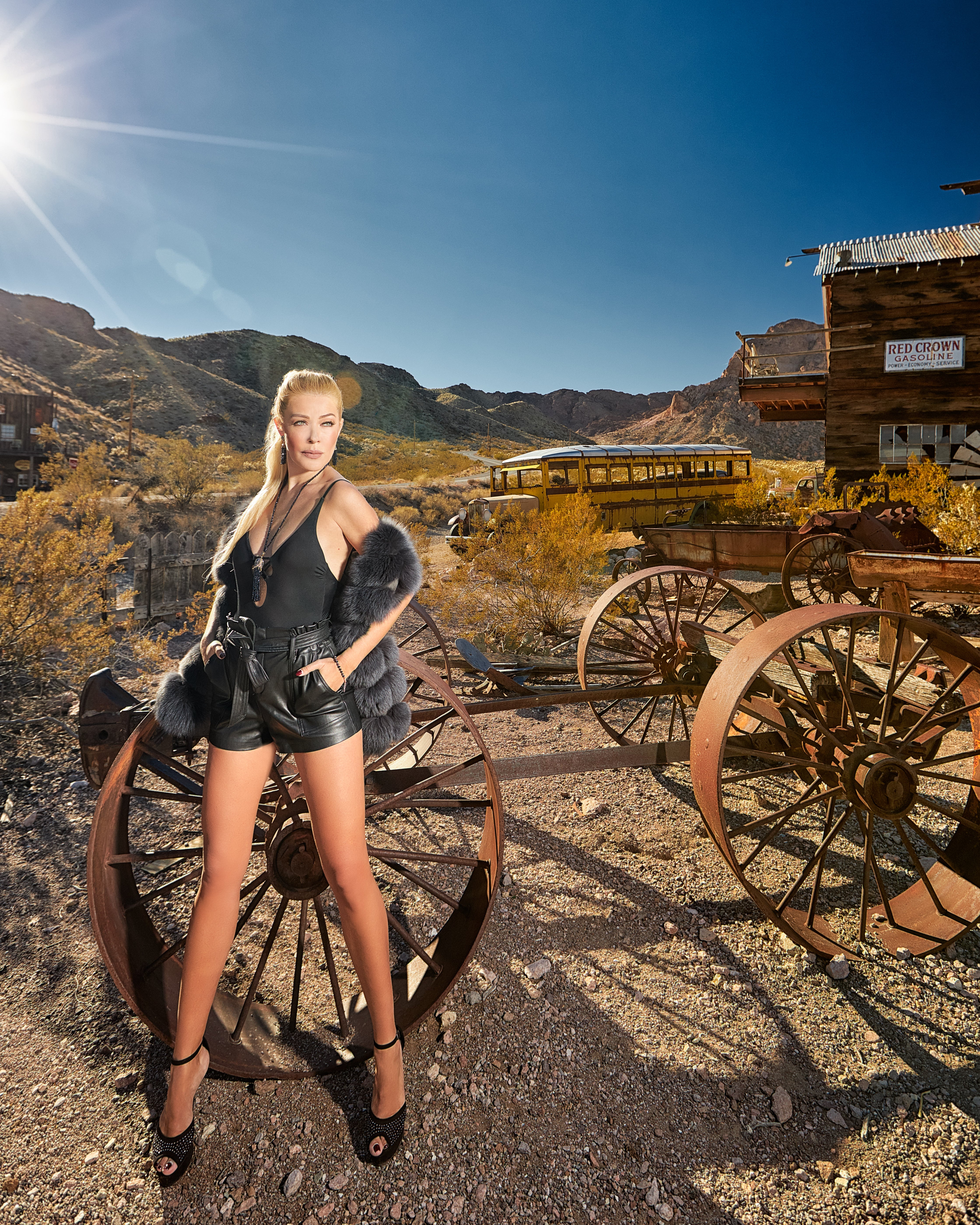 the legs, the twisty road, the bus, the late day sun and the composition all just make this an image that will never get old.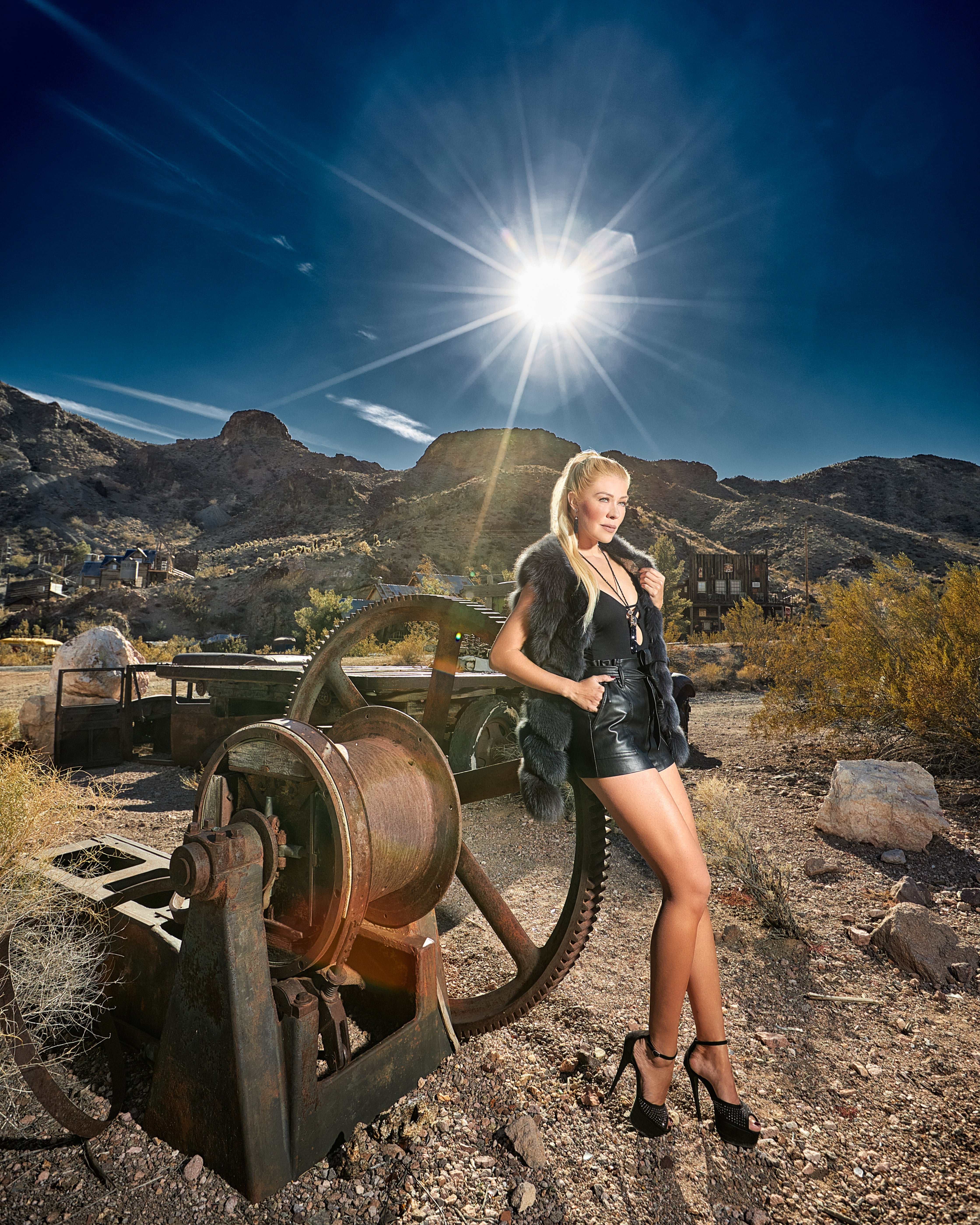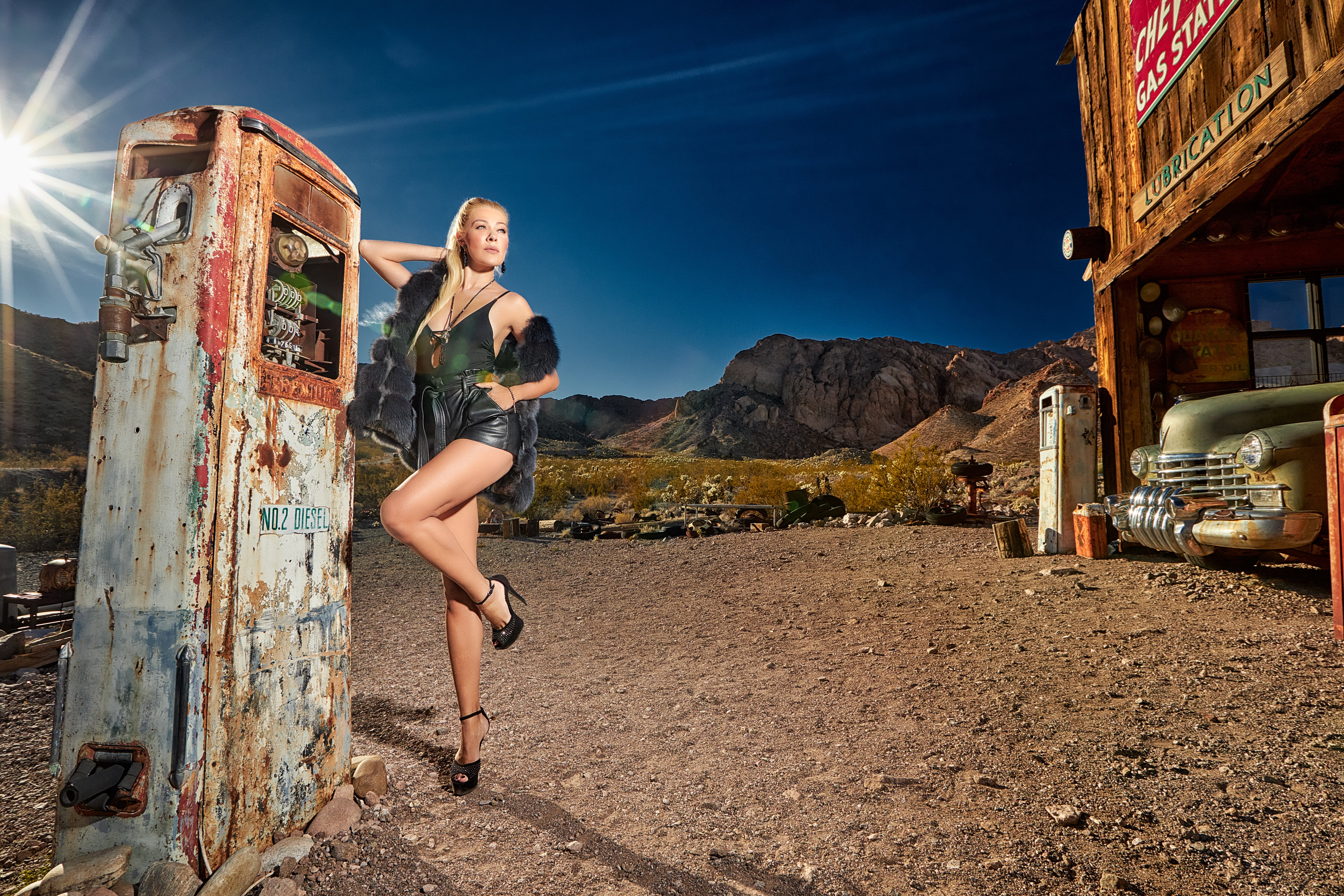 The next model that I got to work with was Saria.  She is a former Miss Nevada and just one amazing person in general.  Here are some of my favs. from her set: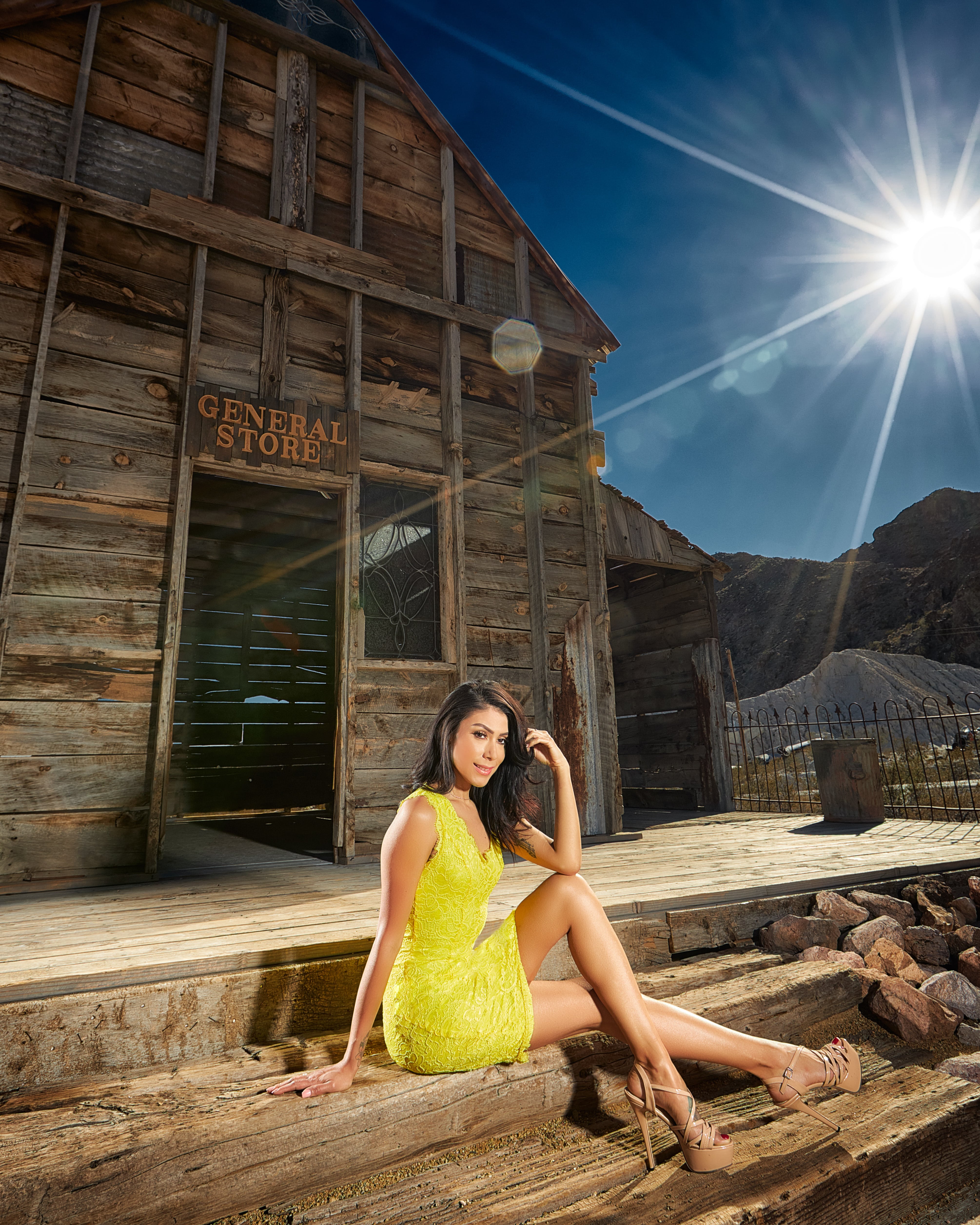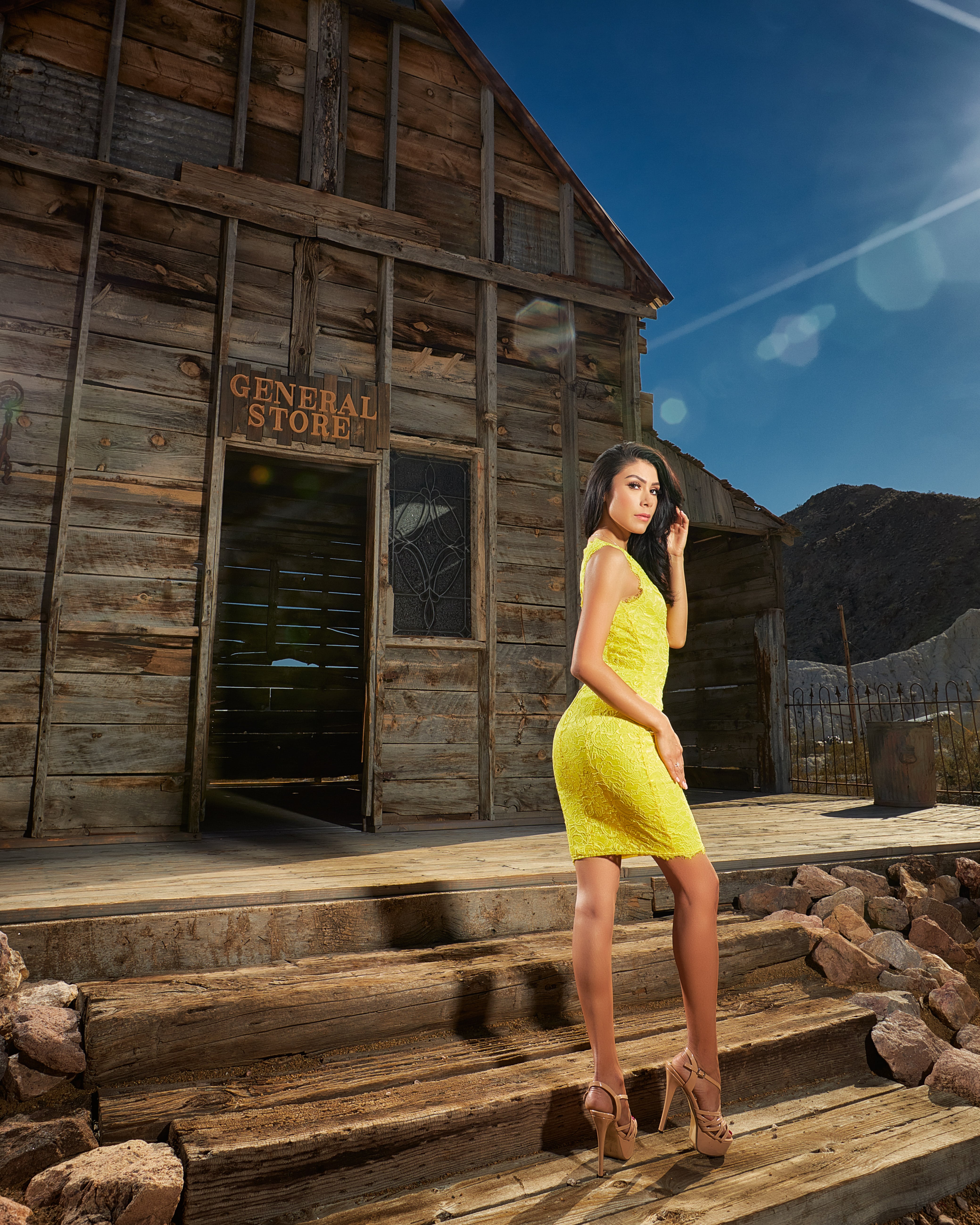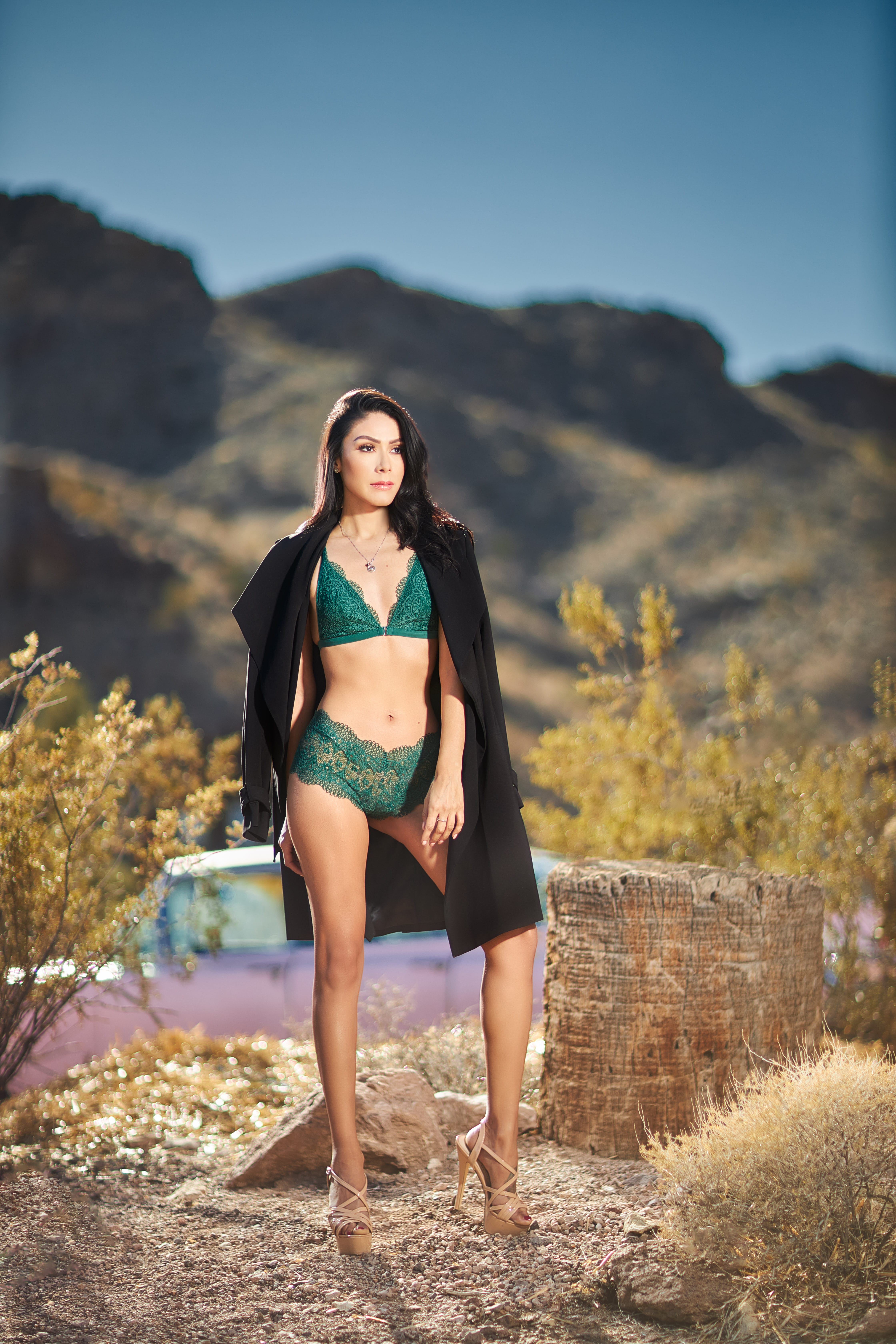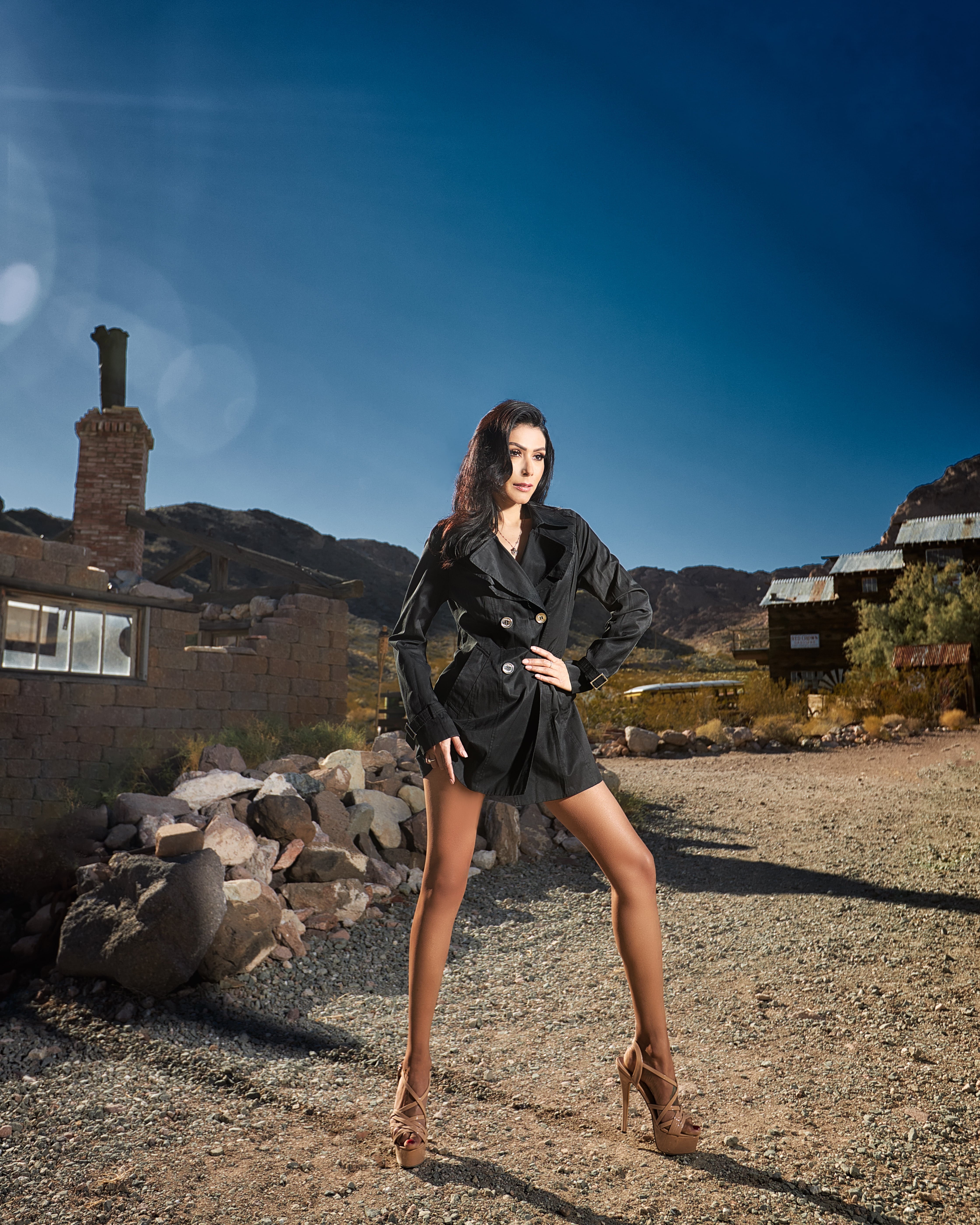 This above shot of her!  The legs are just amazing.  This was done using a super wide lens close to the ground and this makes her legs "appear" longer than with other focal lengths.  This is common technique in fashion photography and worked well here too.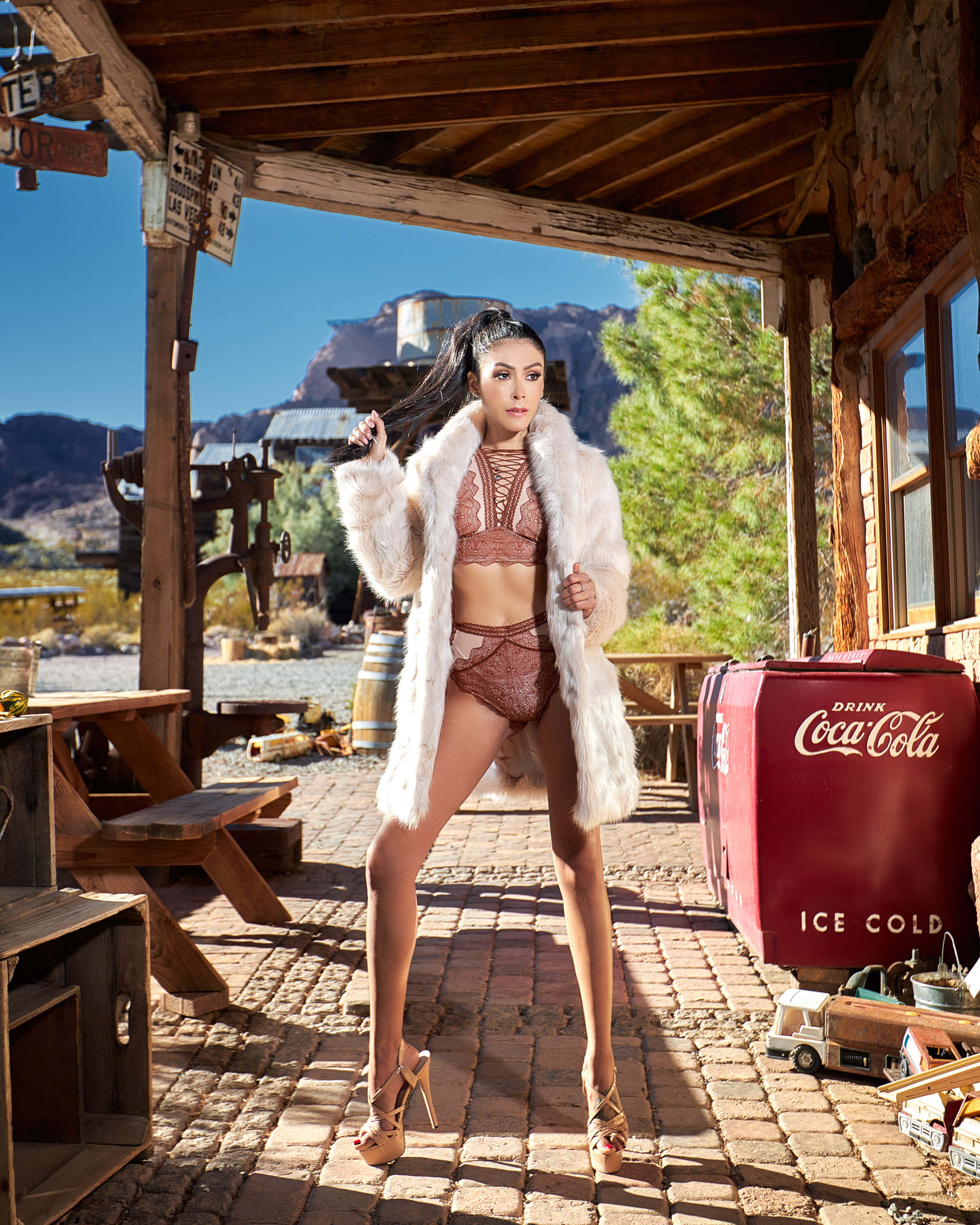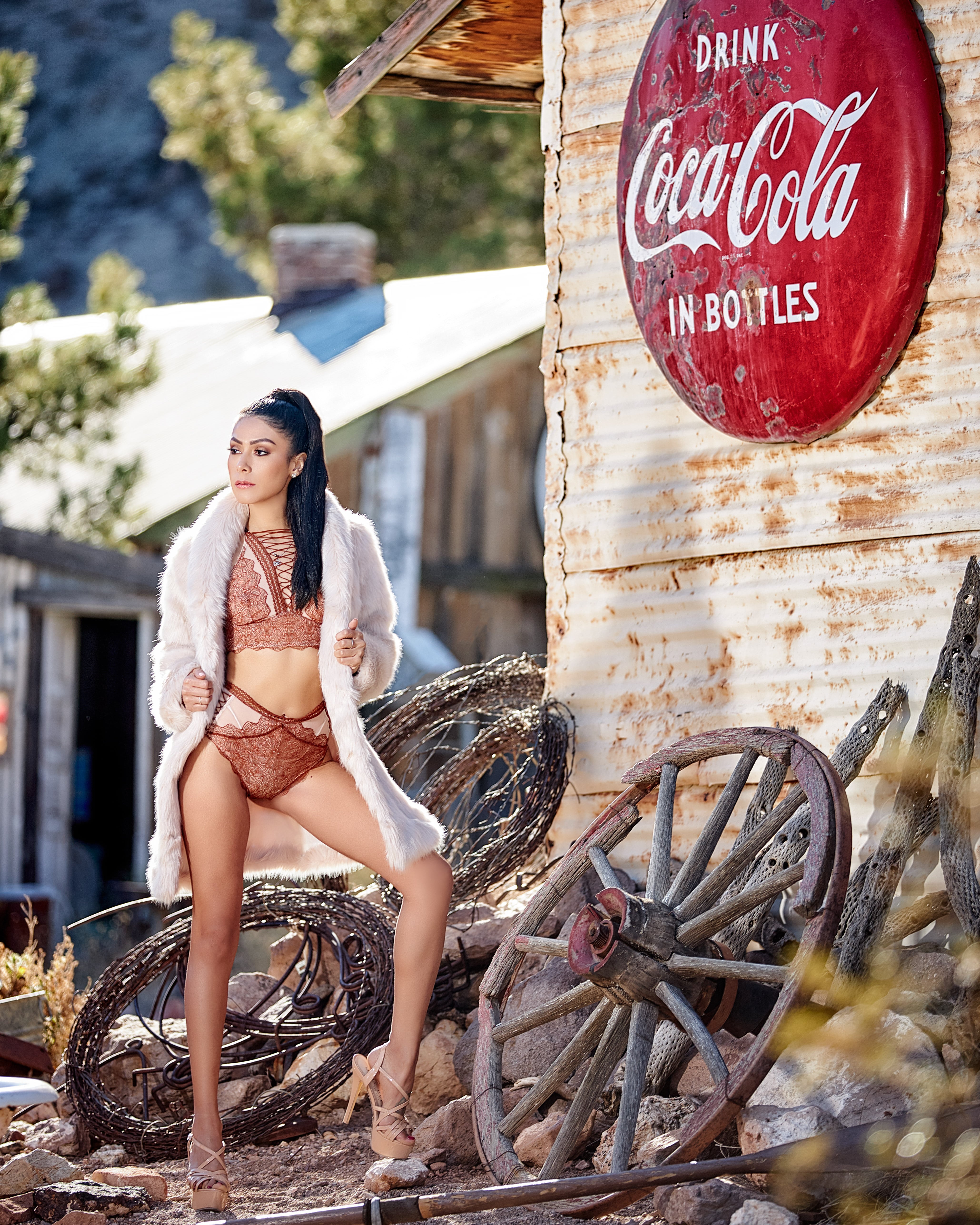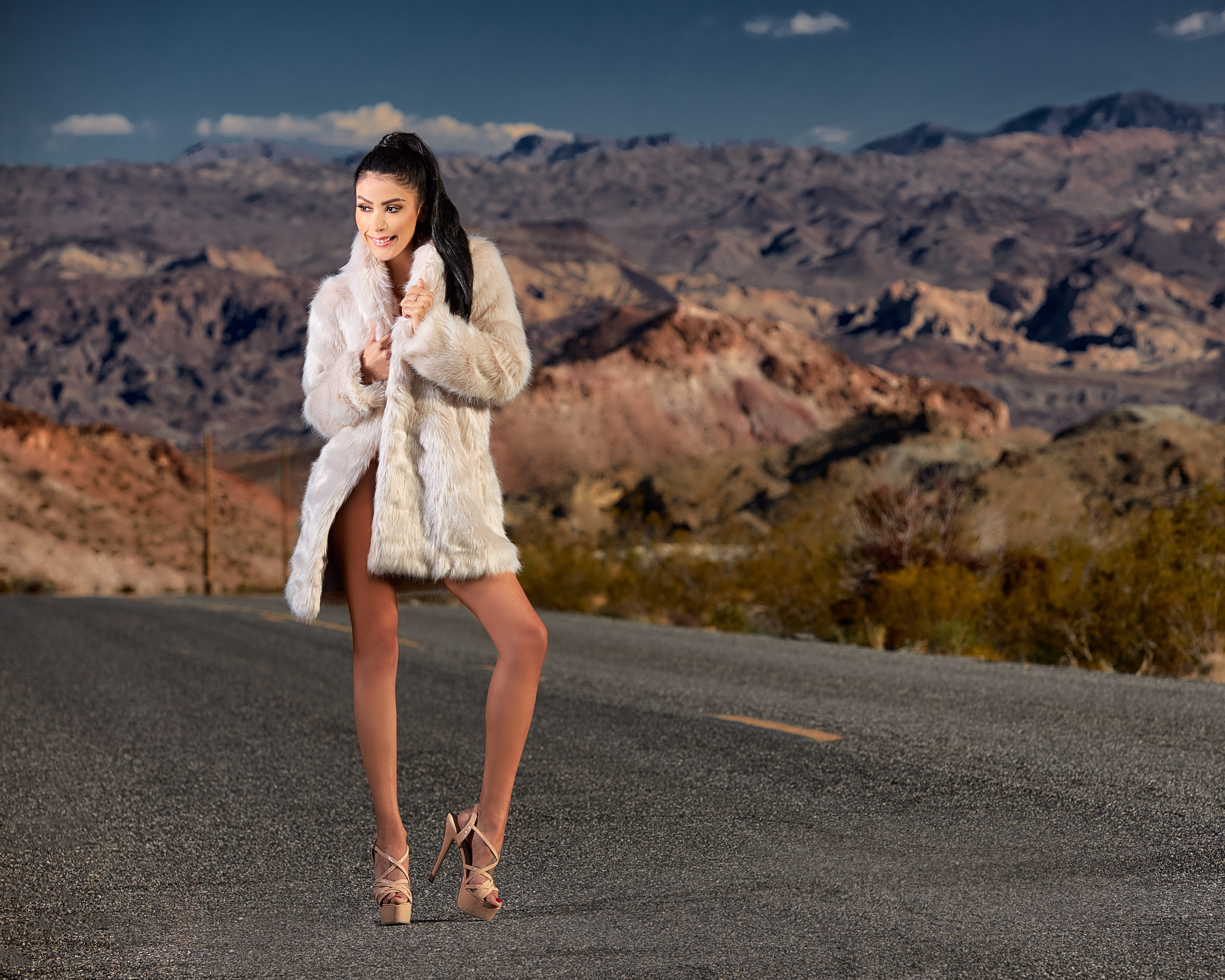 Click below to see a quick 60-sec behind the scenes of the shoot that we did with Sarai!  So much fun!
Now, this next set of images with Missy was part of a concept that I dreamed up on the plane ride over here.   I thought it would be cool to get something "really" different for a change and.. so.. well, I did.  Here we go, gotta love Las Vegas!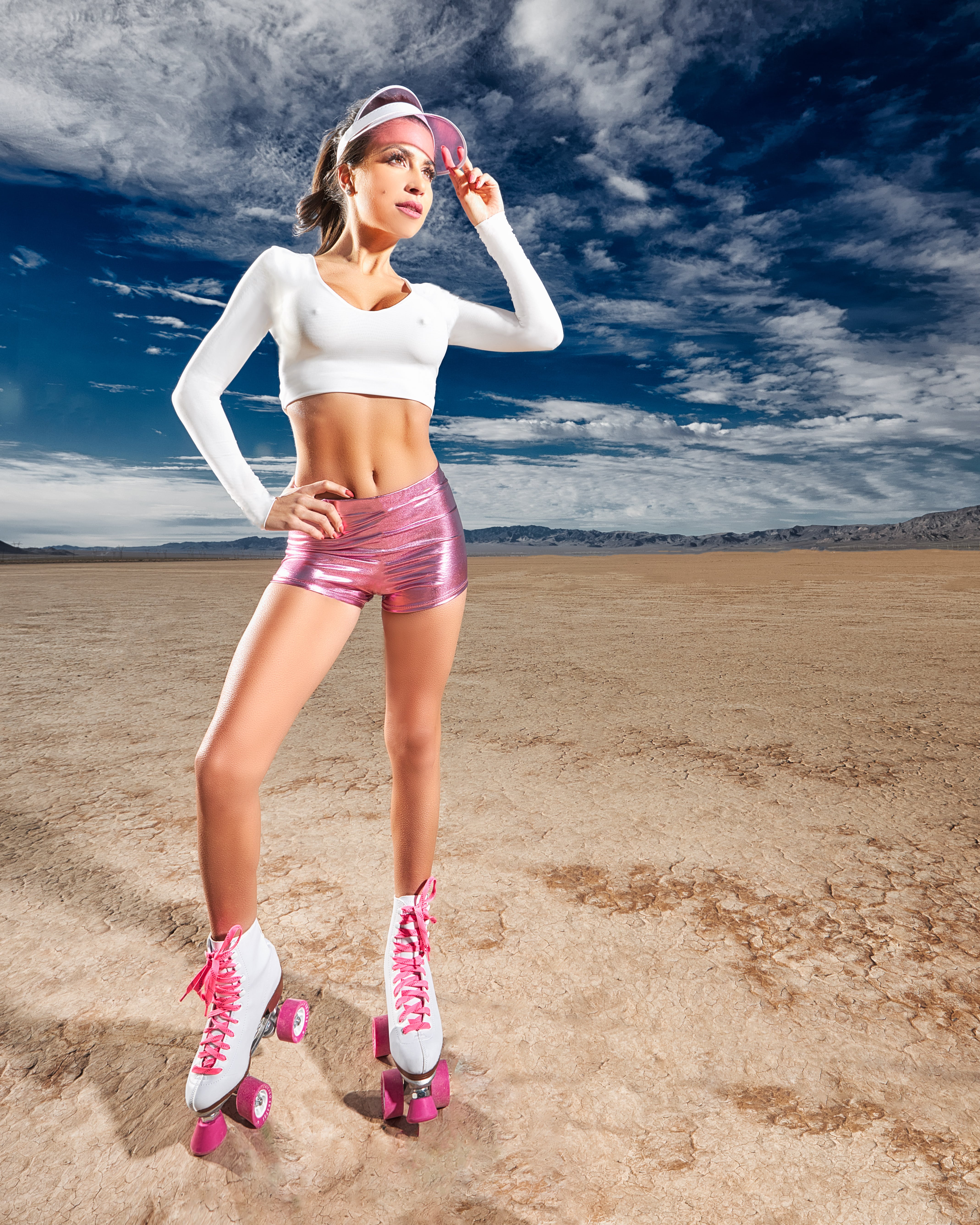 So here we have it.  Super model in the middle of the lake bed on… roller skates.   🙂  Not what most Las Vegas Wedding Photographers would dare to do..  but, for my workshop this was really a nice change from the long white dresses that I see all the time.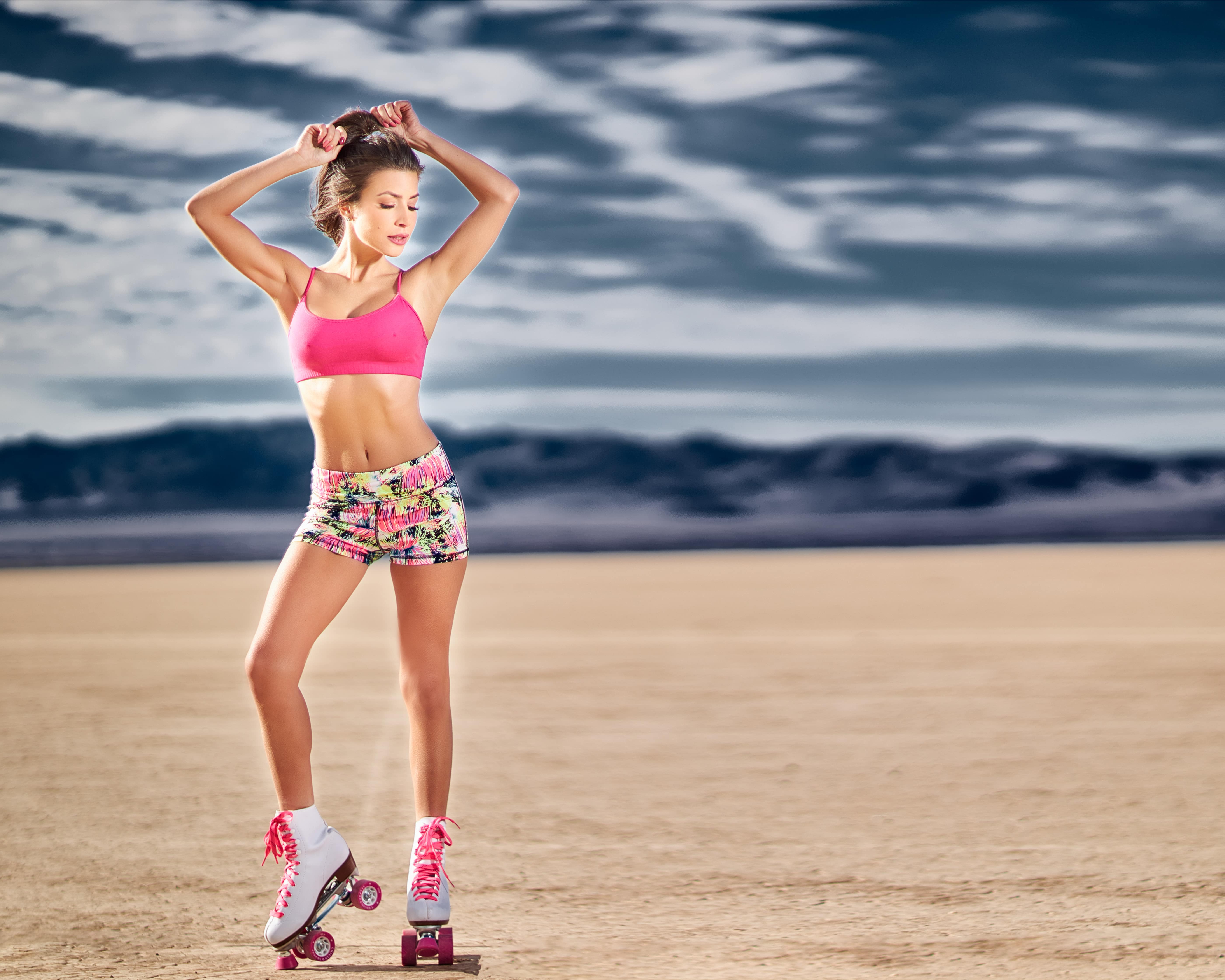 I LOVE how this 60-sec video came out with Missy!  Check it out below!
Then, the next day we worked with Missy again.  This time we went back to the Fire Of Valley National Park (where I had paid for special commercial permits)…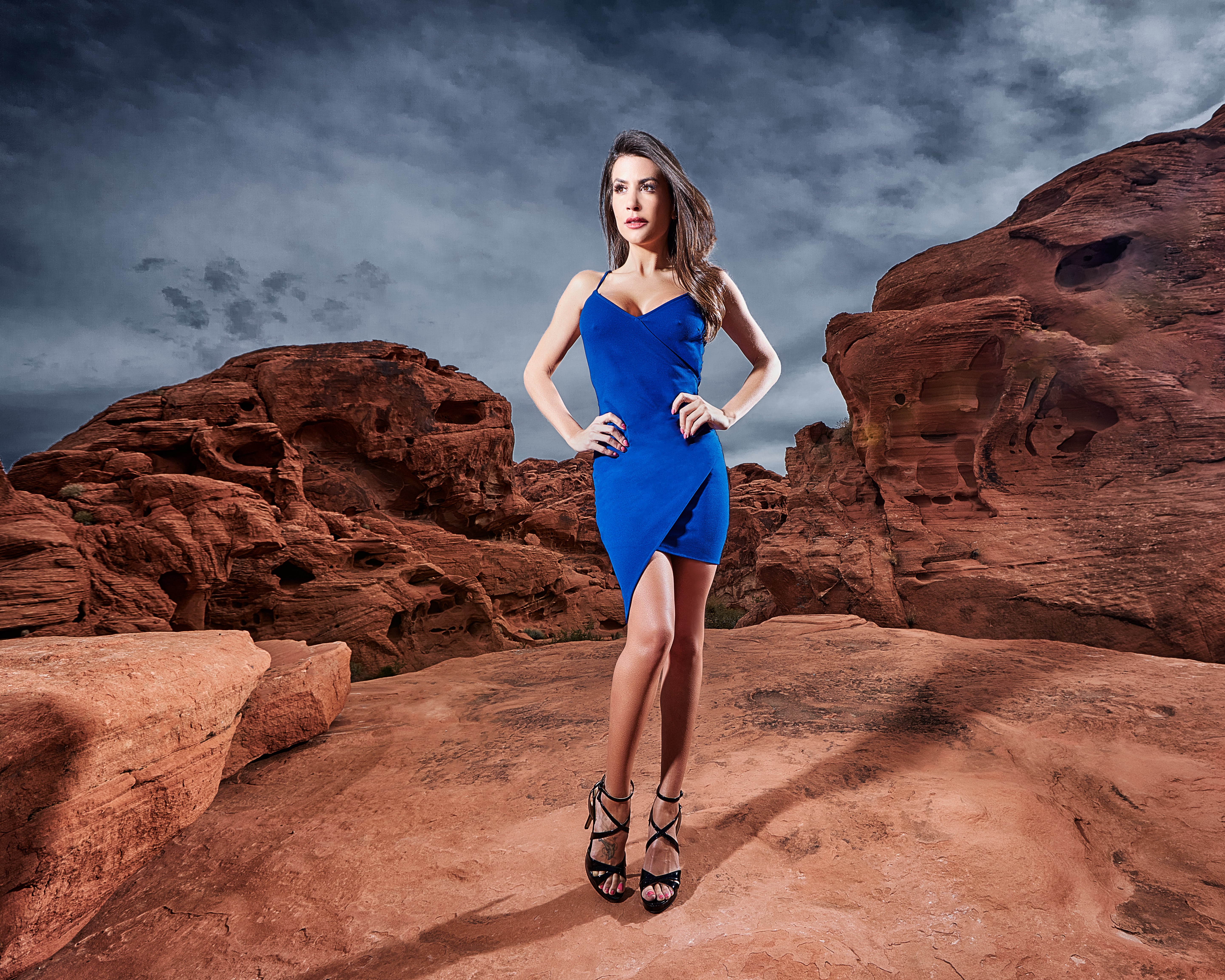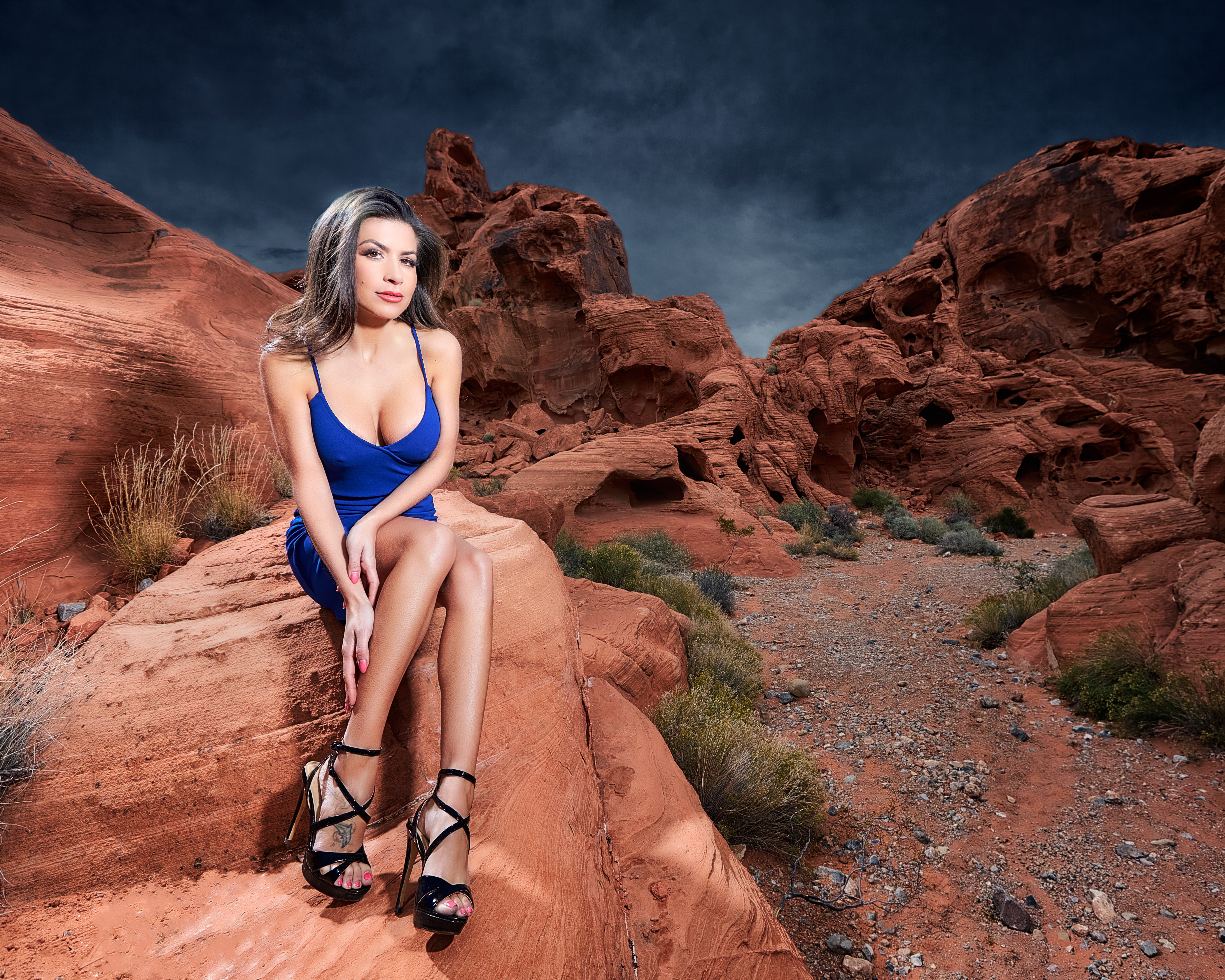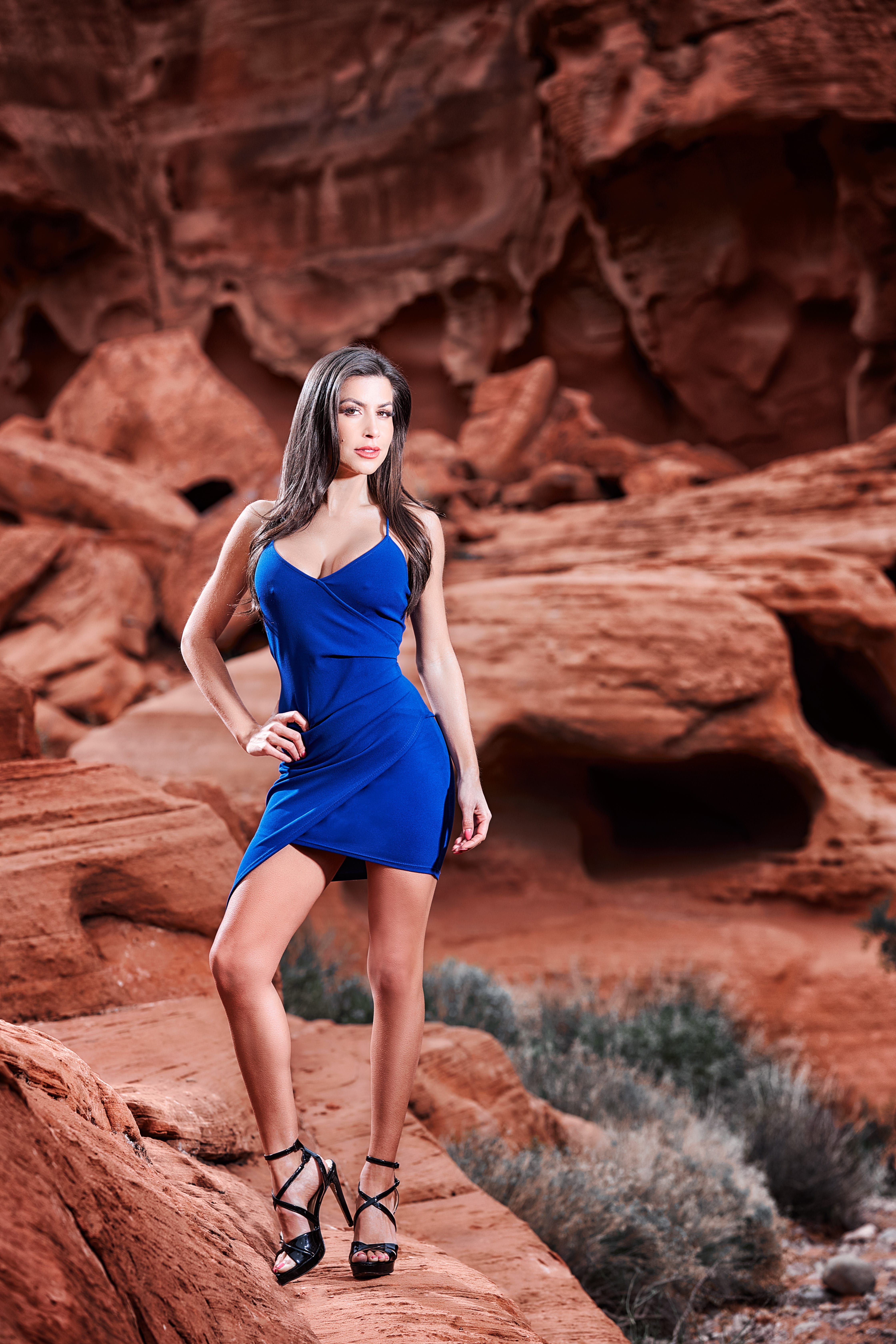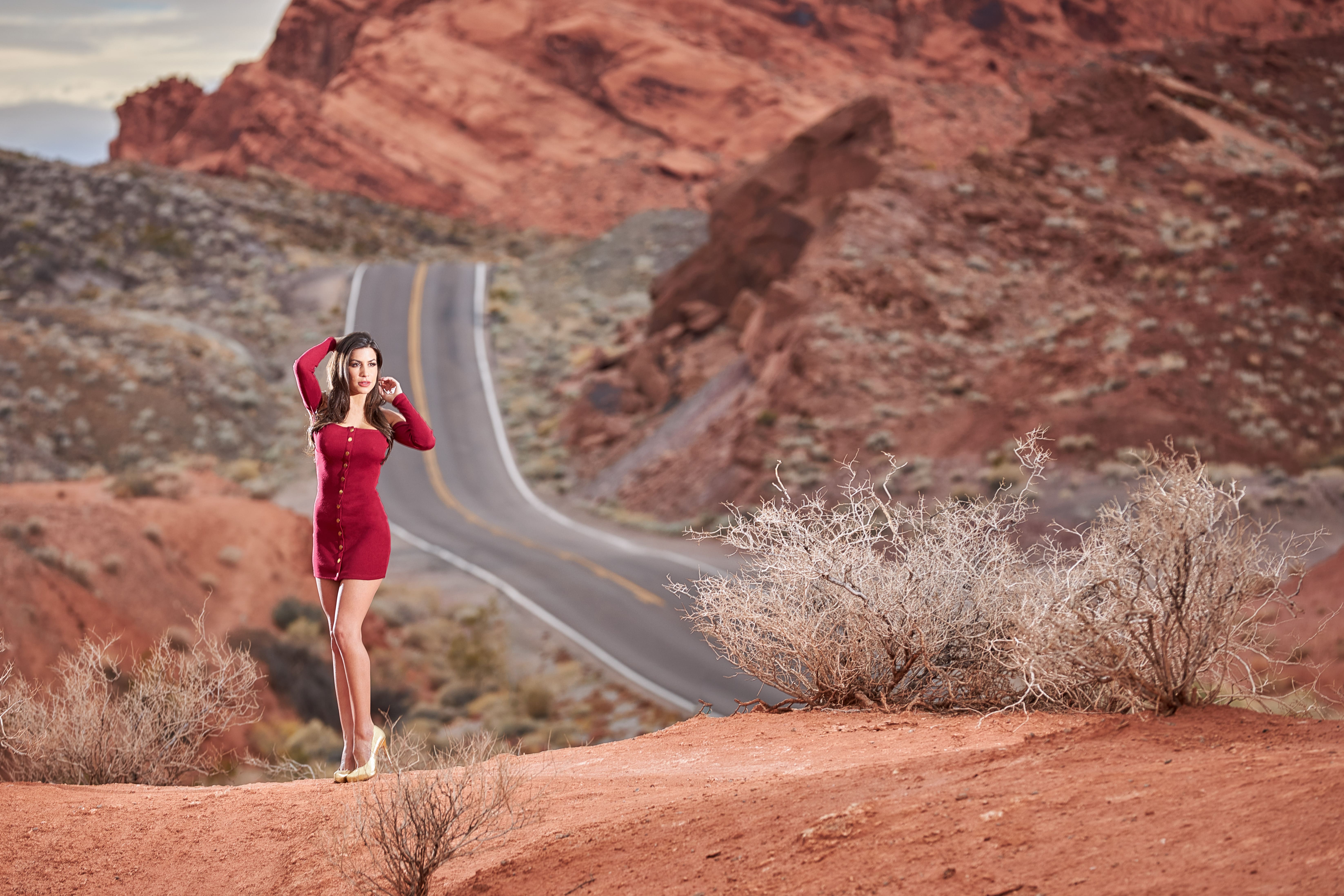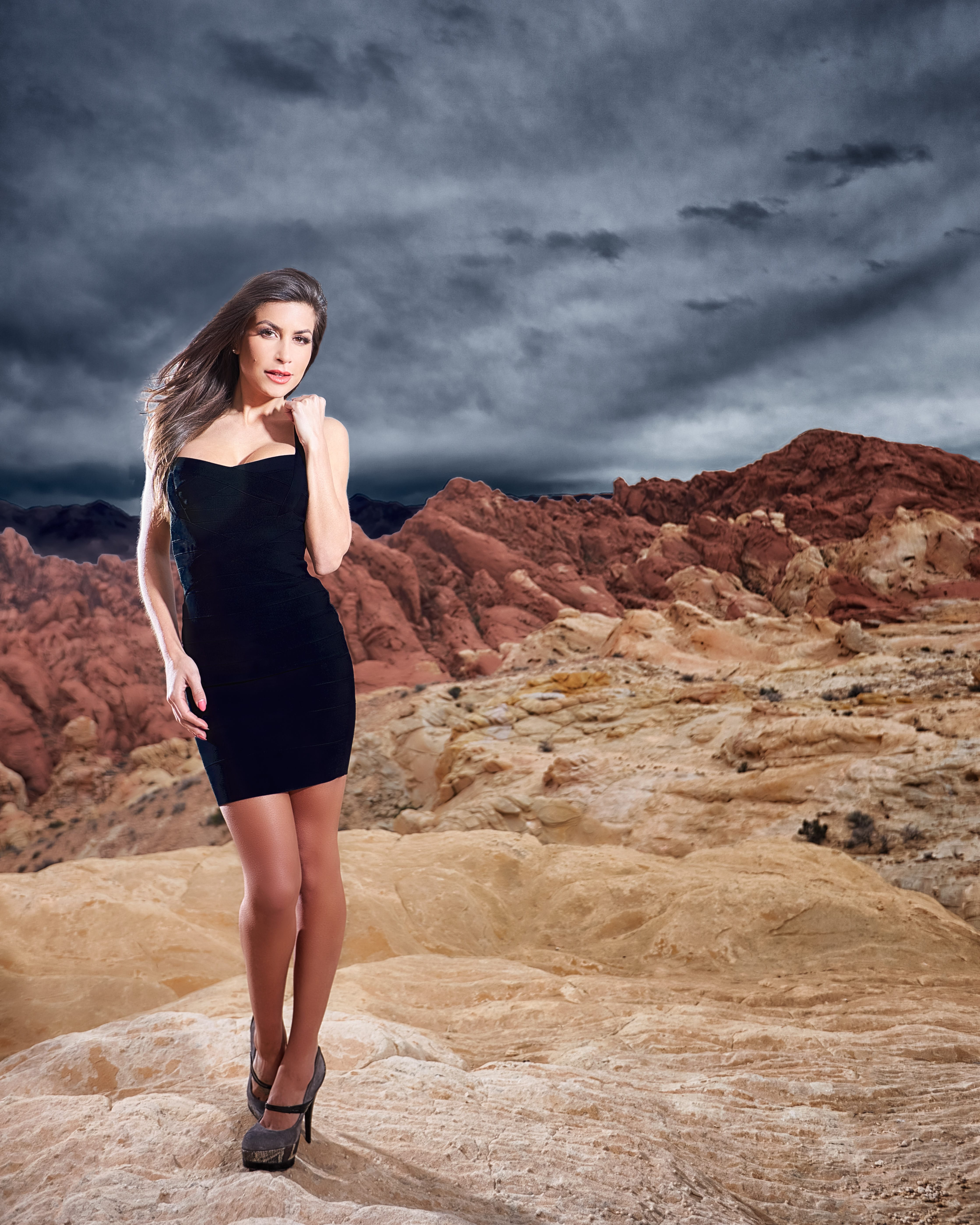 This last shot was my favorite from this location with Missy.  It also happens to have been the last shot we did from this entire trip.   She was standing right at the edge of a huge cliff, it was freezing cold and the sky looked like it was either going to rain or snow.  Either way, it was a ton of work, lots of fun and totally worth every bit of cost and effort.
Here is a little 60-sec video recap of this day of shooting with Missy at the Valley Of Fire.
So to wrap this up.. it was one of the most amazing experiences of my life.  I truly mean that.  I felt free, in control and totally in my element.  I got to call the shots (literally) with everything that we did.  I got to mix up wedding with fashion / glamour photography,  I got to teach two amazing students and I had a ton of fun in the process.  Best of all, I made some life long friends along the way.  Be sure to check out the FULL episode from this amazing trip. I hope that this also helps inspire other Las Vegas Wedding Photographers.  You can find that video below (ONE HOUR LONG)  Thank you all so much.  Oh, if you liked this post you may enjoy another fun session here on my blog.
T
FULL EPISODE ONE HOUR LONG: