Lake Como Wedding Photographers
Let me start right off and tell you that ever since I became a wedding photographer,  I have admired so many Lake Como Wedding Photographers over the years.  Lake Como Wedding Photographers really have it easy (although I am sure they work hard)!  As with all Italy Wedding Photography it's almost impossible to go wrong in terms of "getting great shots", as all of the landscape is just breathtaking!  Well, after 8 years of being a full time Wedding Photographer I finally got my chance to go to Italy and actually become one of the very talented Lake Como Wedding Photographers that I once admired, and for me this was just unreal, and I hope the start of many more trips to Italy in the future for Wedding Photography 🙂
Let me give you a little back story here.. Earlier this year I received a "DM" on Instagram from a future bride (who lives here in Miami) and fell in love with some of my styled shots with an airplane.  A specific session that she saw on my blog really caught her eye, and wanted to do something along these lines.  Why?  Because her husband is a commercial pilot and fly's the big A320's that you and I travel in all the time. 
She had told me, that out of all the Wedding Photographers that she was looking at, none of them had my style and production value in the shots.
I was flattered, and replied with pricing.  I then learned that the wedding would not be taking place here in Miami, but over in Lake Como, Italy!  She had told me that she was already shopping for photographers over in Italy, and I knew not to get my hopes up.  So, we proceeded with the styled shoot anyway, and at the very least I knew this would be a great time.. and I personally am a HUGE aviation fan, and also know how to fly small jets (informal training of course)  You can check out their session, and the behind the scenes video here.   After this session, they were blown away.. not only with the images, but with myself and my team.  They did not want to take any chances in Italy, and we worked together to make sure I was there on their special day 🙂
YESSSSS!
One of the things that I don't think many Lake Como Wedding Photographers likely understand, is that many of the weddings that happen over there are destinations for the bride and groom, and when this is the case.. the real world relationship they have with their photographer is absolutely the most important thing of all.
It's a common mistake to think (as a bride looking for vendors) that just because your getting married in a far away destination, that you need to find vendors over there as well.  Let me explain this..
Lake Como Wedding Photographers, like I said in my opening sentence have it easy.  Just like I do here in Miami.  For the most part we live where we live, and shoot locally 95% of the time.  This means that you know the area, and have (should have) a massive portfolio of images from all around your area.  Makes sense.  The problem / challenge is that as a creative professional (and this is where I am going to say things that some may not like, but it's true) is that, understandably going to the same places over, and over, and over, and over again year after year starts to well… (what do you think)?  Get's "old".   The other challenge, is that client expectations are generally based on the past work that we have done in a specific location, or venue (repeating the same old thing).  Now, there is nothing wrong with any of this.. (its the way it is), but please.. let's be real honest here and realistic.. there is NO comparison to the amount of motivation, energy, and pure passion that I am going to have with an adventure like this (going to Italy and shooting something totally new) vs. the guy or gal that lives there, and has done this a million times already.  Sorry Lake Como Wedding Photographers.. this is just true!  Listen, the second I got the contract for this wedding I started planning, and dreaming BIG!  I even flew into Italy a full WEEK before the wedding, just to scout out new locations, and ideas!  I came into this wedding with such a sense of adventure, that it just steam rolls anything anyone else there locally could have done.  I was on a mission, and this was so great for my clients.  I saw all of the locations for the wedding in advance, I went during the same times of day, and I knew *exactly* what was going to work and what was not.  This way, I had a solid game plan and it made everything so easy on the wedding day.  In fact, it was so smooth that you would have thought I had been there many times before 😉   So, if your also planning a destination wedding.. please consider this fact regardless of who you hire, because regardless of the fact that I am a photographer what I am saying is 100% true!
UPDATE:  I am also happy to report.. that just a few weeks ago when we got back from Italy, I booked another destination wedding for June of 2019.  This time we will be going to Paris & London for a week and shooting an amazing wedding over there!!!  So excited!  Stay tuned for that one!  OMG!
Now, in addition to photography we also did a bit of video on this trip.  I did both a travel "vlog" which takes you behind the scenes just as if you were with us (which is so helpful for anyone wanting to see what really goes on, and all the details)  I generally do this with all my destination weddings, and you can see a ton more on my channel. However what was different, is that I also did some video for the client of the ceremony, and some of the details (see below).
First, here is a 60-second preview of the full trip video.  If you like what you see here, be sure to check out the second video below for the full thing!
Below is our full Behind the Scenes video from this trip.  It is 14-min long and is really fun!  Check it out!
The next video I want to share, is the one that we made for our clients.  They were not in a position to hire a video team, and send them over as well.  So, we stepped up and provided a very basic video coverage for them.  Frankly, I think the way to go now is shorter little videos like this that capture the key moments of the day.  I don't know of anyone who sits and watches long wedding videos LOL.  Now, you should know that we were NOT equipped with all the gear needed to "shoot video", only stills.  So, this video is not perfect.  BUT, it worked well for what it was and has motivated me to offer basic video service to all my future clients as I have now decided to invest in proper video cameras, and train my assistants on how to shoot along side of me all day long.   I am excited for this new launch of service, and more on this will be coming very, very soon 😉  Here it is:
Now, onto the photos..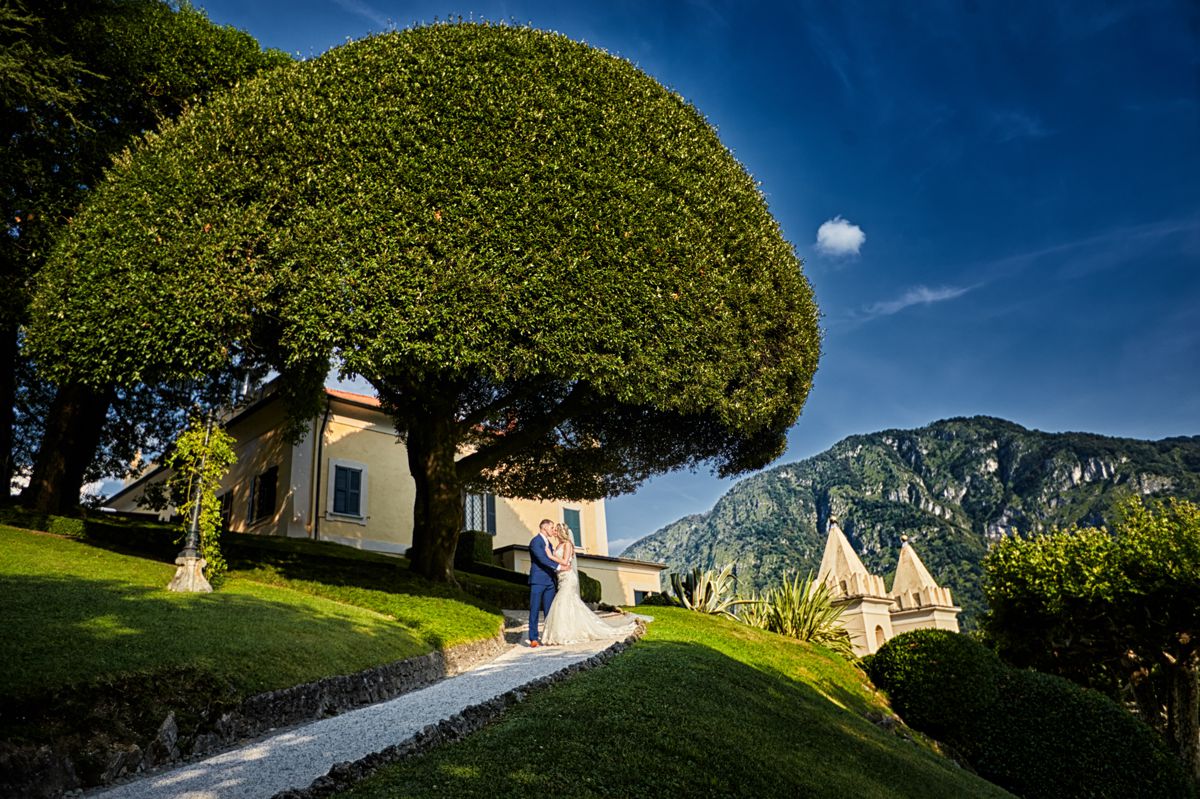 I wanted to open with this first shot (above).  This was taken at Villa del Balbianello in Lake Como, Italy.  We actually had to shoot some of these images the day before the wedding day because of the logistics.  Thankfully, they did a "first look" (see below) and made all of this possible.  I think this portrait of them above would make for an amazing wall image in their home!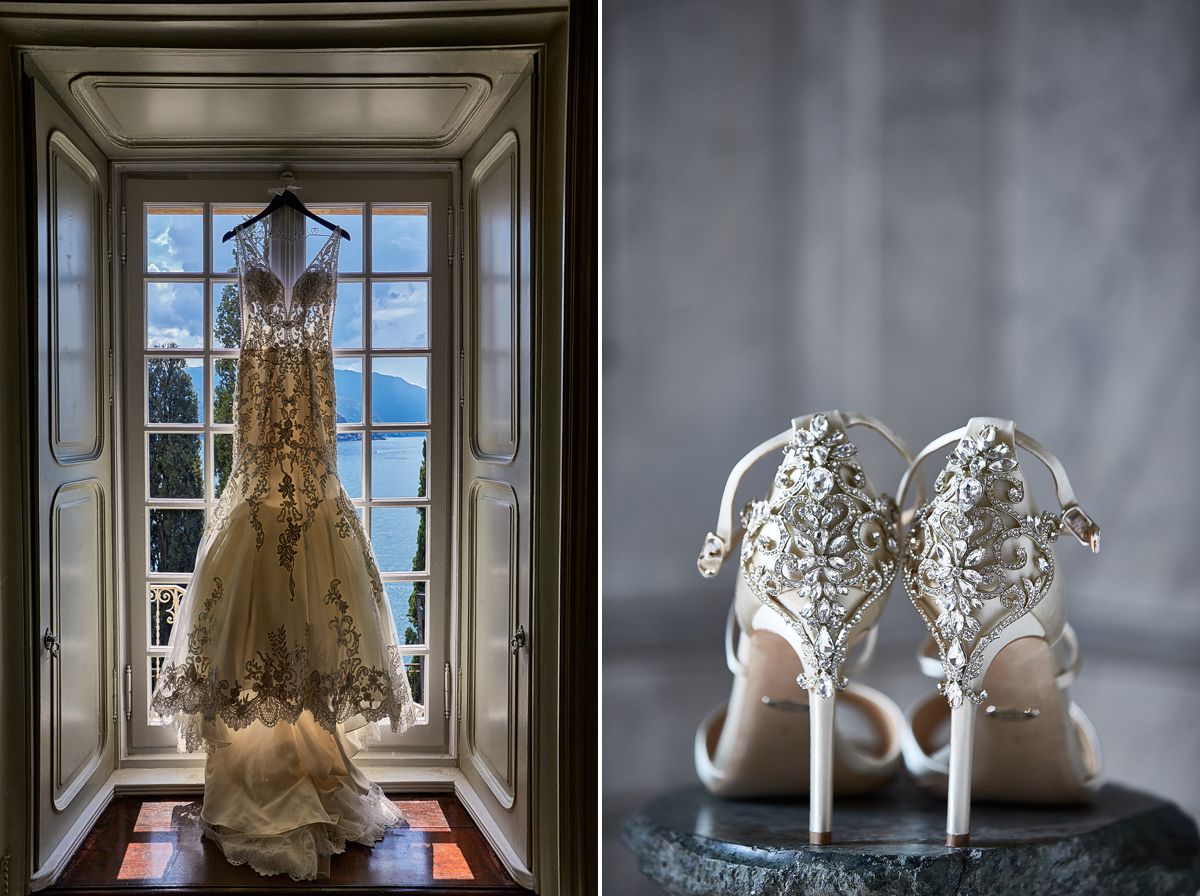 Here we are on the wedding day, and I wanted to get some nice details while the bride was getting ready.  I found this window near the main lobby at the Hotel Villa Cipressi , and noticed that it overlooked Lake Como in the background. 🙂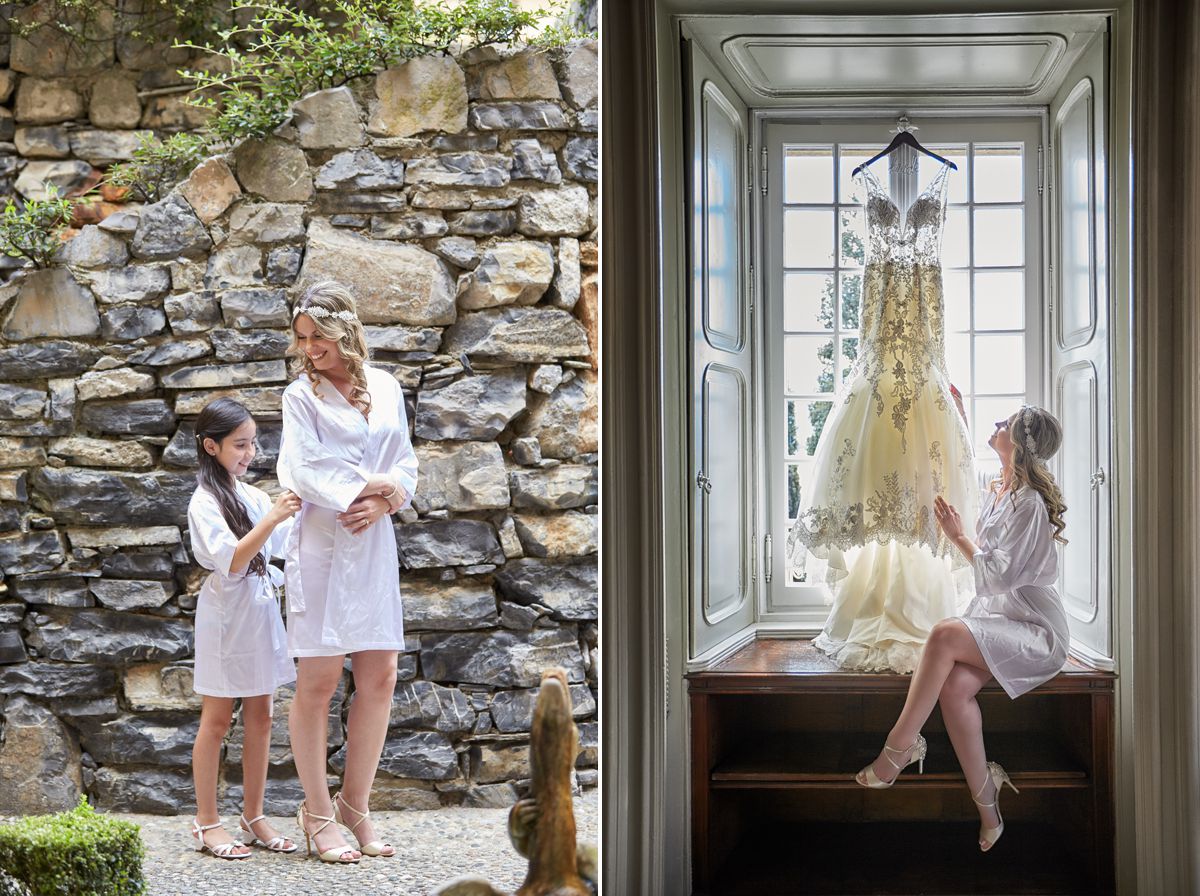 One of my favorite parts of my Behind the Scenes Video was when I asked my bride to "hop up" on this shelf for a clever shot with the dress. LOL.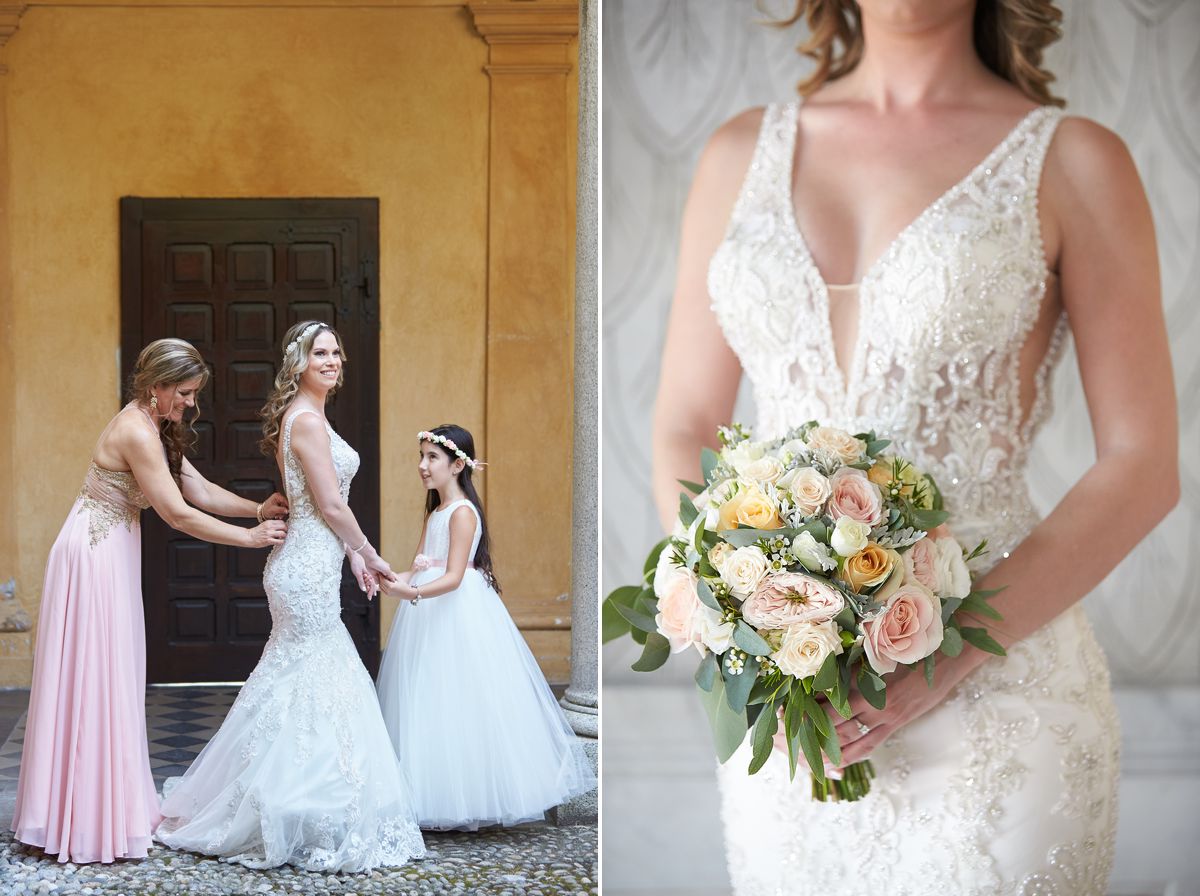 No trip like this would be complete without some super nice Aerials!  THIS would look so nice printed large!  What a location 🙂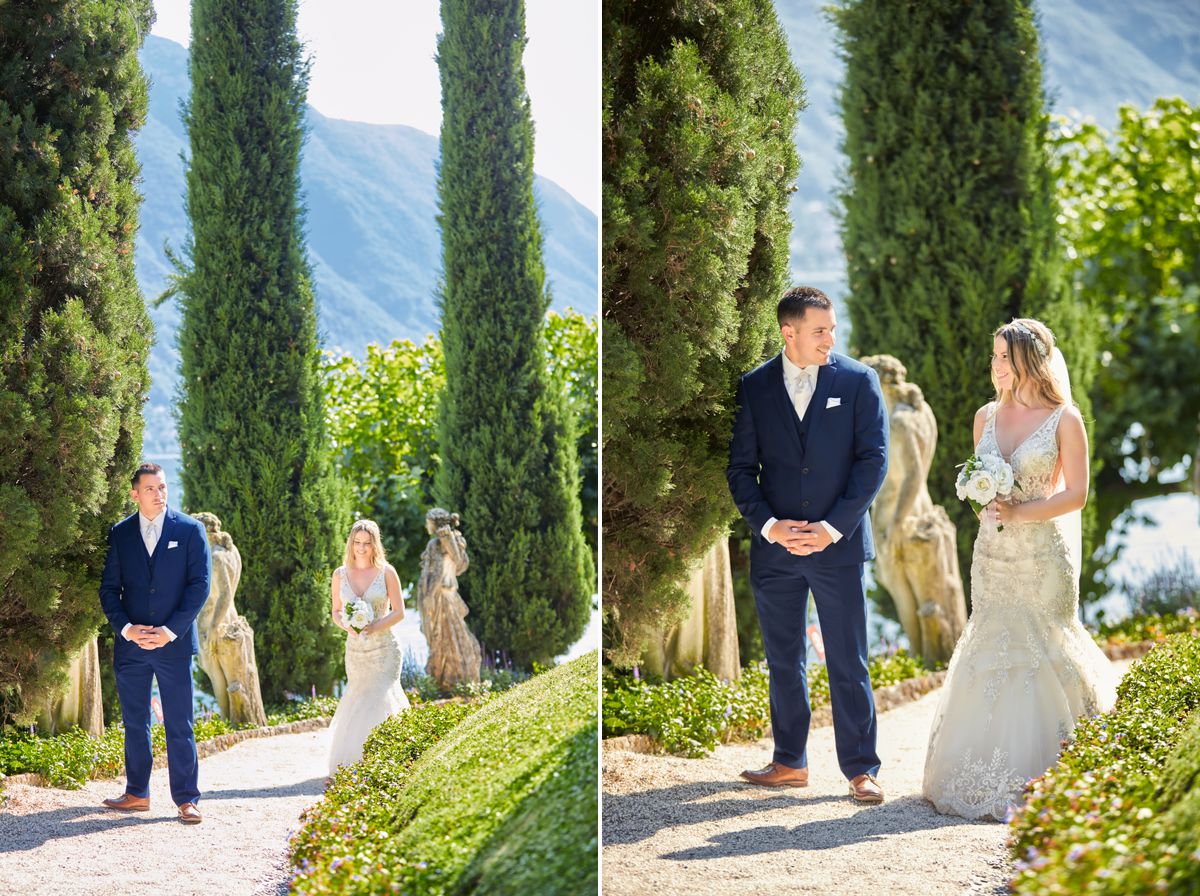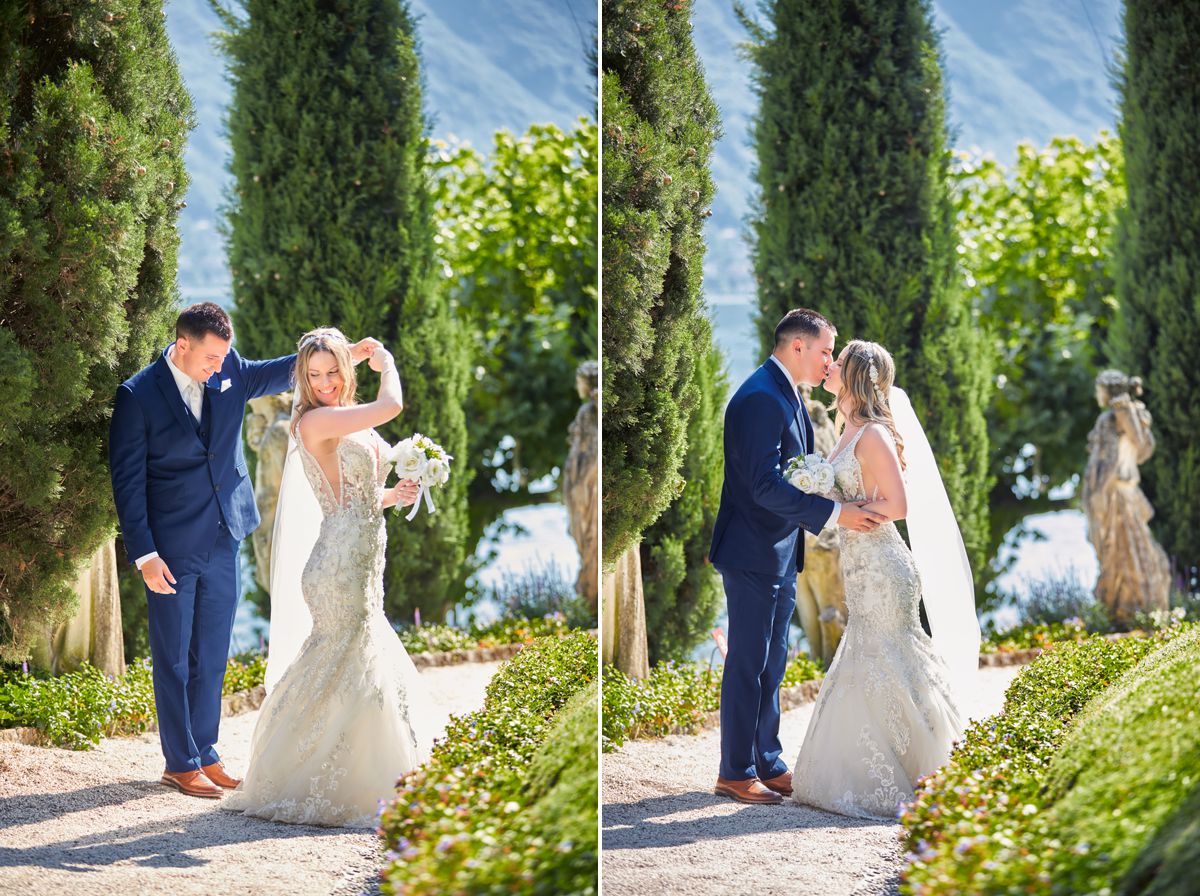 I can't stress enough how IMPORTANT doing a "First look" is!  It just comes down to content.  ALL of the styled shots in this blog post would never have had happened unless they did a first look.  When we were planning the wedding before the trip, they did not want to do one (and I totally respect, and understand that).  However, photography does not care LOL.  It comes down to time, logistics and expectations.  I am willing to bet ANY amount of money that no one regrets doing it after seeing all of the results!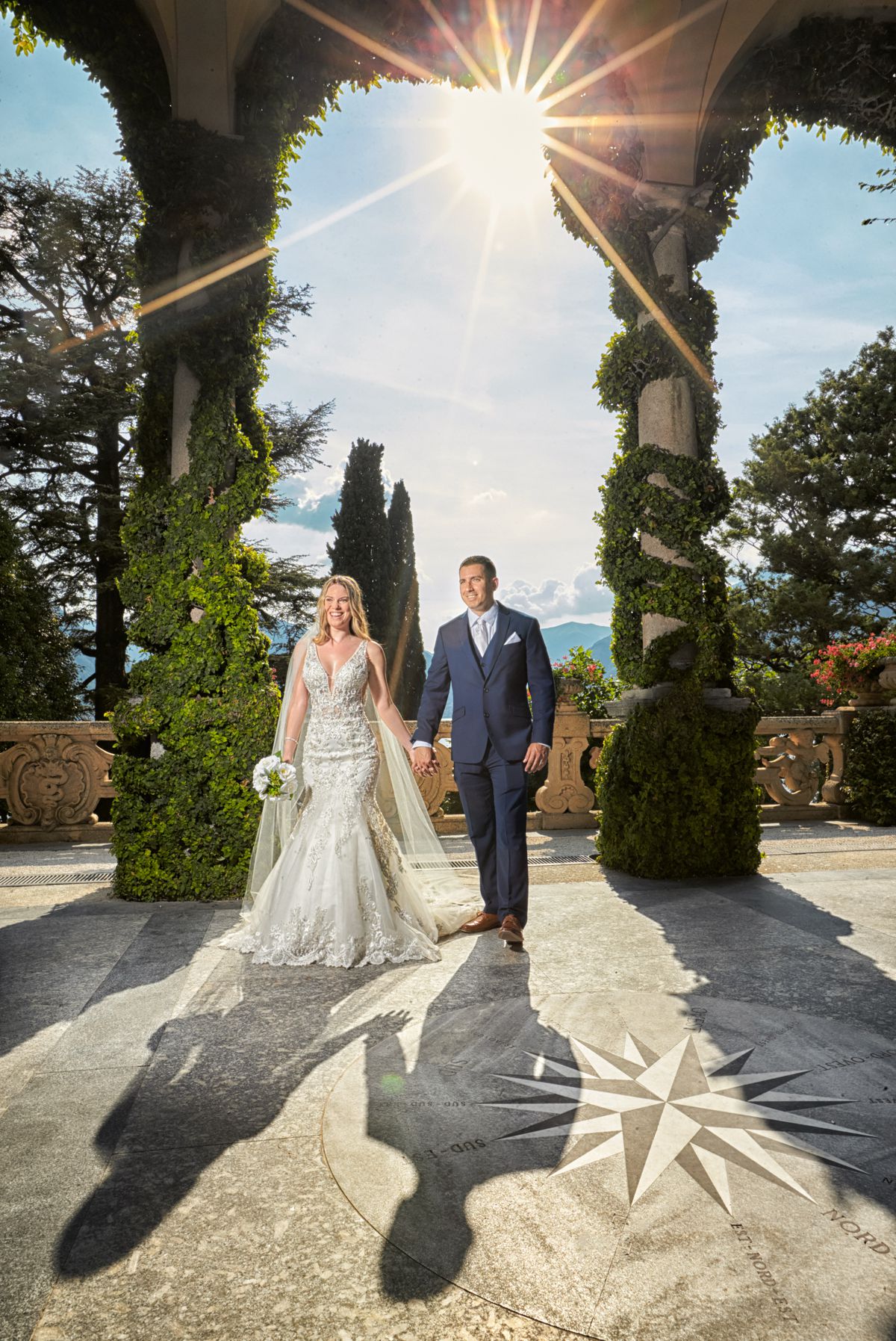 This was the first styled shot we took after the first look, and it was amazing!  We had the sun full on to the rear, which created the hard shadows on the ground.  I saw this, and loved it.  Then, using a power off camera light I was able to get the final exposure that I wanted.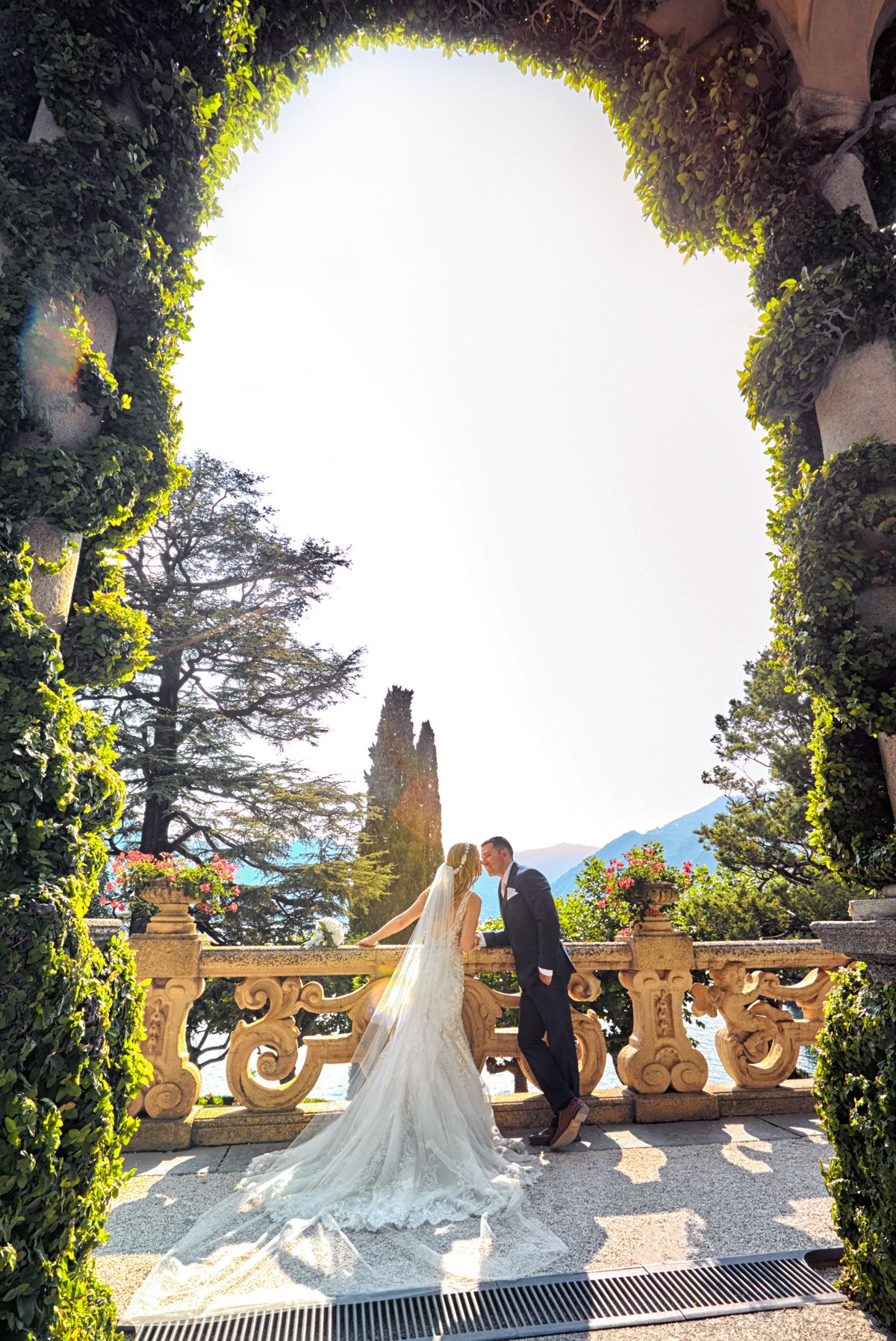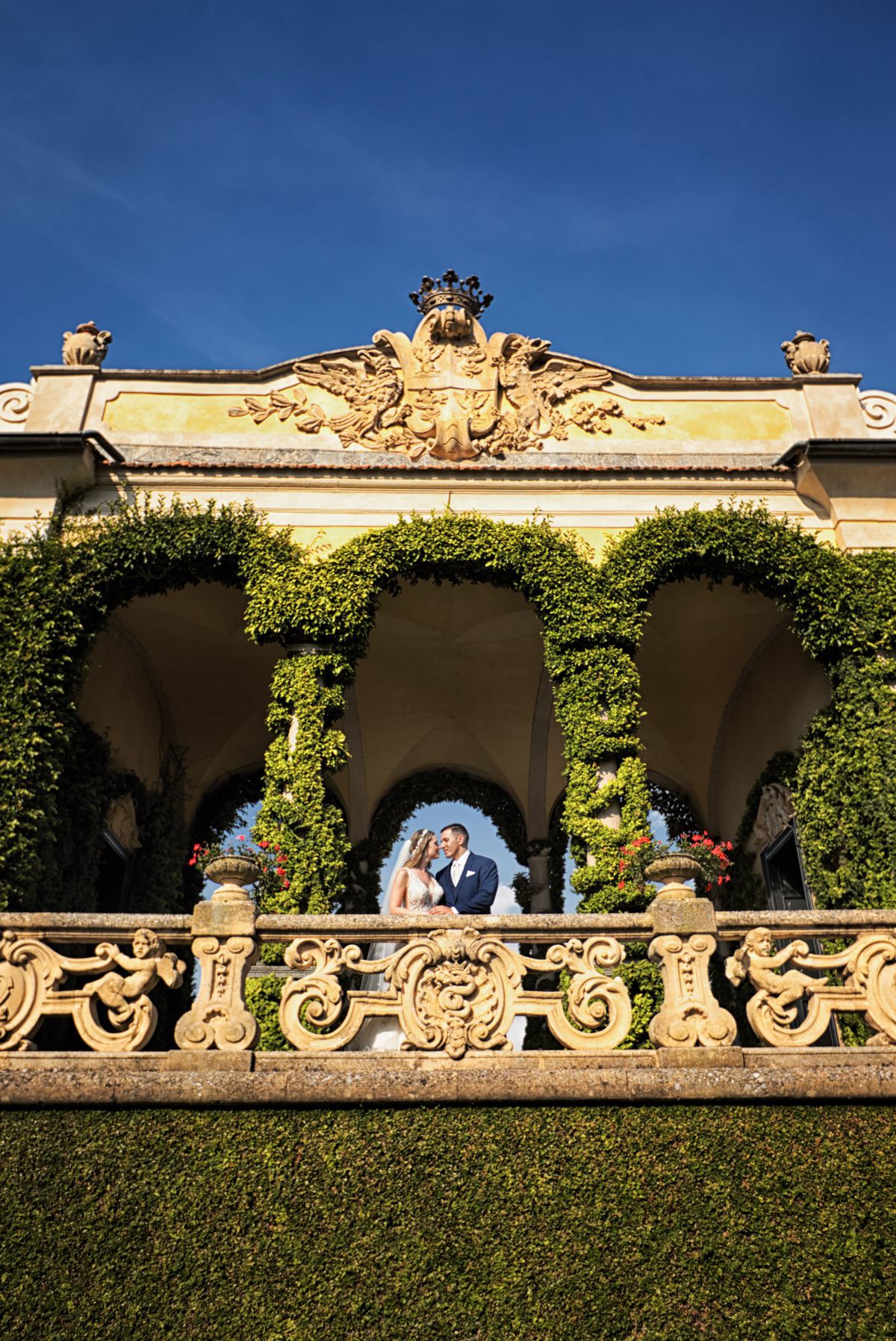 This was an interesting capture (above).  This was made with ONLY sun.  I saw that the sun was lighting everything in the scene, and just needed to add my clients.  All I needed to do was come up with a pose where they would not be required to look towards the camera (sun would have blinded them).  So, here we have it!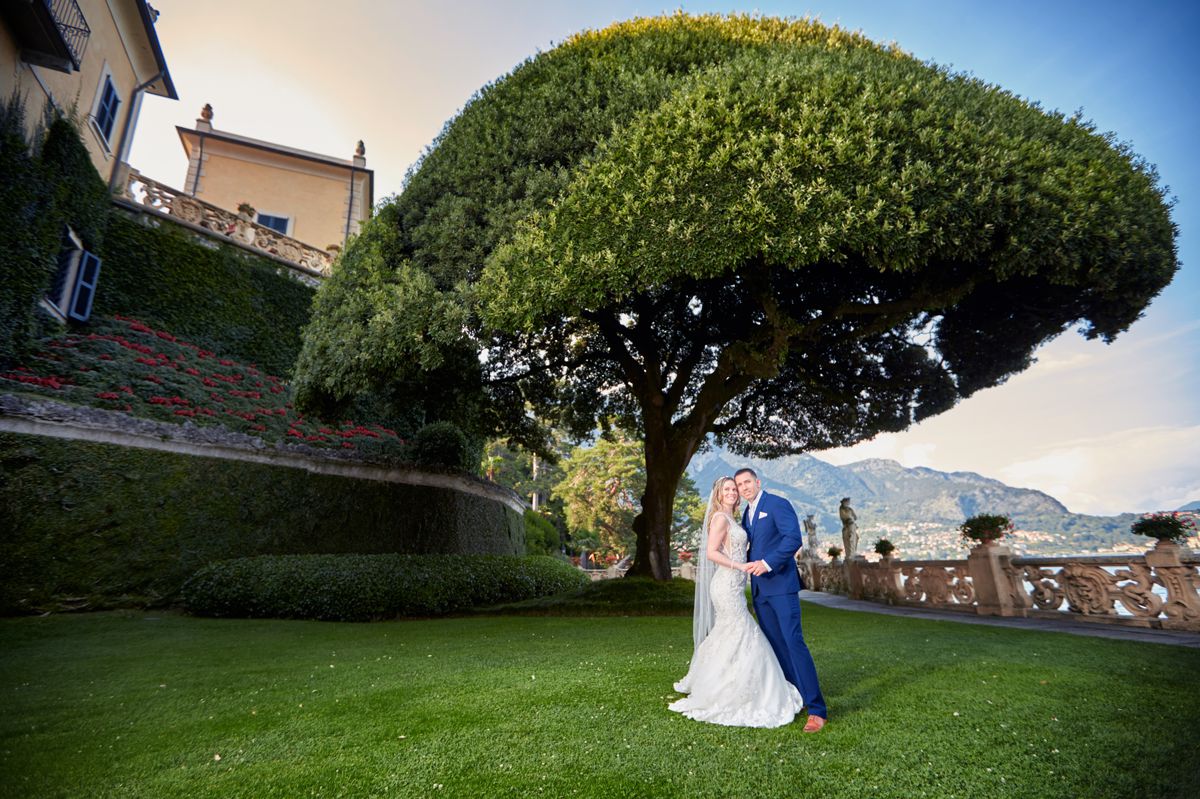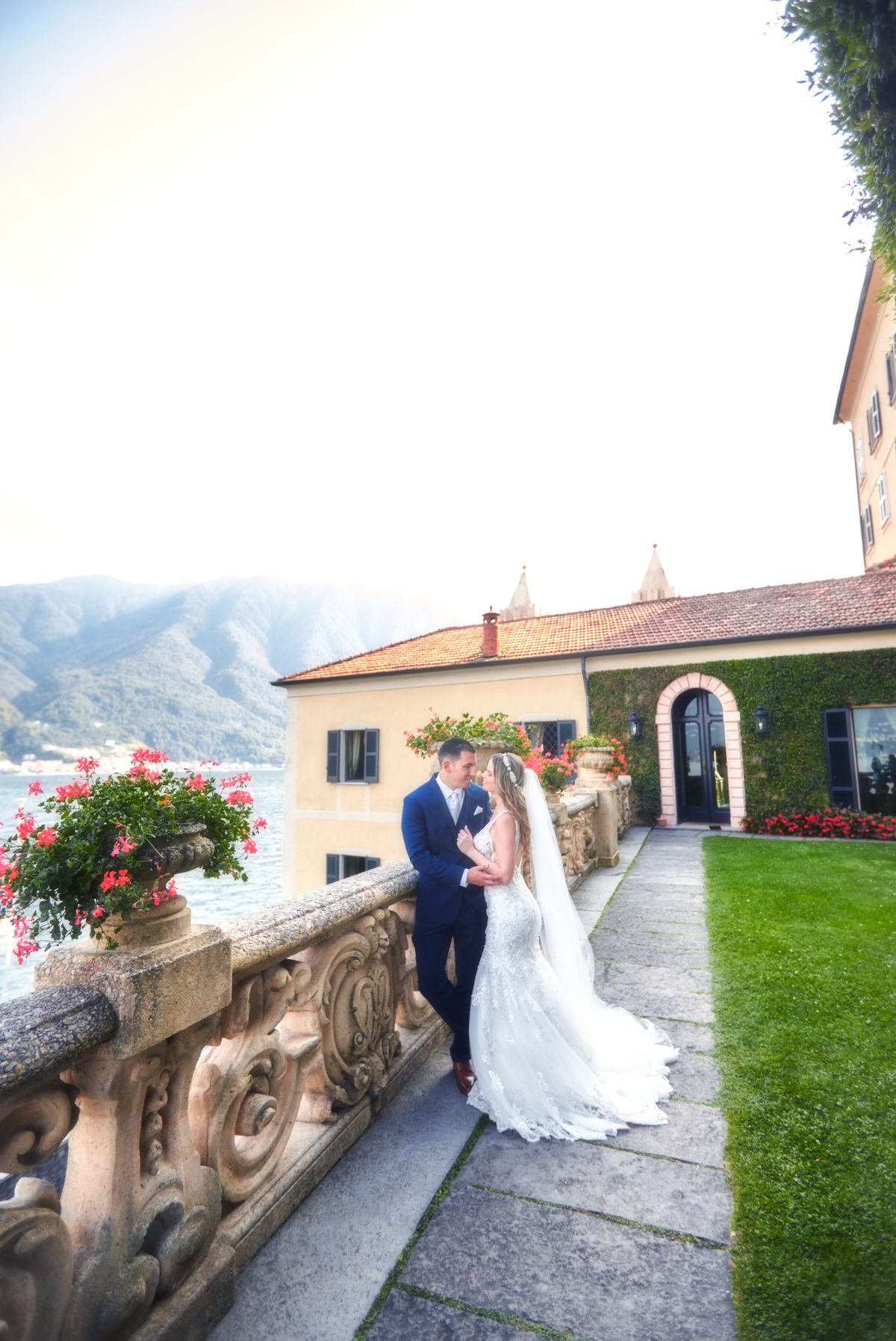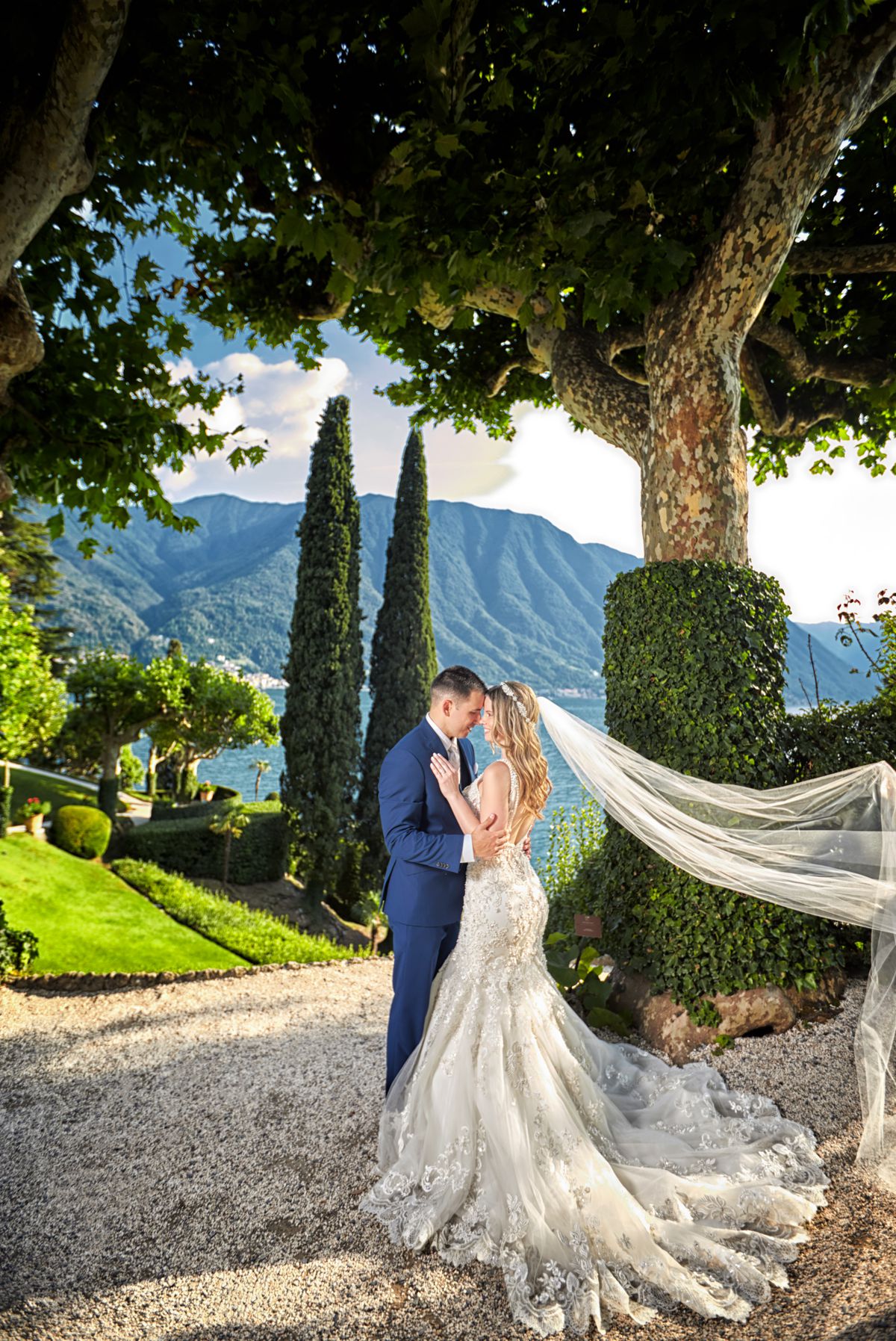 This was my personal fav. image taken from this location.  I just love the light, the background, and the feel.  Lake Como Italy is SO amazing, and Villa del Balbianello was an incredible backdrop!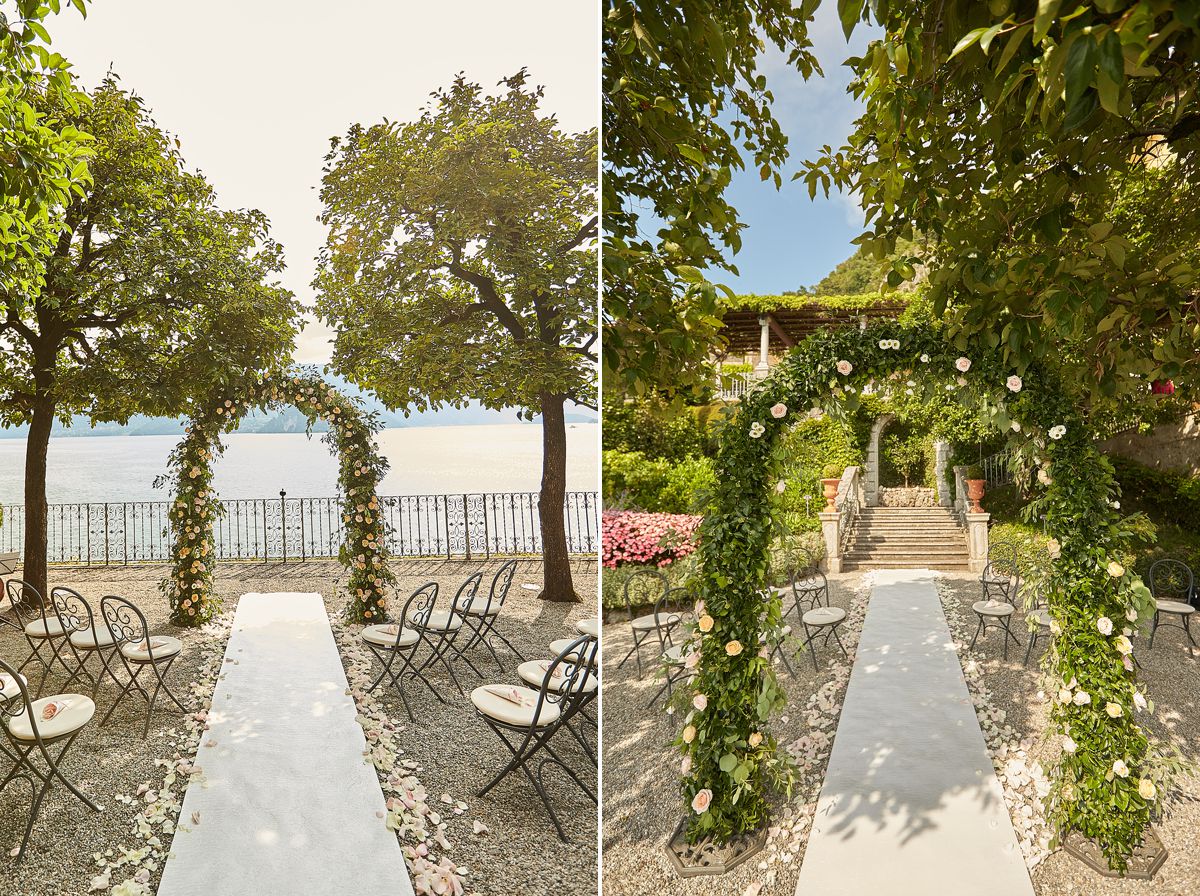 Here we are on the wedding day.  We had just setup some extra cameras to capture some video of the ceremony, and did a quick test.  I then went to place a small mic. on the grooms jacket, and we were then ready to roll!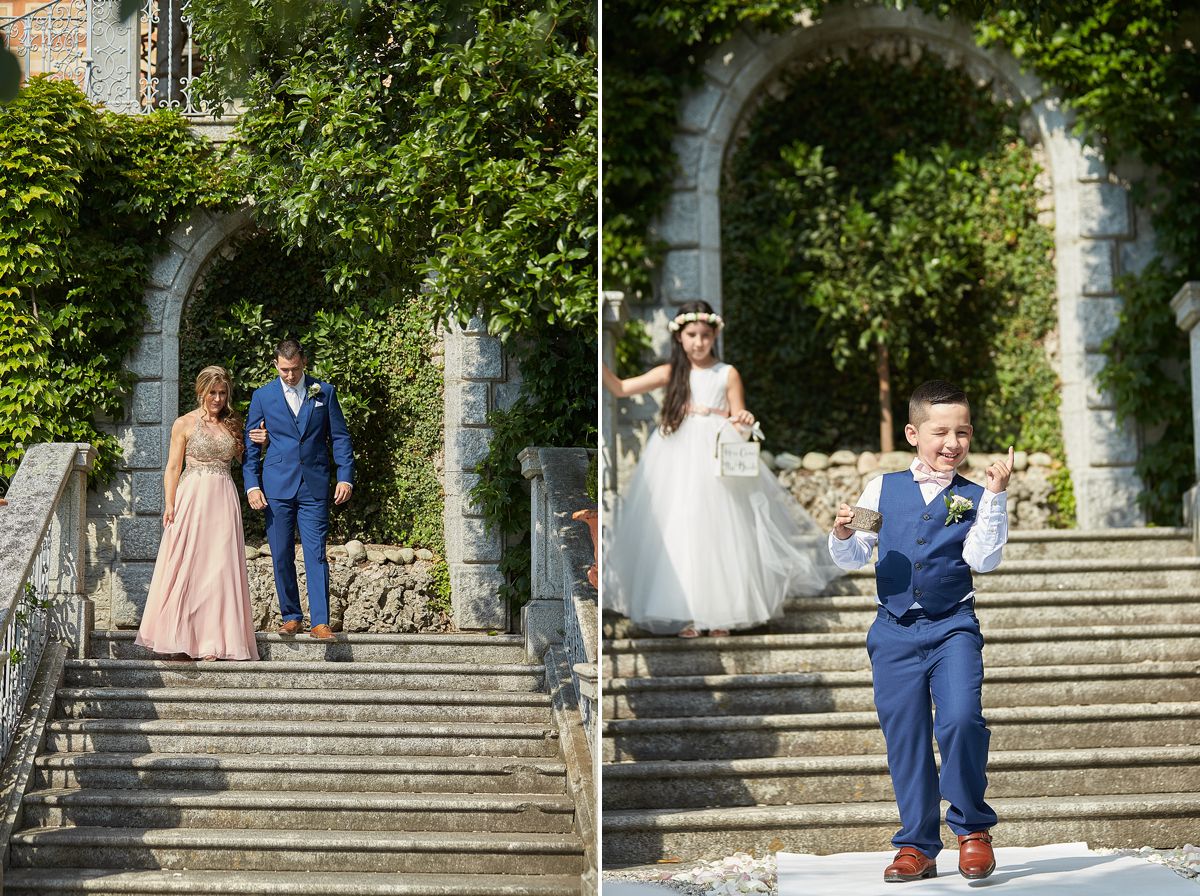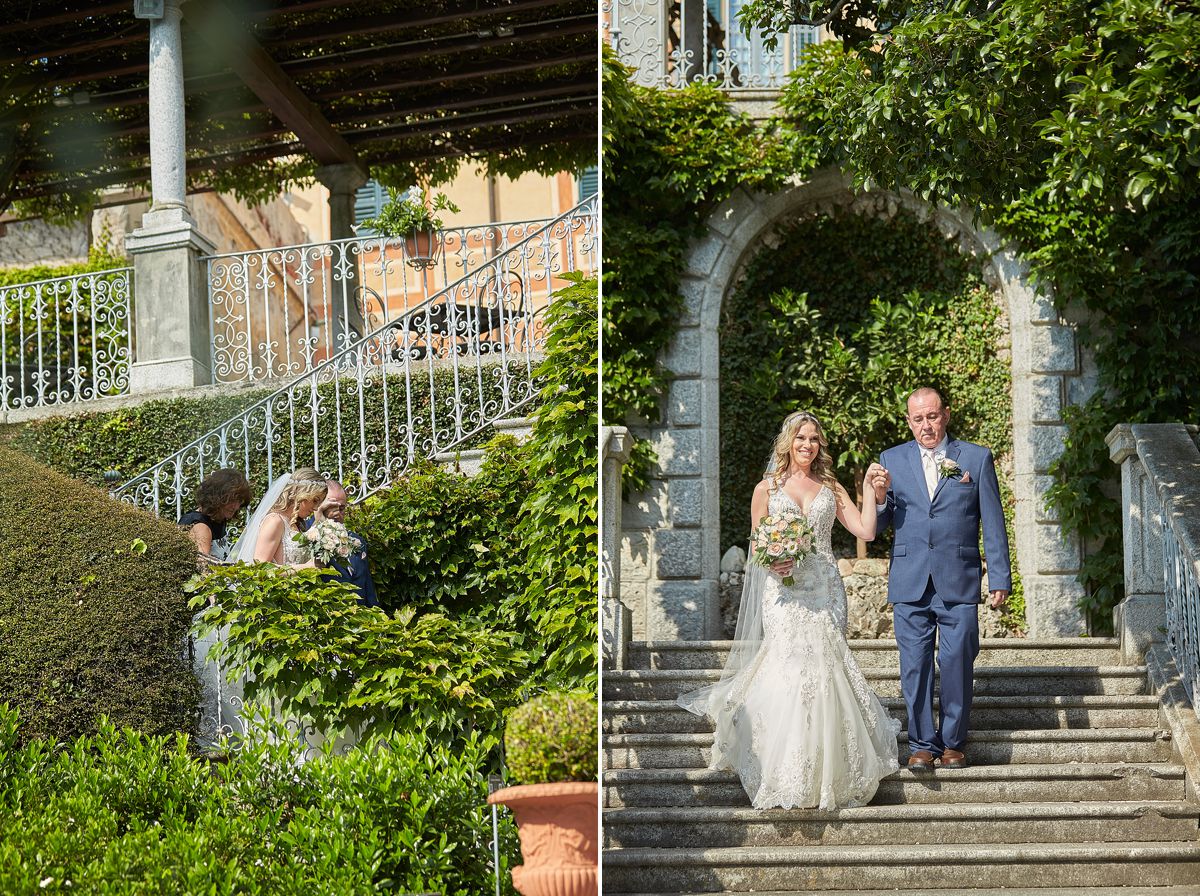 The grooms father walked the bride in…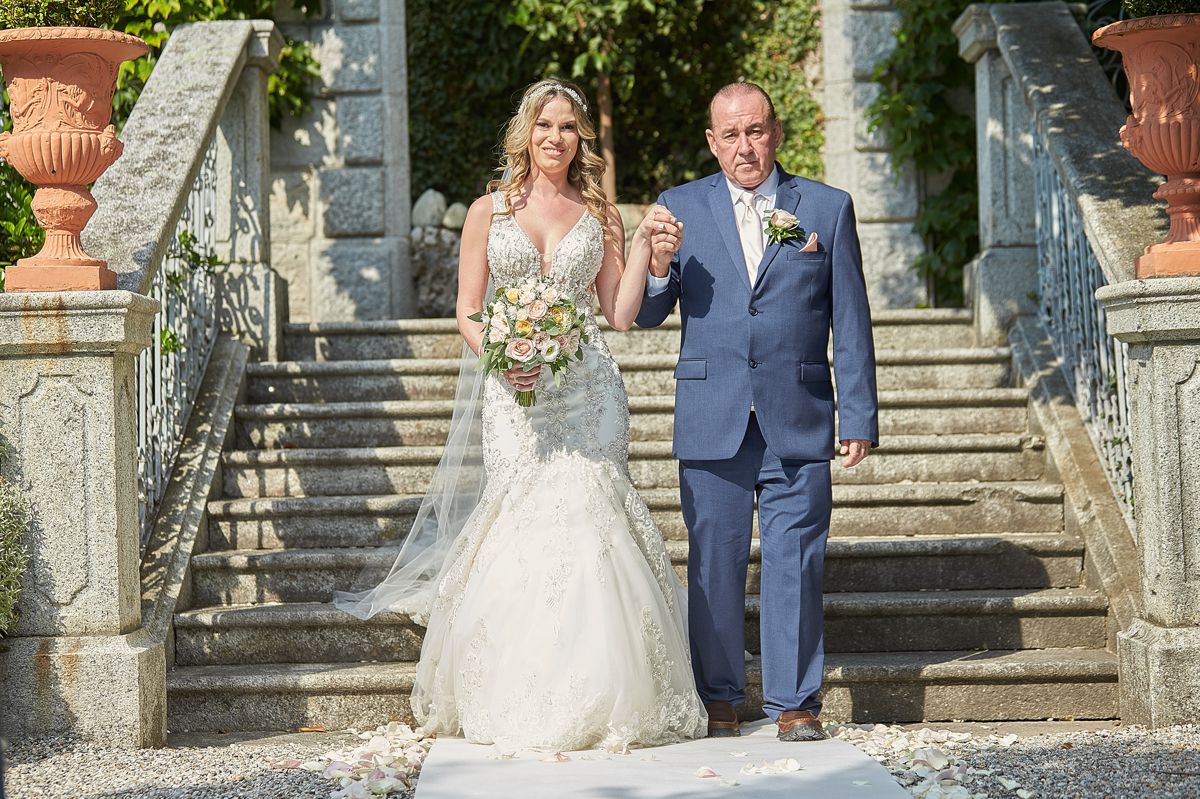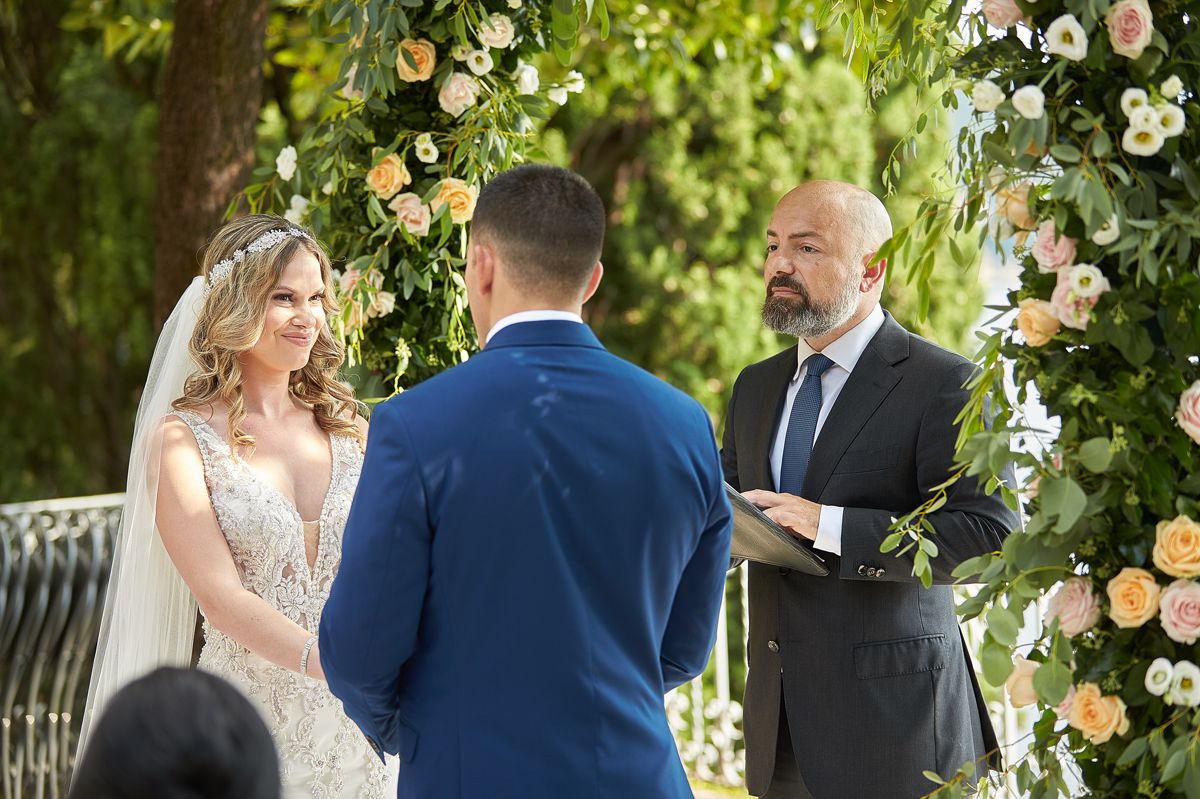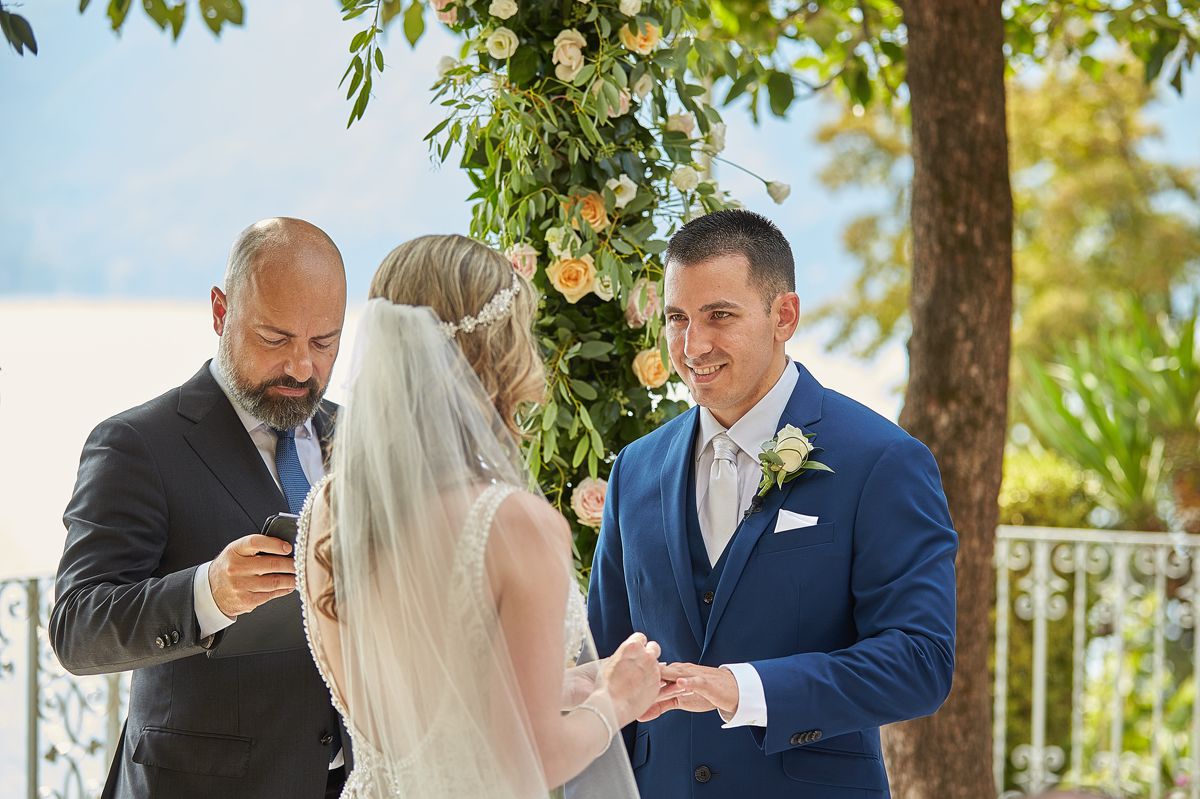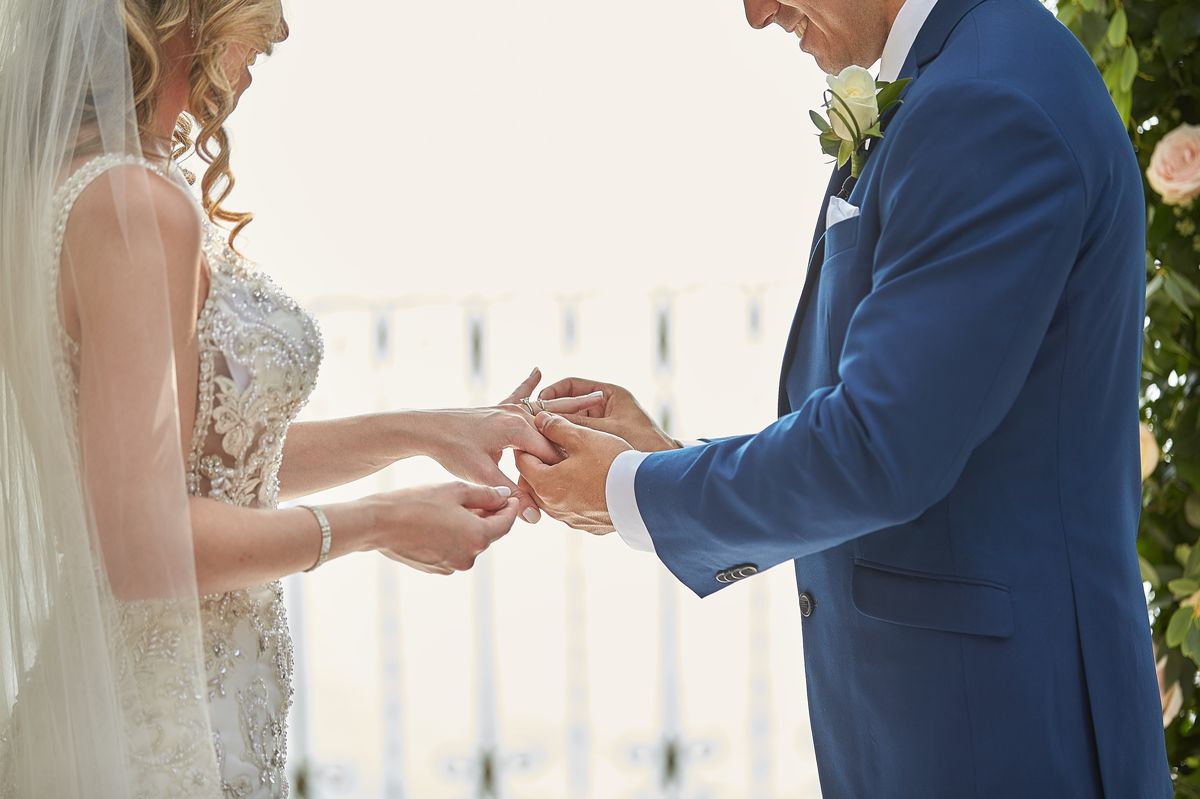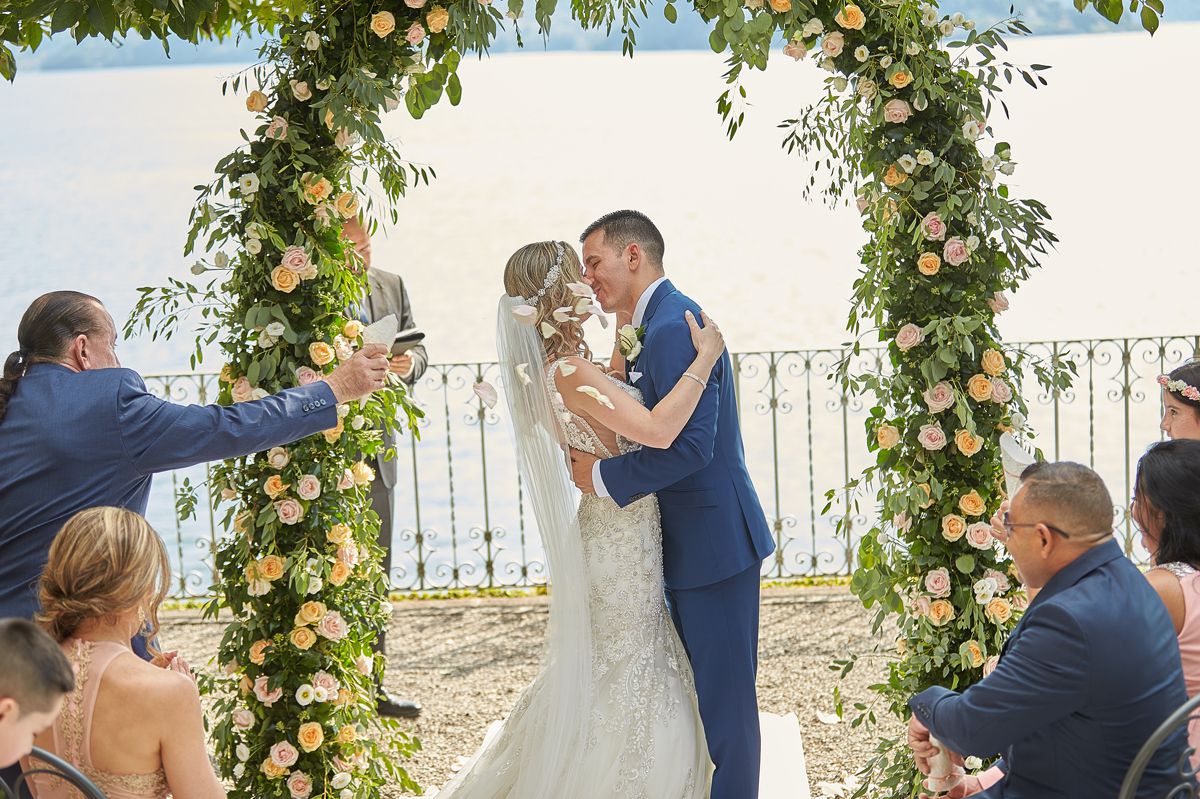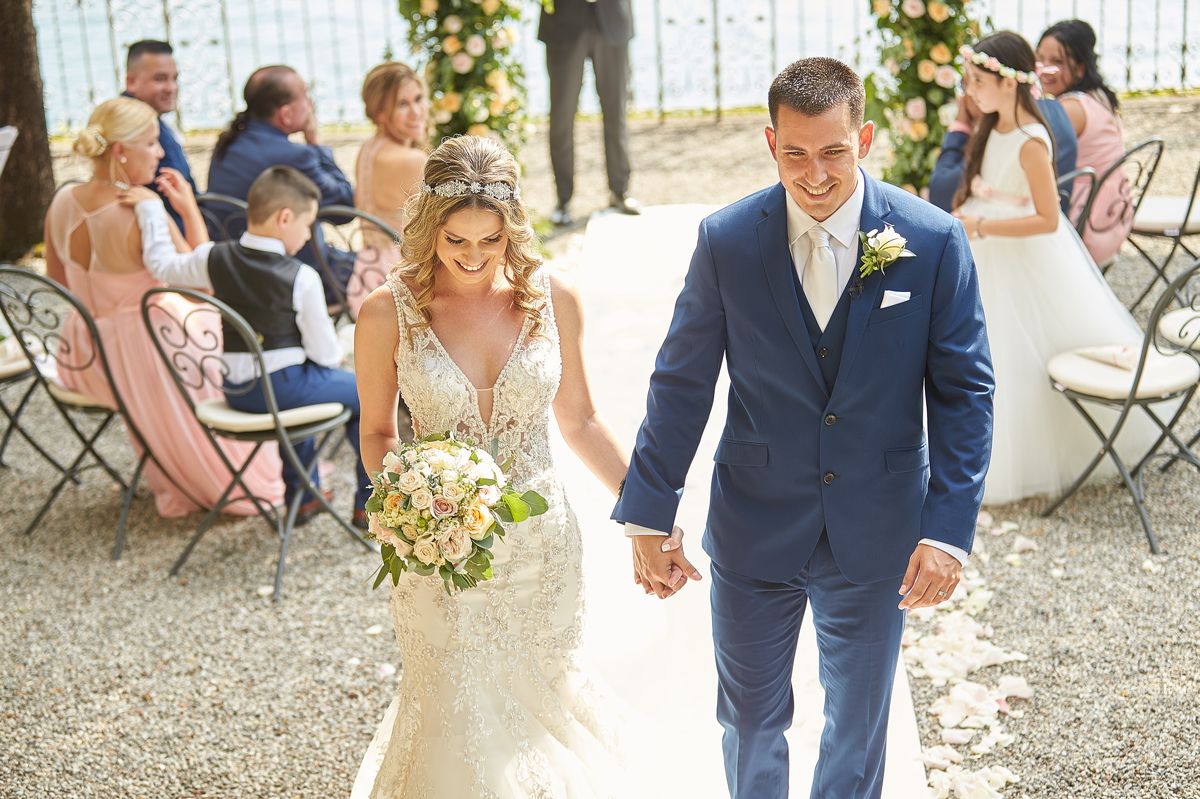 This was a small, intimate wedding with only immediate family.  Honestly, I wish every wedding was like this (or at least felt this way).  We truly felt like family along with them, and this table setup (below) was just perfect!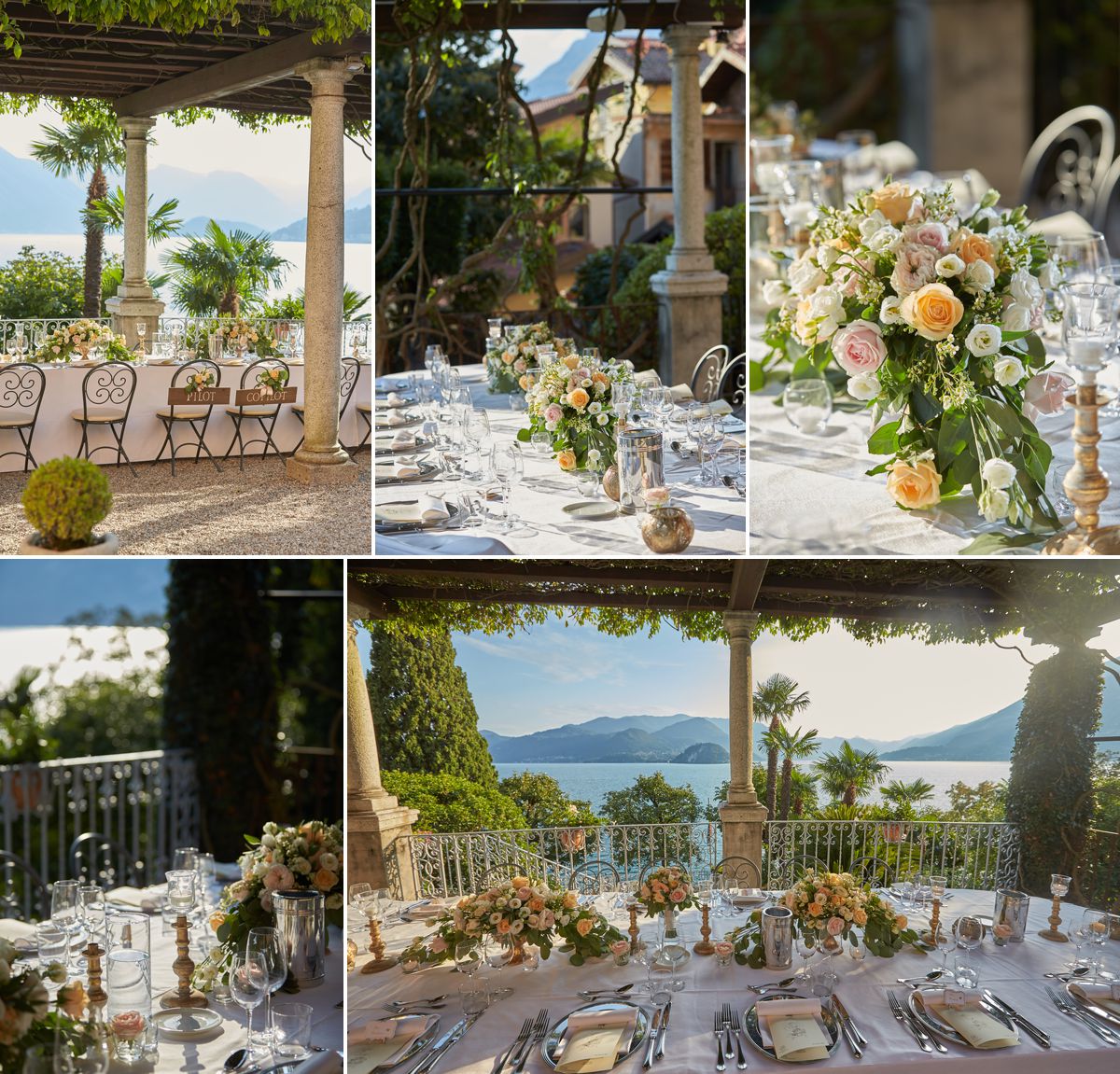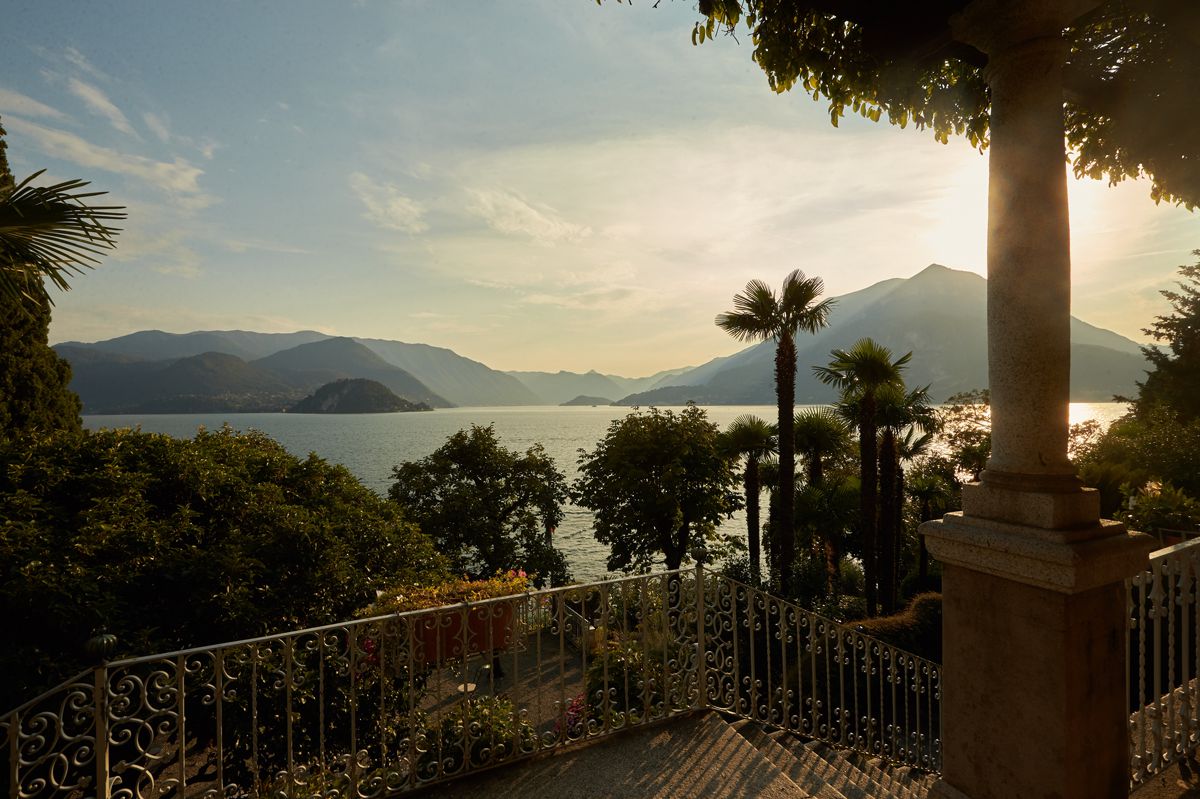 I caught myself several times just gasping at the view.  Sitting here, with my clients at dinner.. it was clear why Lake Como, Italy is so special.  This really is the perfect place for a wedding.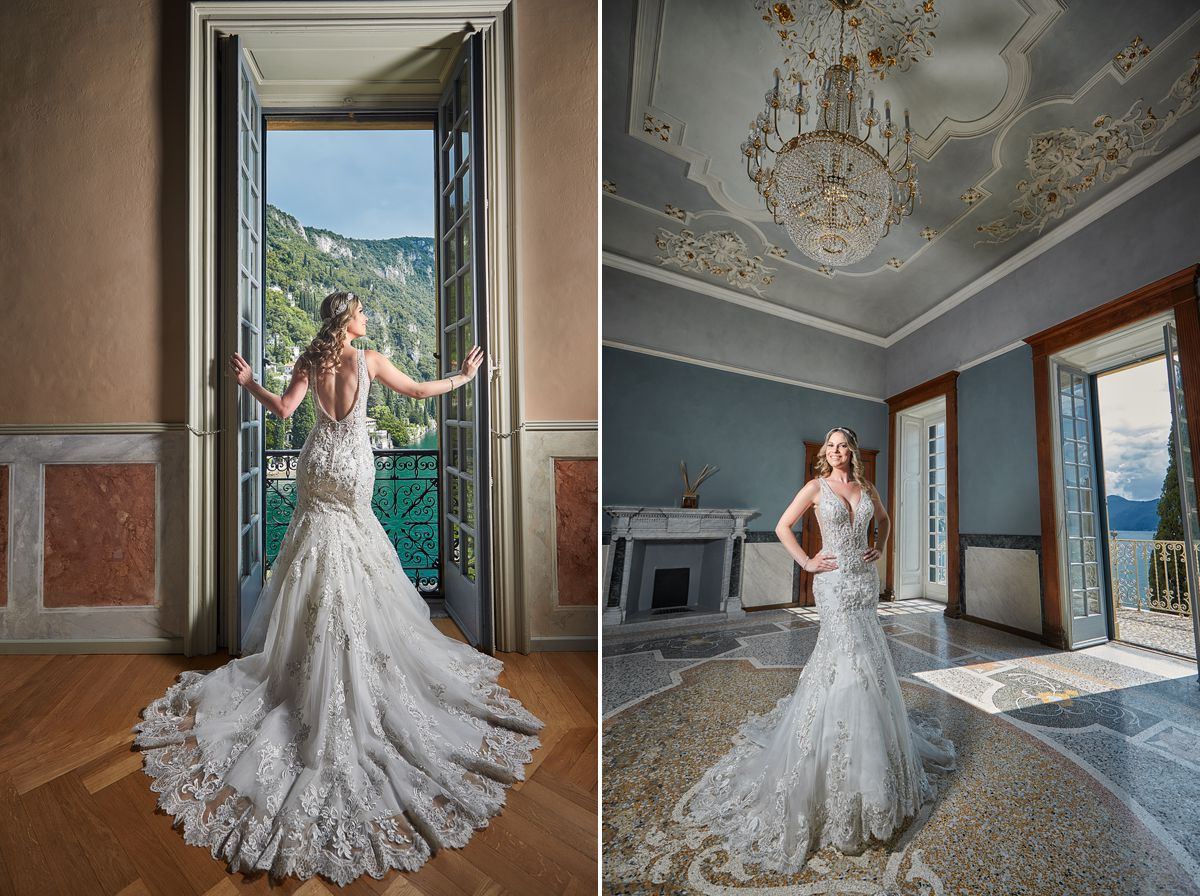 No wedding would be complete with my touch of styled, fashion inspired shots.  Here are a few "candy" shots I was able to get of my stunning bride!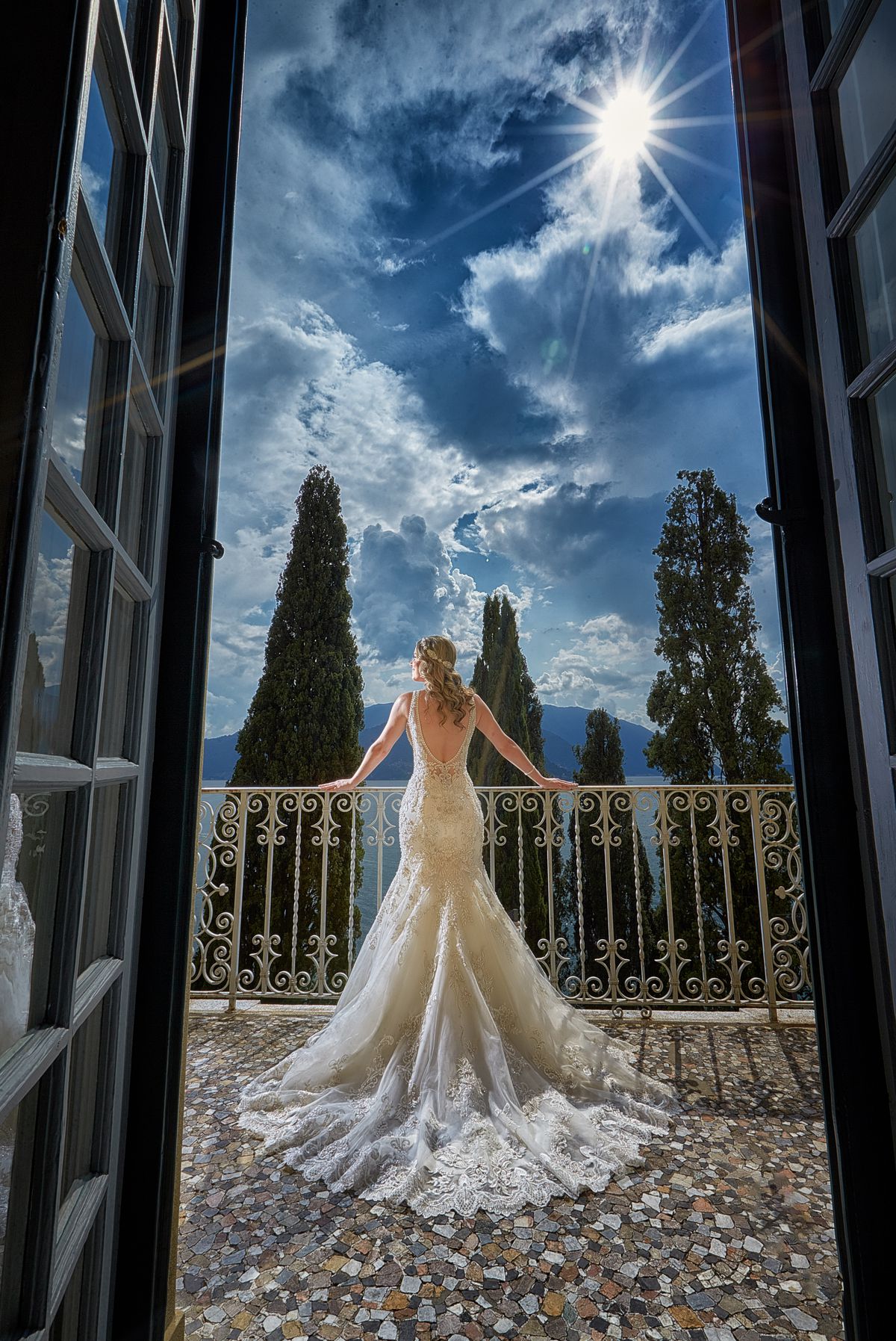 This shot (above), and the one (below) were my fav's from the day!  I was able to get that sun to explode in the sky with a dramatic exposure in the camera, and extremely powerful lighting held by my assistant.  What was also incredible, and not seen here is the fact that I "pulled off" these shots inside of only a few min.  Again, I had gone to the hotel days in advance, and knew exactly where I wanted to go, and what shots I had planned on taking.  This removed all of the stress from the actual wedding day.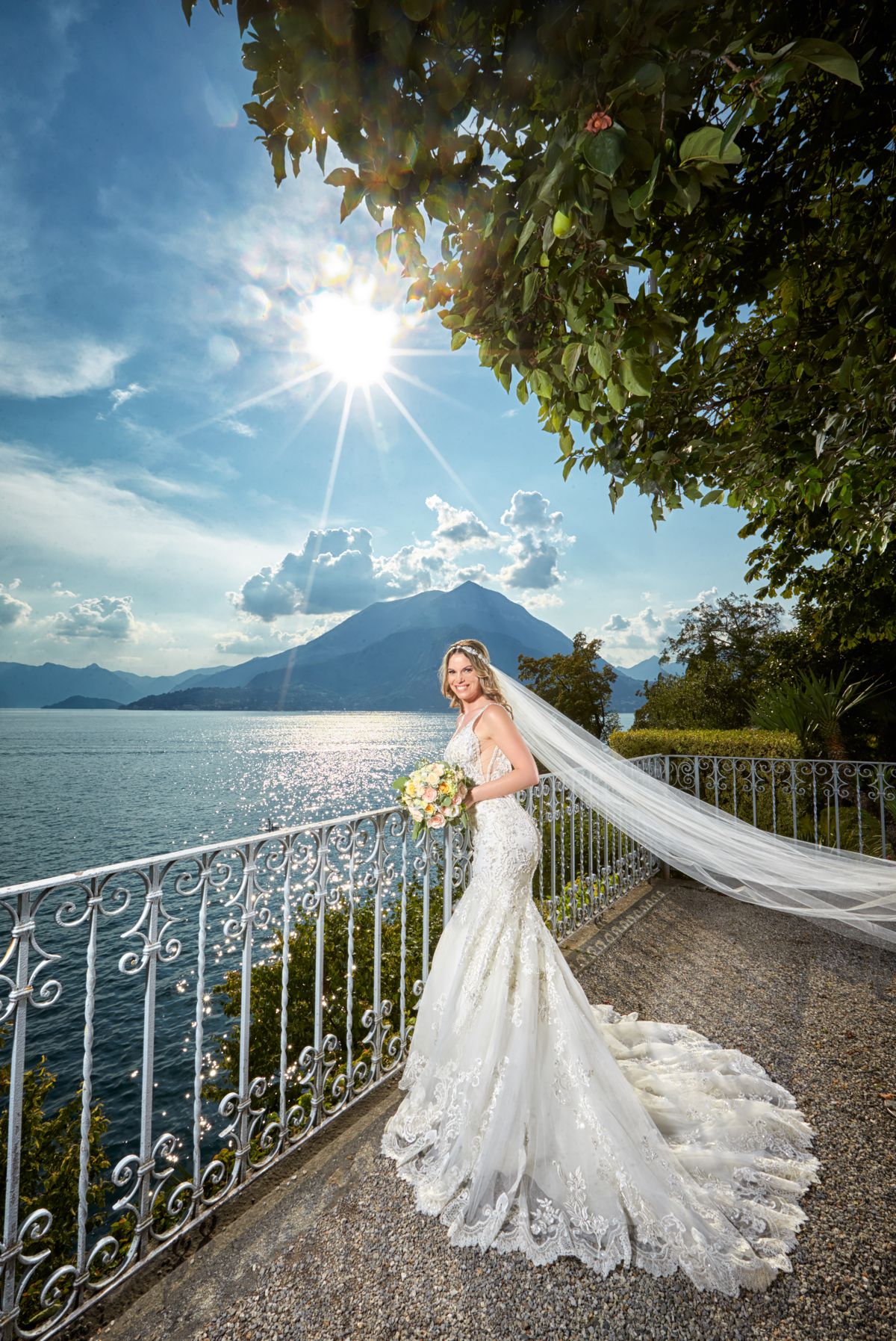 I wanted to take one with just the bride, and then of course one with the two of them together (below)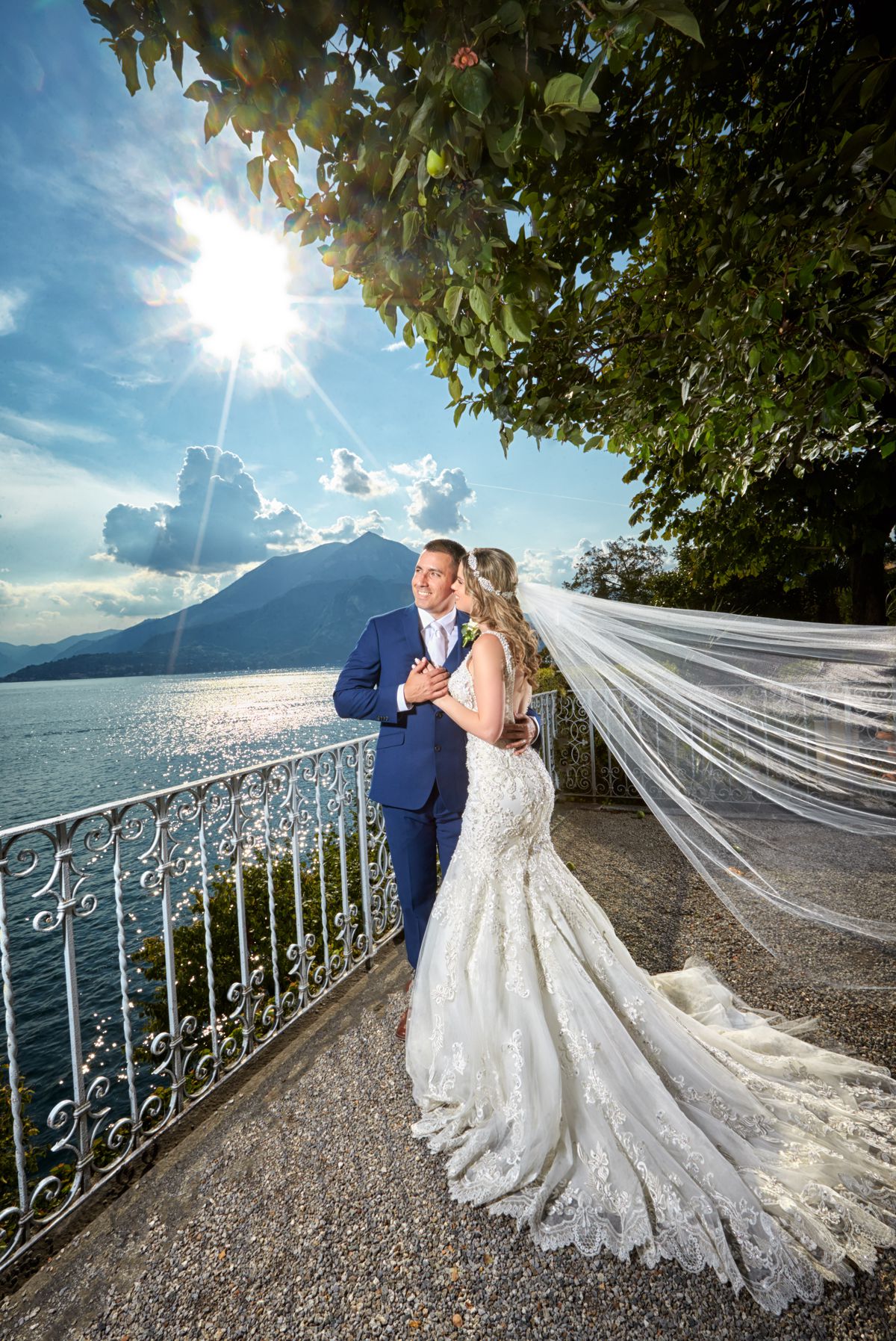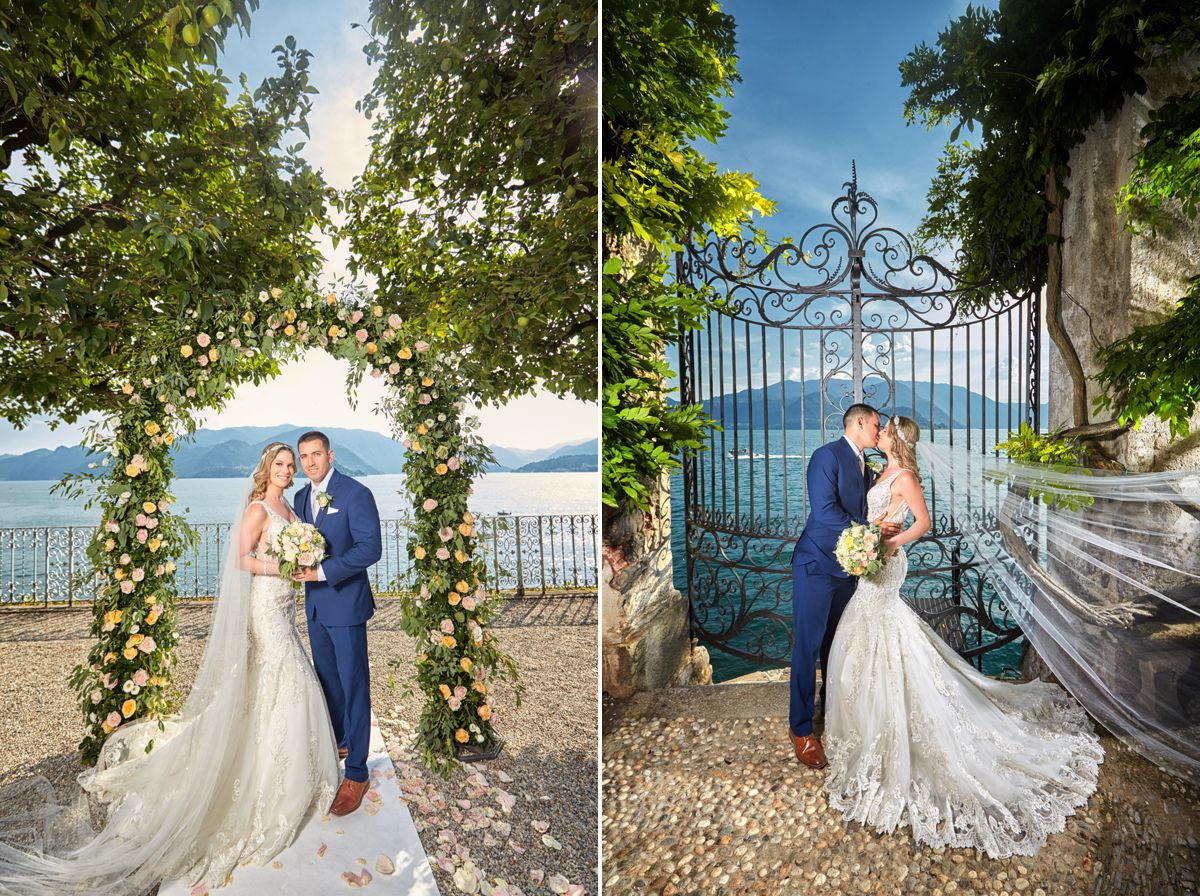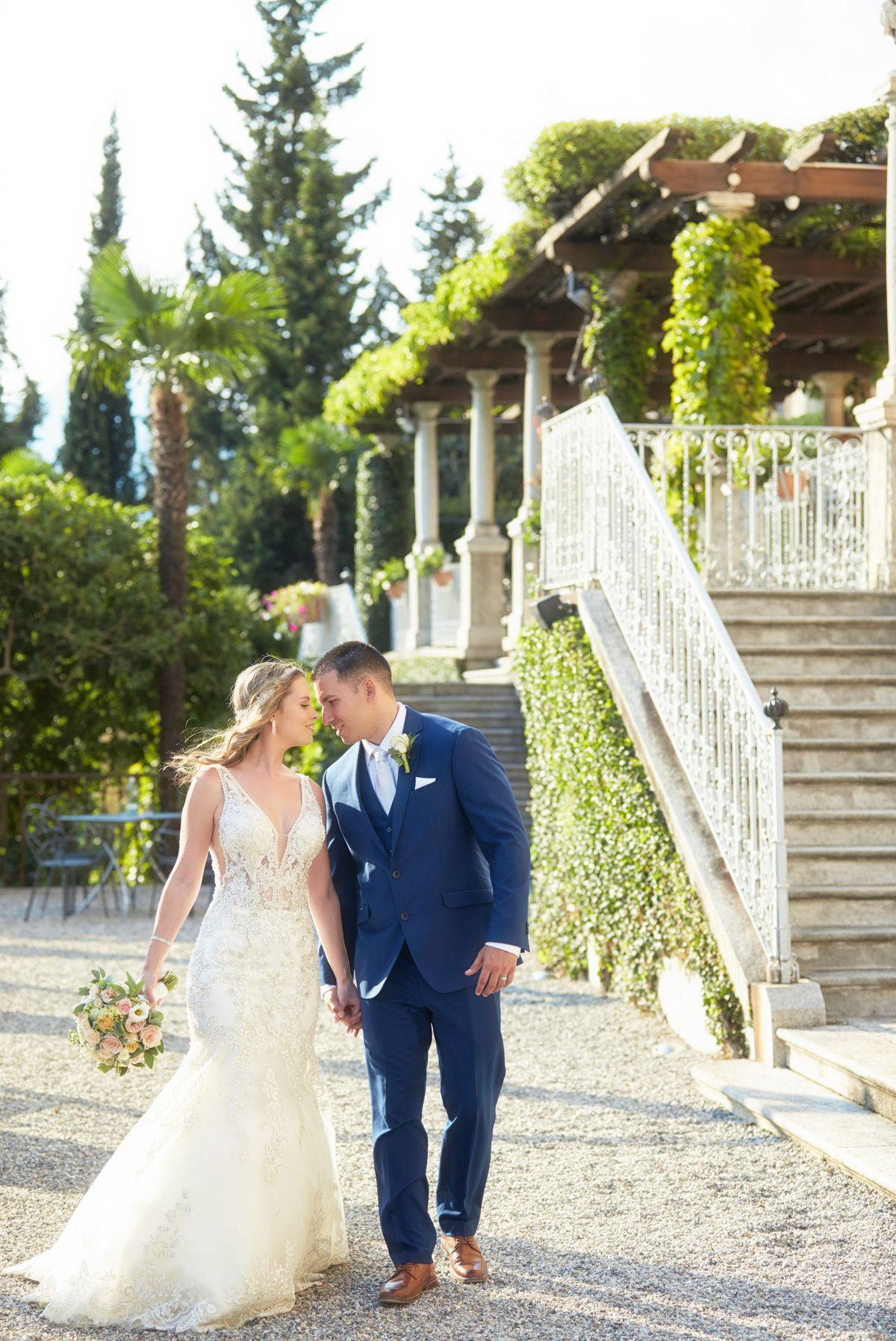 These last two shots show that even in natural light, I can get some amazing shots.  I had them walking hand in hand for some, and I even used the setting sun to lite a few more (below).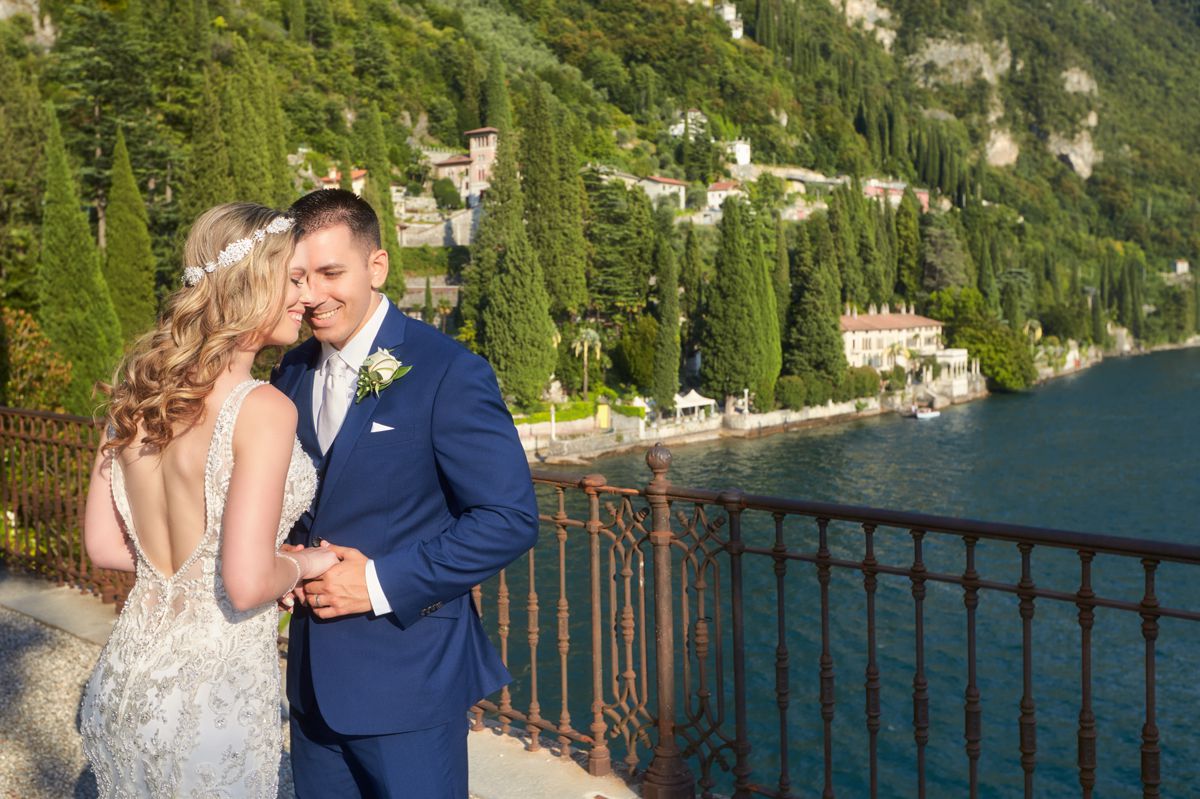 So while I am sure there are many talented Lake Como Wedding Photographers, you can now add me to that list and rest assure that I will ensure that your day unfolds in ways that you never thought possible, and this goes wayyyy beyond just photography.  It's planning, communication, and having fun with my client's.  I build trust with people by being myself, and open.  This always leads to a great experience, and I am so happy that I am able to share in all of your lives.
Thank you.
Until next time… 🙂