ROYAL CARIBBEAN CRUISE WEDDING
So, I have shot a ton of weddings (10 years full-time that number is somewhere over 300 now); and while it's true that I can't remember every single one of them..  THIS wedding will be an exception.  When Kara contacted me about her Royal Caribbean Cruise Wedding, I knew this was going to be a hell of an adventure!  First of all, this was not just any Royal Caribbean Cruise Wedding.. no.  This was a Royal Caribbean Cruise Wedding that took place on the Allure Of The Seas!  (second largest ship in the world at the moment).  That's a big boat, and this was a big deal!
Now, I must admit that this was not the first time I have done a Royal Caribbean Cruise Wedding.  In fact, the year before I did a smaller one on one of their smaller boats.  It was also just a three day cruise (this wedding was an incredible 7 days out at sea!).   Having had this prior experience, it really made a big difference in my own confidence going into this one because of all that we learned from working a wedding on a big cruise ship.   The fact is, cruise weddings are NOT easy (in terms of photo logistics).  First of all, you have limited space everywhere along with people that are also, well..  everywhere lol.  Then, you have to deal with other factors such as the boat staff and just in general everything kinda feels restricted vs. not being on a boat.  Well..  so I thought.  You see, this WAS the experience we had during the first Royal Caribbean Cruise Wedding.  So, understandably we were planning on this again (just on a bigger ship).  However, we were shocked at just how easy it was this time around.  We had zero problems, no push back from the staff and everyone was super respectful.  In fact, this Royal Caribbean Cruise Wedding even had a wedding planner on-board that HELPED us with anything we needed!  THAT was amazing.  So, its clear that the experience that you will get really depends on the level of cruise that you book.  Like with anything in life I guess, the more you pay the better experience you can expect.  This was the case on the Allure Of The Seas.
So, why hire me?  Why pay me my rate and then pay for my room on the cruise to shoot your wedding, when they already offer a "wedding package" that has a photographer on the boat?
Simple.  It sucks.  Period.
Let me explain so that you don't think this is just a subjective and bias statement.  If photos are of importance to you, read on..
First of all, any Royal Caribbean Cruise Wedding (or any cruise line for that matter) will offer you a wedding package with photos.  The problem, is that this is all taken by "Bob" the guy who is working that day on the boat.  Or, maybe it's "Melissa" if its on a Sunday and shes working.  Who knows.  Frankly, it does not matter anyway.  They are all trained to do the same thing.  The same shots, the same way.  They are not paid to be "creative", they are paid to be on the boat and get a job done.  They are not going to post anything on Instagram, they are not trying to "move the world" for you because its their whole life on the line lol (being serious).  They are trying to get the basic shots, and get to a dinner break.  Their mind is on what they are going to be doing tomorrow and not their clients dreams and ideas.  The simple truth is that if any, ANY of the cruise photographers REALLY wanted to be a pro photographer they would find work off that boat and make a name for themselves.  They dont because they get nice benefits, and have a chance to learn at the same time (so its not all bad for them) but for you.. thats not a good thing.  I would not want a new person working on my car, much less attempting to take creative shots on my wedding day.  Do you kinda see my point?
Thankfully Kara was waaaaaay ahead of me.  She knew this from the start and wanted to get someone in that could really get some results.  She picked me am I am so glad that she did.
Okay, before we get into the images below..   check out some behind the scenes video that we did from this trip!  This is one of my all time fav. videos.   I have two versions..  one is a quick 60-sec preview and the other is the full 18-min episode 🙂
Here is the quick 60-sec recap:
Then, here is the full 18min episode!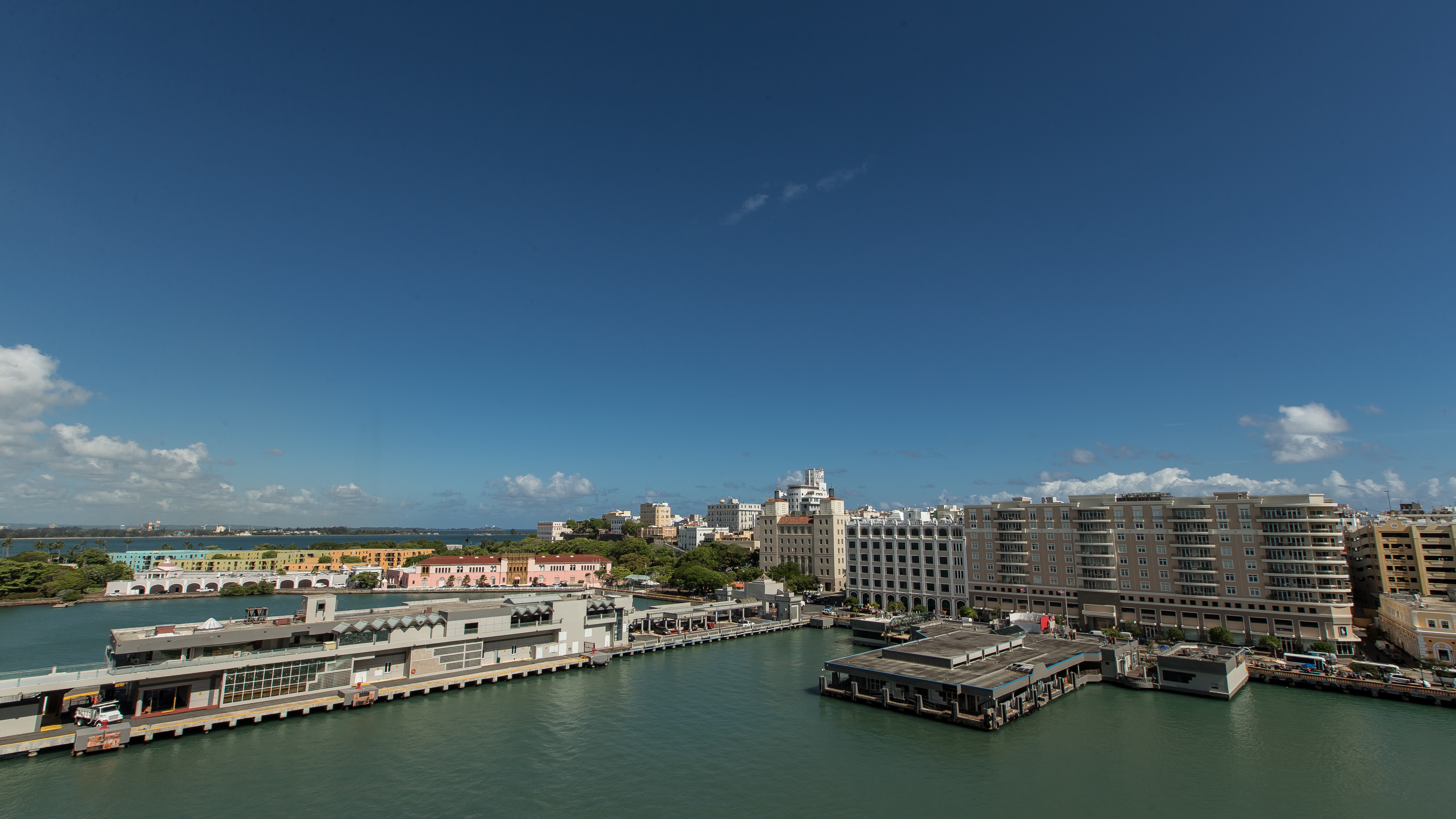 So, the first few days of the cruise was just fun.  We got to hang out with the wedding party and got to explore the entire boat before the wedding day.  This was great, because it allowed me to really think about some creative ideas ahead of time vs. being thrown into a situation at the last second.   The photo above was taken when we docked in San Juan, PR.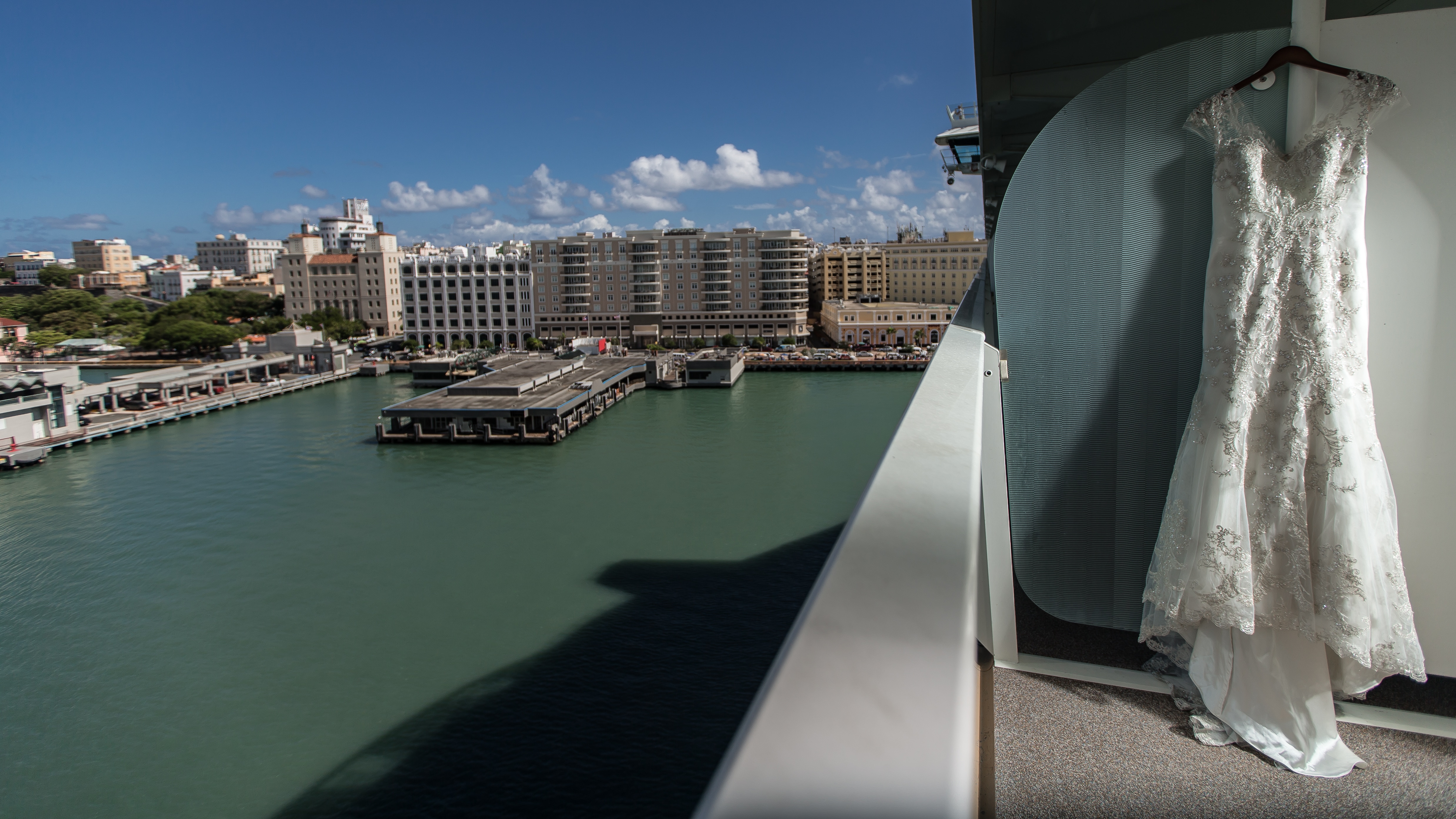 The view was so nice (and the lighting was also perfect at this time of day) that I wanted to take advantage of this with some of the detail shots.  So, I did!  I hung the wedding dress (with permission from the bride) out on the terrace of her room and was able to get this cool shot.  This alone is a great example of why you would not want any of the "photographers" from the boat taking your wedding images.  This shot would never have entered their mind I assure you.  LOL.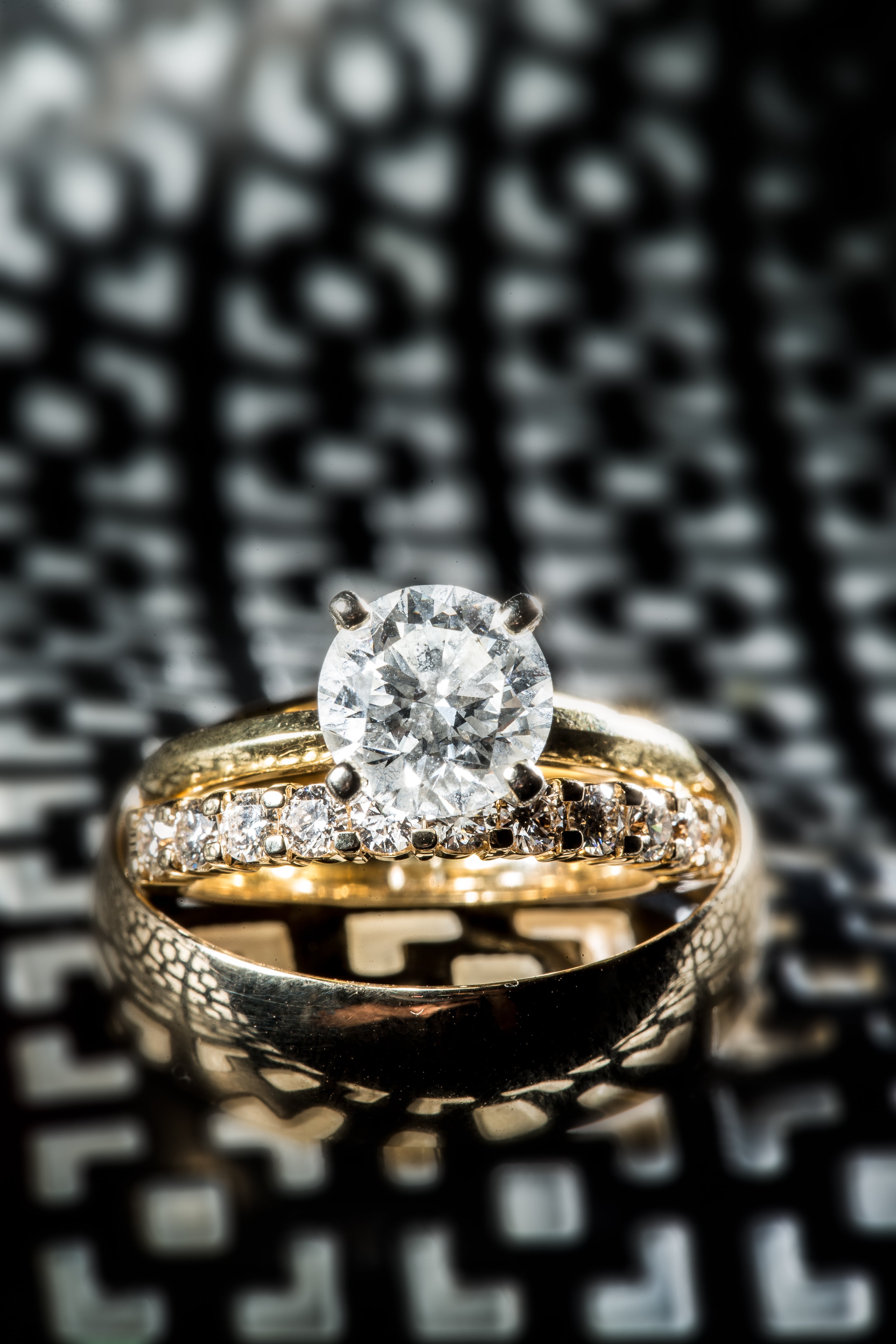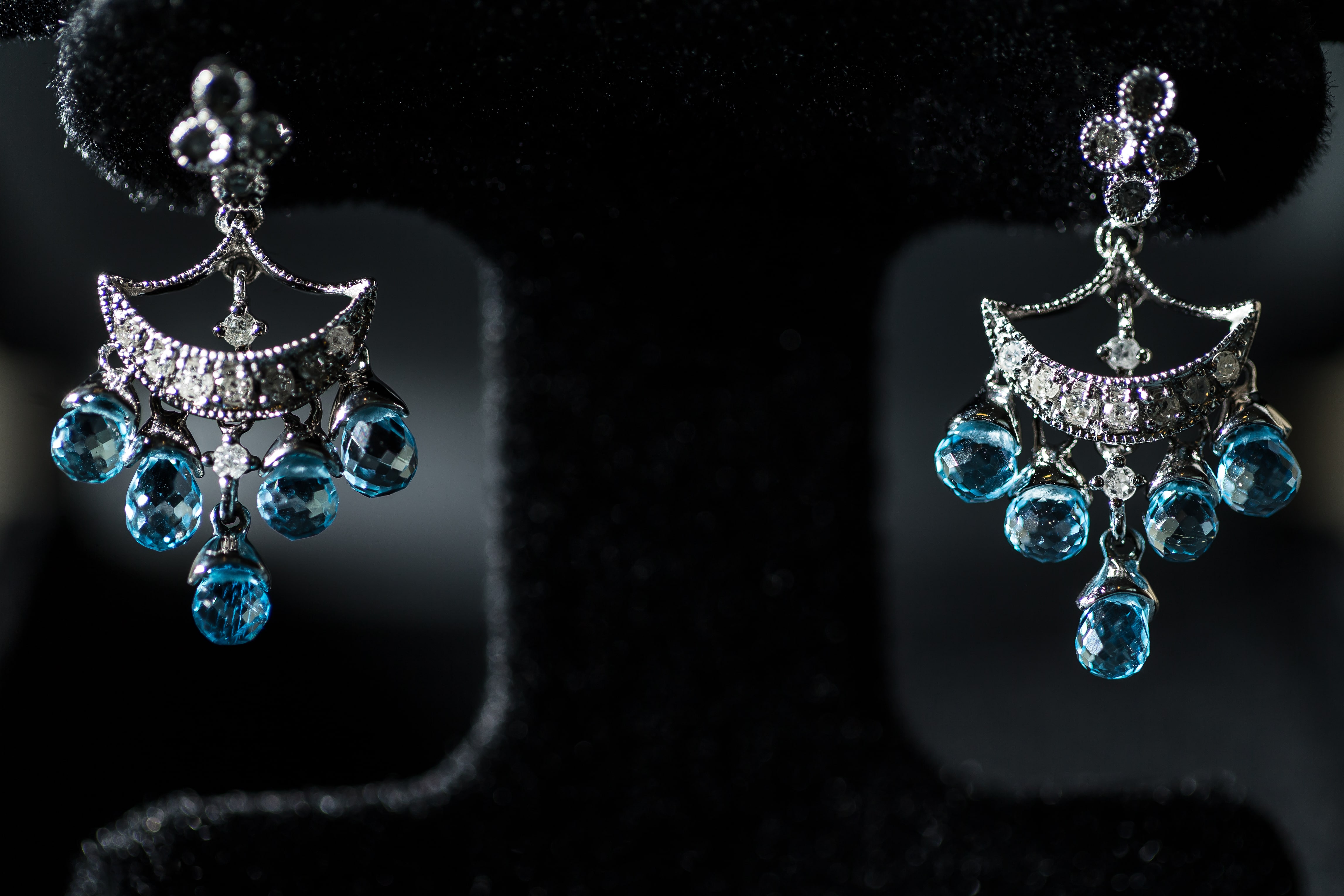 I loved how her earrings looked like little mini boat anchors!  A very nice touch indeed. 🙂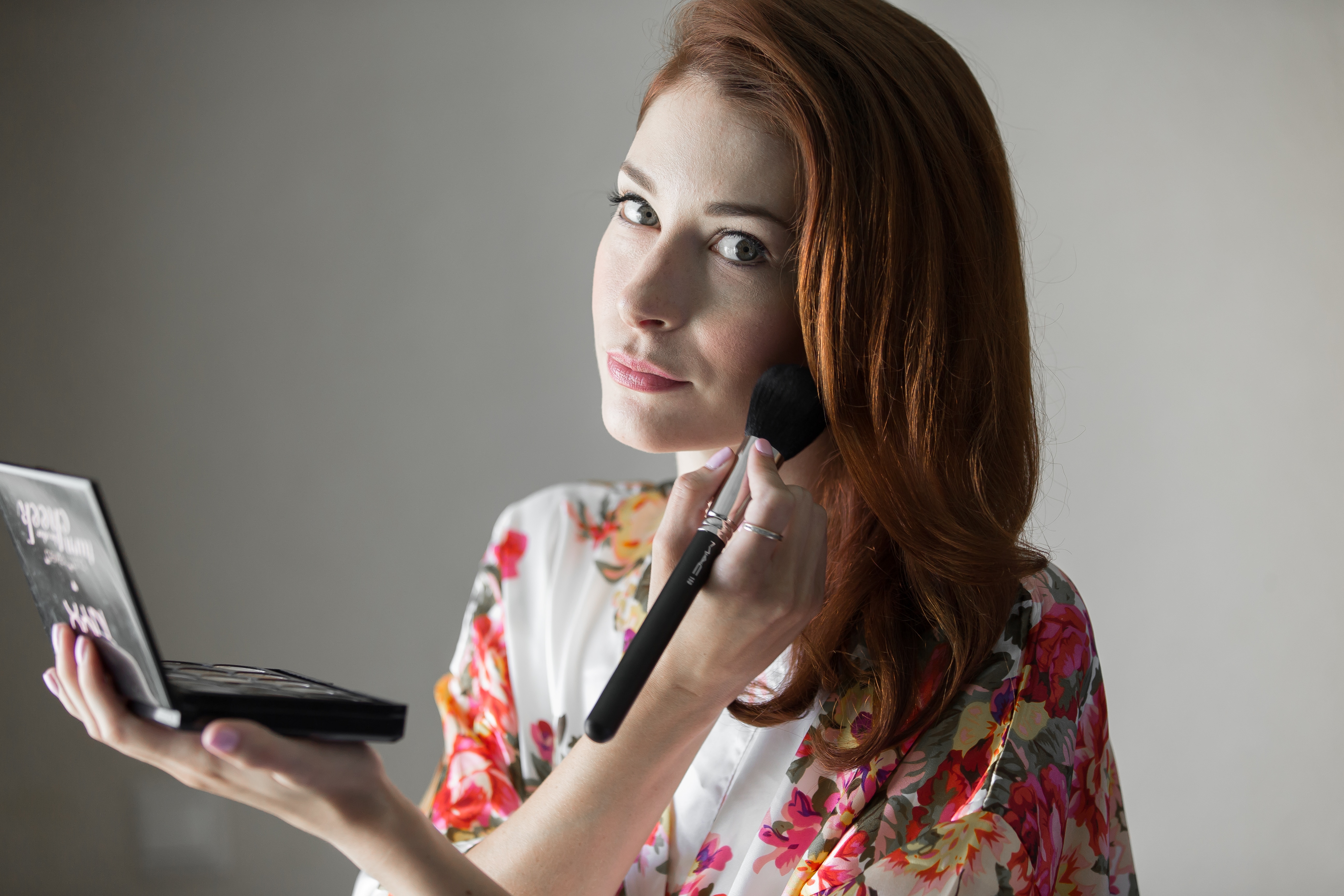 Funny enough my bride Kara is a professional makeup artist.  So, she definitely knew what she was doing!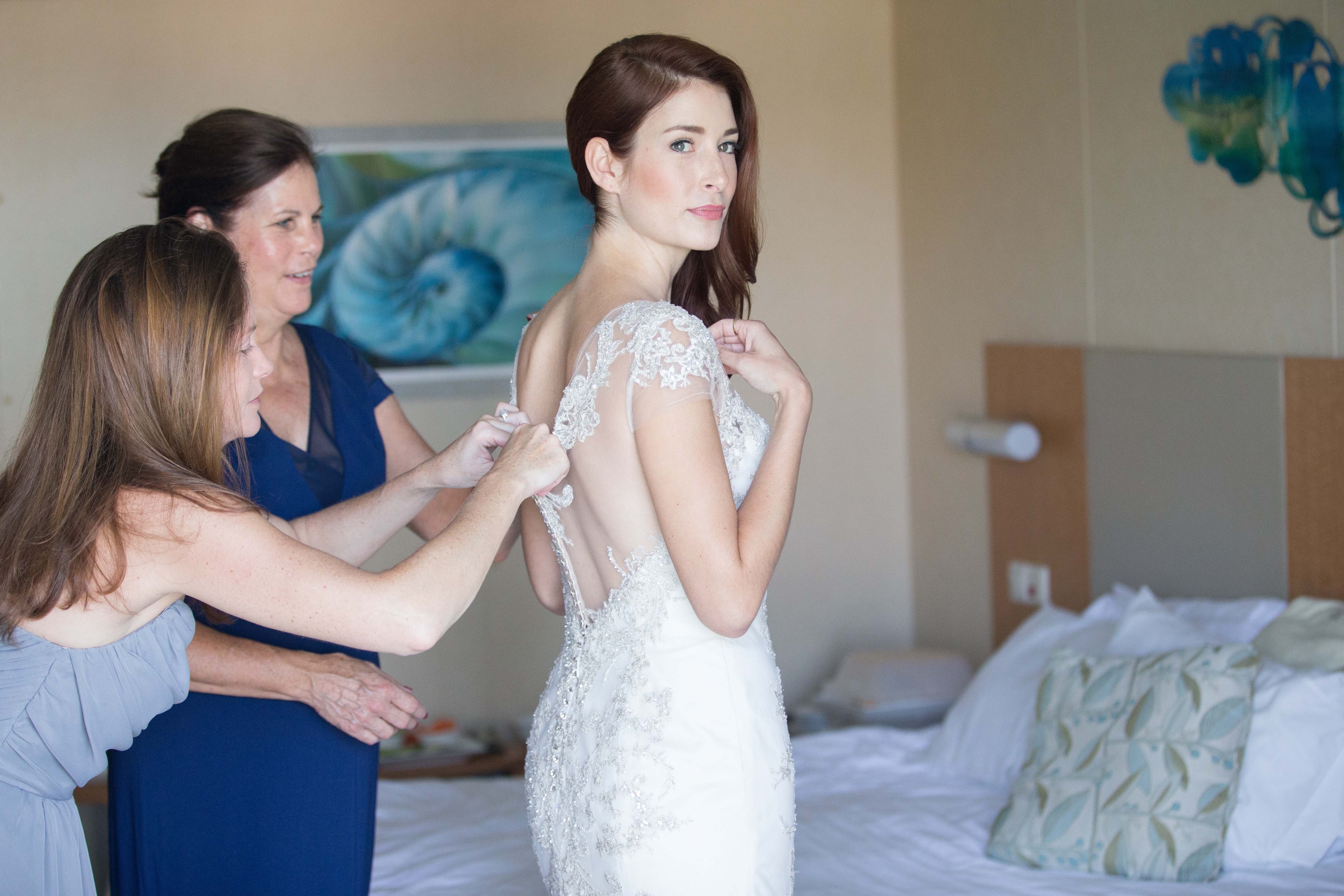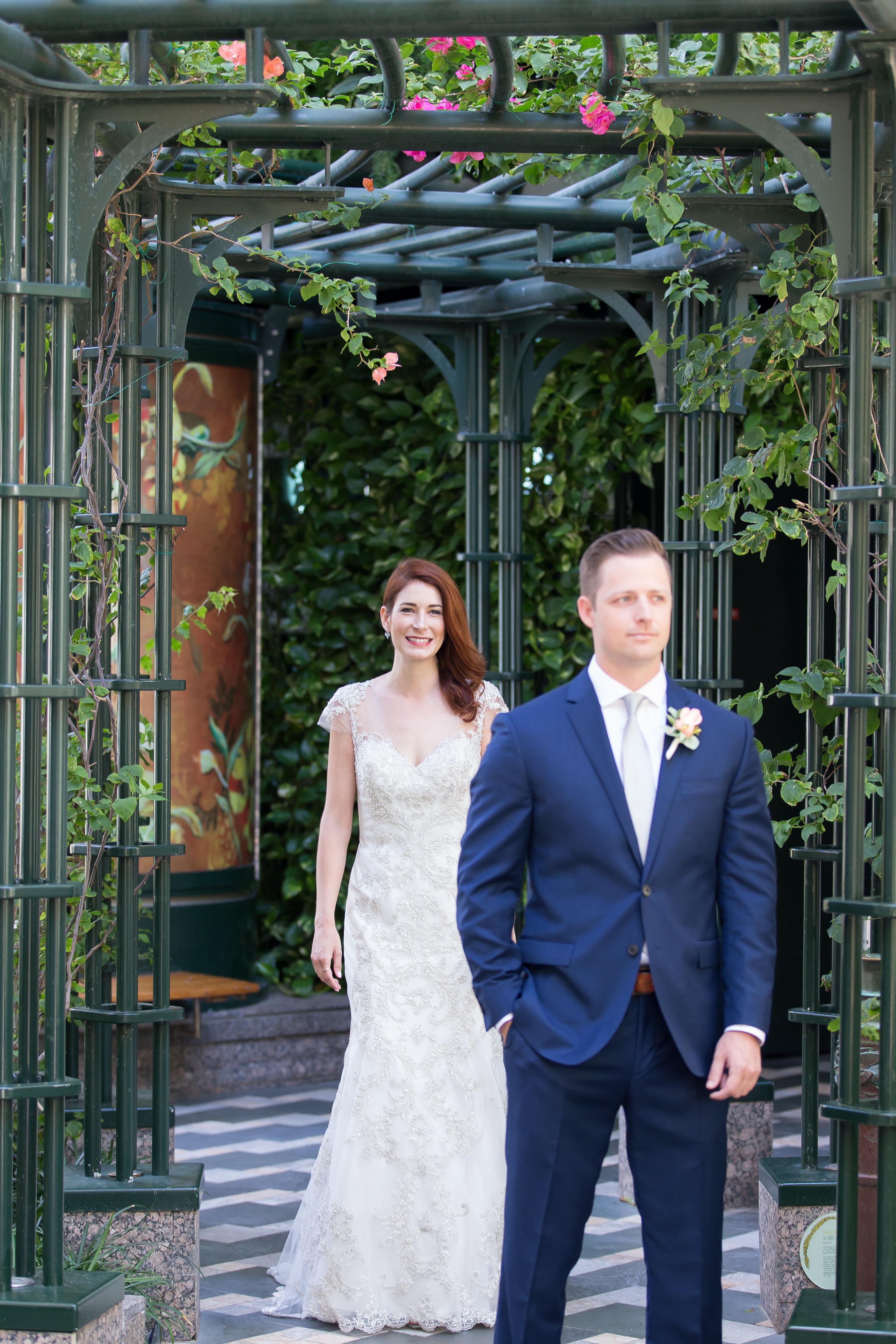 I am really glad they decided to do a "first look" because this allowed SO MUCH MORE time for some creative shots vs. just doing a few in the room where the ceremony would take place.  This makes a big difference.  Also, its worth noting that one of the most important points was the fact that the boat was docked.  So, all of the 6000+ guests on the boat (well most of them) got off to explore San Juan.  This created a "window" of time where not many people would be on the boat!  This is exactly what I wanted and I took full advantage as you will see in all of the styled shots I was able to pull off.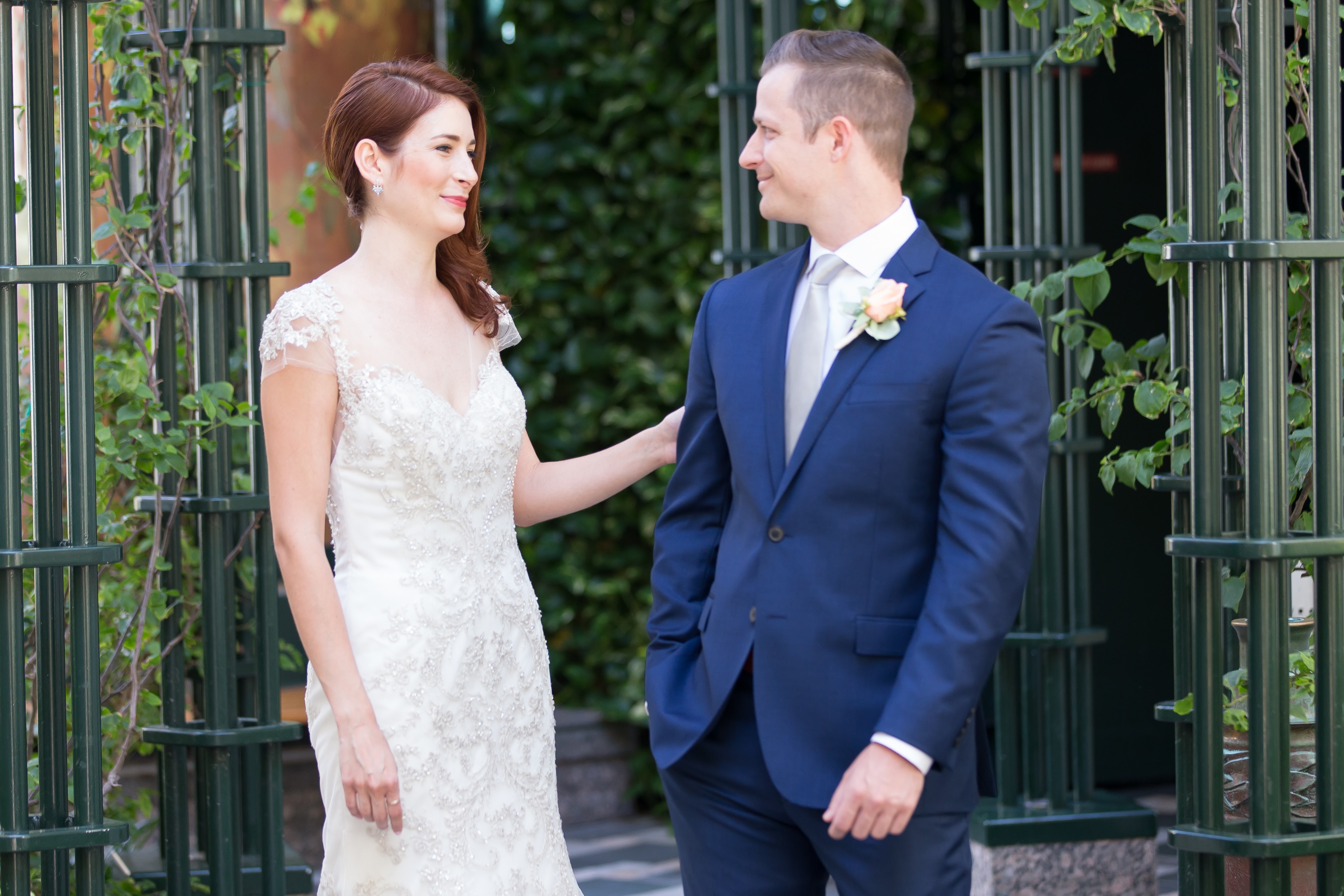 I was standing far, far away during these shots of them.  So, the moment was real and not impacted at all by me.  Just wanted you all to know that. 😉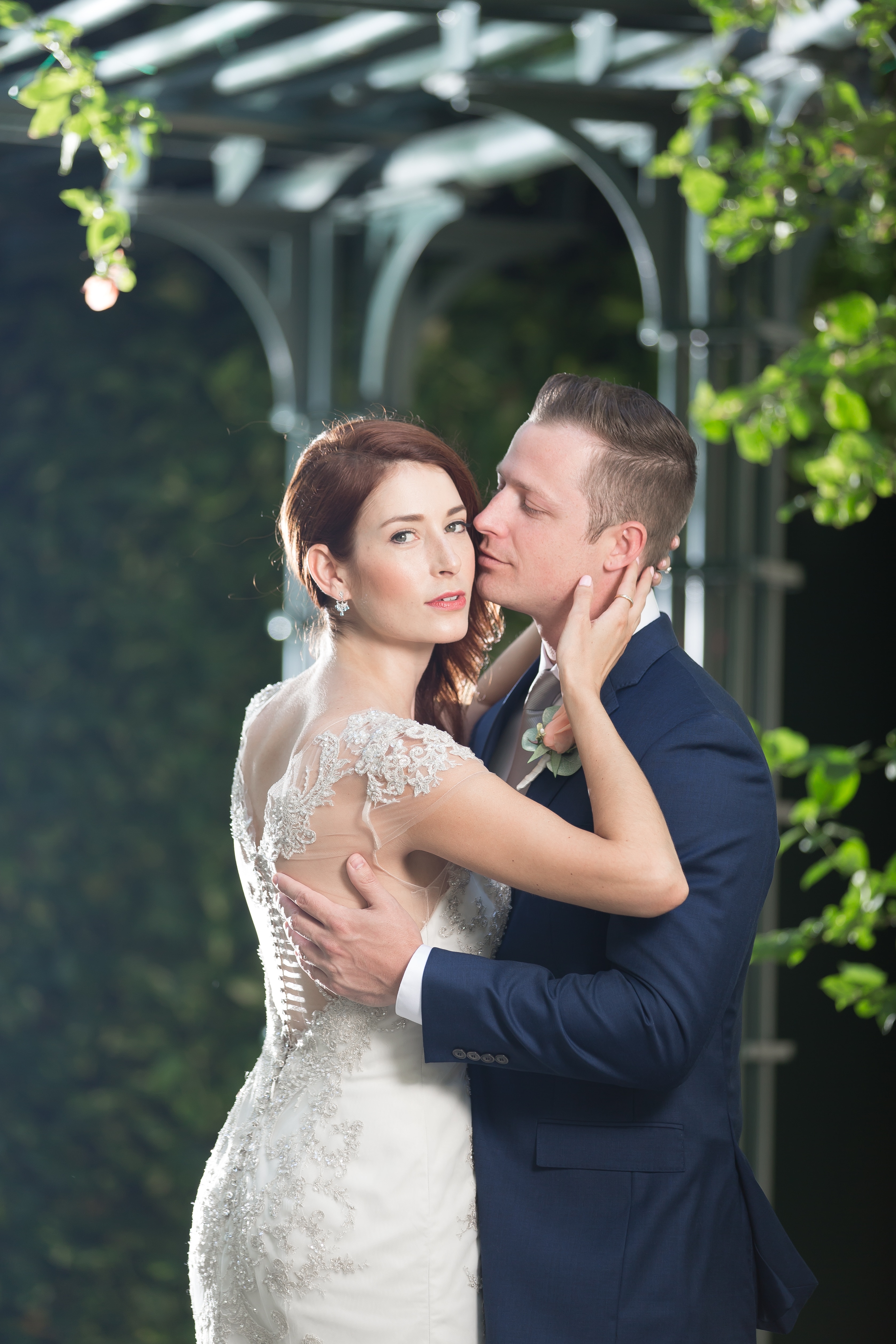 Now it came time for some control (styled shots).  Here is where I then used my fancy lighting and was able to make some really nice results using the space we had to work with.   What I love, love, love about this series of images, is the simple fact that you would have NO idea at all that any of thease shots were taken during a Royal Caribbean Cruise Wedding!  They look like they could have been taken anywhere.  This is important because even tho this was a Royal Caribbean Cruise Wedding and most of the images would reflect that, its really nice to have some that also stnad out as being totally unique.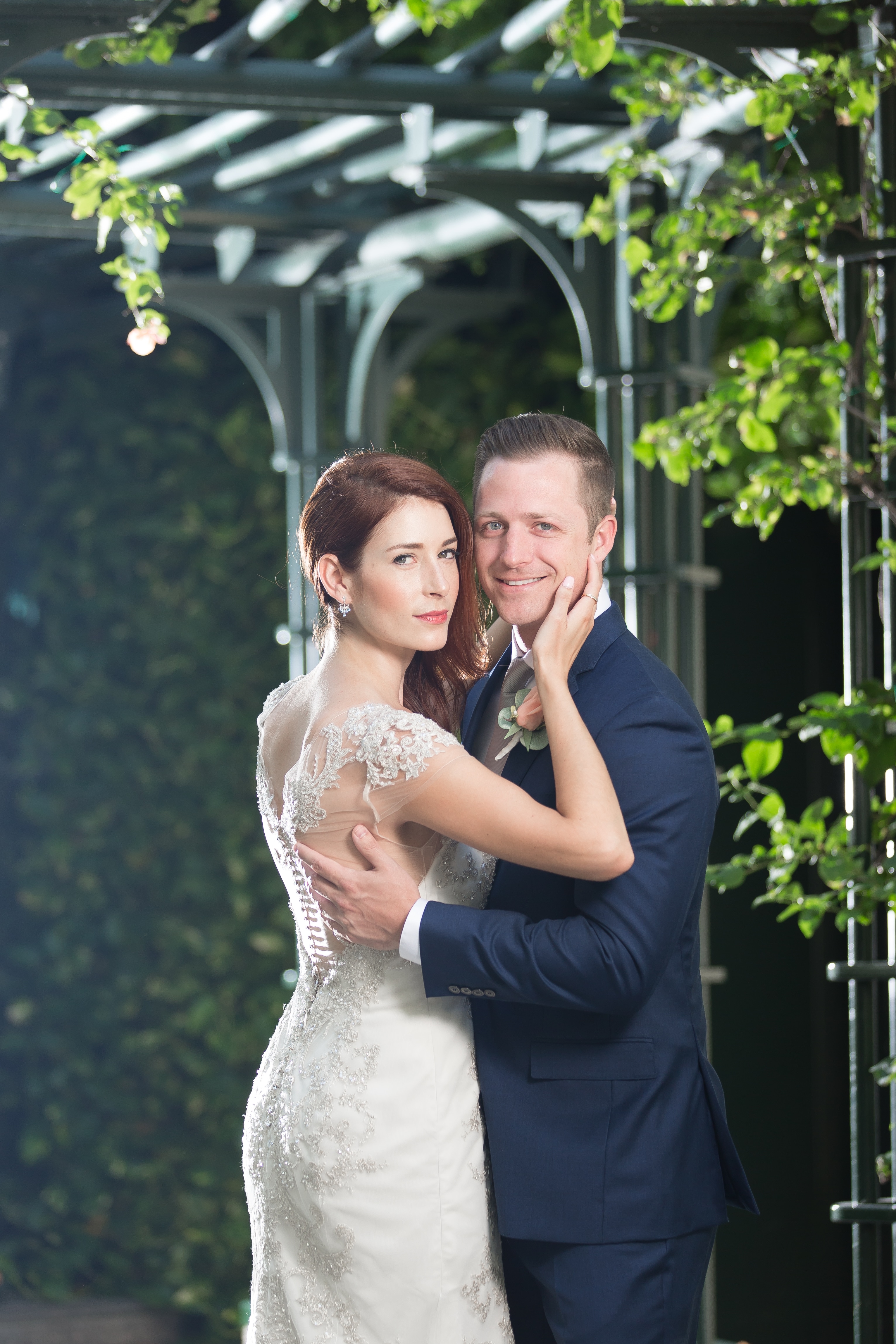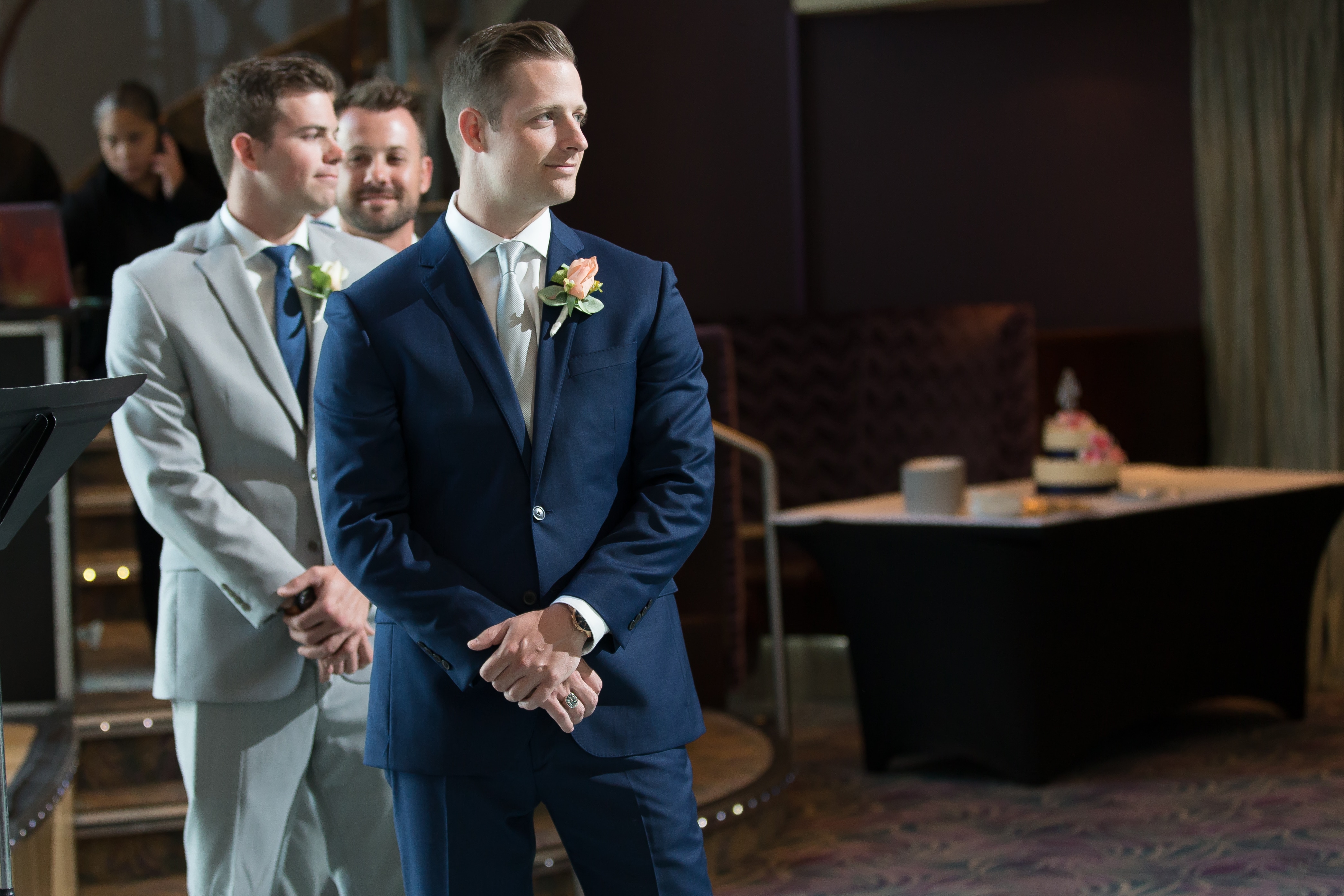 As always, I get a shot of the grooms face before she enters the room.  (the one shot I never got from my own wedding day).  He had kinda an "Ed Harris" look to him..  what do you think?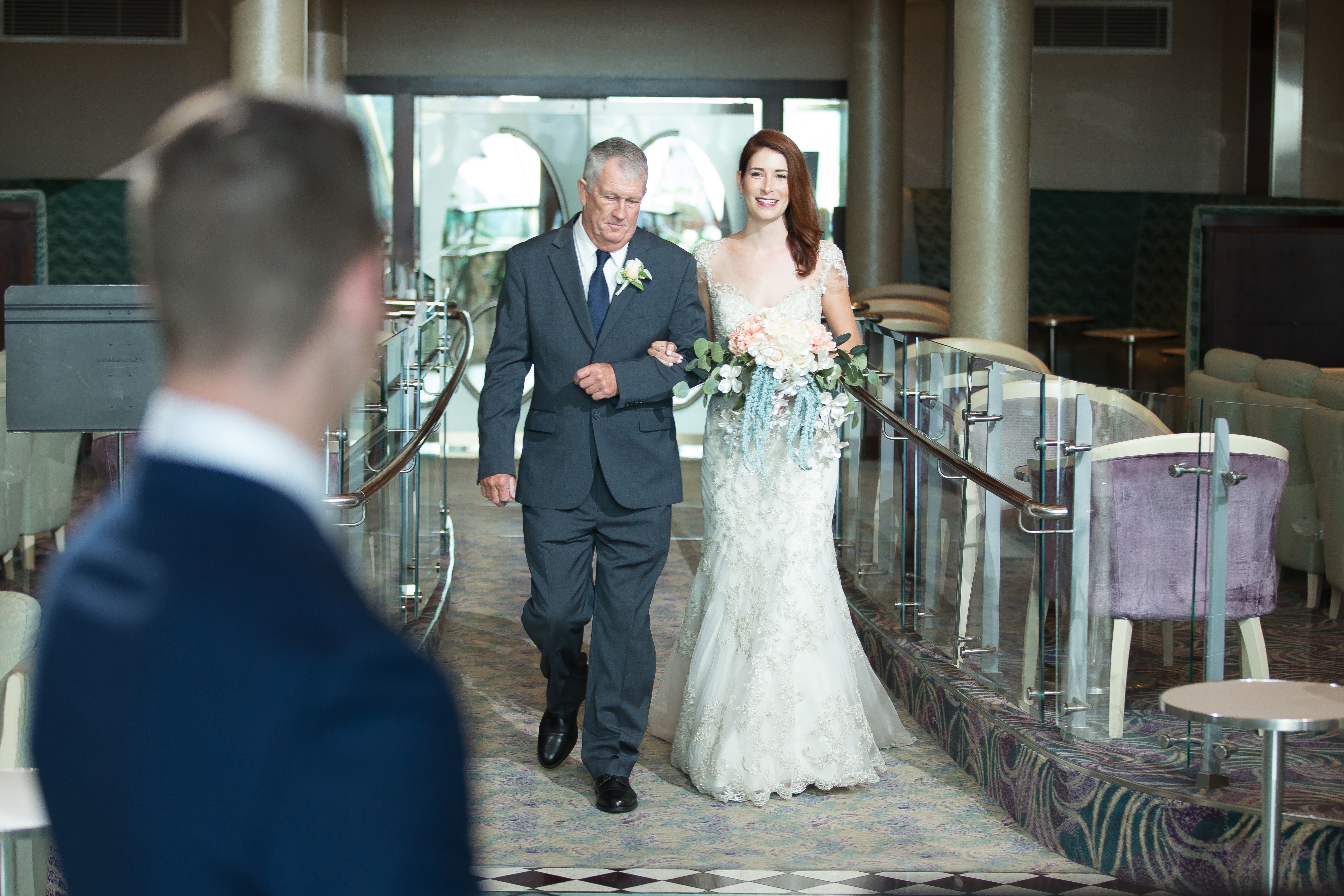 For this Royal Caribbean Cruise Wedding, they gave them this huge, beautiful room for the ceremony and reception to take place.  It was two levels and just perfect.  To be honest this space was MUCH larger than most of the non cruise weddings I have shot LOL, so you can forget the stereotype that everything on a cruise ship is small.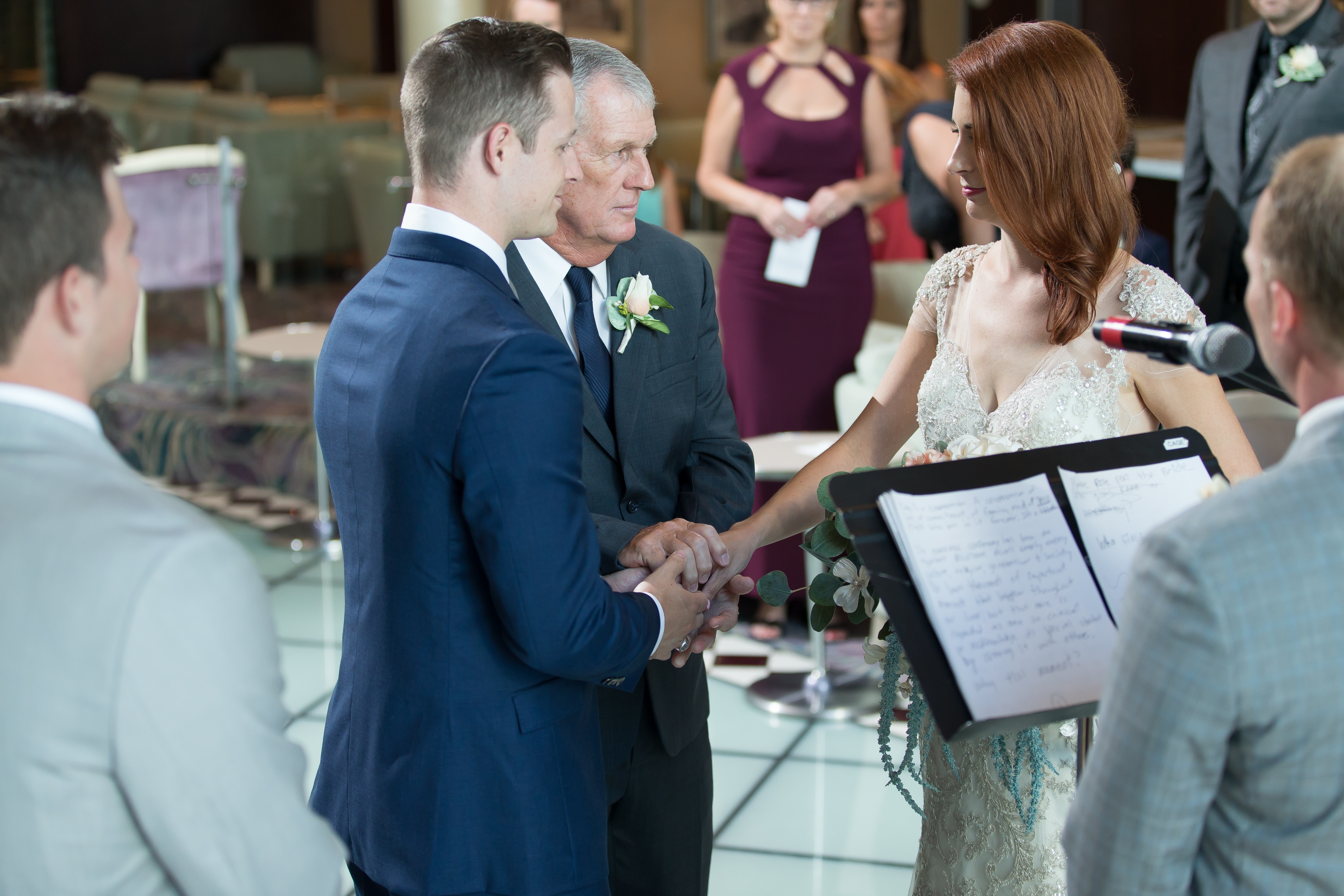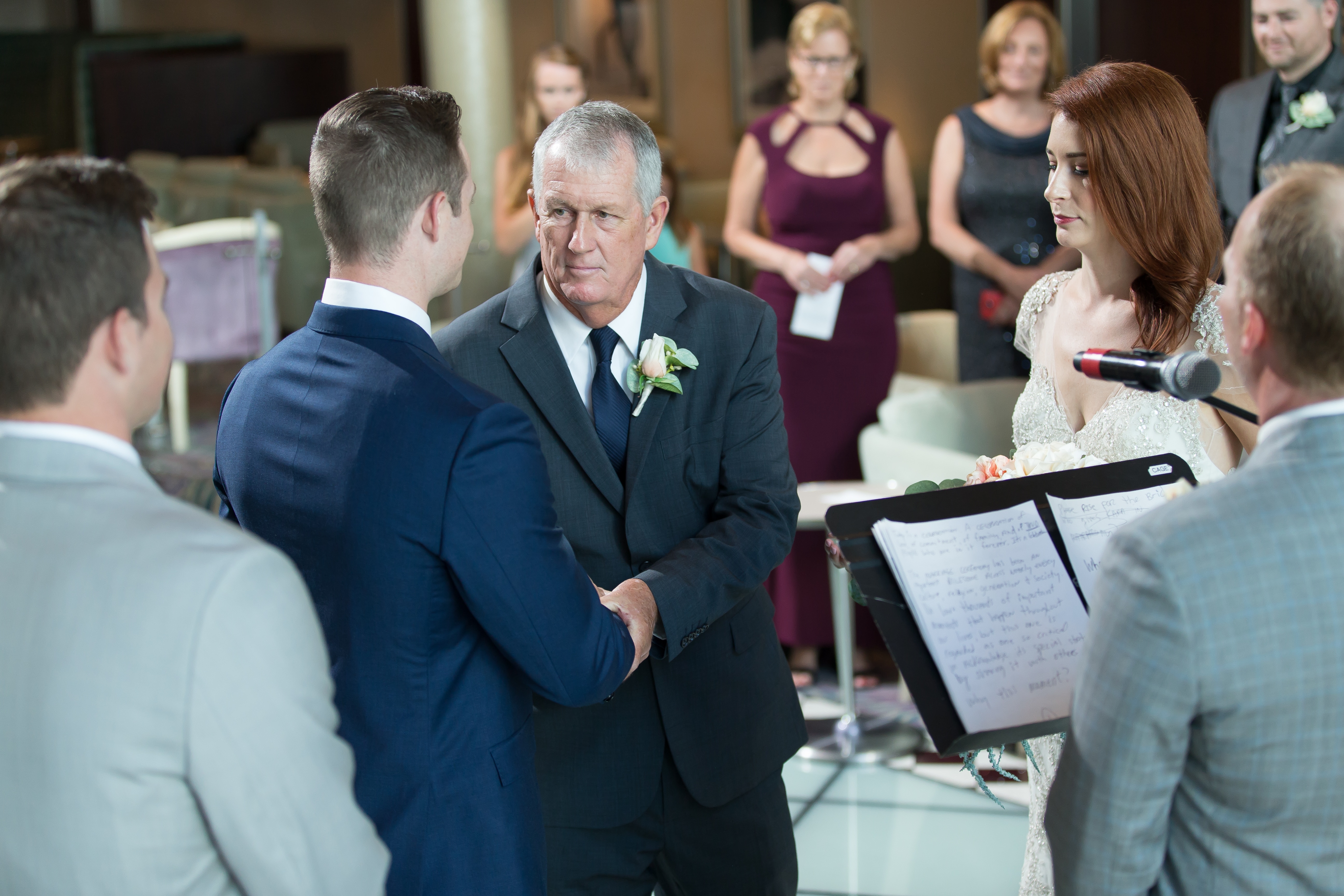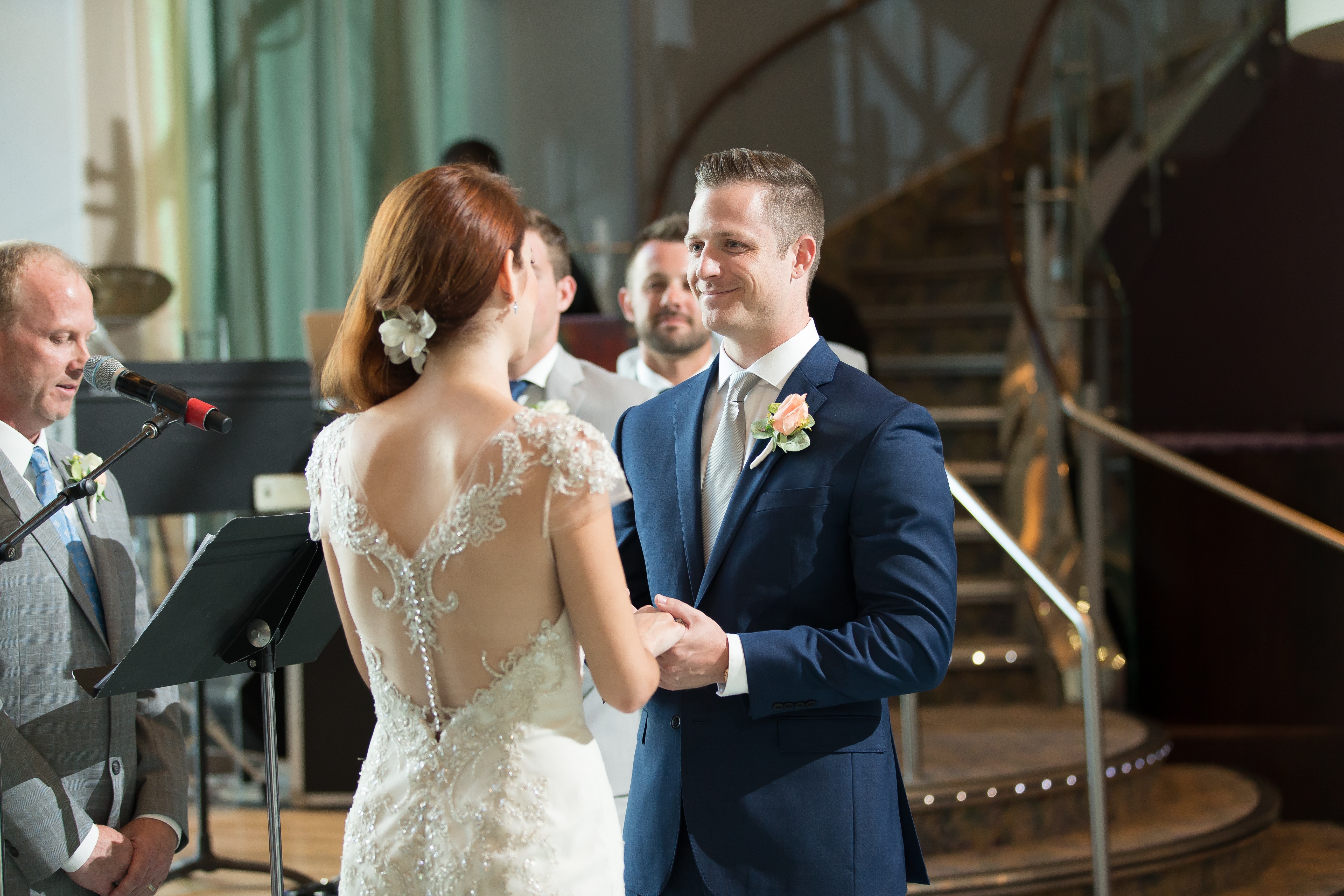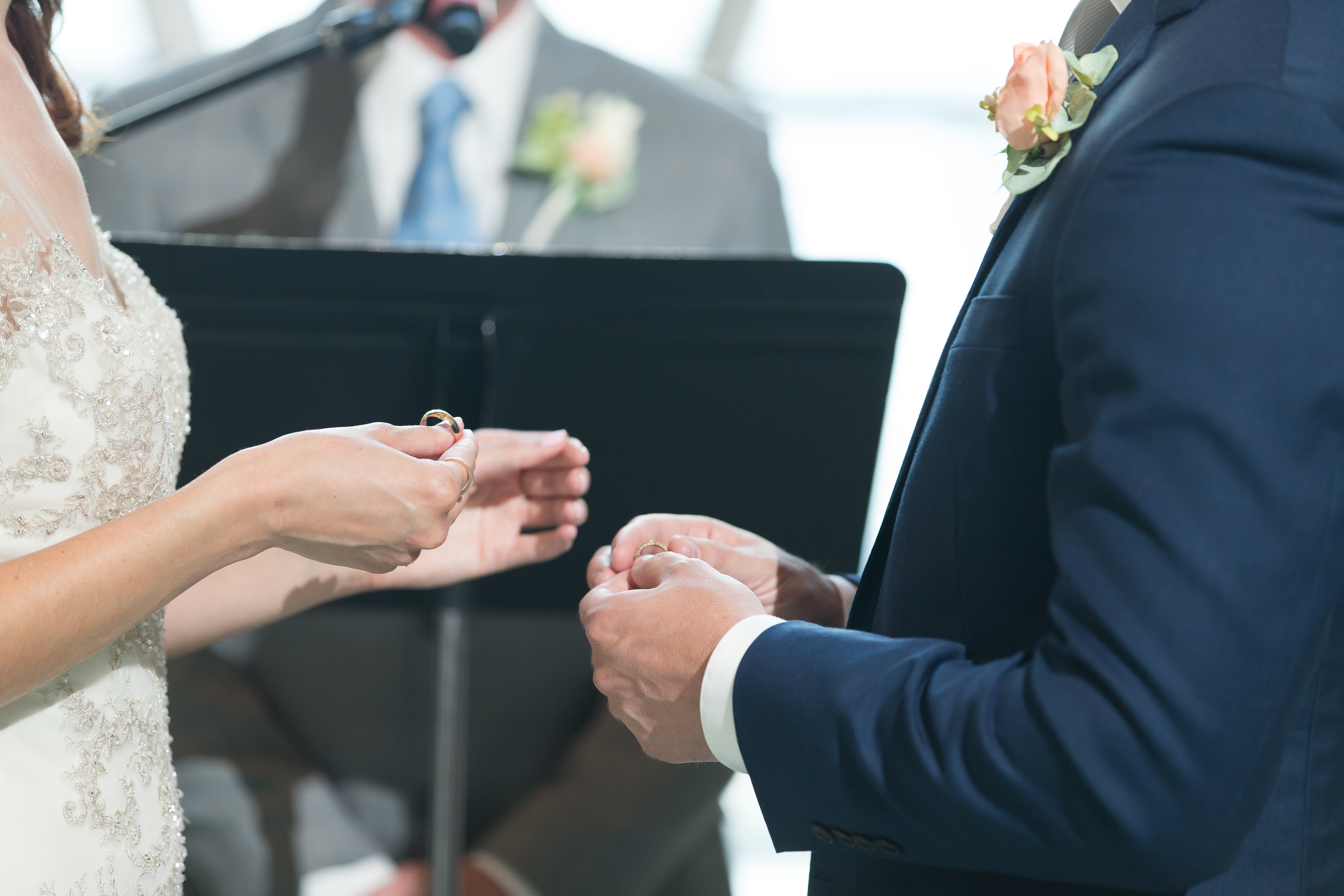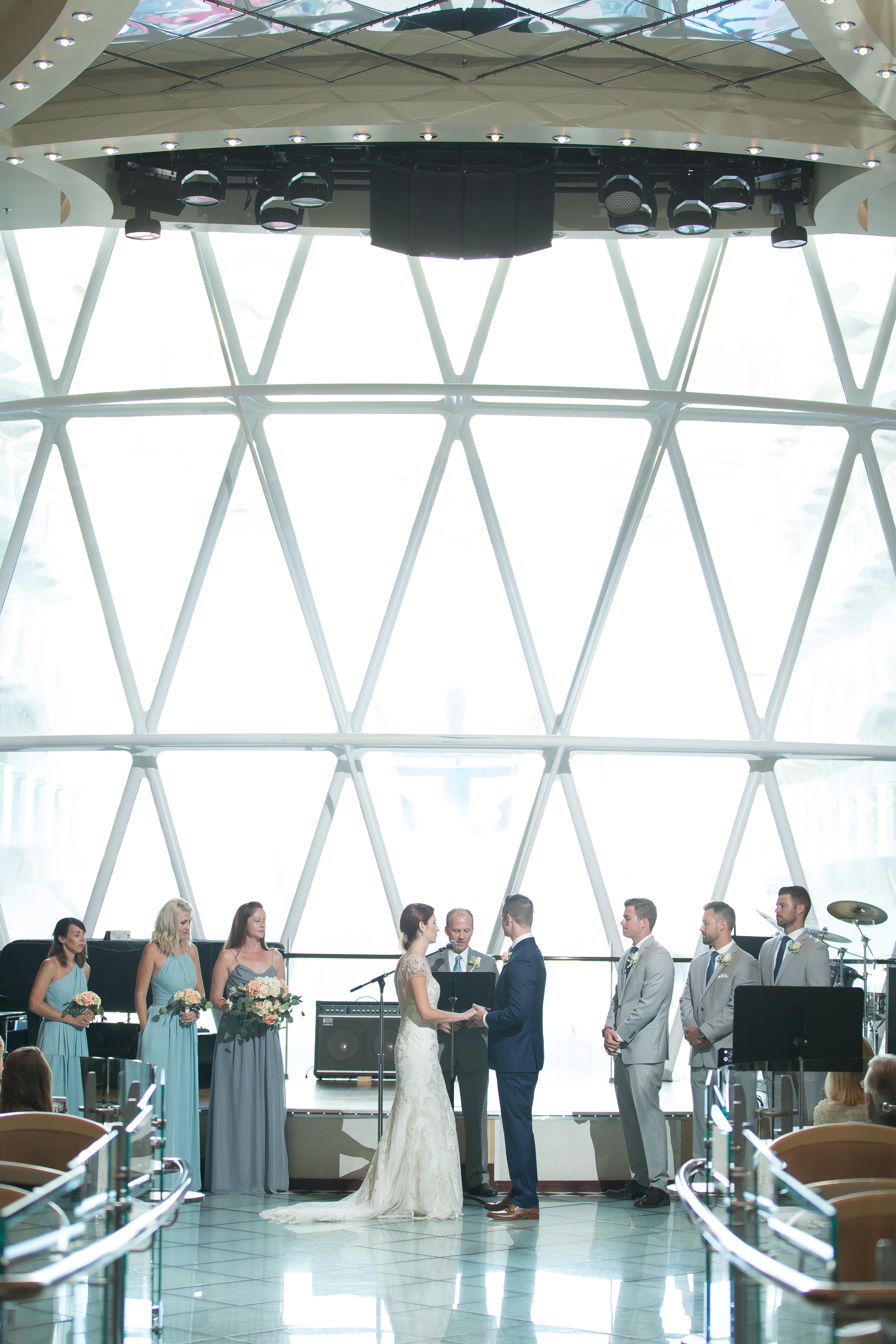 In this shot (above) you can really see just how large this room was!  That's about 3 stories of glass behind them!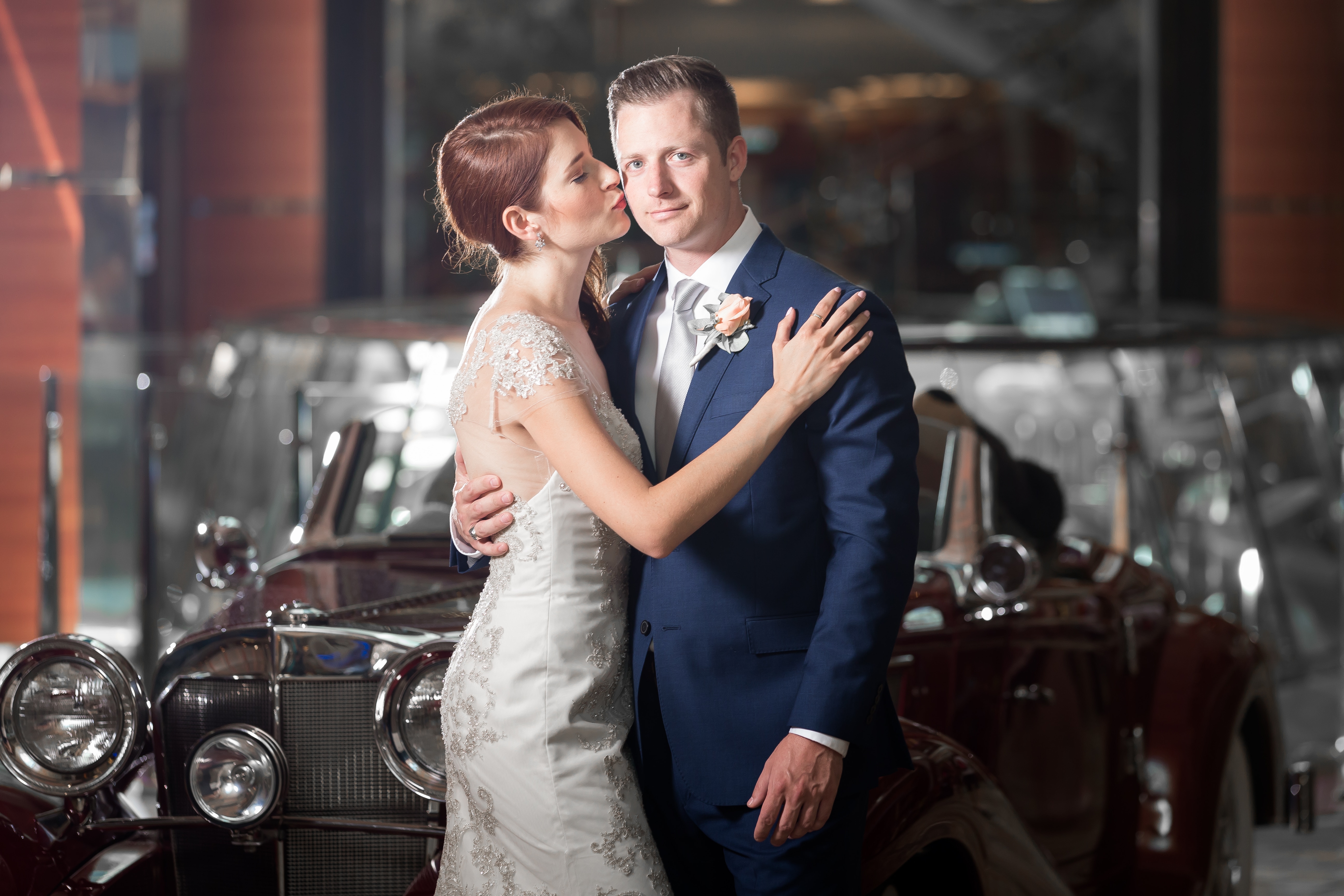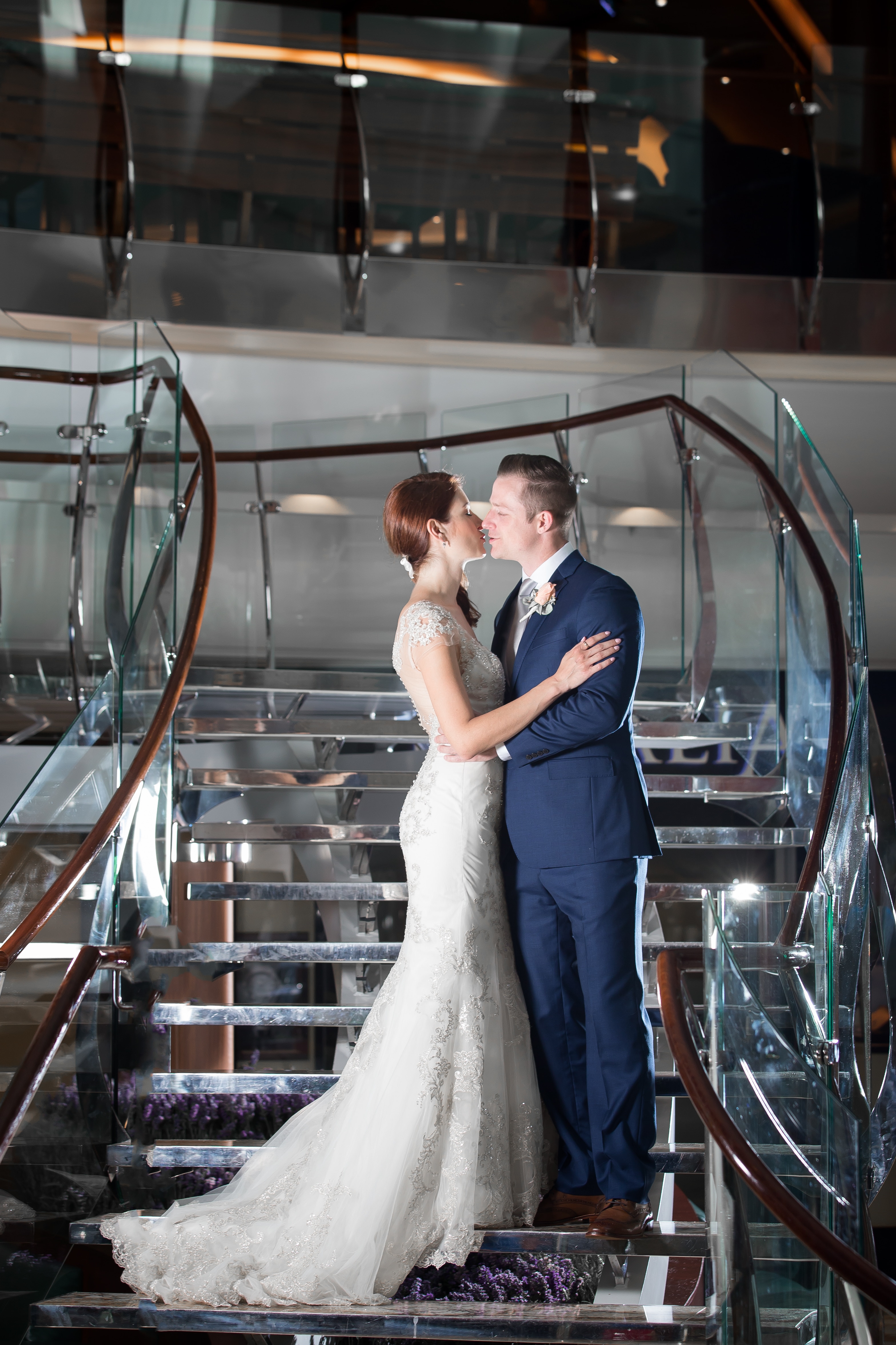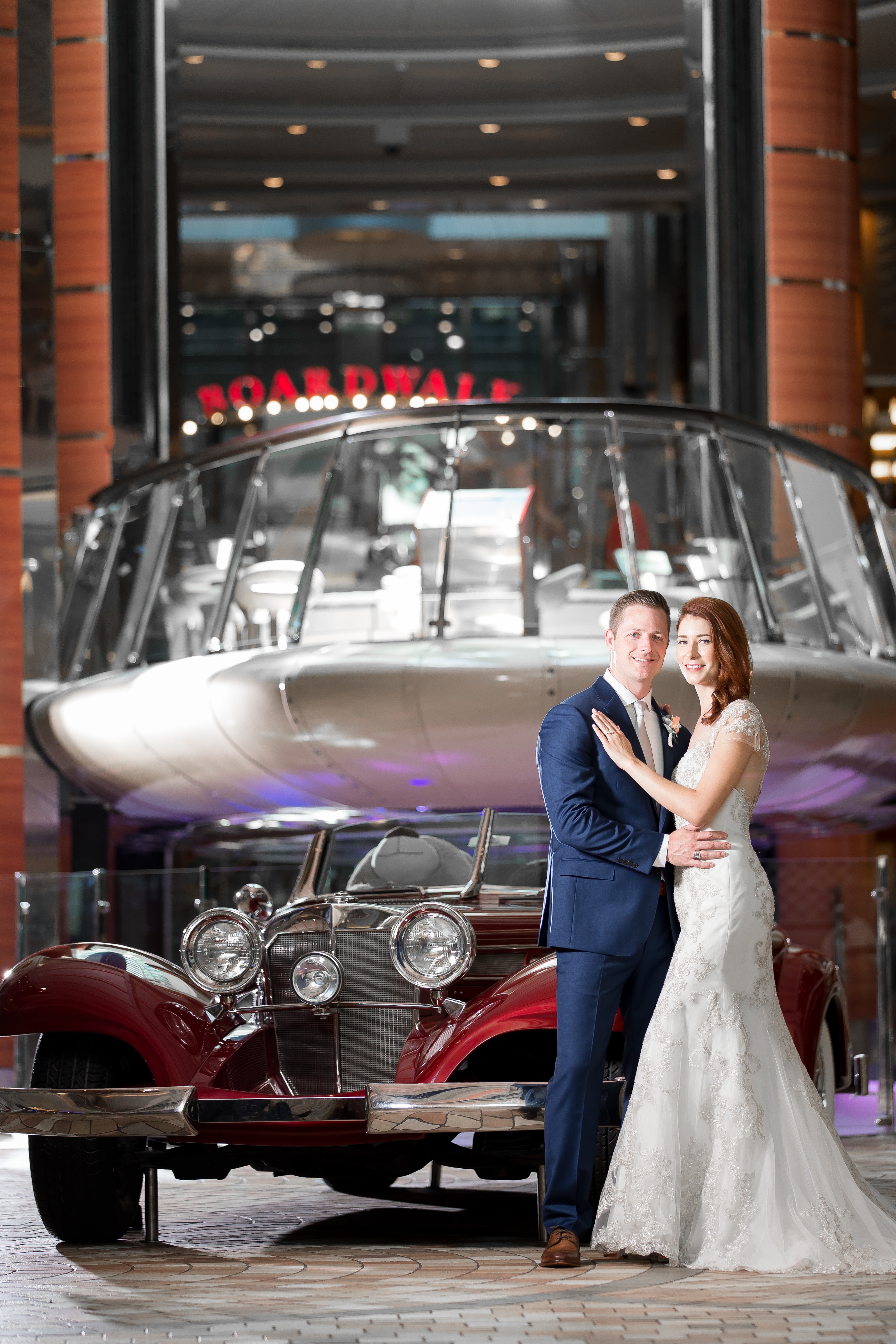 What a classic car?  On a Royal Caribbean Cruise Wedding?  Yes!  Turns out it was parked on the main lobby deck.  We saw this when we were having fun on the days leading up to the wedding.  With a little luck (and timing) we were able to get some clean shots without a bunch of people in the background (not easy to do).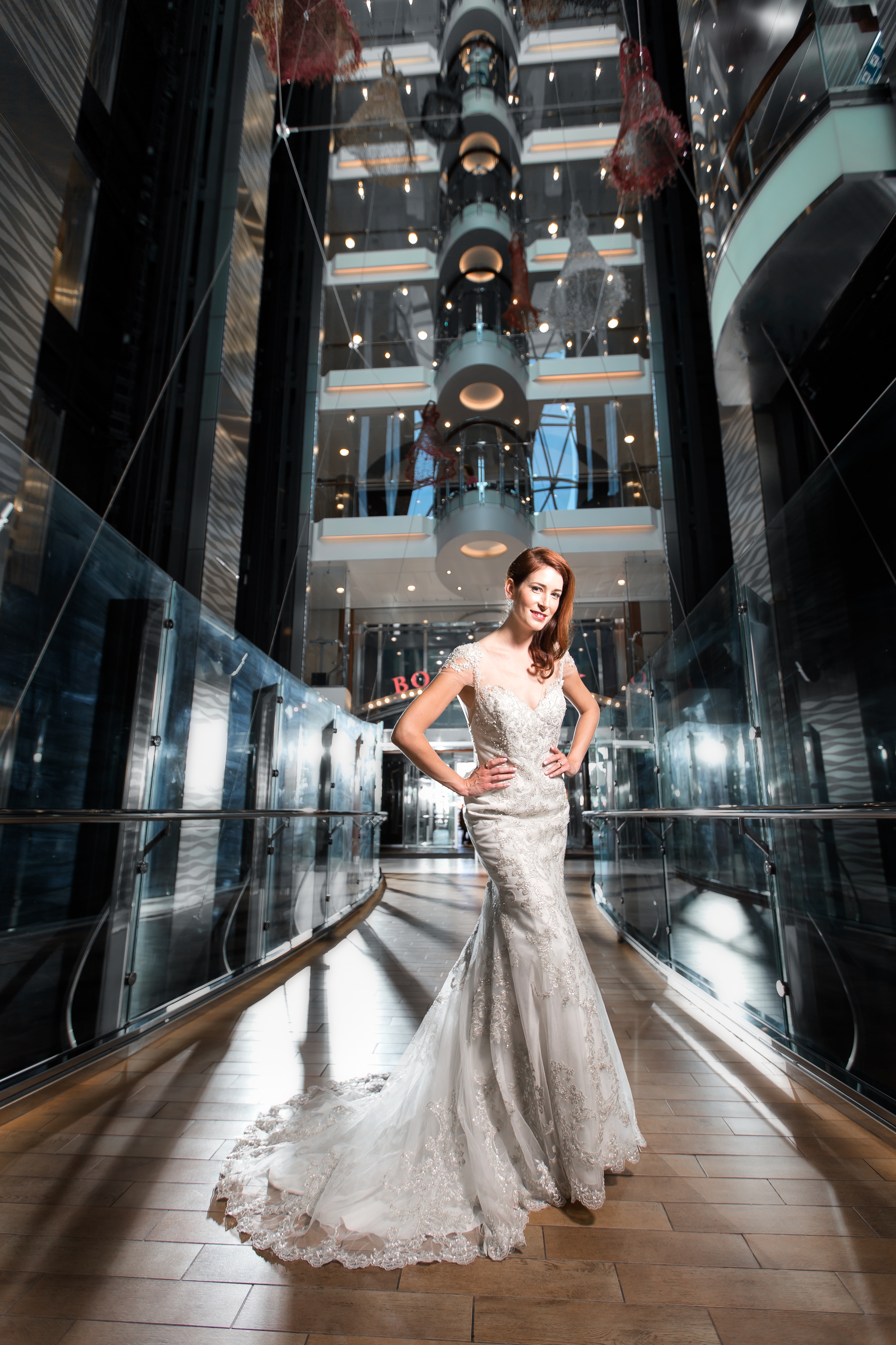 THIS!  Now we are talking!  Look at this bridal shot of Kara!  This was just outside of the main elevator bank.  Again, we had to be quick and clever about the timing in order to get a clean shot.. but we did, and it was totally worth it!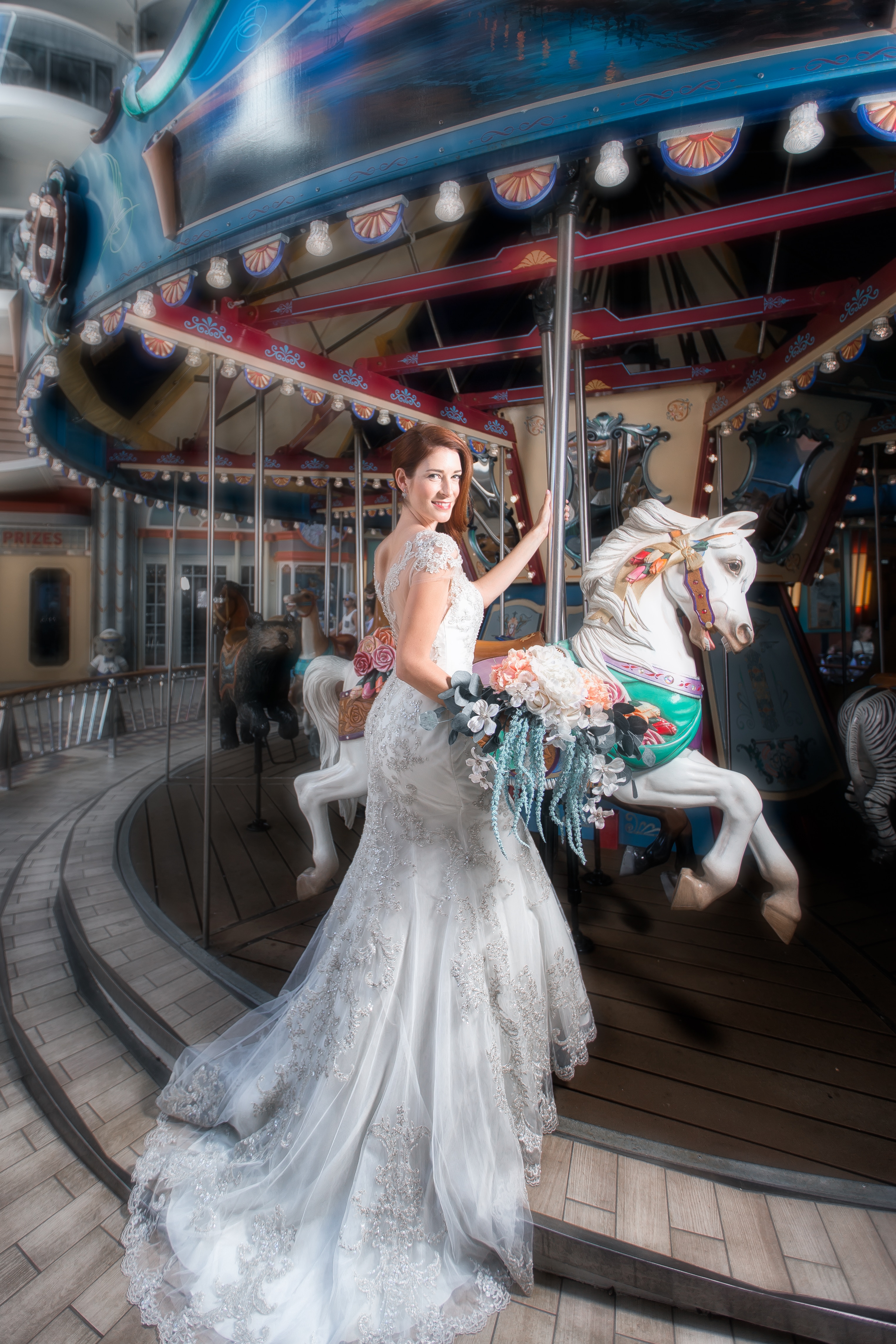 No Royal Caribbean Cruise Wedding would be complete without a shot on the merry-go-round.  This was also a nice way to show the back of that dress!  Again, super unique and fashion shoot inspired.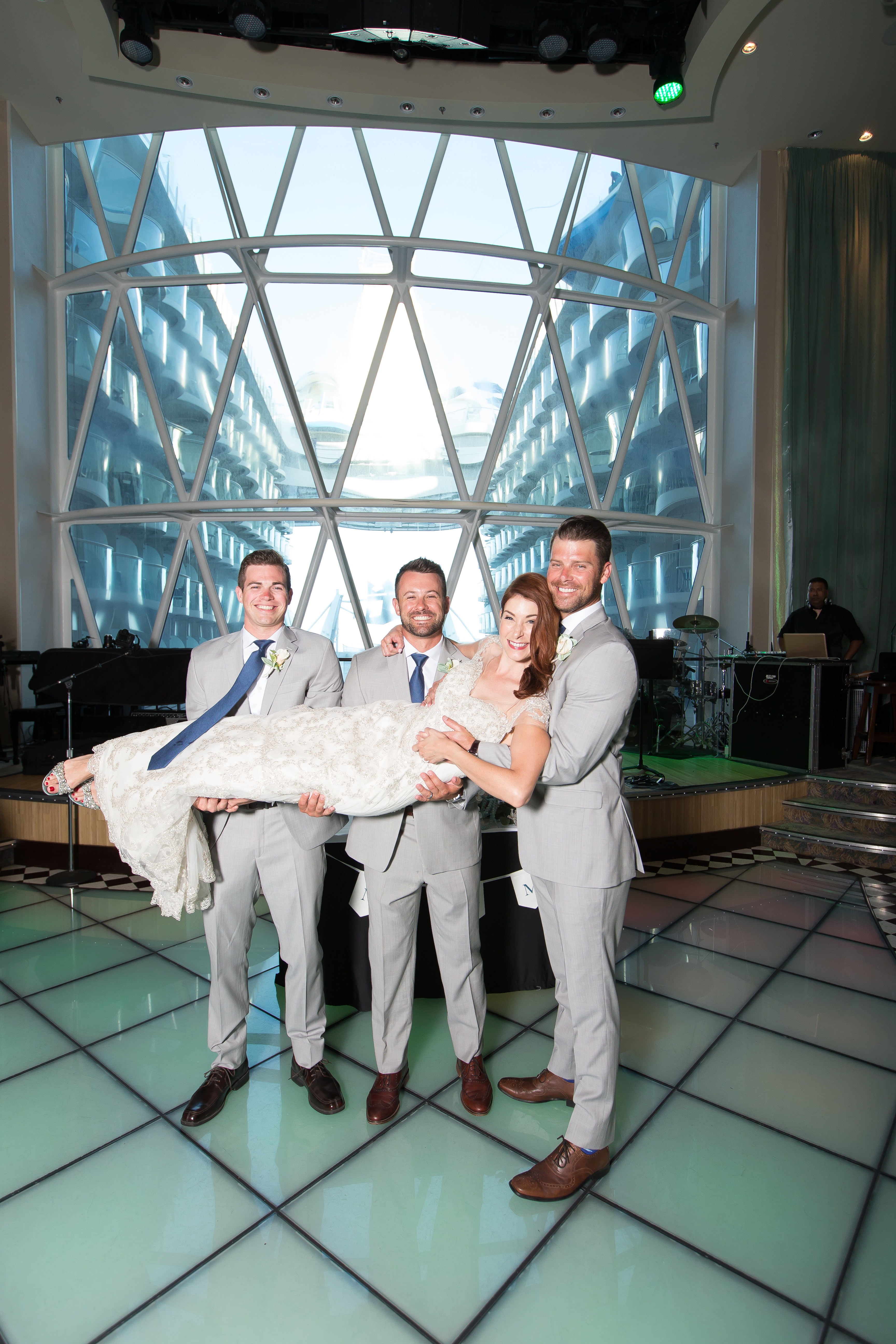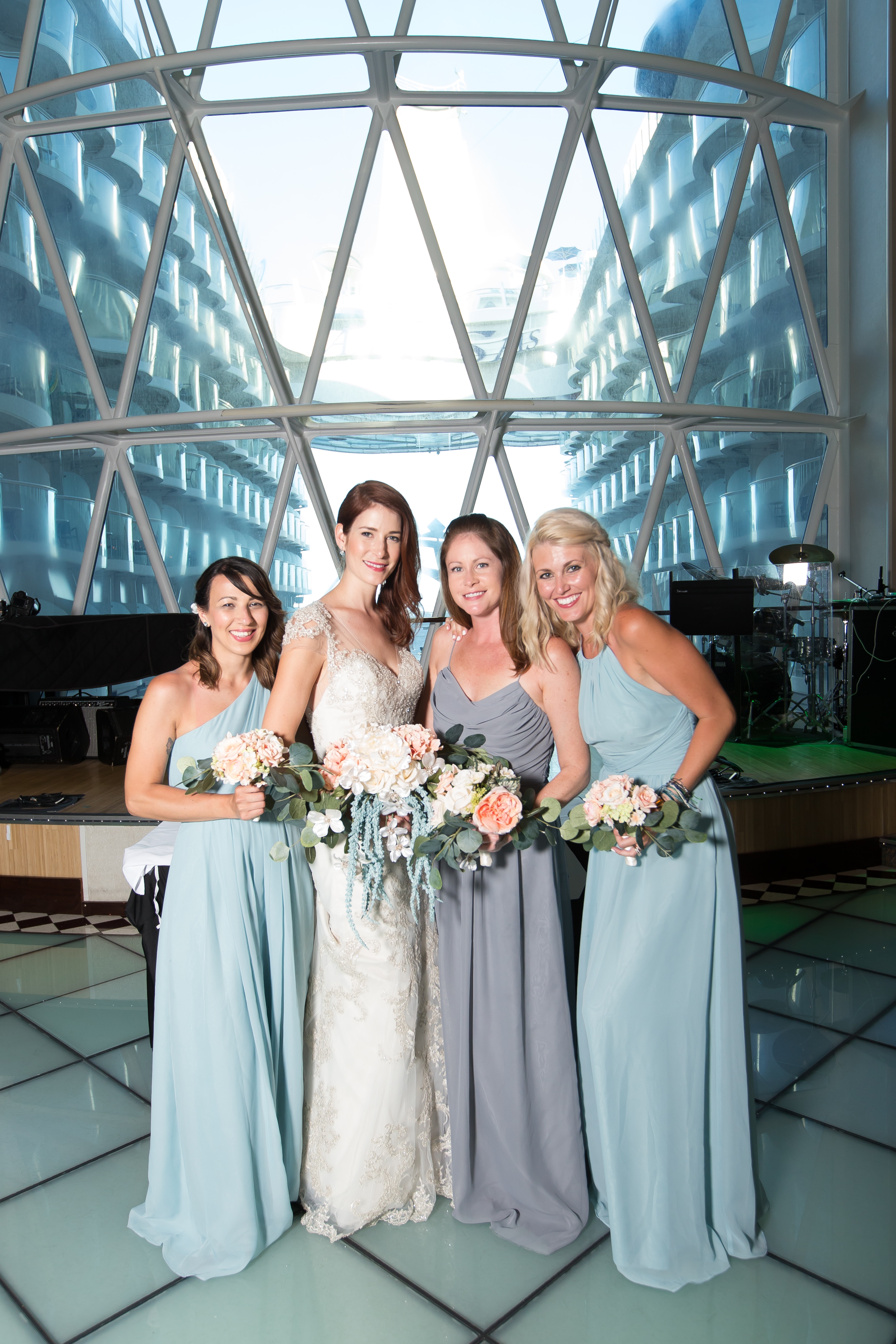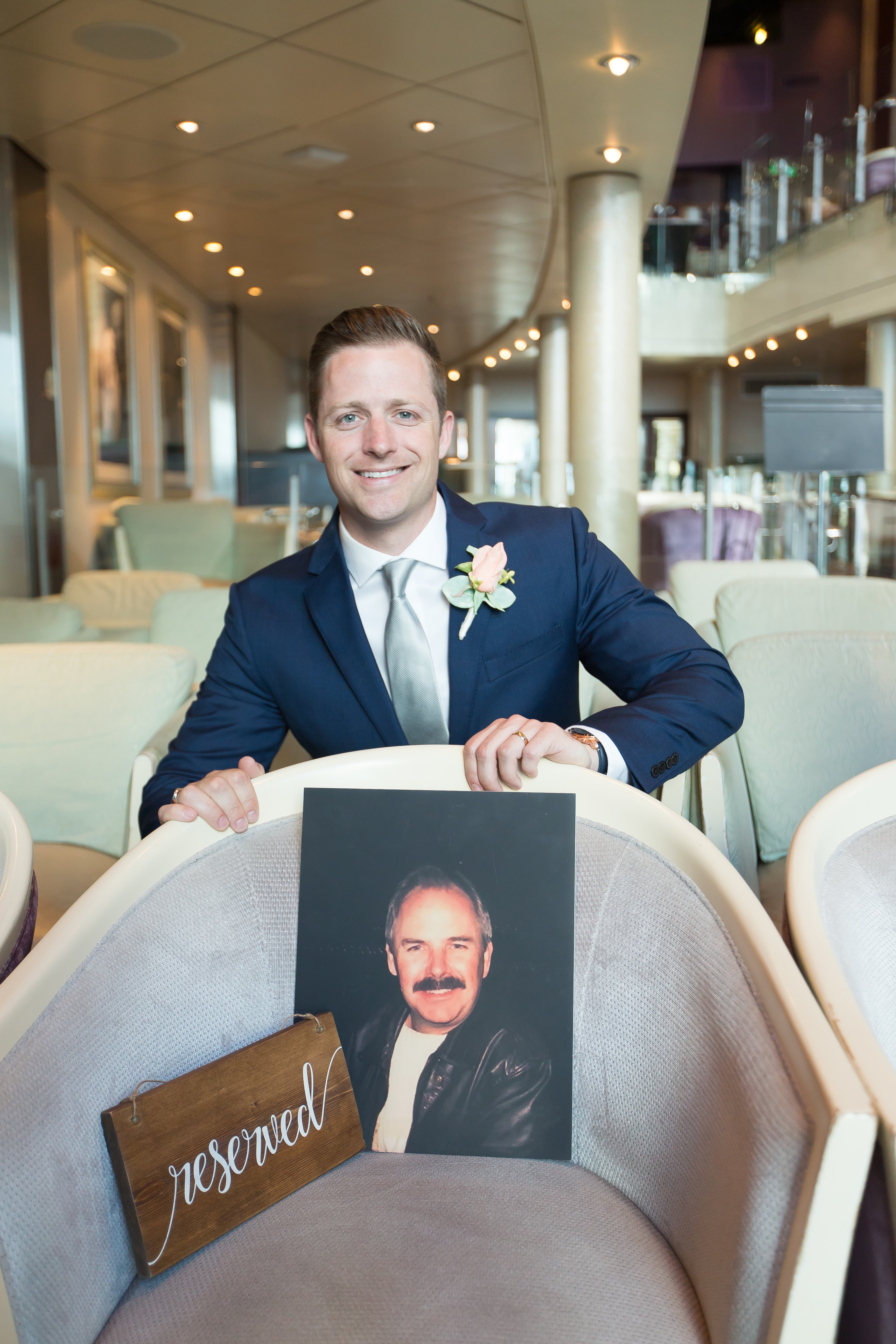 This shot was particularly important to the groom.  This is him with a photo of his dad.  He had just passed away, and this was a very difficult day emotionally for him.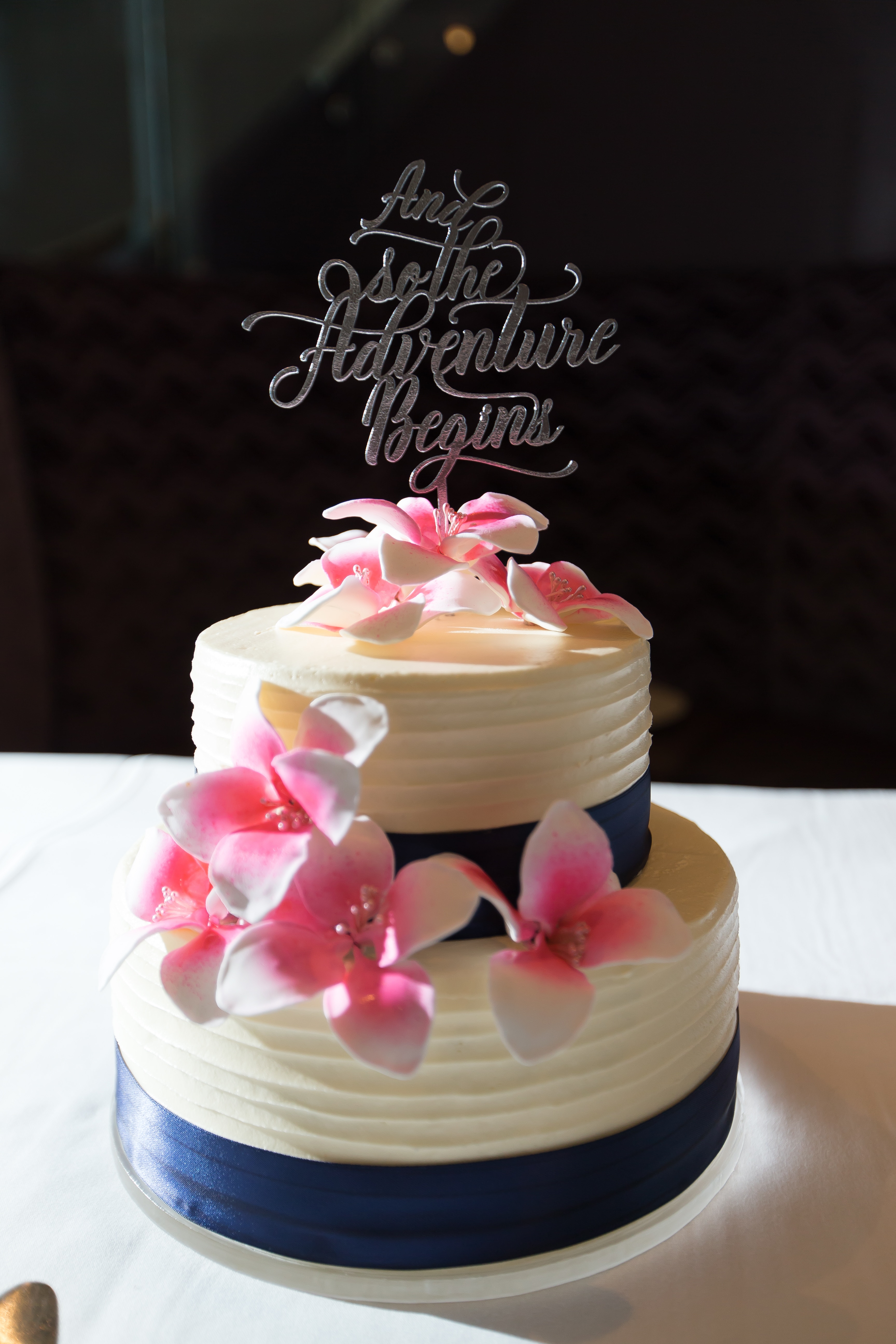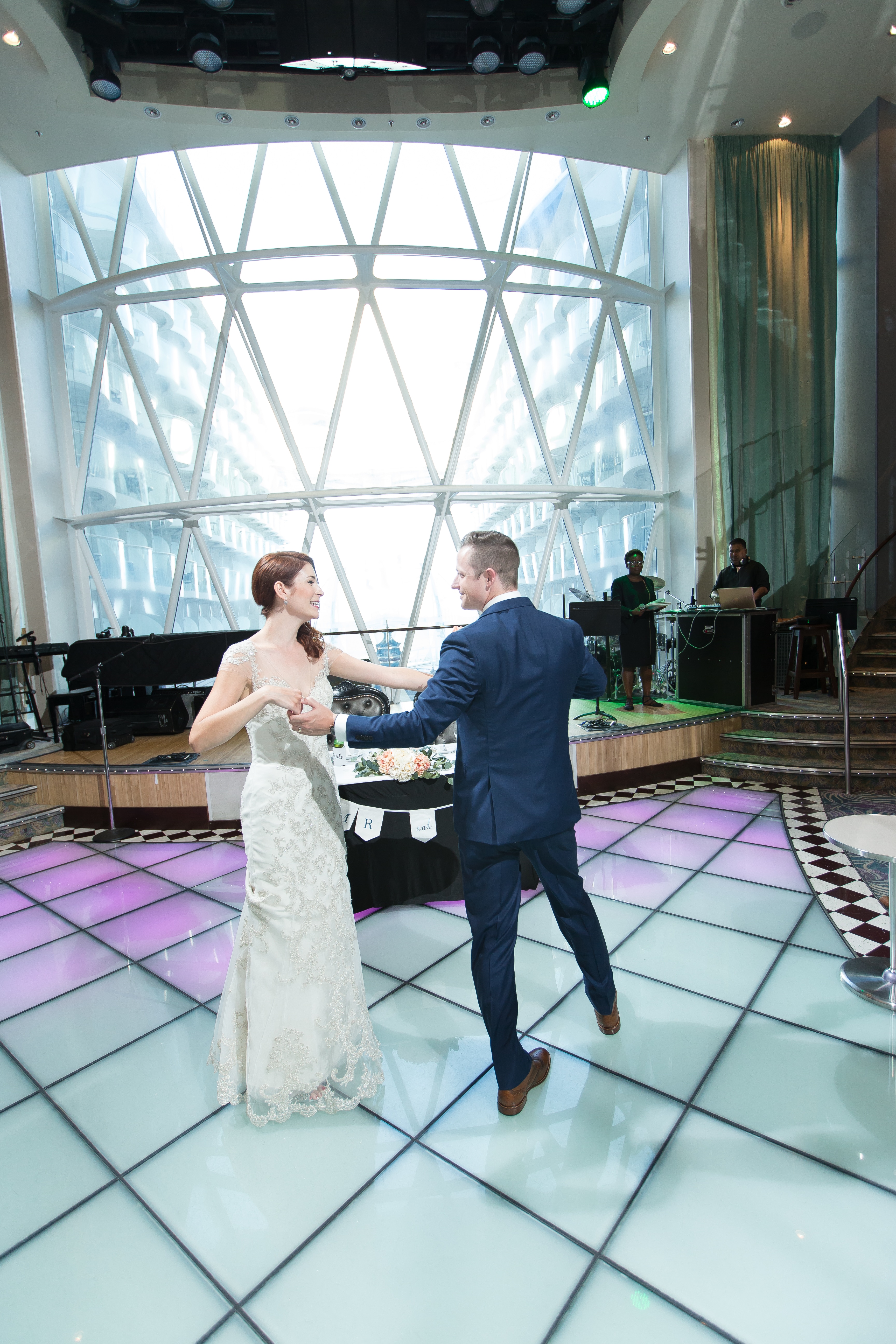 The same room that was used for the ceremony was then "flipped" and used for the reception.  This was perfect, because while we all went on to do some cool photos the boat people could work on getting the room ready.  Everything worked like clockwork on this wedding.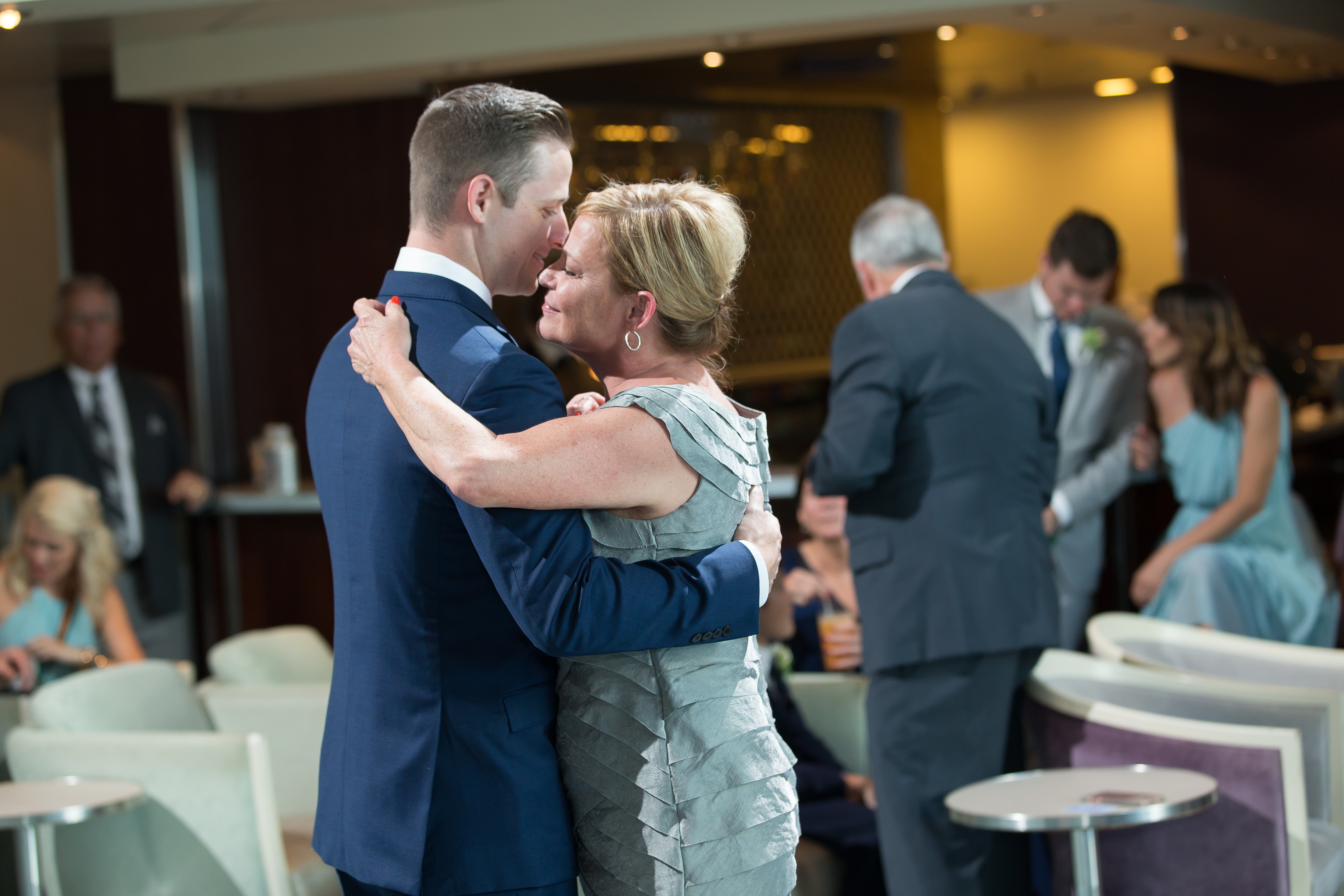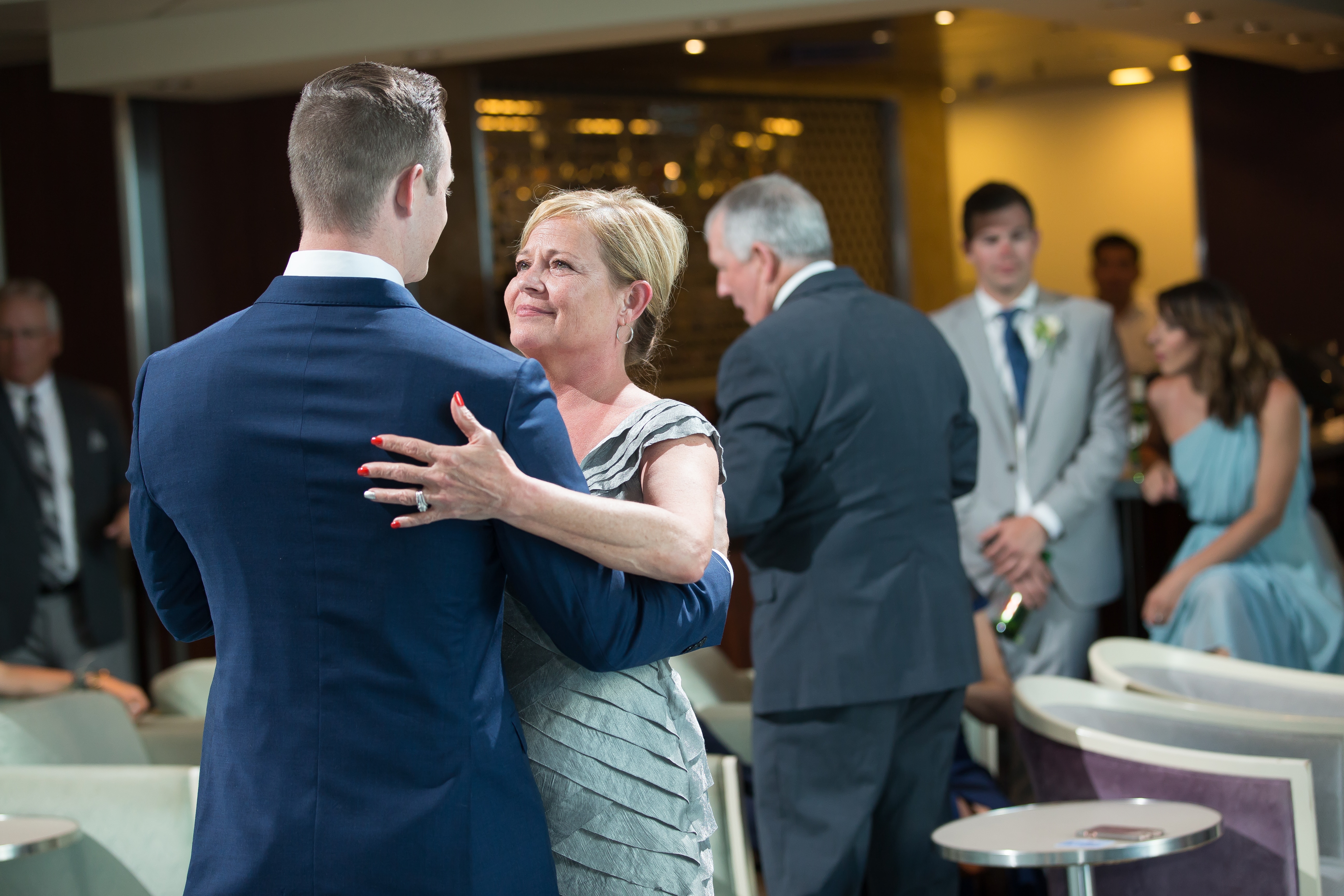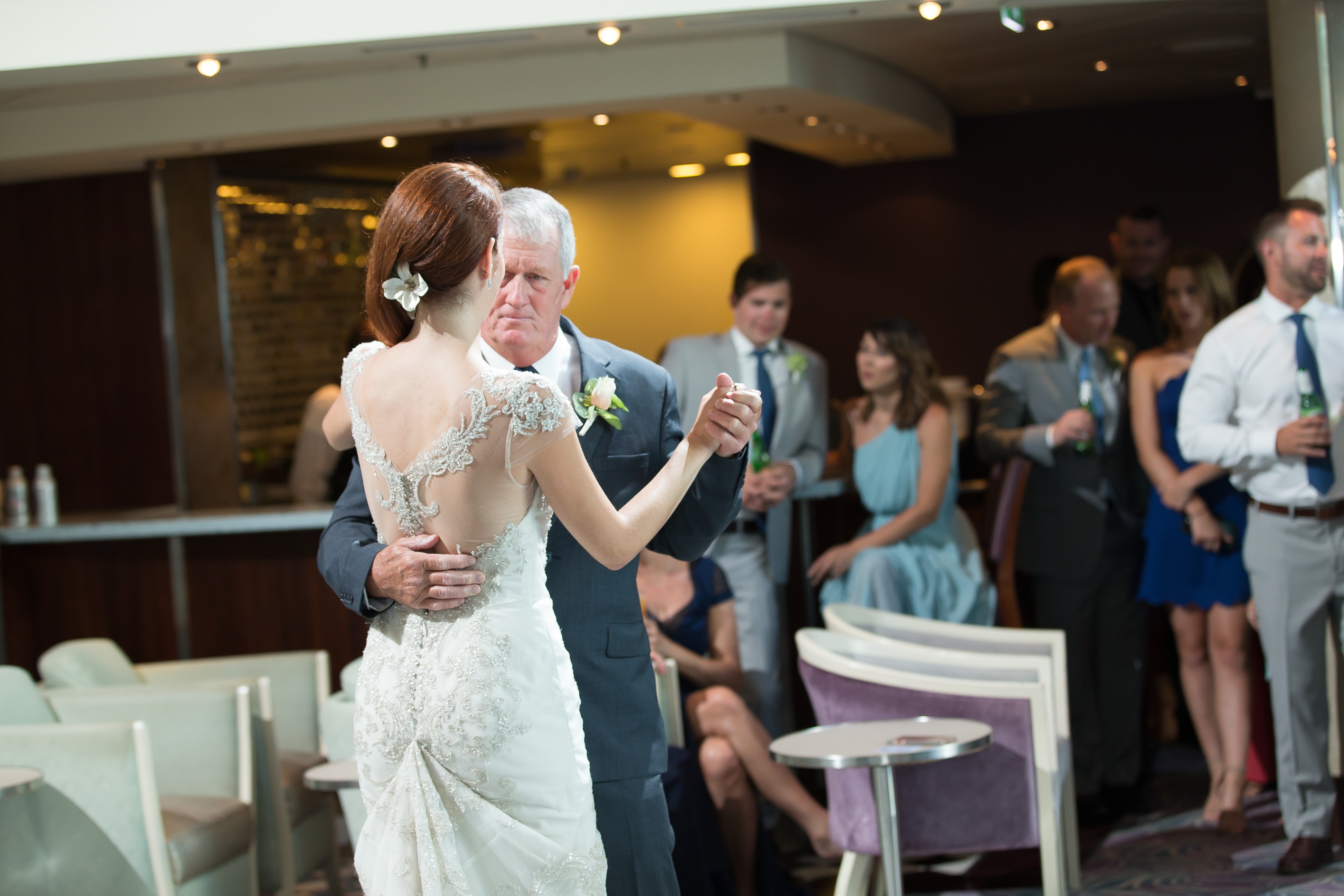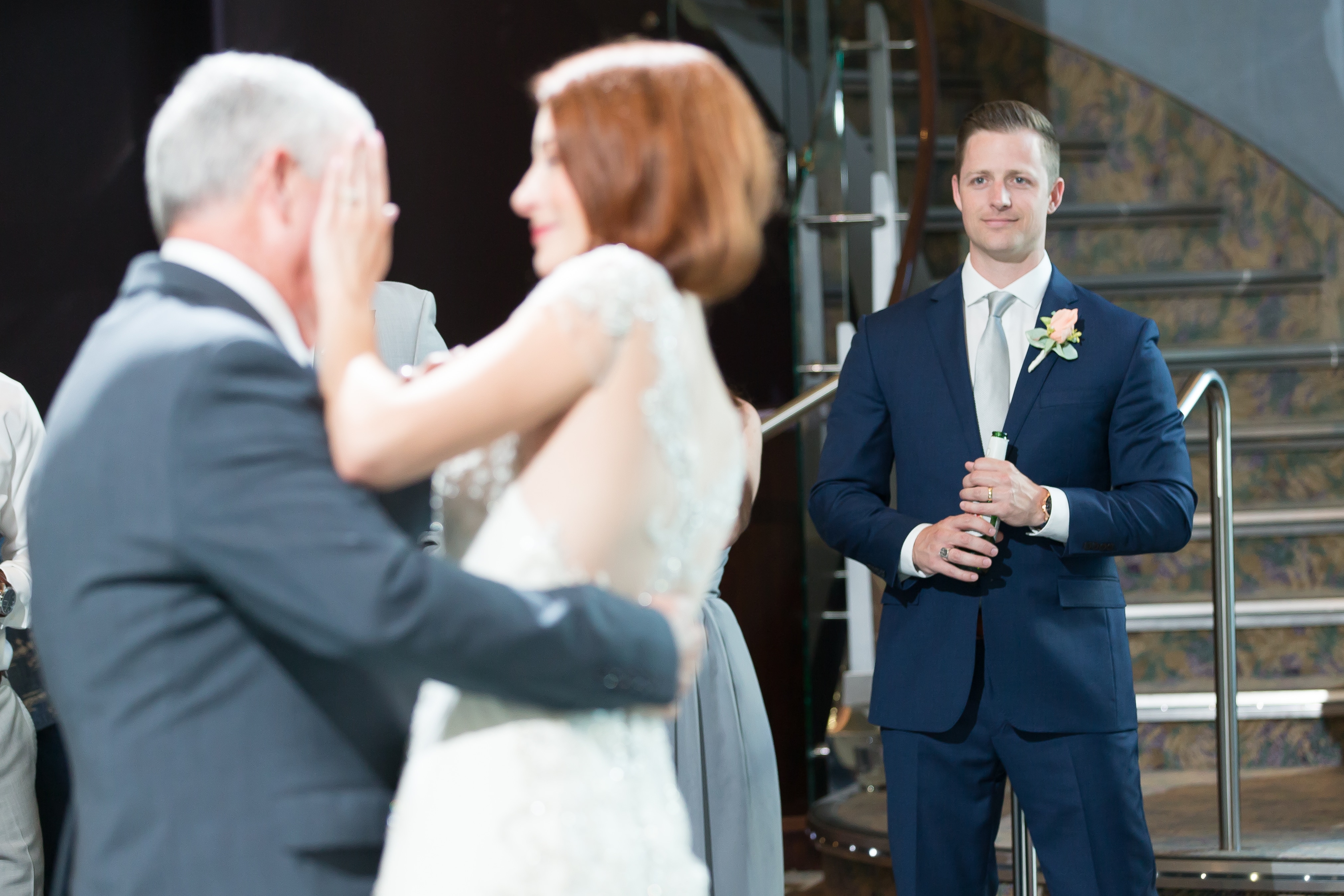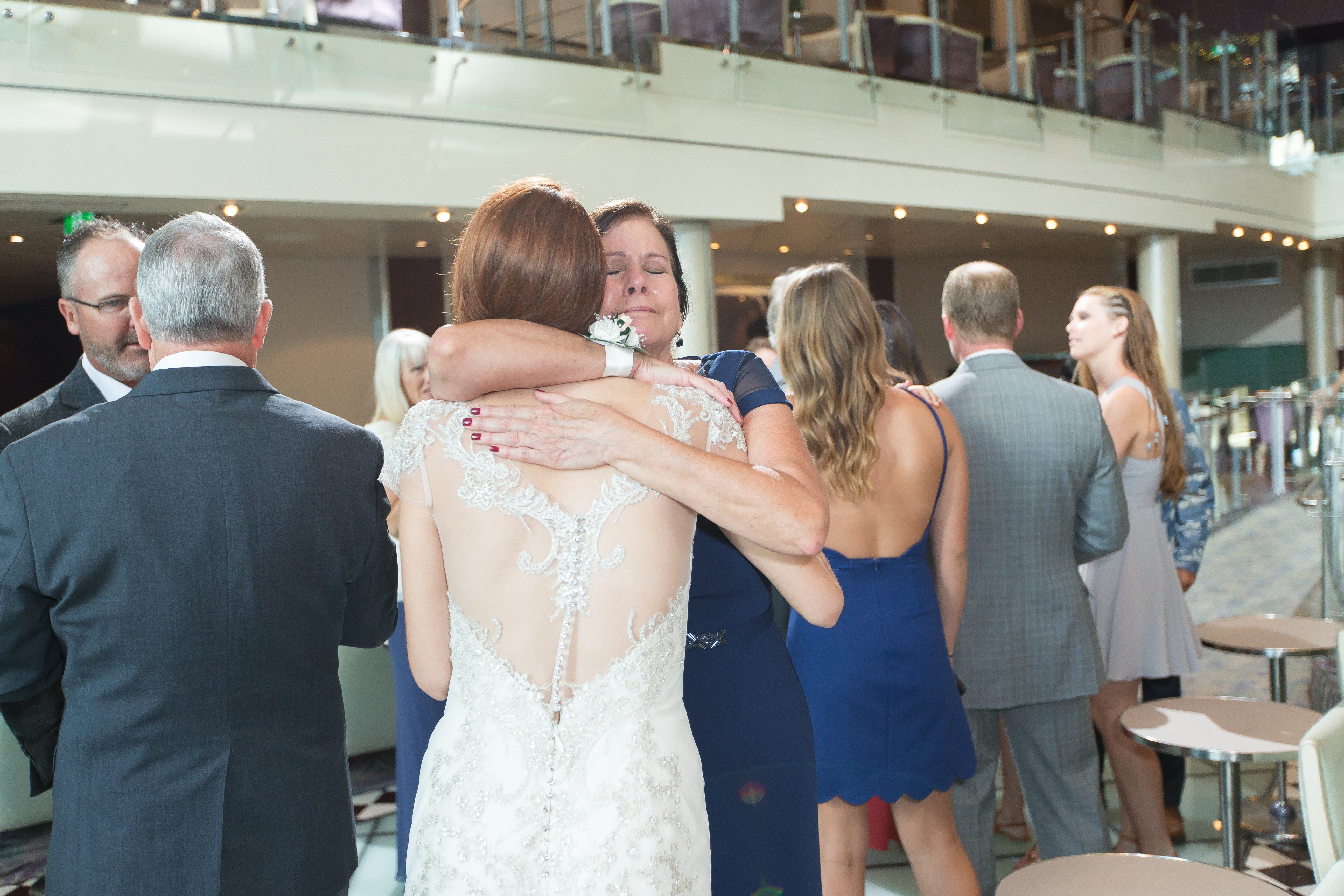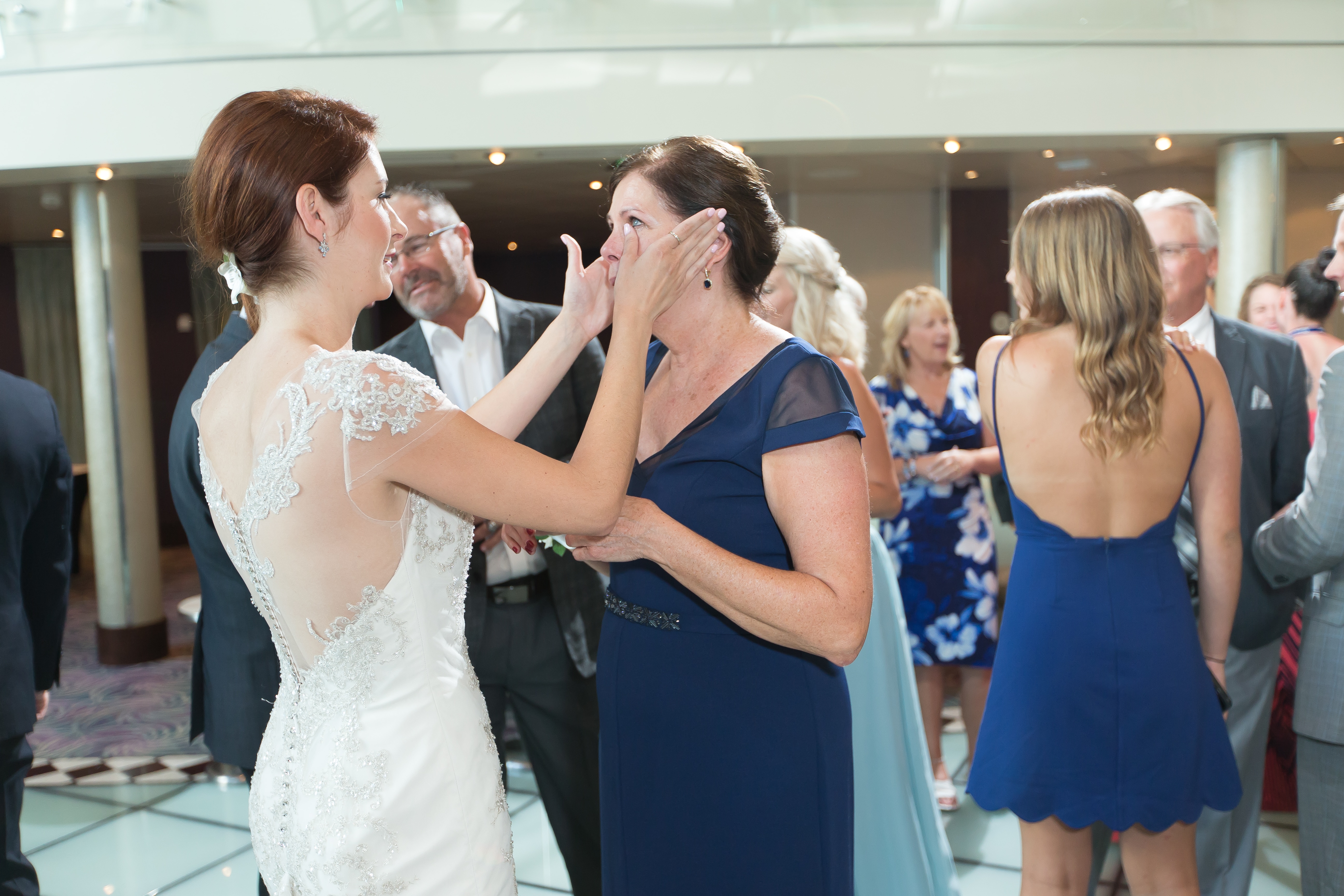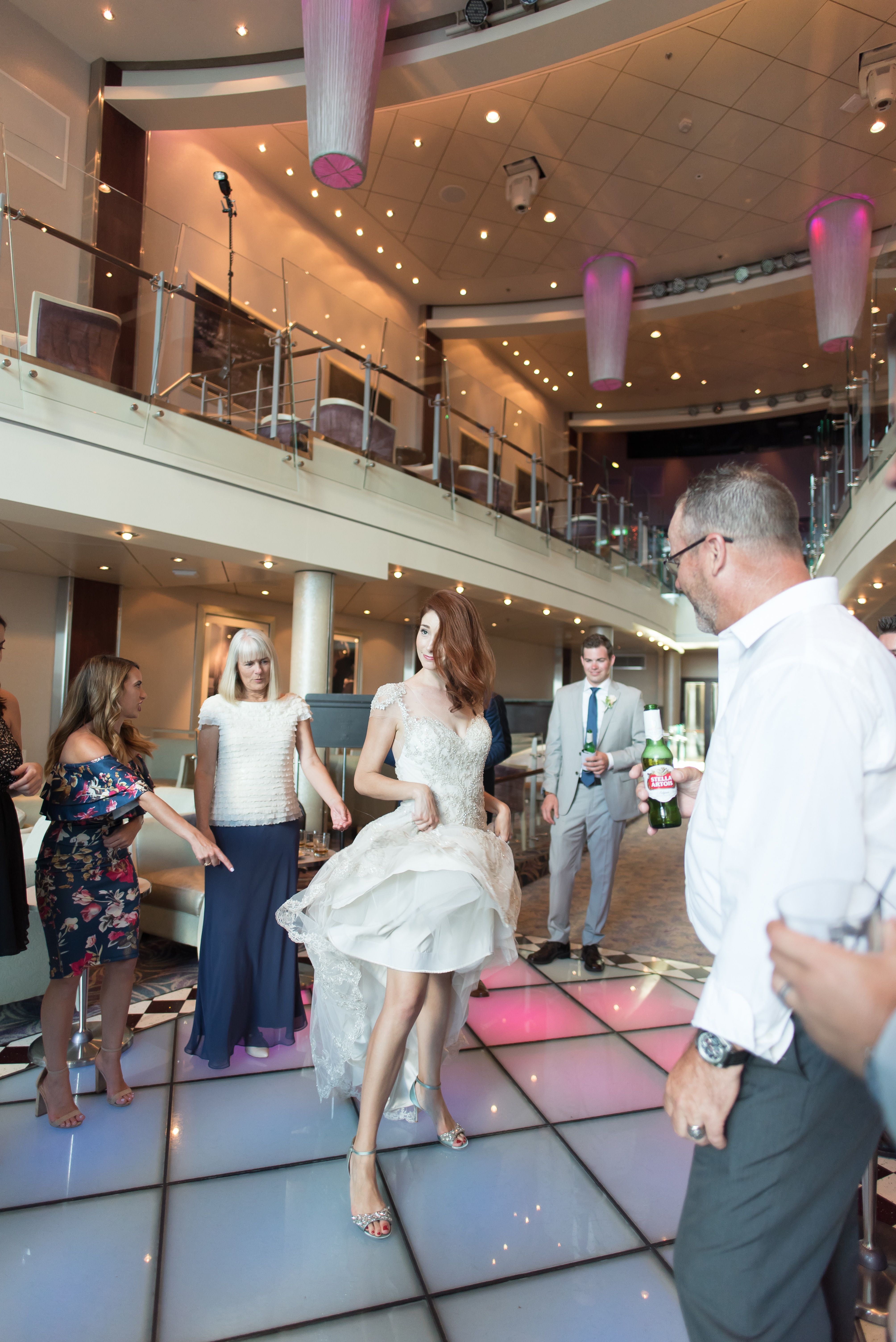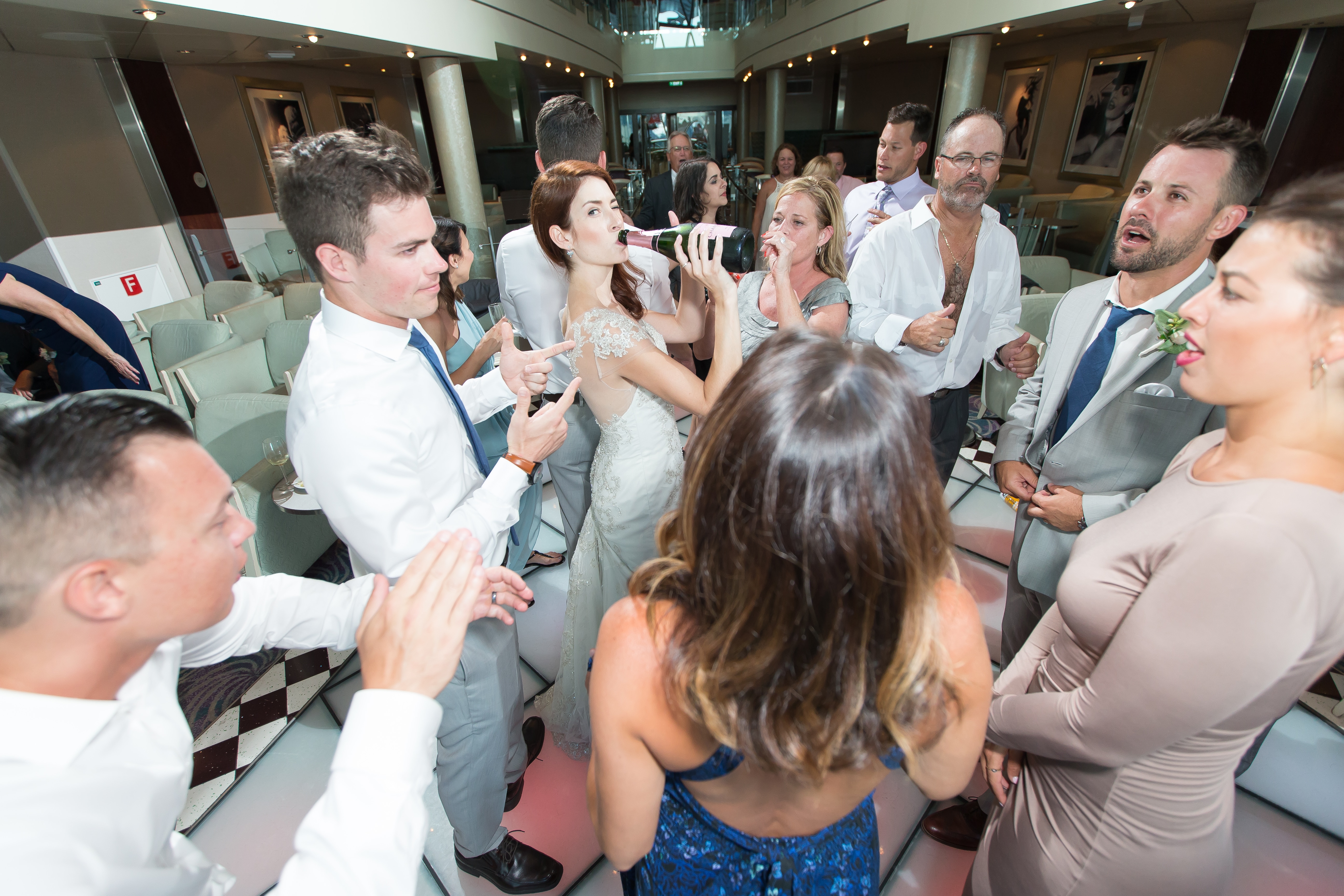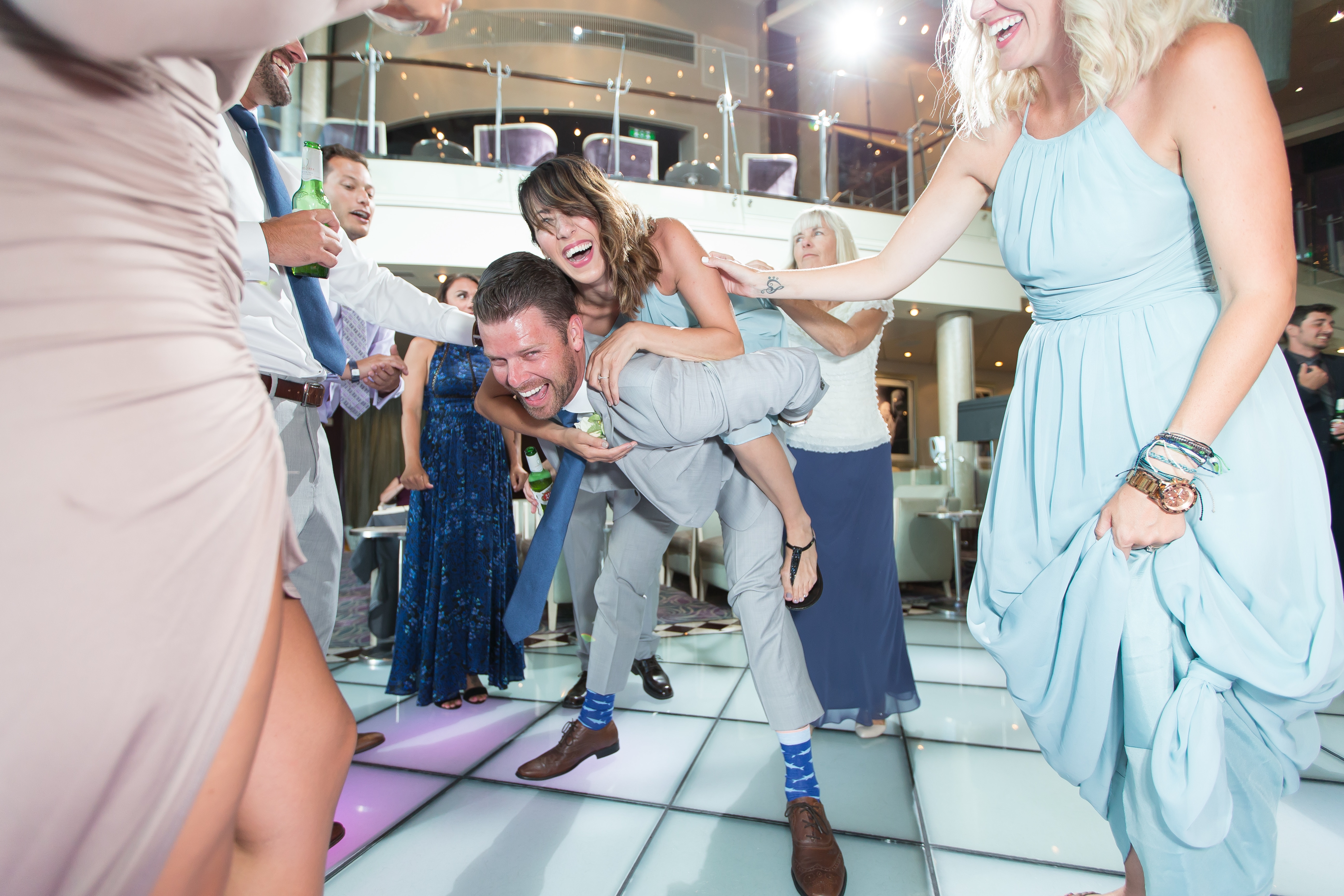 Huge thank you to my amazing clients for having us come on this Royal Caribbean Cruise Wedding and rock it out!  We love you and had such a great time!  If you too are planning a Royal Caribbean Cruise Wedding (or any cruise wedding) let me know and I can help you!  Or if you would like to see another recent travel wedding of mine click here.
T