Times Square Engagement Photos
I will first admit that the Times Square Engagement Photos that I am showing, are not something "recent", but in fact took place a few years ago in New York City when I flew up to shoot Vanessa and Scott's wedding.  So, why am I sharing this again?  Well..  because the experience was unreal, and truly something that you will likely never see again unless you have either..  a ton of money, or..  have a special connection 😉 Talk about defining the word "unique"!  Honestly, tho.. my branding has changed over the past few years and I needed to update some of the behind the scenes videos that I have made, and this was first on my list!  So, what a perfect time to not only do the update..  but to also re-post this incredible few minutes of fame!
Let me pause here, and say.. that yes, I am based in Miami,FL however it is a simple JetBlue flight up to LGA, or JFK and I am more then happy to come back, and extend my reach to anyone in the New York City area looking for Wedding Photography.  To get a "premium" NYC Wedding Photographer it's going to cost you a pretty penny, and I bet anything I can make an offer that will be hard to refuse.. plus.. you get to brag to your friends that you hired and flew in the one and only Wedding Photographer that has actually shut down Times Square, laid on his back in the middle of the road, and taken amazing images of his clients!
Okay, on with the Times Square Engagement Photos… When I rolled up in the Taxi to meet with my clients, I did not fully understand what to expect.  What I did know, is that ALL of the images in "google" that showed "Times Square Engagement Photos" were.. well.. not that great.  They all (to me) looked the same, and they all lacked anything really impactful.  This of course all becomes very subjective, however one thing was for sure..  none of them had the type of access we did!
I took one step out of the taxi, and all I saw is what appeared to be more then a thousand people, seemingly waiting for us.  Everywhere.  Then, I noticed a HUGE open gap in the middle of Times Square… and wondering what that was for.  I saw that it was completely roped off, and no one was allowed inside.
Thats when it hit me!
OMG, this was for US!  Absolutely straight out of one of my dreams..  full access, no restrictions.. Times Square NYC.  Just speechless.  I gotta say too..
when I first stepped out in the middle of the crowd of people, I felt like a true Rock Star!  I will never forget that feeling.  This is something that few, if any other photographers in the world would be able to do, or will ever experience.
But.. it was not all easy..  (it's always something.. some little thing.. nothing is easy)..  and in this case I went from incredibly happy, and excited to incredibly focused, and had to start problem solving right away.  Why?  Well, let me explain.. First we were in Times Square, NYC and if you have never been there.. you have no idea what this is really like.  Beyond the people, and the "busy" there were tons, and tons of lights.  AND.. the lights did not all remain the same.  They kept changing.  One second, one billboard would light up.. and then the next, it would disappear.  Lights would flash, go in and out, change color, etc.  it was a NIGHTMARE to deal with (in the camera).  Generally, a photographer can set a camera for whats going on.. and in this case what was "going on" kept changing, and that meant different white balances, different exposure values, etc.. and this all meant that I needed to QUICKLY adapt to this dynamic, and "figure it out"..  I mean, it's not like I had thousands of people watching, and my clients standing in the middle of one of the words busiest cities 😉  LOL.  This was very hard for me, and would be for anyone.  On top of that, the wireless remotes that triggered my lighting were not working 100% of the time.  This was due (I am guessing) to the crazy congested city having a ton of "RF Noise" everywhere.  This meant that for every 10 frames I would take, maybe.. 6 of them? would actually fire the flash!  This was not a matter of using "cheap" gear either..Pocket Wizard (the remotes used) are the gold standard in photography… it was just the "way it is" in some cases.  For me, getting the lighting correct (the way I wanted it), was most important.  I knew that if I could not get my lighting to work, I would not have a shot.. and THAT was scary.  (Since this shoot, the remote technology has improved, and RF issues is not really an issue anymore..)
For this session, it was not like any other.. we did not have all the time in the world, and needed to work very fast.  Get in, get out etc.. Also, the expectation was clear.. just needed a few shots of them and that was it.  It was not a time to go through a ton of different poses, and get overlay "creative".. we needed to stick with a basic "frame work" and get a few solid shots.  So, thats what I did.  I stayed focused, and managed with the technical issues that were transparent to everyone else, and got the shots I wanted, and knew would work well.
PLEASE, check out this incredible behind the scenes video (just updated) from the shoot!  Sit back, and watch as we take over and rock out the images below!  If it were not for this video.. I probably would never have believed this happen myself.  Also, be sure to see all my other behind the scenes videos as well as subscribe to my YouTube channel to stay updated on all that I do!
As you could see in the video, I used two different lens's.  One was my telephoto, and that was so that I could "compress" the shot, and separate the background from them as seen in this shot (above).  This gives a nice look, and truly makes it "about them".  The down side tho.. LOL, is that I had to be far away to get this effect, and that made the RF reception issue I spoke about above, more of a real challenge.  Once I knew I "had the shot" it was time to move on.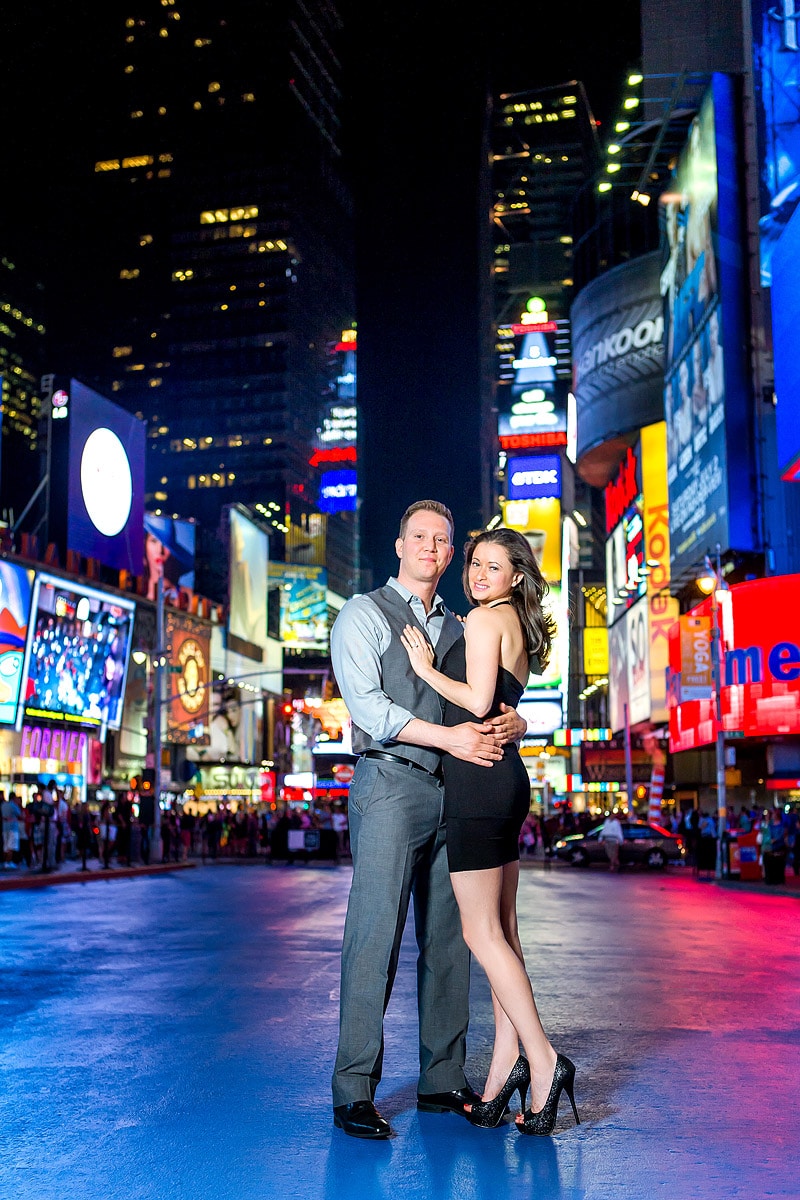 Moving now from 200mm, to 70mm I was able to include more of the city into the shot, and starts to really showcase the "wow" factor of the shoot.  Now I have introduced the location Times Square, NYC and everyone now knows where this was taken.
If you look close, you can see the background (lighting) has even changed.. and this shot was taken right after the one above.  This was a huge challenge to deal with, but still came out nice 🙂
I love this one.  There they are.  Standing.  In the middle.  Of Times Square, NYC.  Hopefully now whenever someone thinks of Times Square Engagement Photos, they think of this image!
Of course, gotta have a nice kiss shot!
As I am sure you saw on the video.. I loved when Scott looked over and made this funny gesture.  It kinda meant "okay, we got it" and that was it!  Worked well as an ending for my behind the scenes video as well!  Such a fun shot!  Such an incredible experience.
I want to give a special thanks to my two NYC based assistants:
Jon Lemon – Who filmed this entire video, and did an excellent job!
Jerrit Pruyn – Who assisted me at the wedding itself in NYC at the famous Waldorf Astoria Hotel
and to my Assistant Sarit, who helped with lighting as well as shooting along with me at the wedding.
Thank you to Scott and Vanessa for one hell of an adventure that I will never forget!  Love you both!  Also a HUGE Thank You to all that were involved in getting access to make this happen!
Now… who is going to top this?  If you have a crazy, and unique concept for a shoot and want to involve me, contact me and lets chat!