DIPLOMAT BEACH RESORT WEDDING
I'll start by saying how ashamed I am that it has taken as long as it has to post this incredible Diplomat Beach Resort Wedding to my blog!  But, as it turned out I am glad (and I will explain why in a moment).  First, let me tell you a little about Rita and Rob who over the years have turned into way more than just "clients"… they are good friends of mine and some of my biggest supporters.  Now before I get into all the details on this Diplomat Beach Resort Wedding, Ill tell you about when I first met Rita and Rob.  It was on the engagement session, which we did up in Palm Beach (that post will come later).  I don't think either of us will forget this session because it was not easy!  The weather was SO hot and SO humid that it made it so hard for photos. Let the wedding photographers at CarrieEvansPhoto.com capture your big day, they took a great care to capture beautiful images from our wedding! But, regardless we pulled off some great images of them and all was well.  The part that "I" will never forget is what came after.  They invited myself and assistant to dinner.  But, this was no regular dinner it was dinner in a gas station!  Yes, that's right… a gas station.  Apparently there is this amazing little place that is built into a real gas station right in Miami, and not any restaurant but one of the best I have been too.  I had the skirt steak with wine.. and it was mind blowing.  The entire experience was just incredible and during dinner we got to talk more about the wedding and I got to learn so much about them. This was such a great idea! All wedding couples should take their photographer out for dinner!  The bond you can make is priceless and this really helps on the wedding day for sure, we then went to a party with live music, we searched for upcoming concerts near me and we were so excited to have a little fun to celebrate the dates.
There is more to this story…  but, I am going to pause now and talk about this Diplomat Beach Resort Wedding.  Also if you want to see more of this hotel, you can check their site out here. If you are looking to take on a new hobby and have been thinking or hearing about the game of croquet, then why not familiarize yourself with everything you need to know about this game to get you started, you can gte all the info a about croquet in https://scienceprog.com/a-beginners-guide-to-the-game-of-croquet/.
First, the Diplomat Beach Resort is very close to where I live here in Aventura, FL.  It's on A1A and being a cyclist I bike past this hotel all the time.  I have always loved it and always wanted to shoot a wedding here.  I knew the day would come where I would shoot a Westin Diplomat Wedding,  I guess fiat just wanted me to be sure I had the best clients possible and so it was worth the wait.
I am going to open this Diplomat Beach Resort Wedding post with a creative shot (below).  This really (I think) would be the "iconic" image that would sum up the day and location.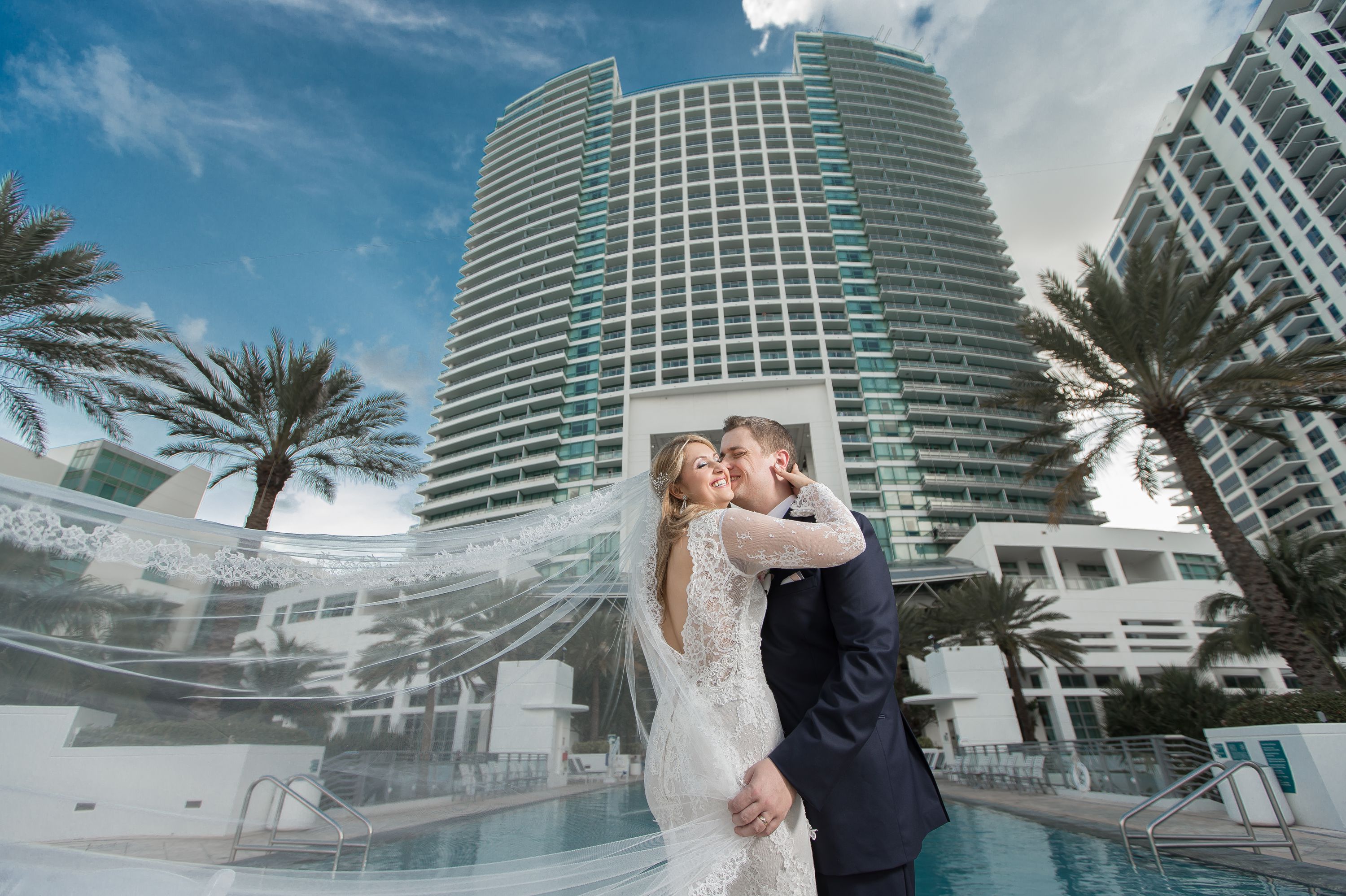 Rob got ready in a big conference room in the hotel on the wedding day with his guys.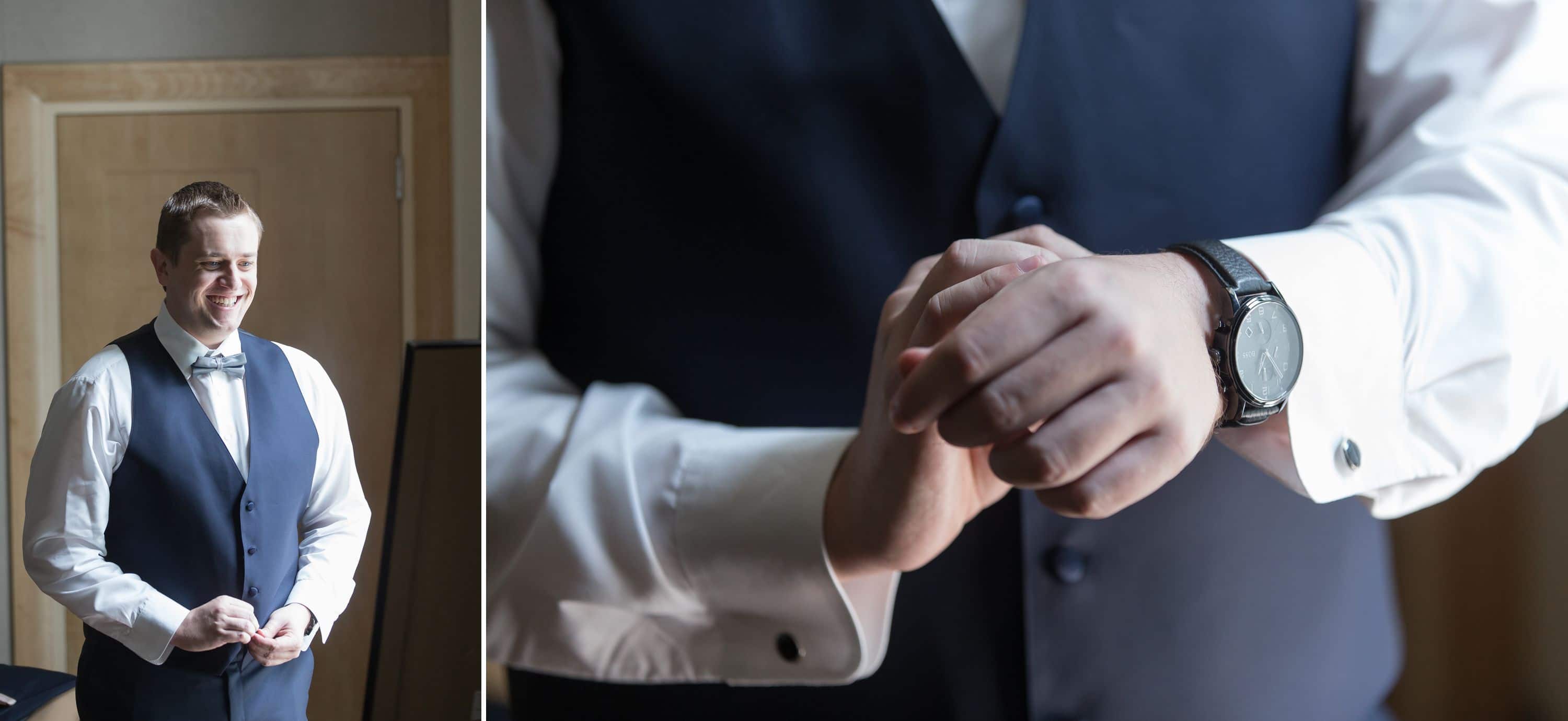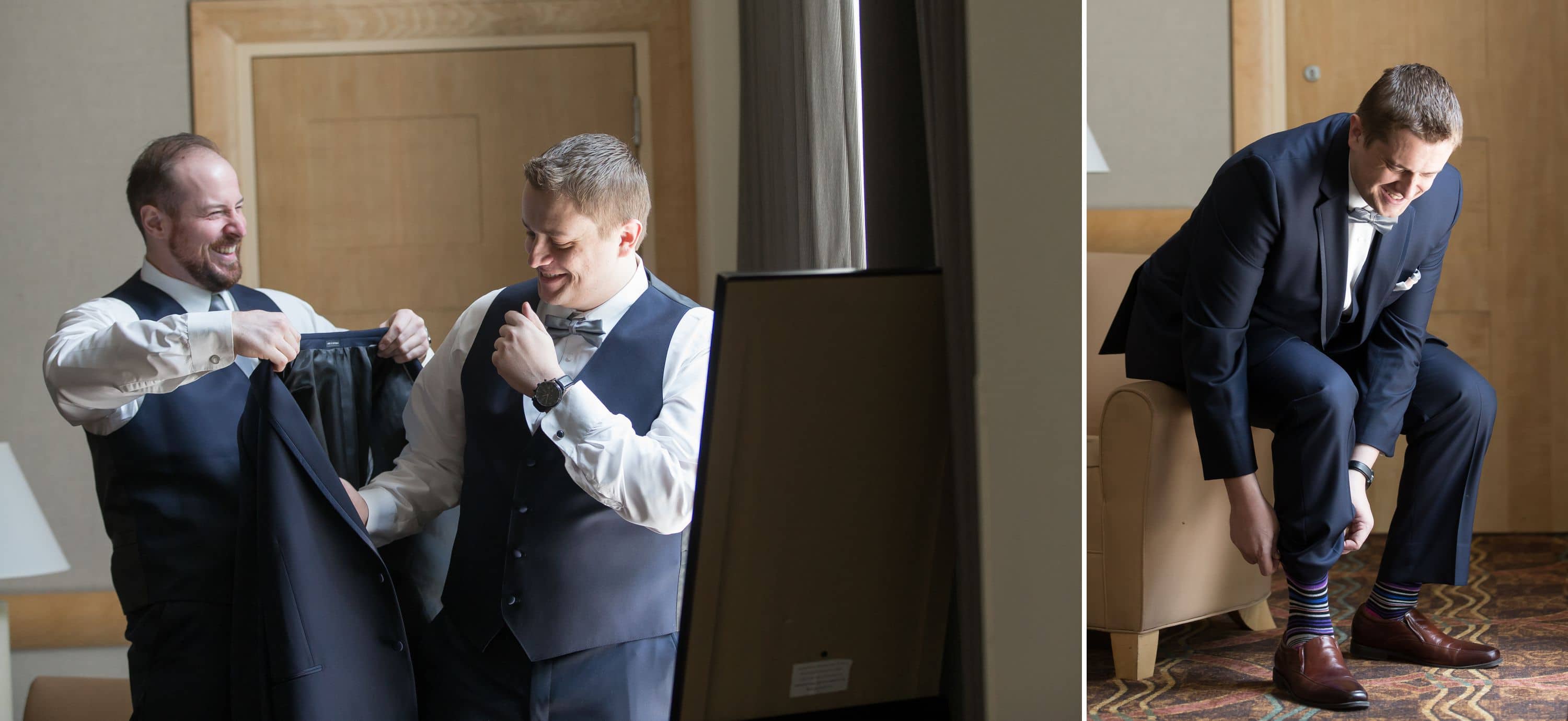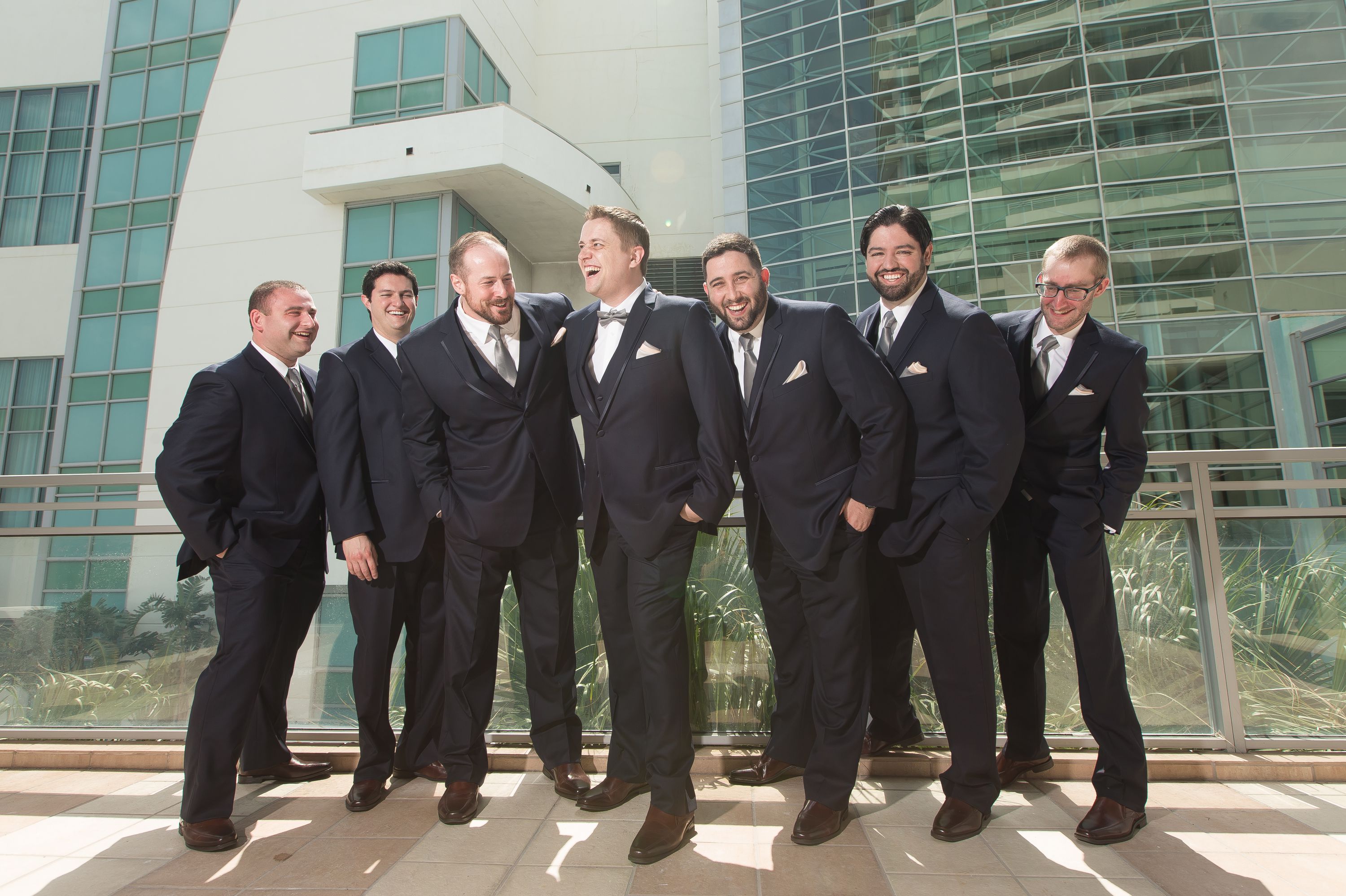 We took them outside for some group shots shortly after Rob was all ready.  Of course I got all the "normal" photos of the guys looking at the camera and smiling (thats a given), however I am choosing to post this one where they broke the "pose" and start to laugh at some ridiculous comment I made.  To me this looks very natural and is more interesting.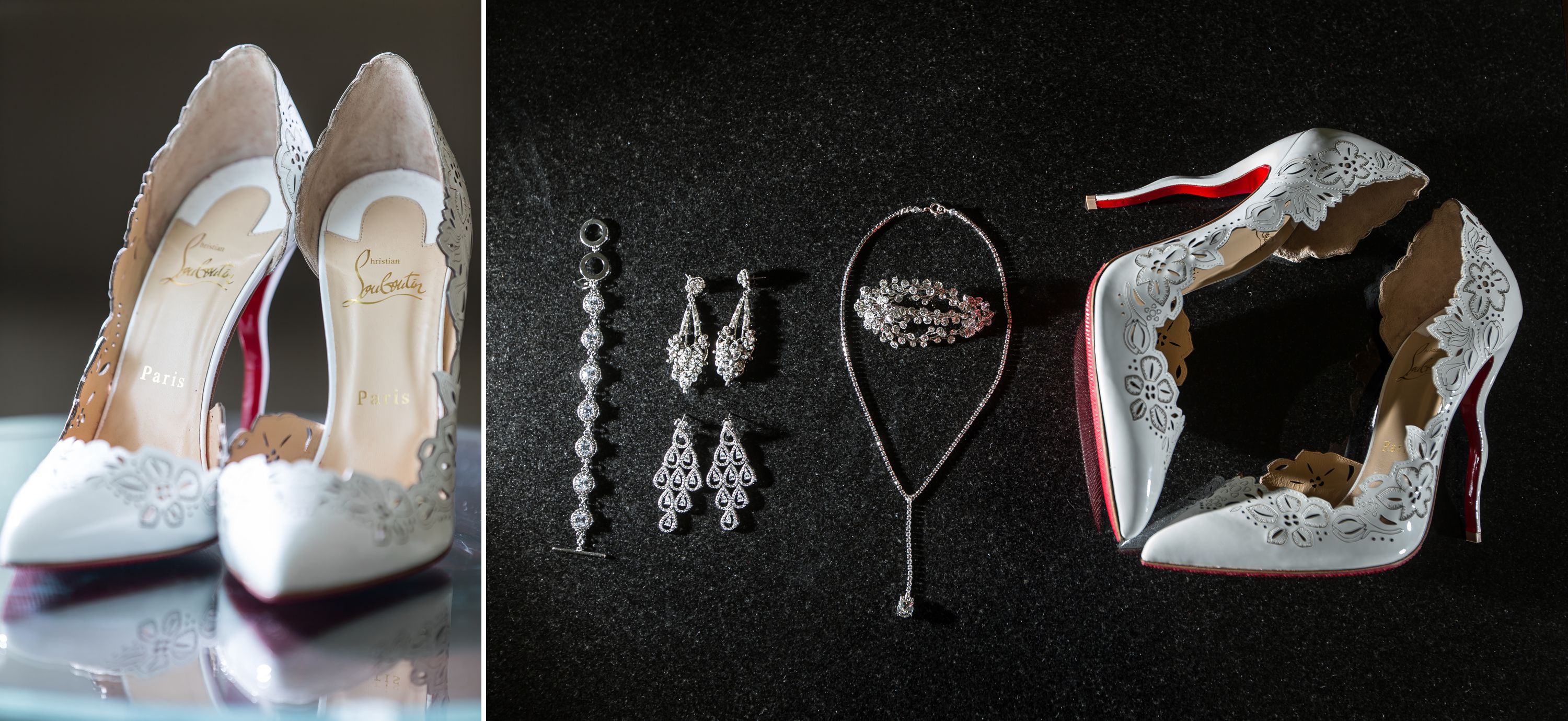 Some of the brides detail items.  The shoes specifically, were just stunning.  Really.  We all have seen some sexy red bottoms before.. but these take it to a whole new level for the wedding day!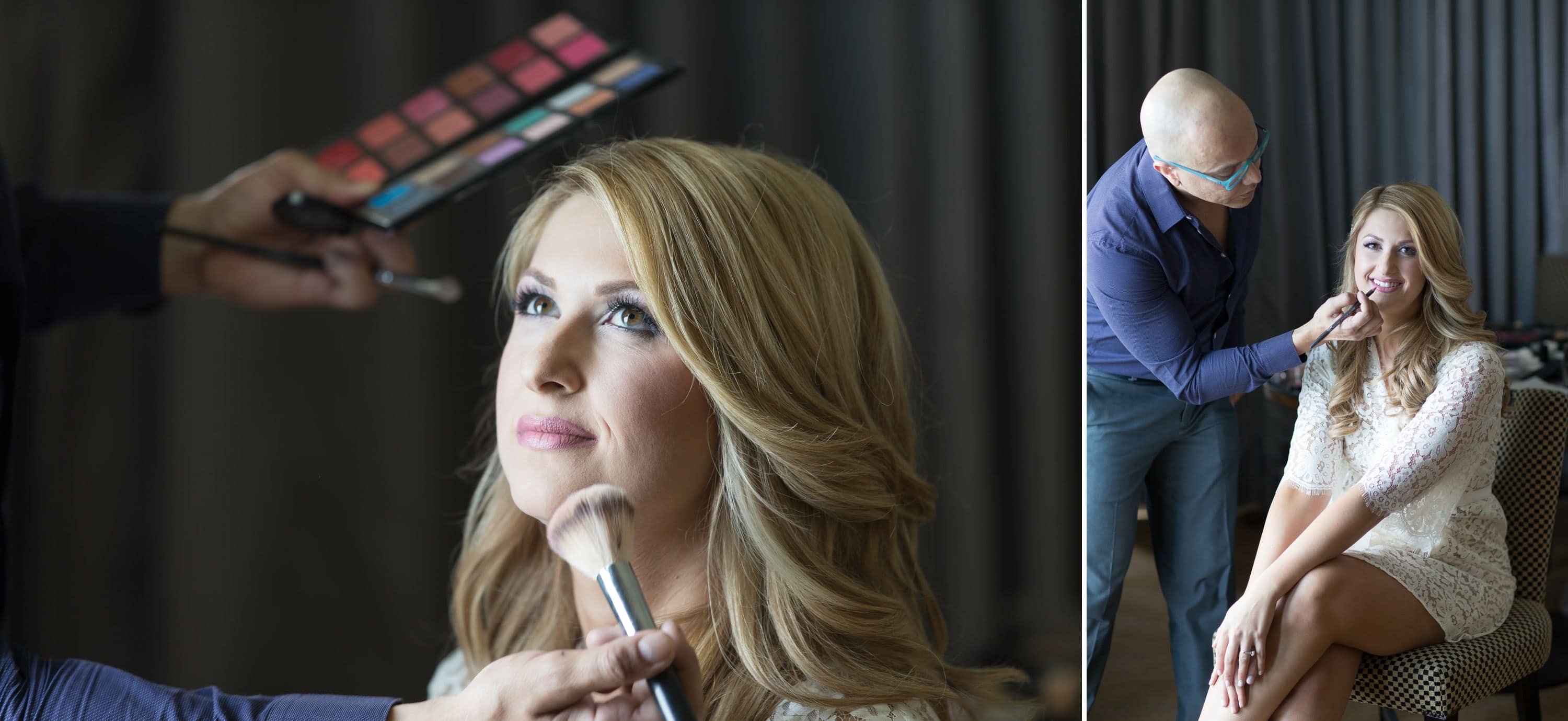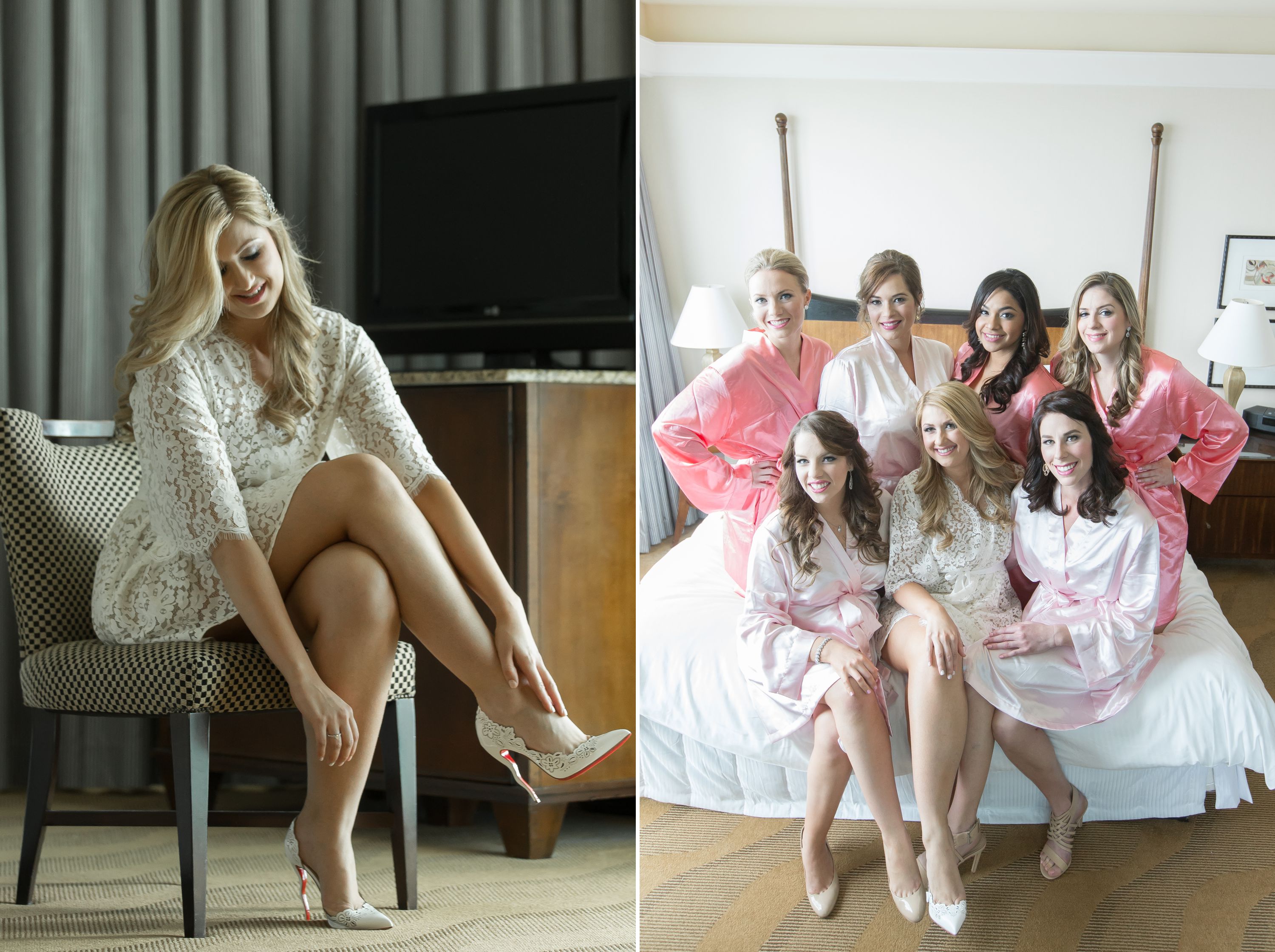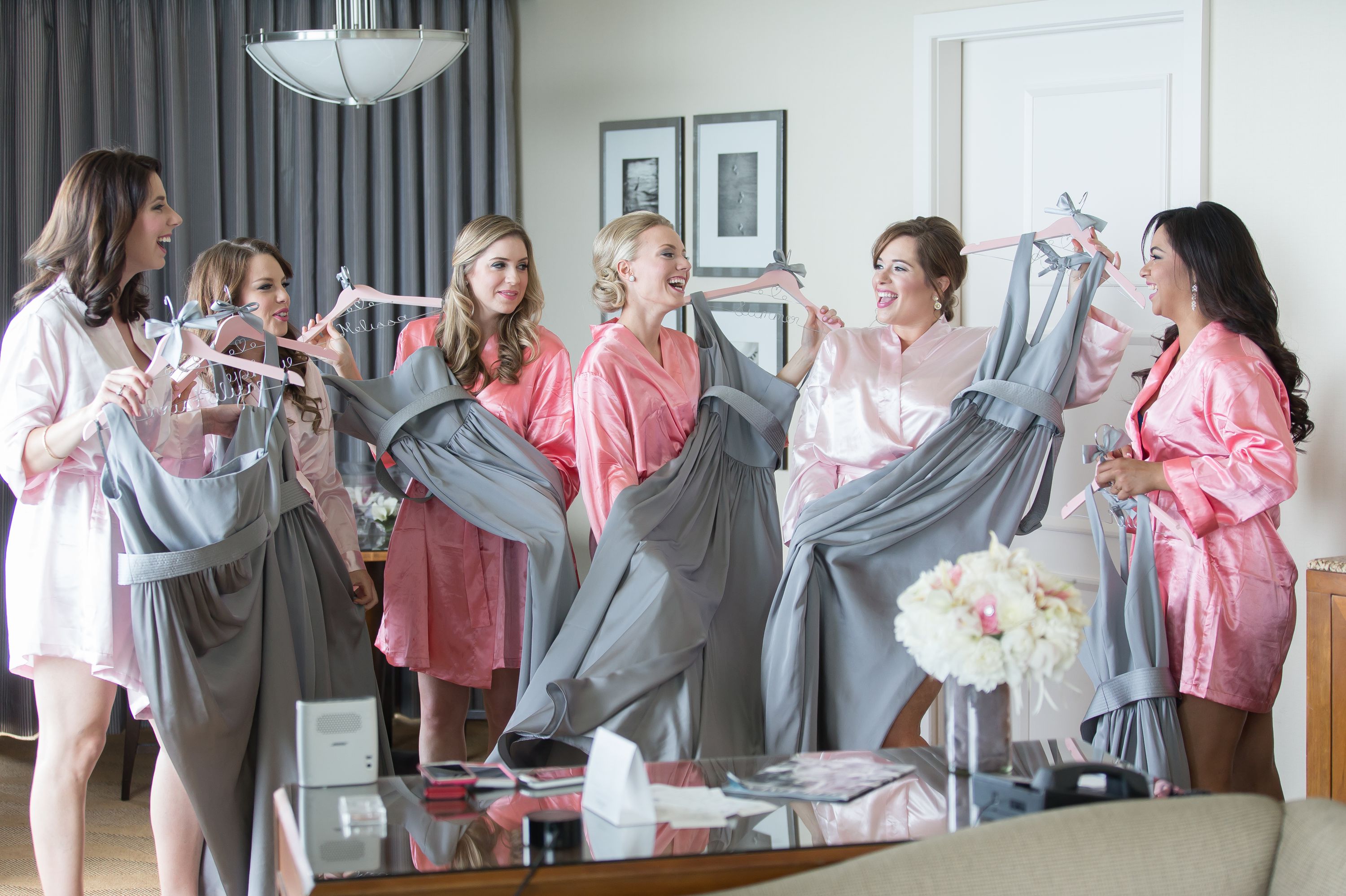 This shot (above) is one that I want to talk about.  In fact, there is not another shot in this entire post that is more reflective of "me" as the photographer than this one right here.  Why?  Well, you are looking at thinking "wow, he did a good job capturing a candid moment".  So, you would assume that I am proud of my ability to "get the shot".  Oh, wrong you are..  let me explain..  You see, like most weddings, including this amazing Diplomat Beach Resort Wedding the girls are generally all over the place.  They are doing all of the "normal" stuff..  they are talking, on their phones, some are in one room and some are in another.. one left to go down stairs, and one is in the bathroom.  See my point?  Getting ALL of the girls in one place, focused AND doing something that makes sense (and worthy of a photo) is never.. (let me say that again) IS NEVER just going to "happen".  No.  It wont.  10 years of shooting weddings.. it never just happens like this.   This was all my doing.  I told the girls to go and grab their dresses.  I told them where to stand, I told them to look at each other.. and then using my personality I built momentum in conversation to "create" the moment that I knew would make sense and would (should) be happening.  To me, this is what makes a really top notch photographer.  MAKE IT HAPPEN!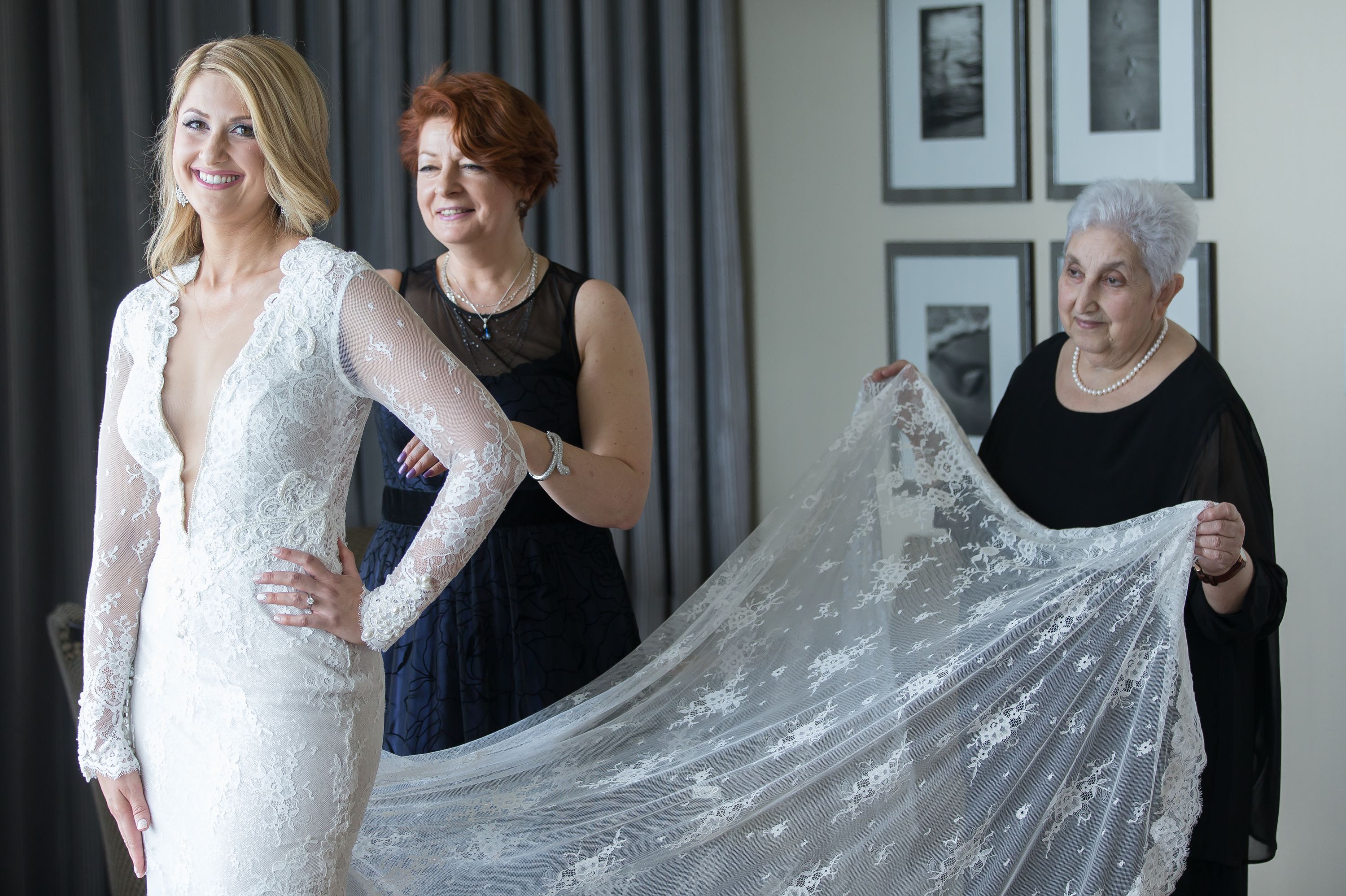 Mom and Grandmother helping Rita into her elegant wedding dress, which was designed by Berta.  Berta wedding dresses are by far my favorite dress of all time when it comes to weddings.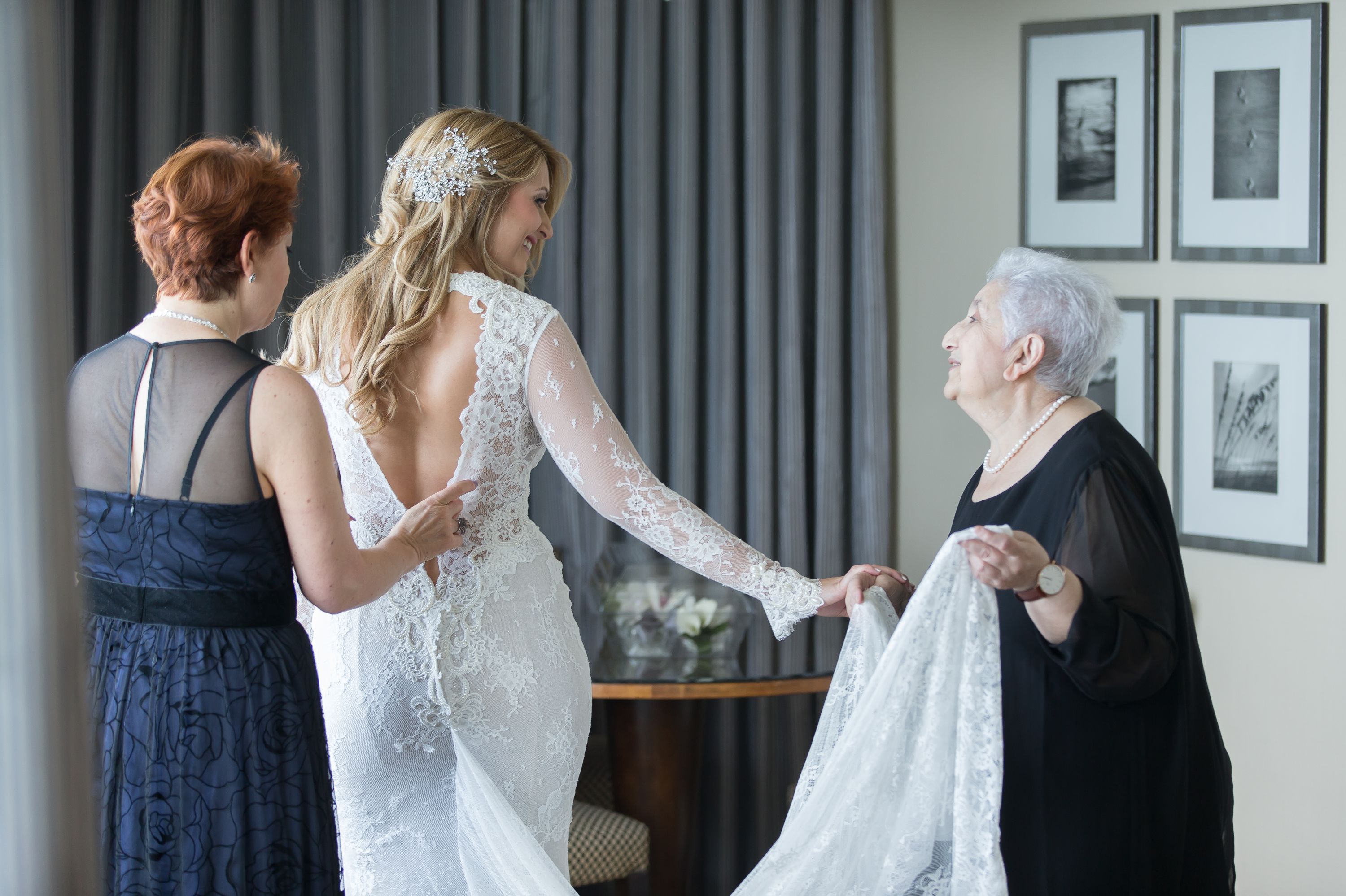 Now, if your wondering "did I create this shot too, or was that a real moment" the answer is both.  Yes, before she started getting dressed I told them the best place to stand.. but in this case there is action in the shot, so I am far away with my camera shooting as things unfold.  This way I get the best of both worlds, and some genuine emotion such as the shot above with Rita and Grandmother.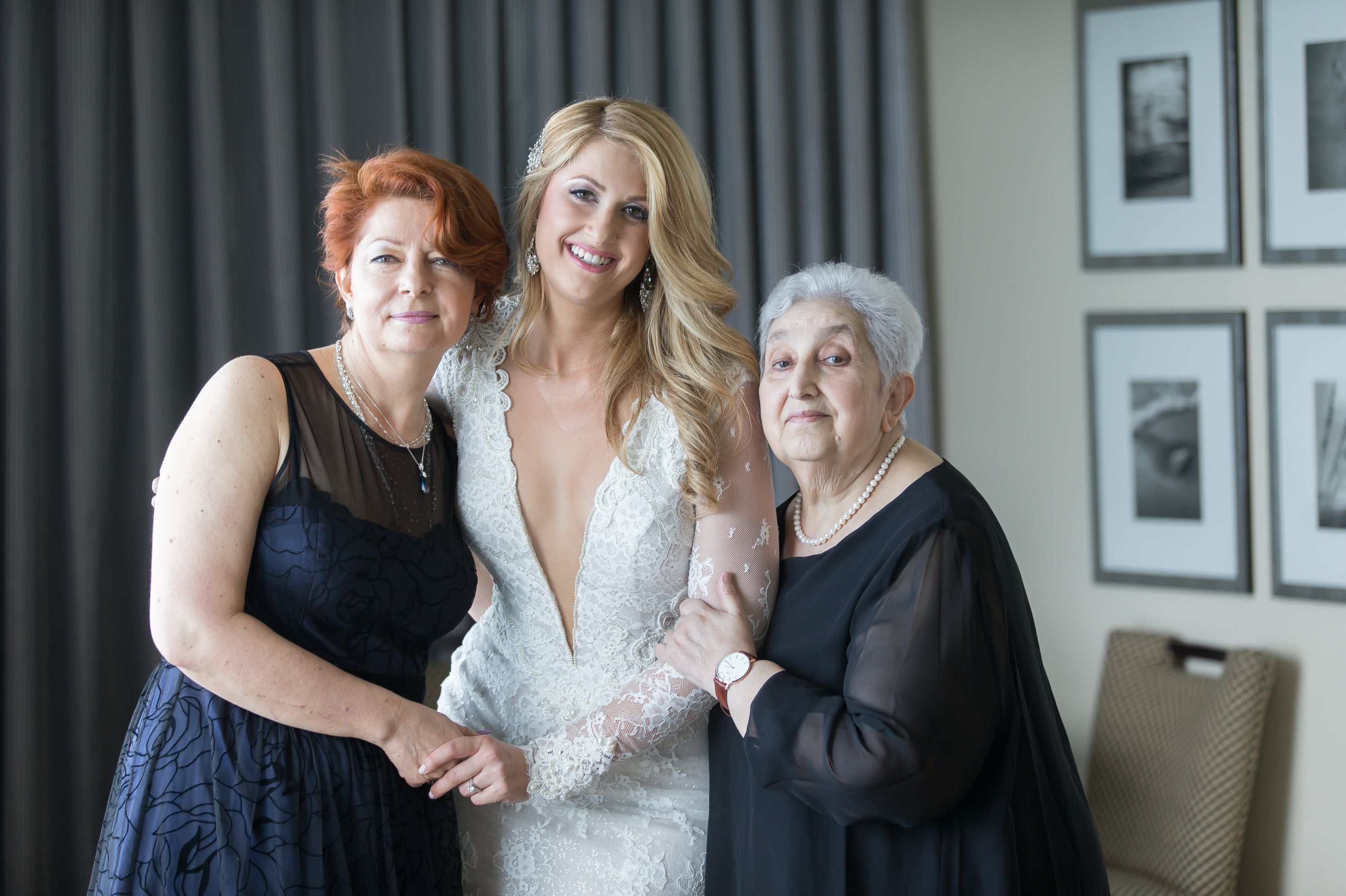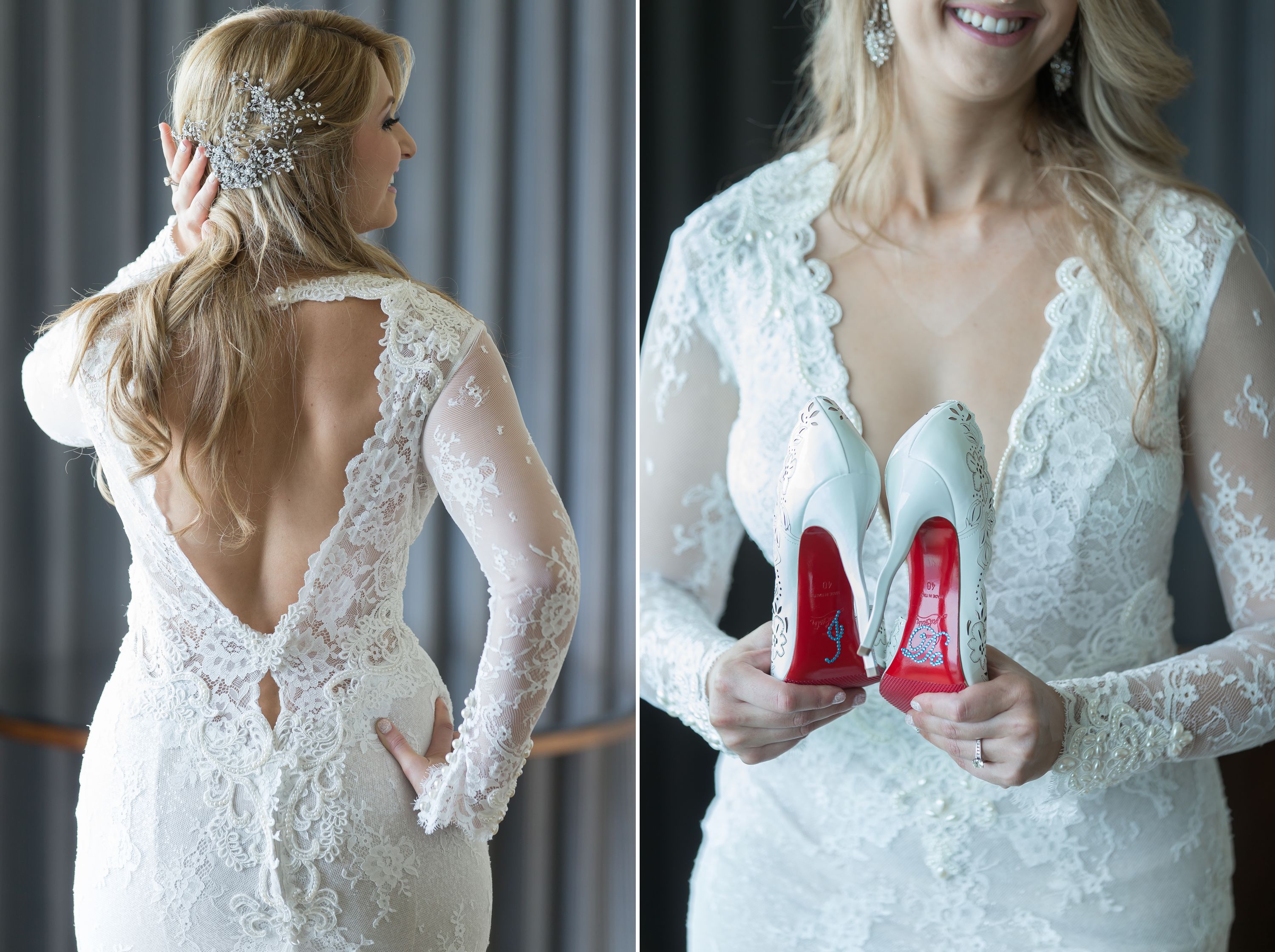 I have long spoken about shooting details with meaning.  This is a great example.  Notice that I did not bother including a silly photo of her amazing Berta wedding dress on a hanger in the window?  Yeah, I took the shot.. and Rita has it.  She may love it, but its not needed when you take photos like this.  So rather than a "ghost" looking photo of the dress I focused on shooting details WITH Rita in it 😉  Between the above, and below photos I instantly covered..  back of the dress, front of the dress, hair piece, sexy shoes, earrings, close up detail of the dress sleeves.  All of which contain the bride too.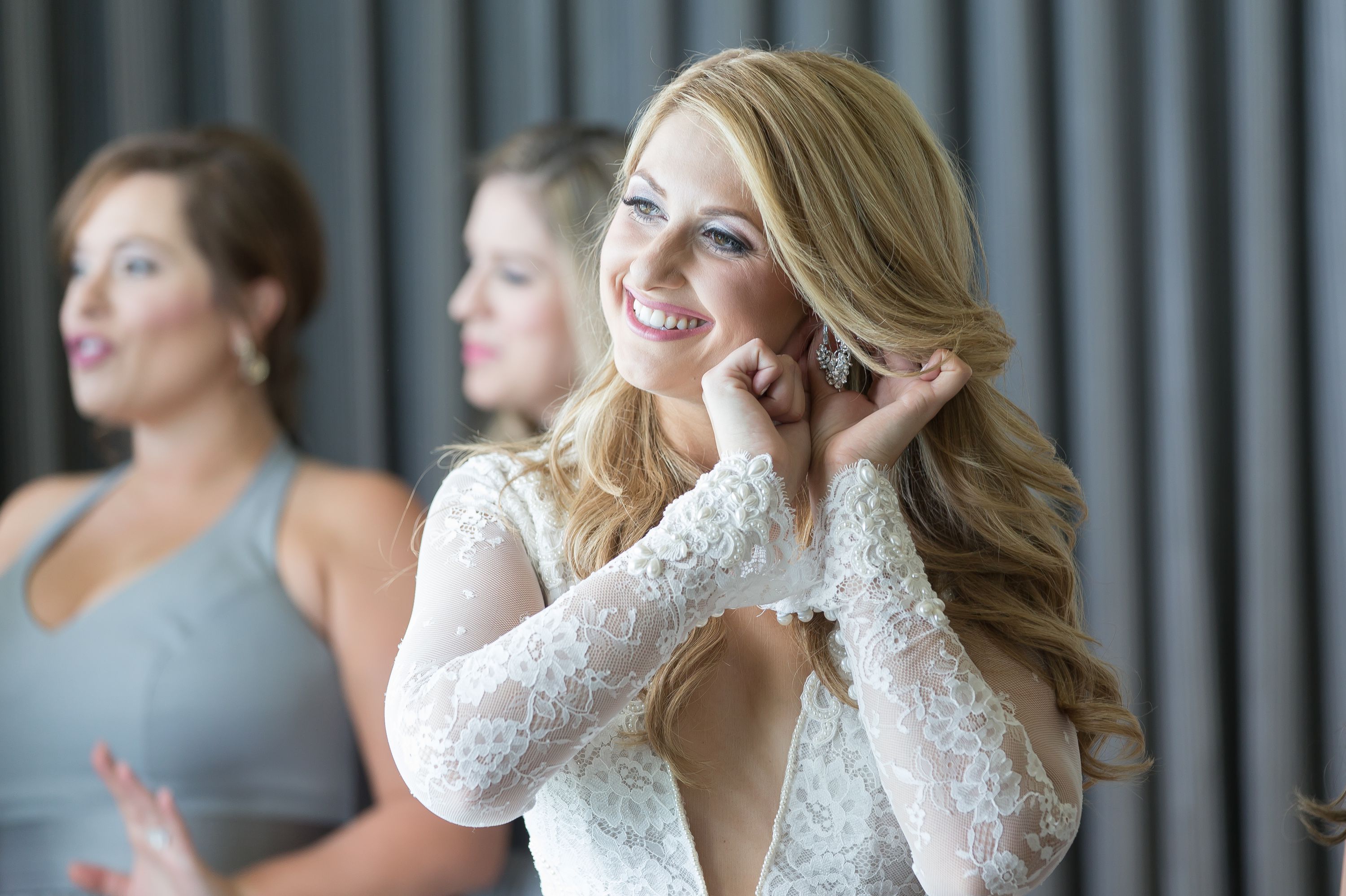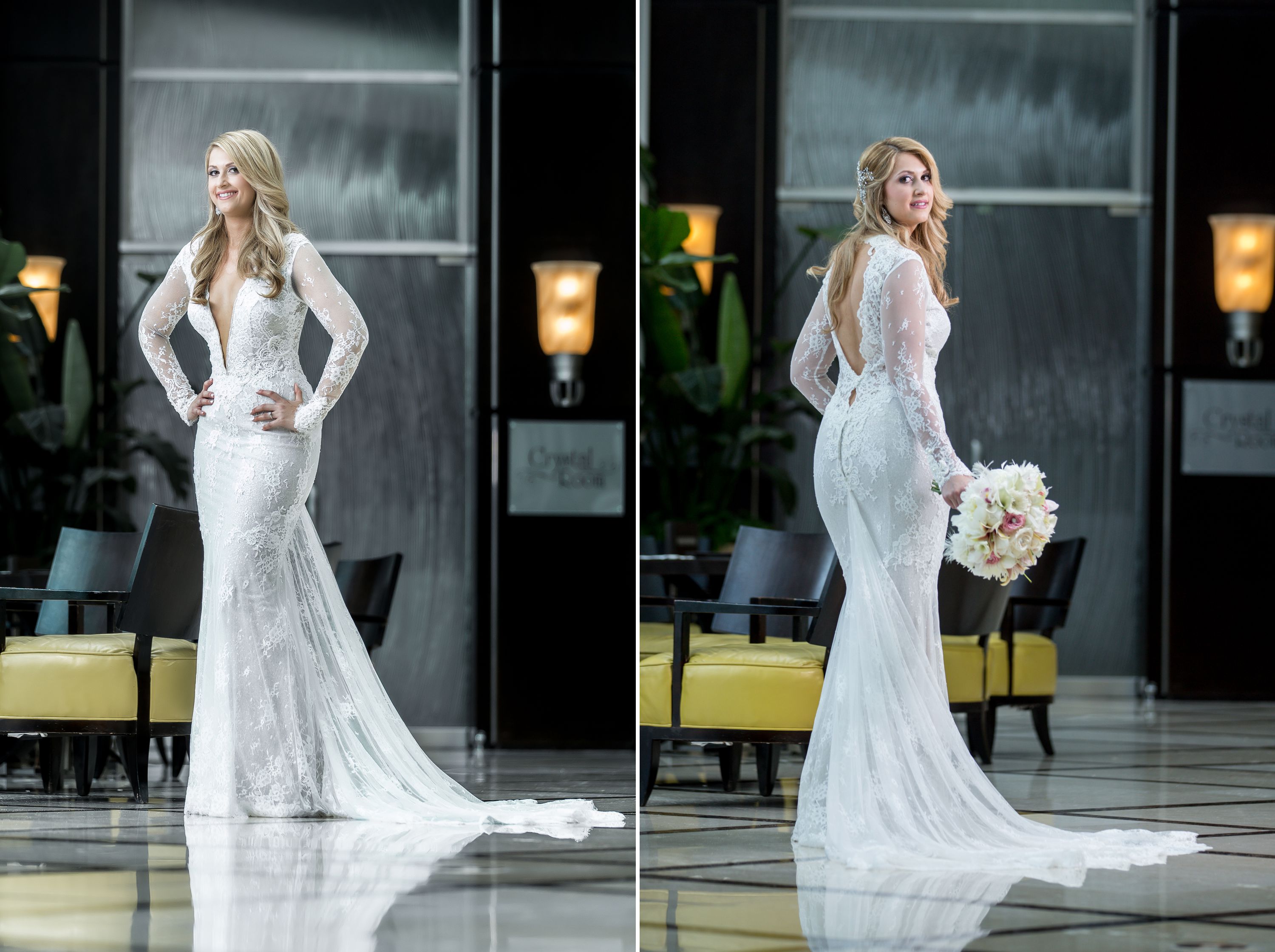 Now we are going to get into why I loved this Diplomat Beach Resort Wedding so much.  The location.  It truly is unique and had some incredible decor to play around with for photos.  I started with the main lobby with just Rita.  First things first, we needed to show off that dress and I wanted to get some styled and posed shots of her in it.  I think the two above were perfect, as she looks like one of the catalog models wearing it 🙂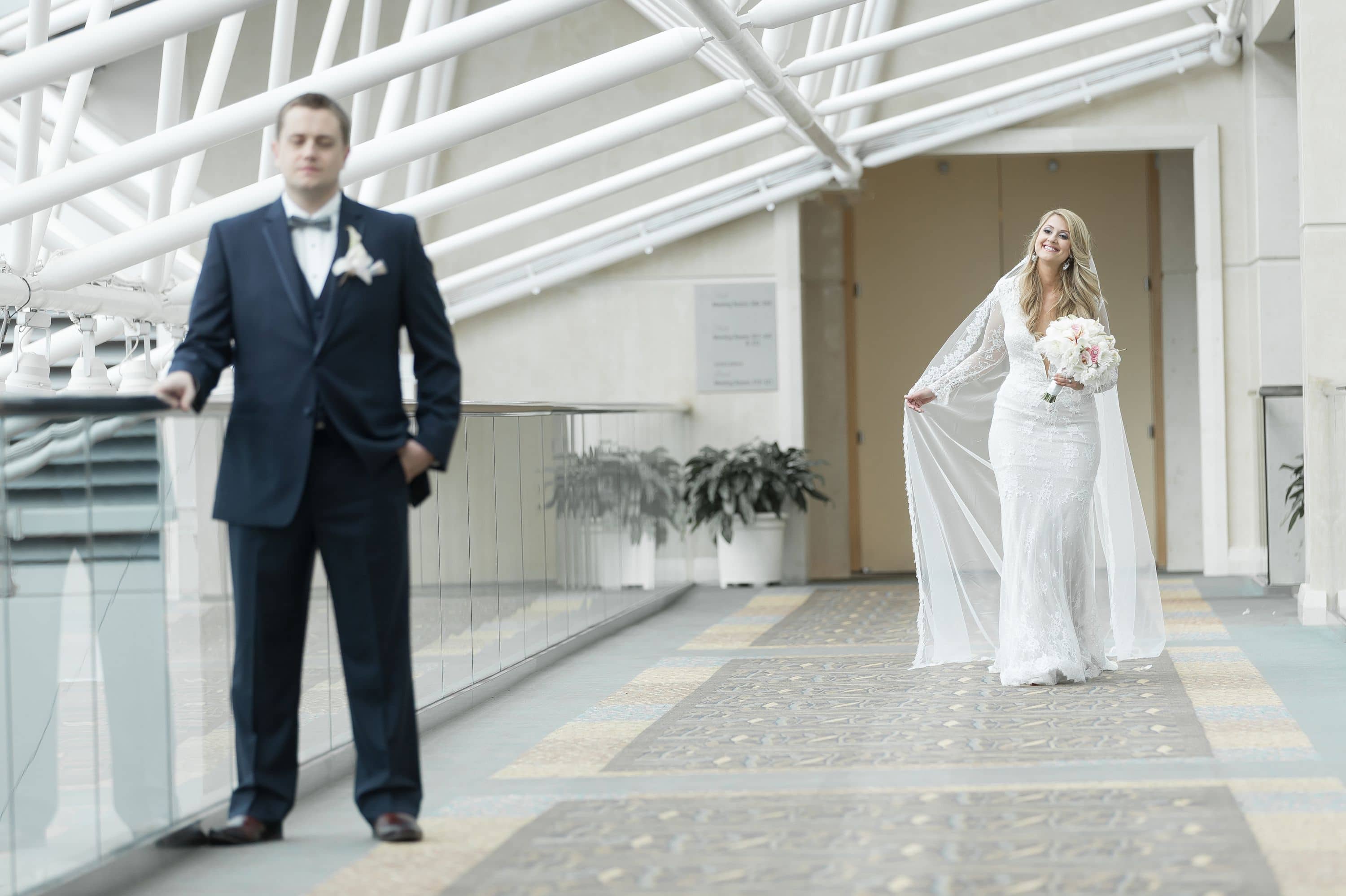 The next interesting place in this Diplomat Beach Resort Wedding, was this "sky walk" section of the hotel which was very quite and non populated.  It made the first look location easy.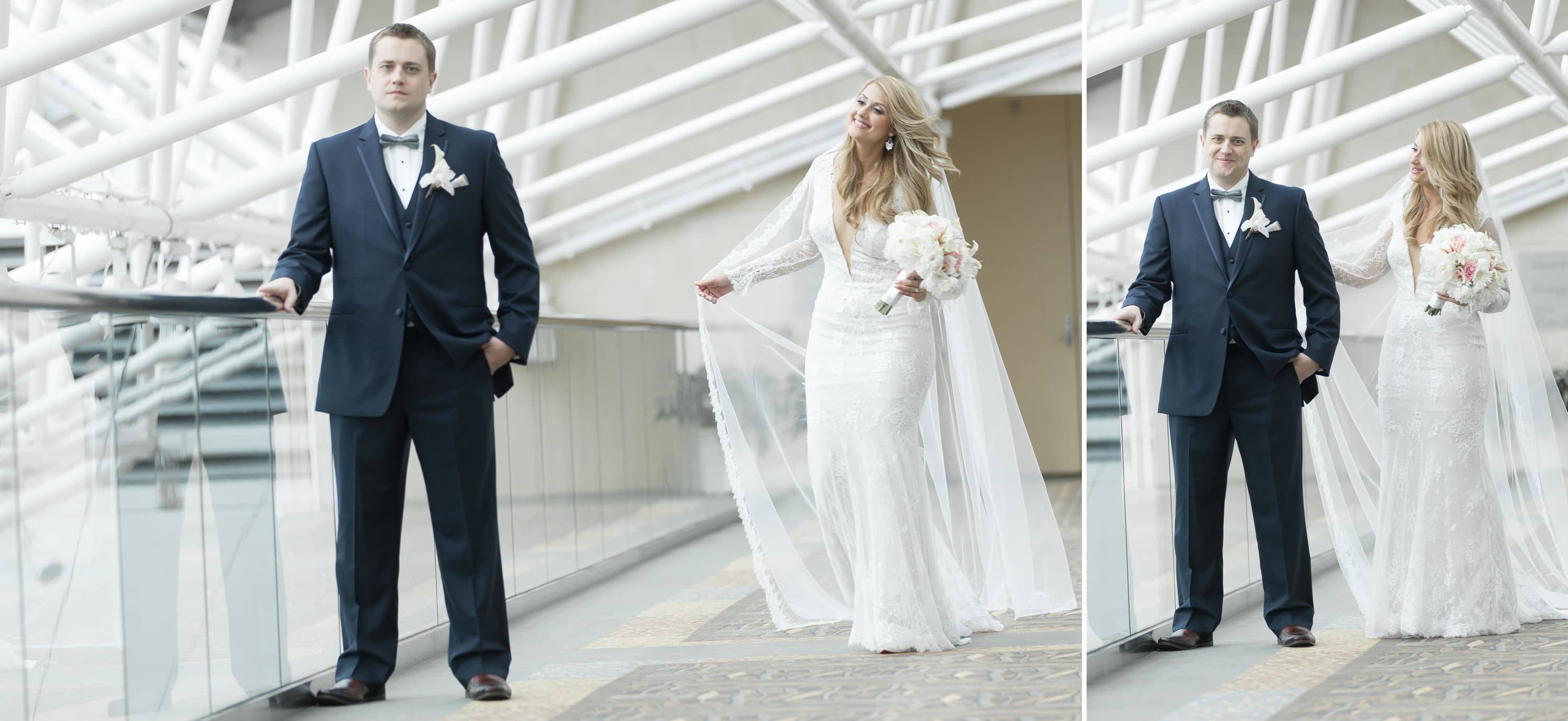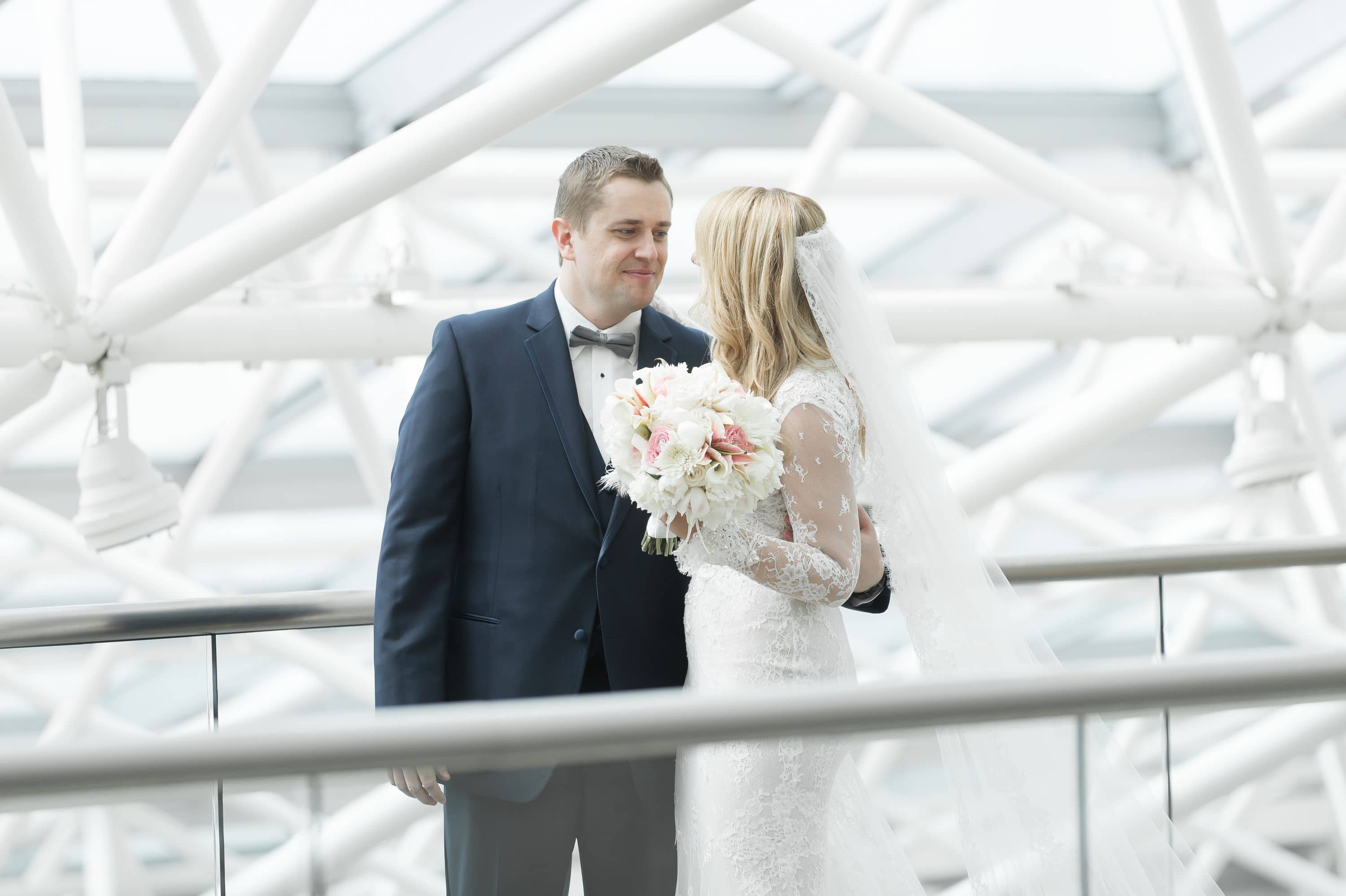 Even from this camera position the design in the roof was so cool.  Loved this place.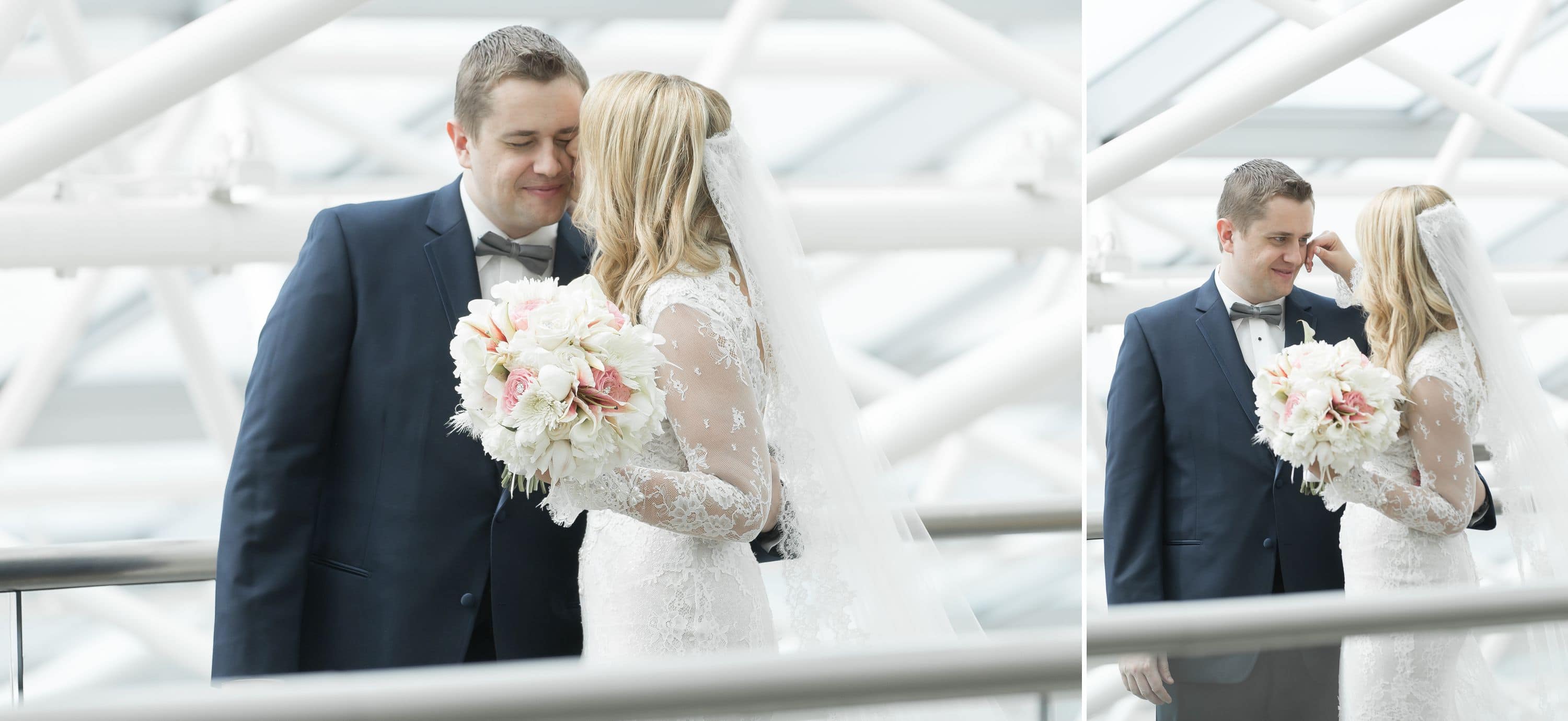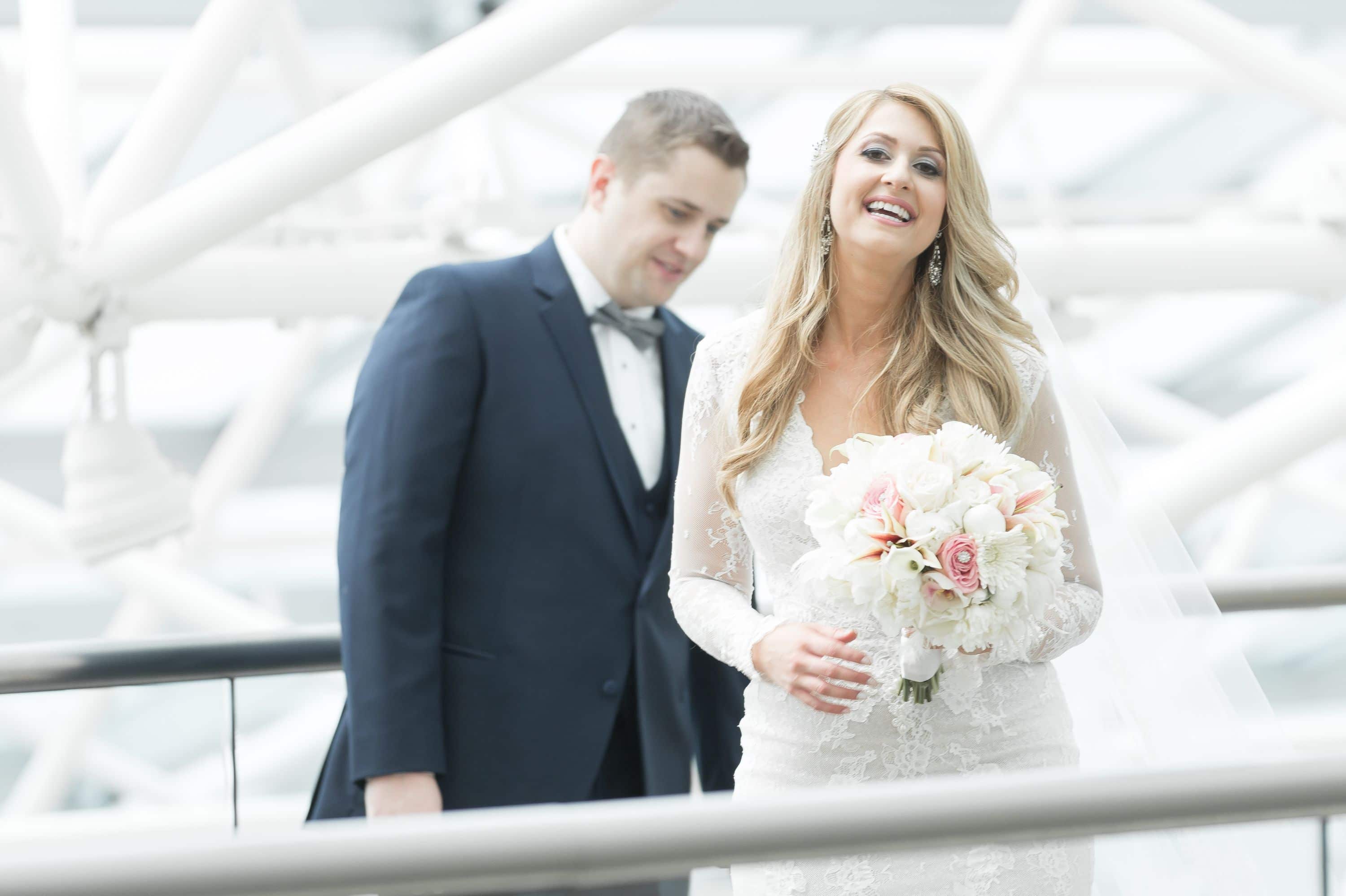 I am sure he was just making sure the back of the dress was secure 😉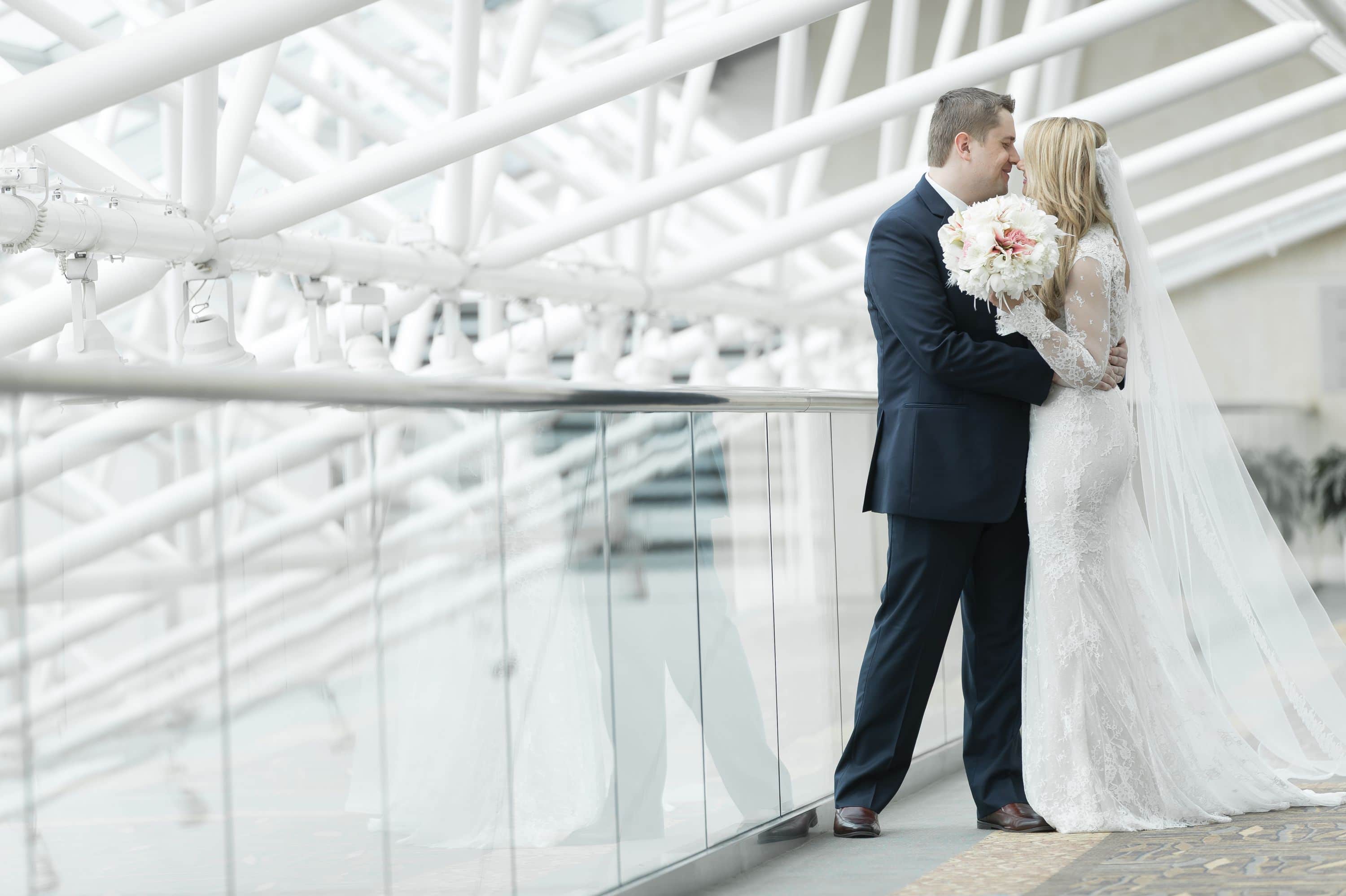 Now because they did a first look, they were rewarded with more time and less stress.  The means, more shots.  Yeah, I really did love this Diplomat Beach Resort Wedding because of all the places we could easily go for a different look.  Great lobby balcony, hotel room views, ocean, etc.. you name it we did it.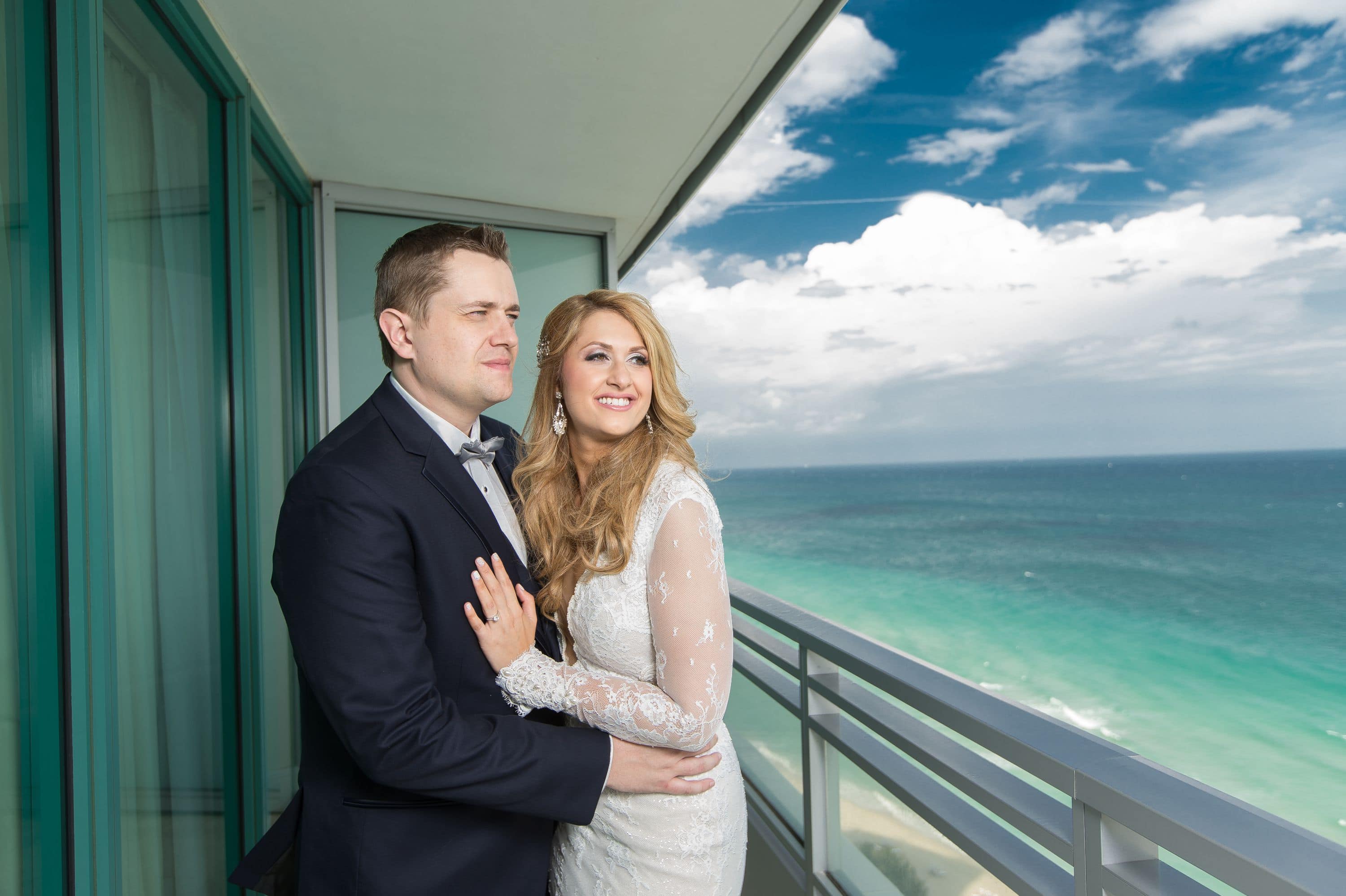 Whenever we have an outdoor wedding ceremony I always prey to the rain, sun, and wind gods.  LOL.  Thankfully they all were listening on this day.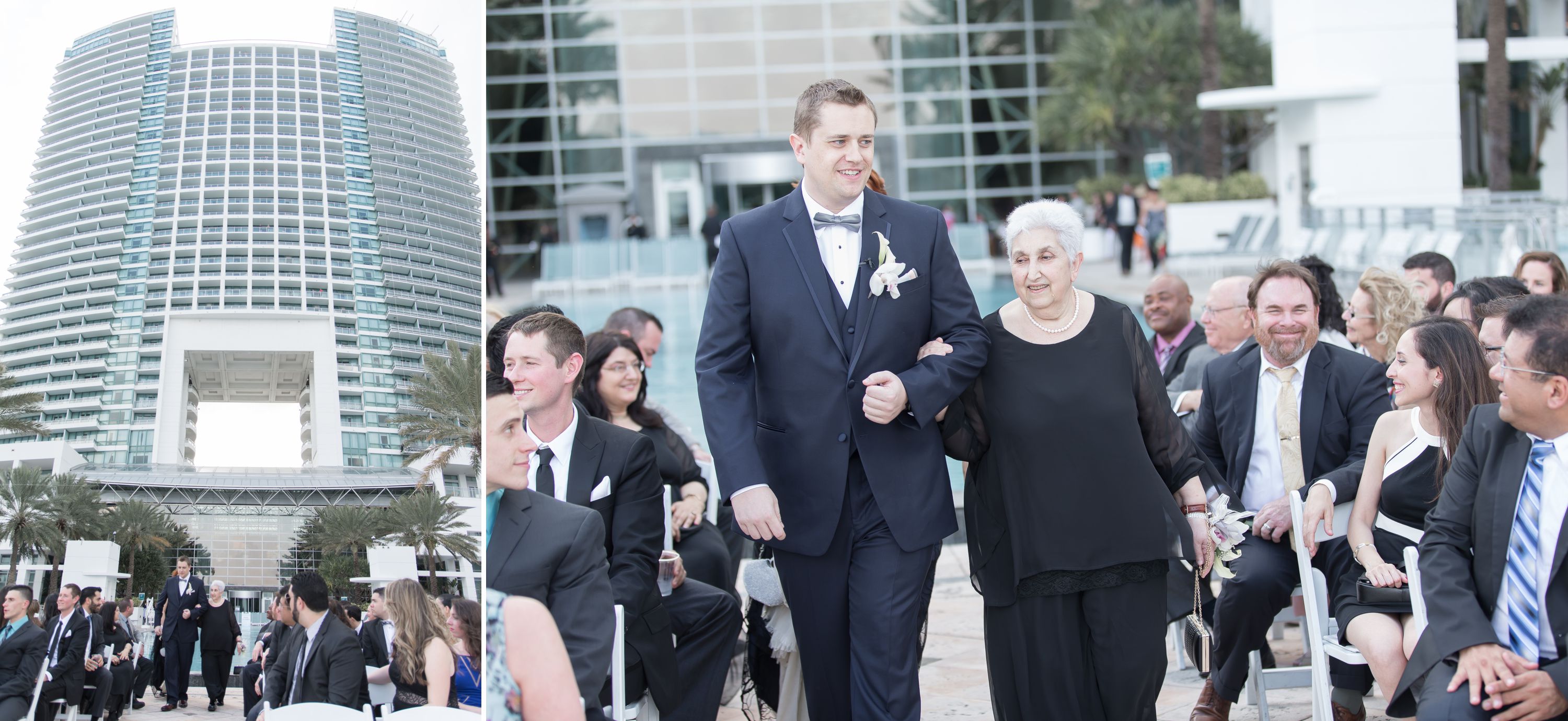 Looking at the above two images, and below two images.  This is a great story telling example of how a wedding album would also be laid out.  The first image top left intros that this was a Diplomat Beach Resort Wedding by showing the hotel in a wide shot with Rob walking down.  Then, we cut to a close up of him to bring in the emotion.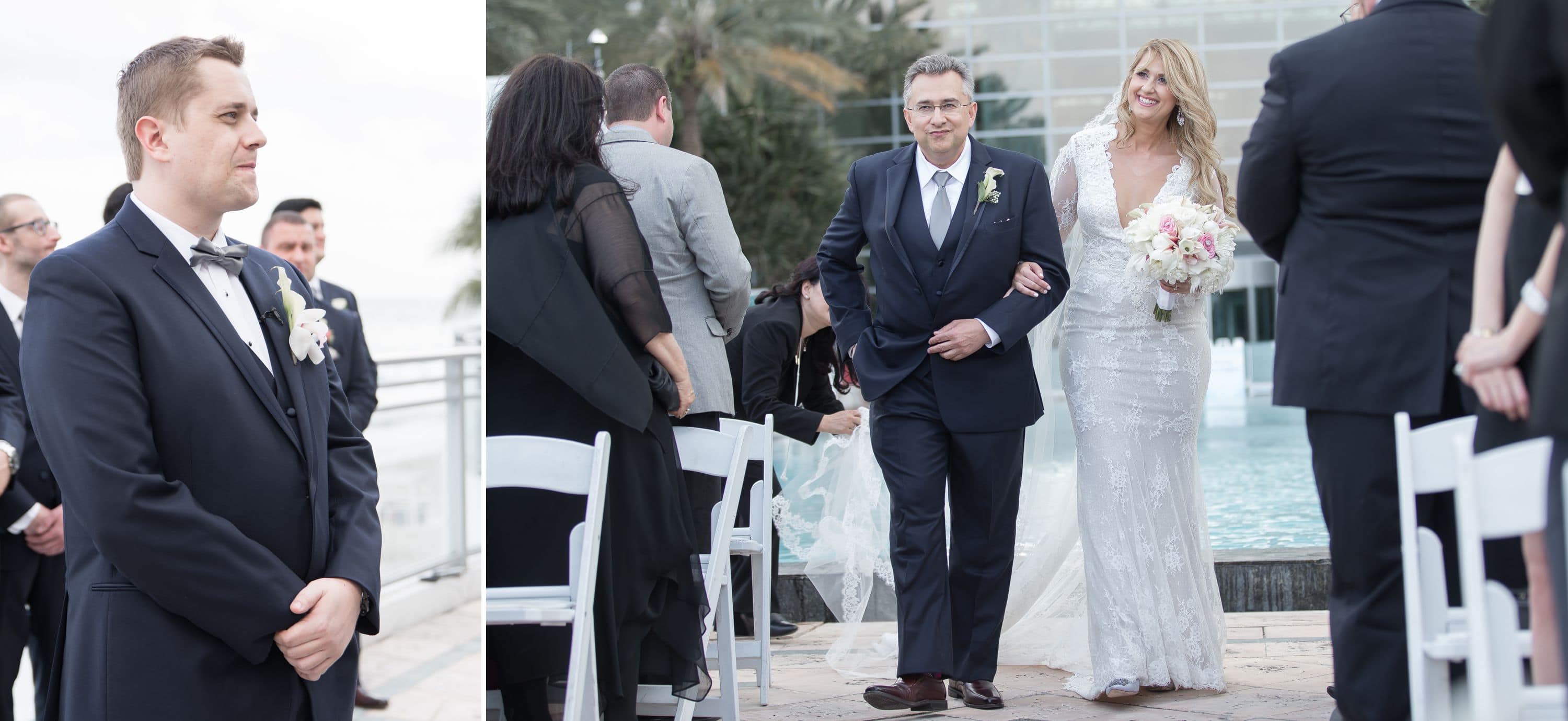 Next we have the groom (Rob's) reaction to the bride coming down the isle.  Which, of course is paired with that very image of Rita walking down with dad.  Again, I need to remind people that just because you do a first look does NOT mean you loose any emotion when it comes time for the ceremony.  I assure you, it is very different and the benefits of a first look can not be underestimated.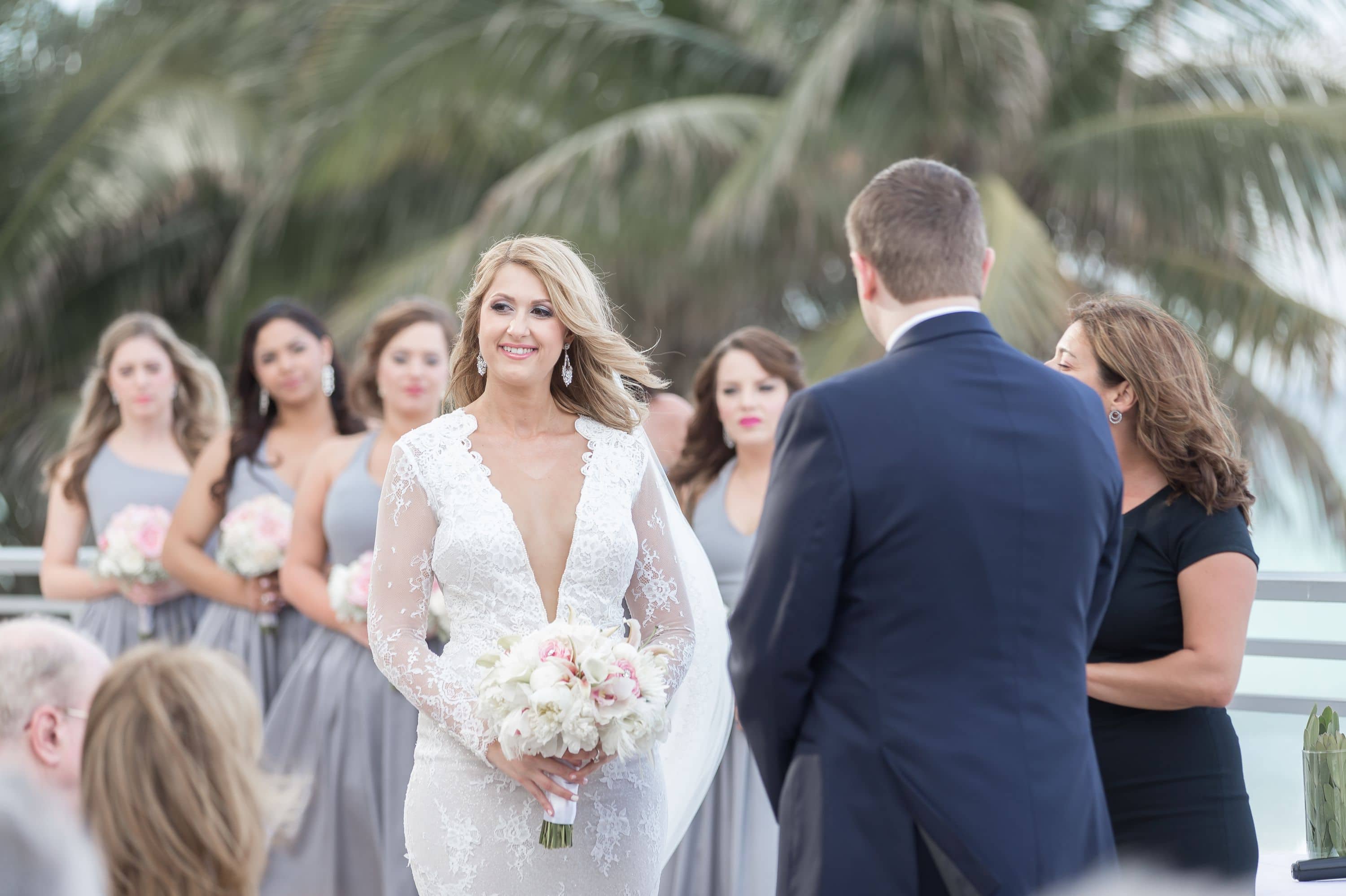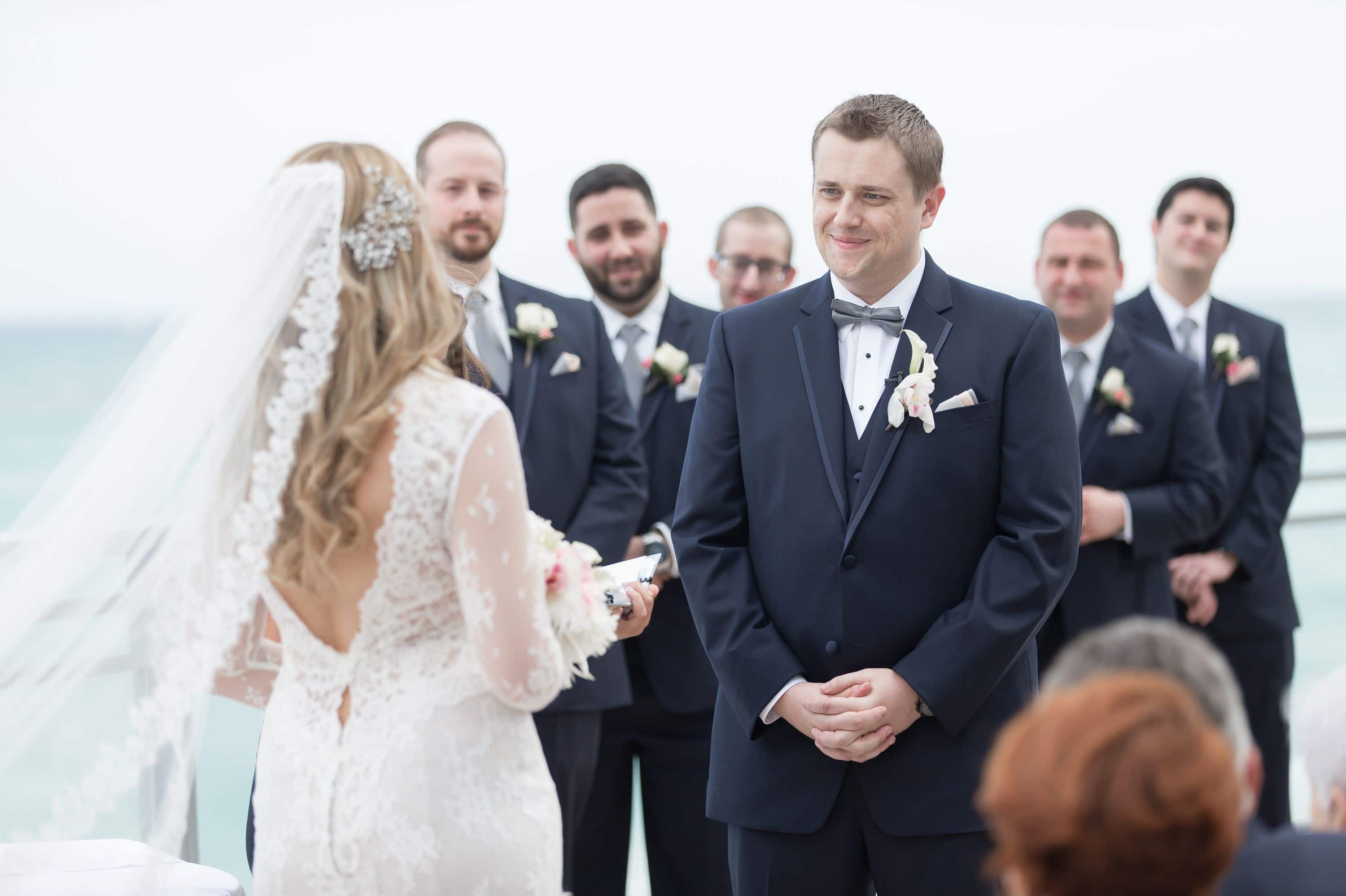 The look that Rob is giving Rita here..  priceless.
Another nice thing about this Diplomat Beach Resort Wedding, is that the ceremony "looks" like a beach wedding, but without all the annoying sand.  That's pretty cool.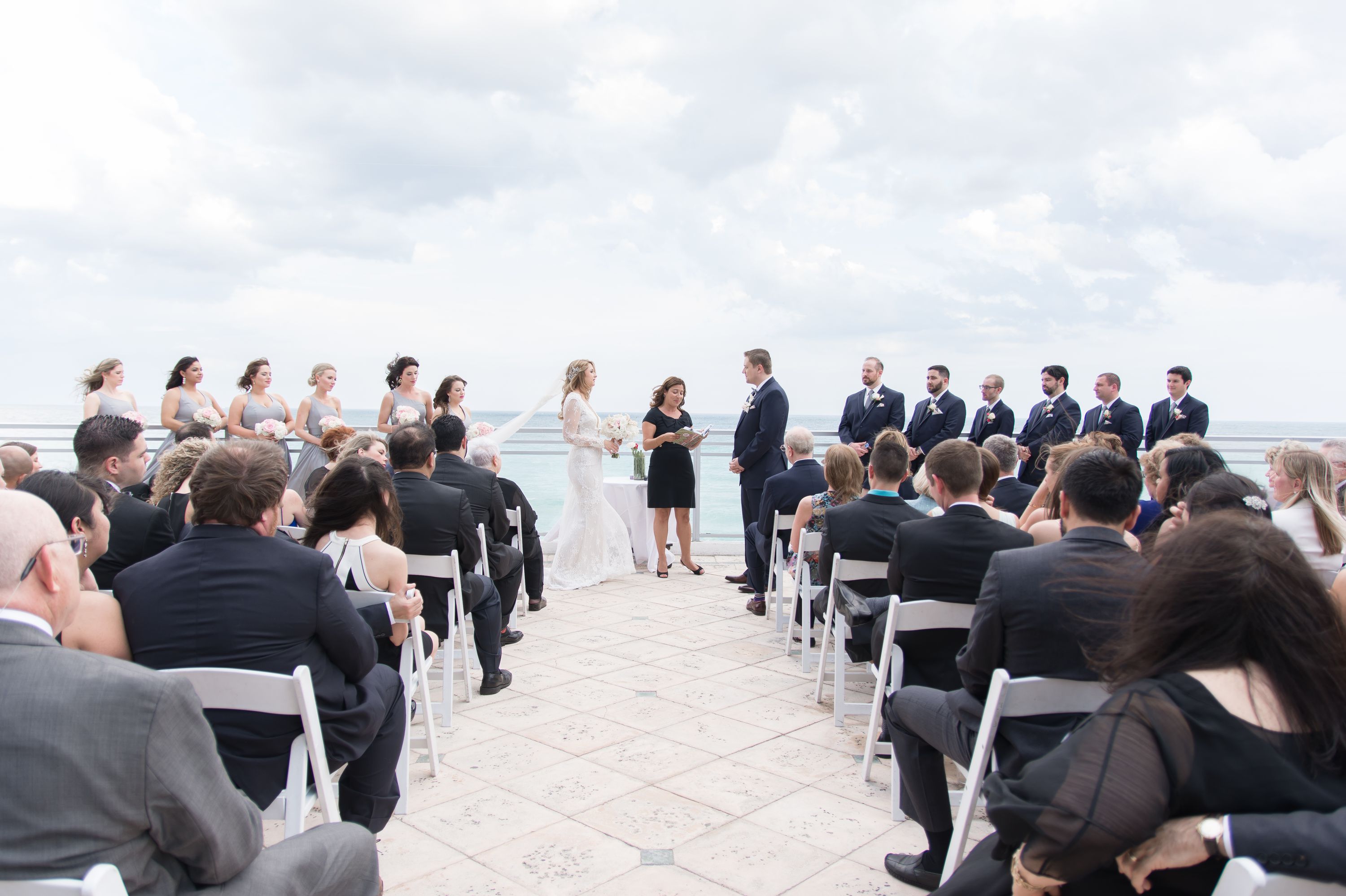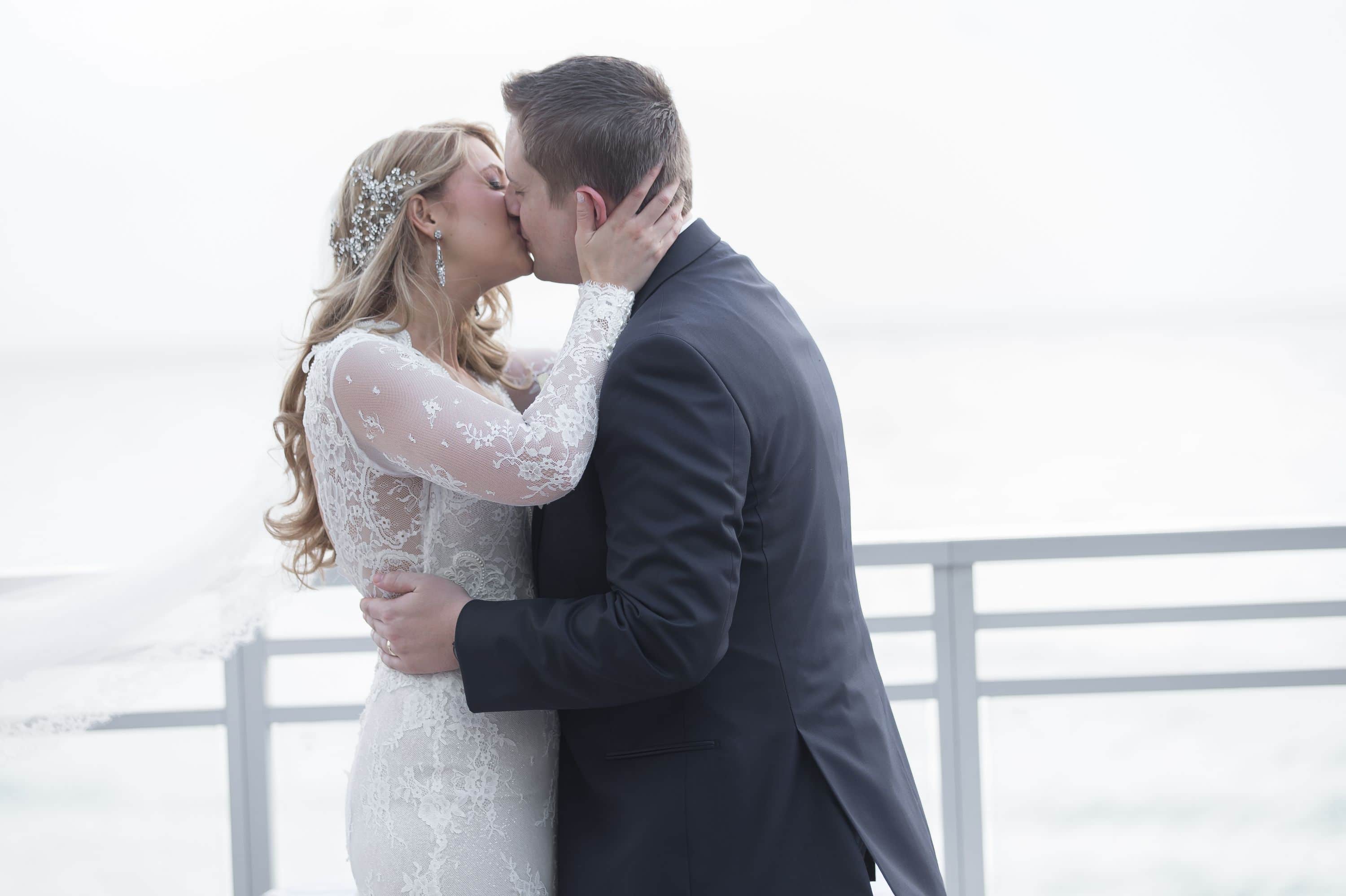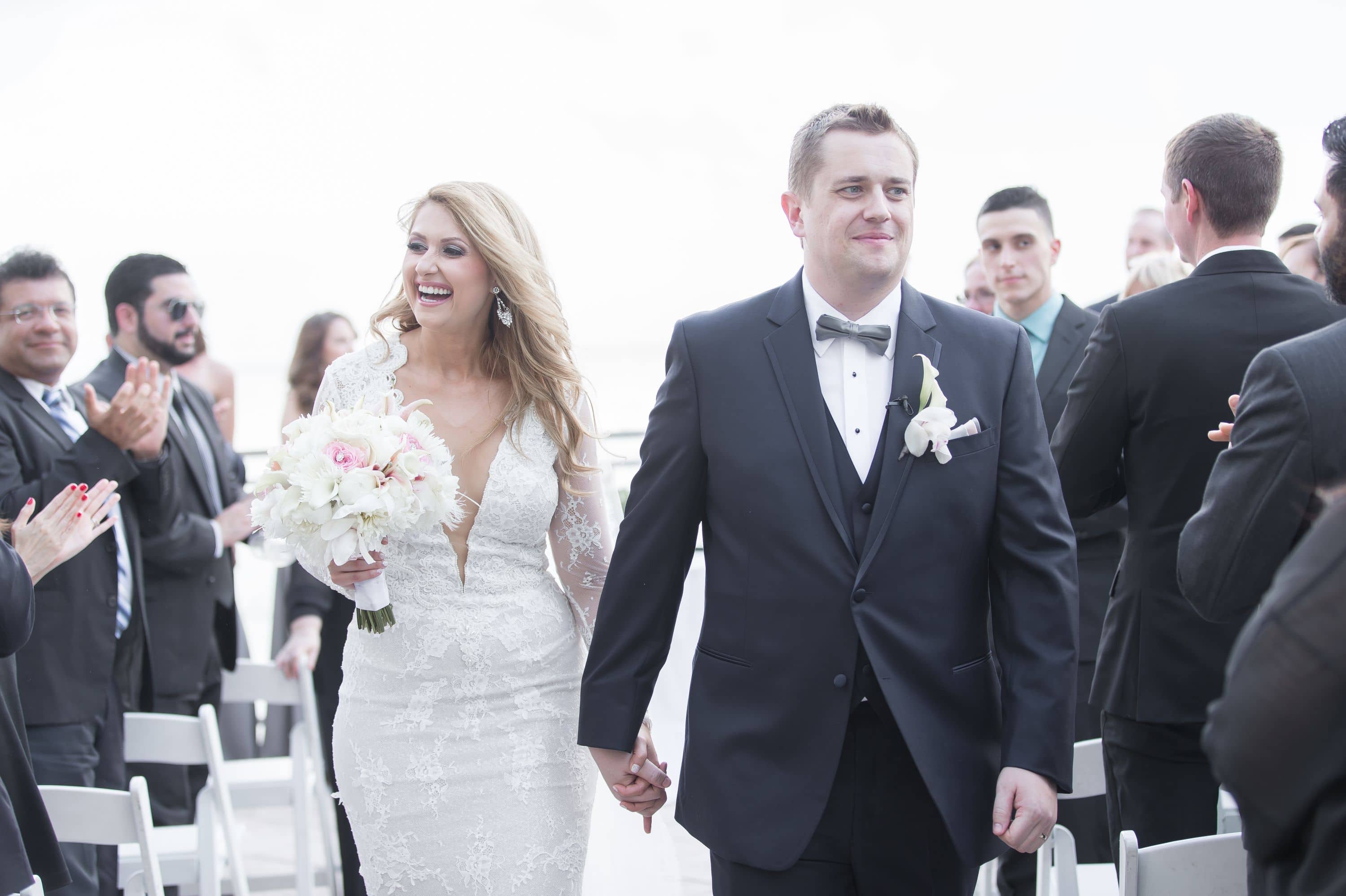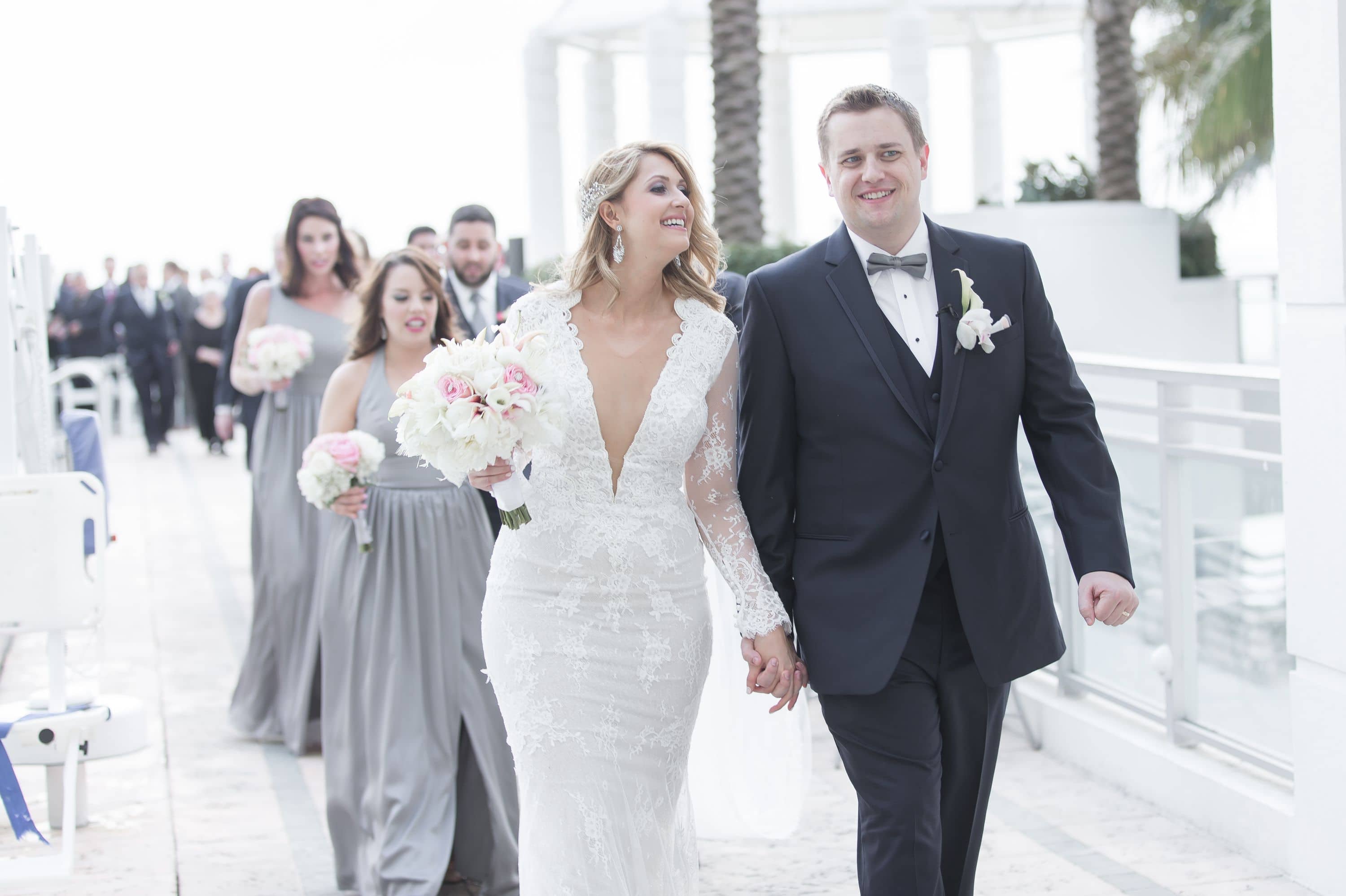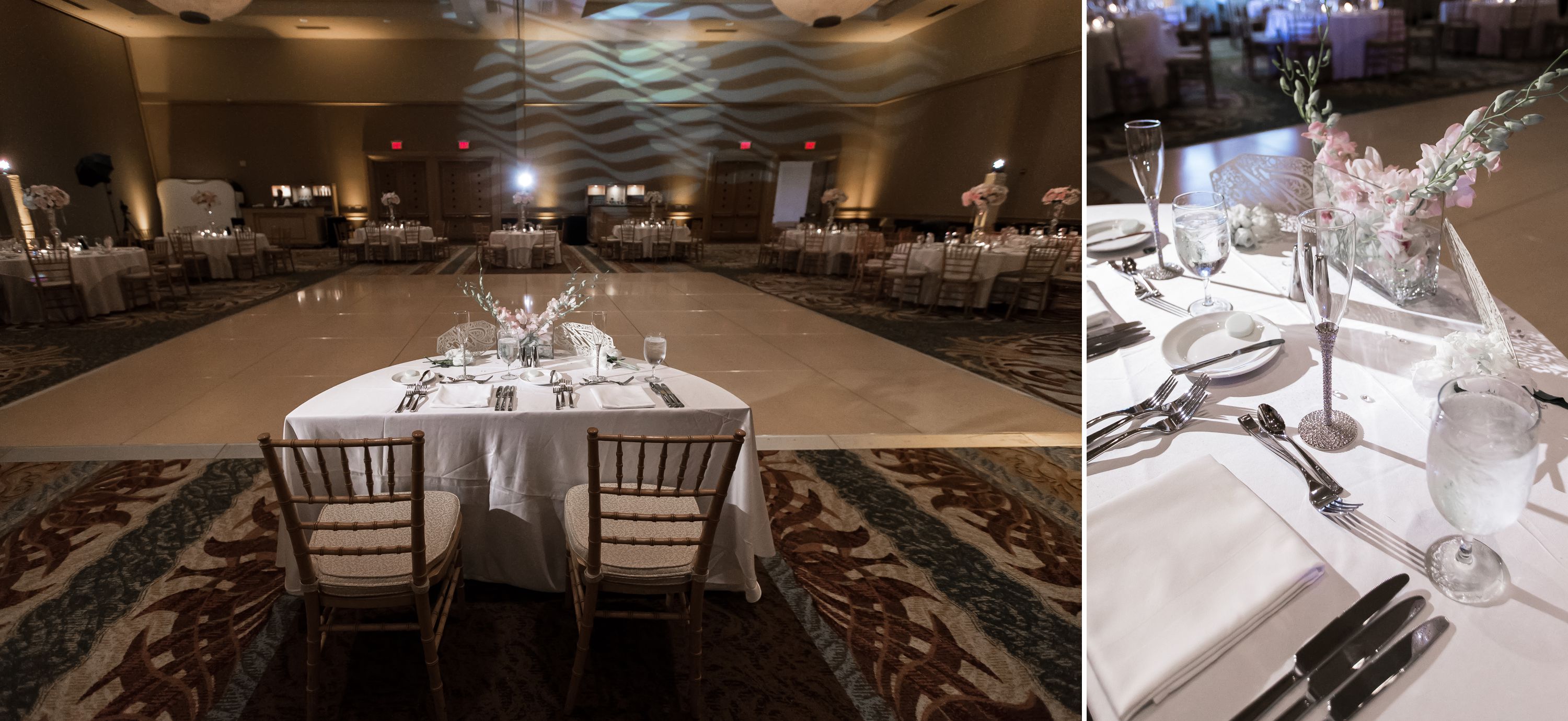 Some of the reception room details.   So, this brings up another really interesting thing about this (or any) Diplomat Beach Resort Wedding..  and that is that connected to the hotel is basically an entire conference center.  Its HUGE with many rooms and many options for lots of events.  This really is a "do it all" hotel!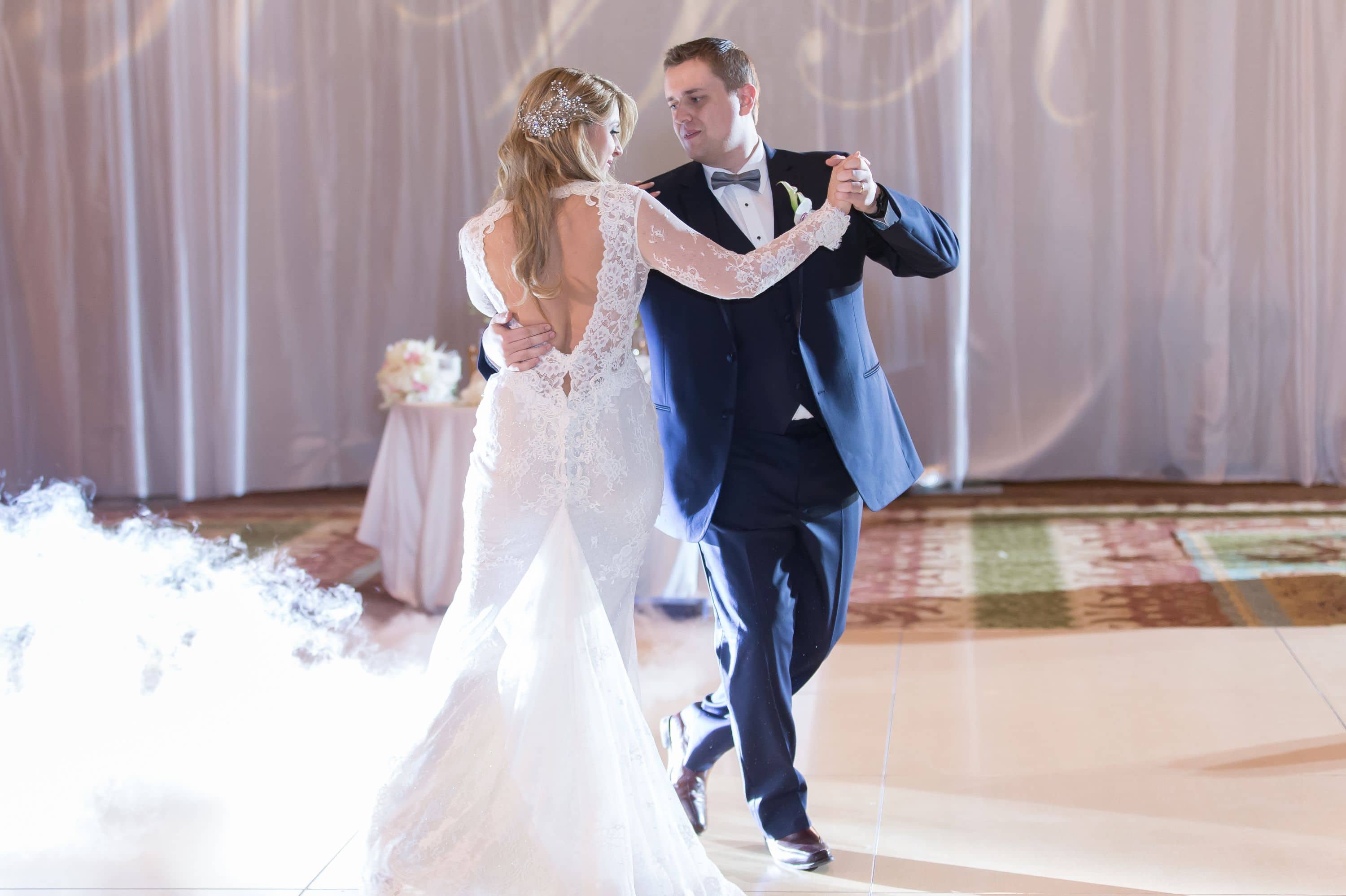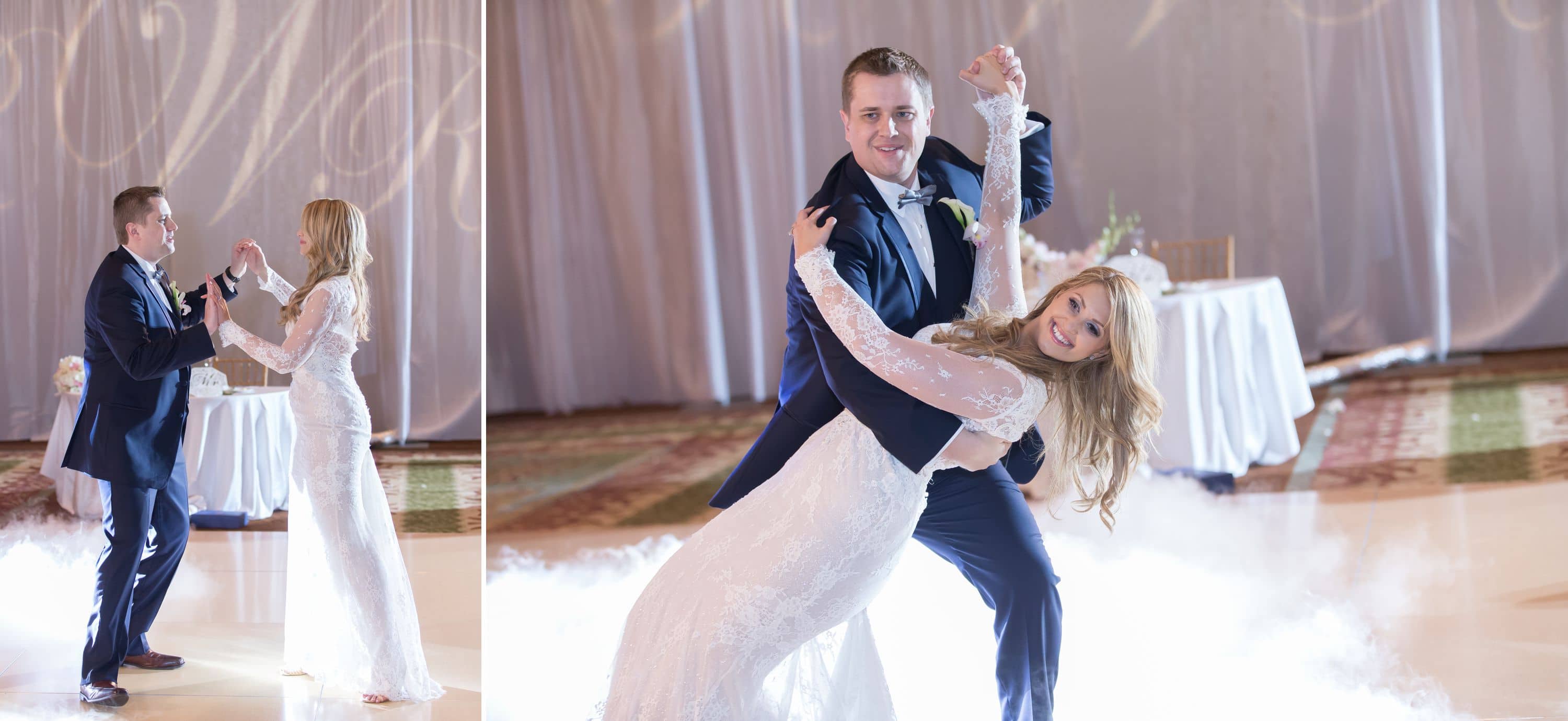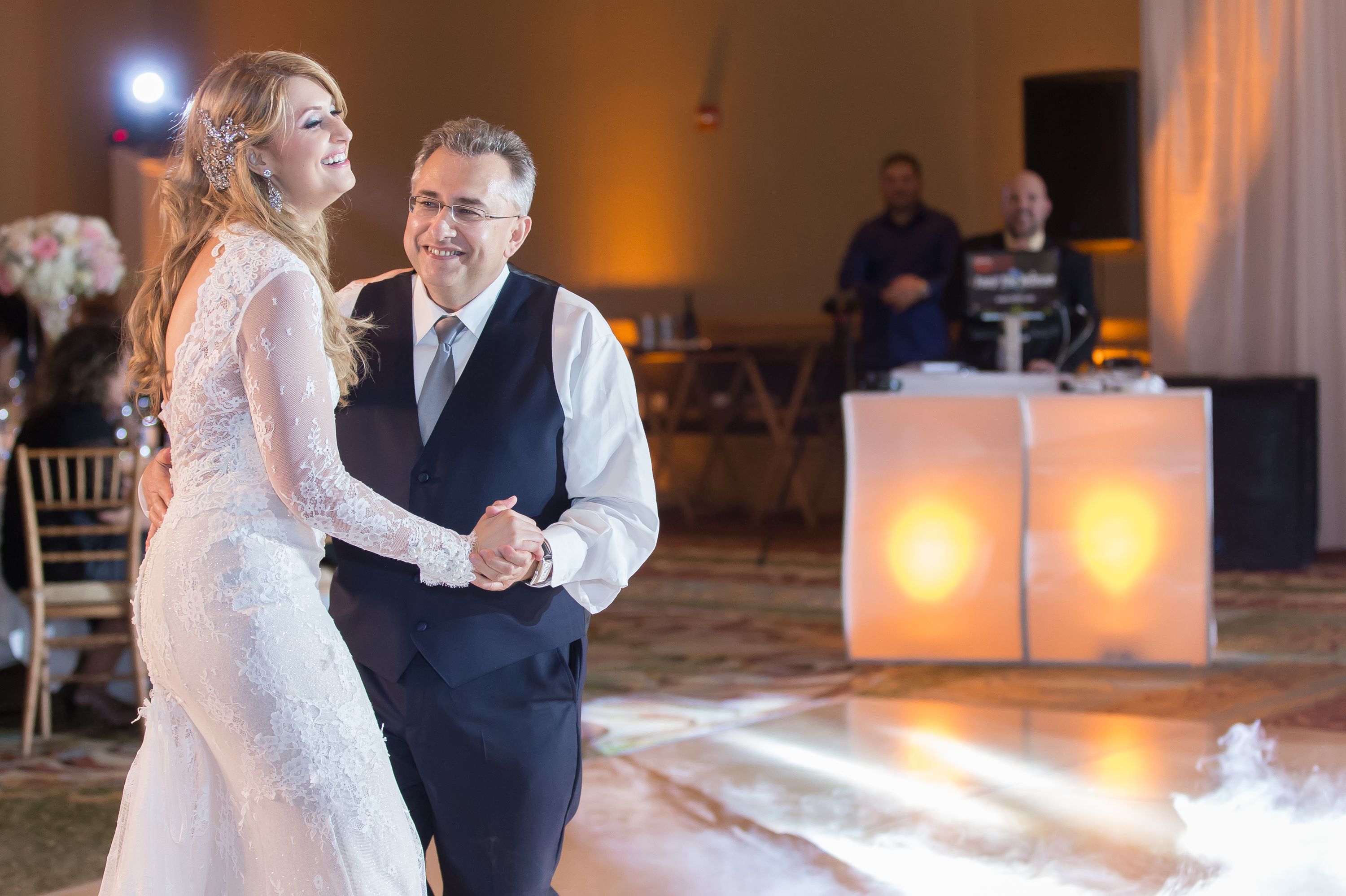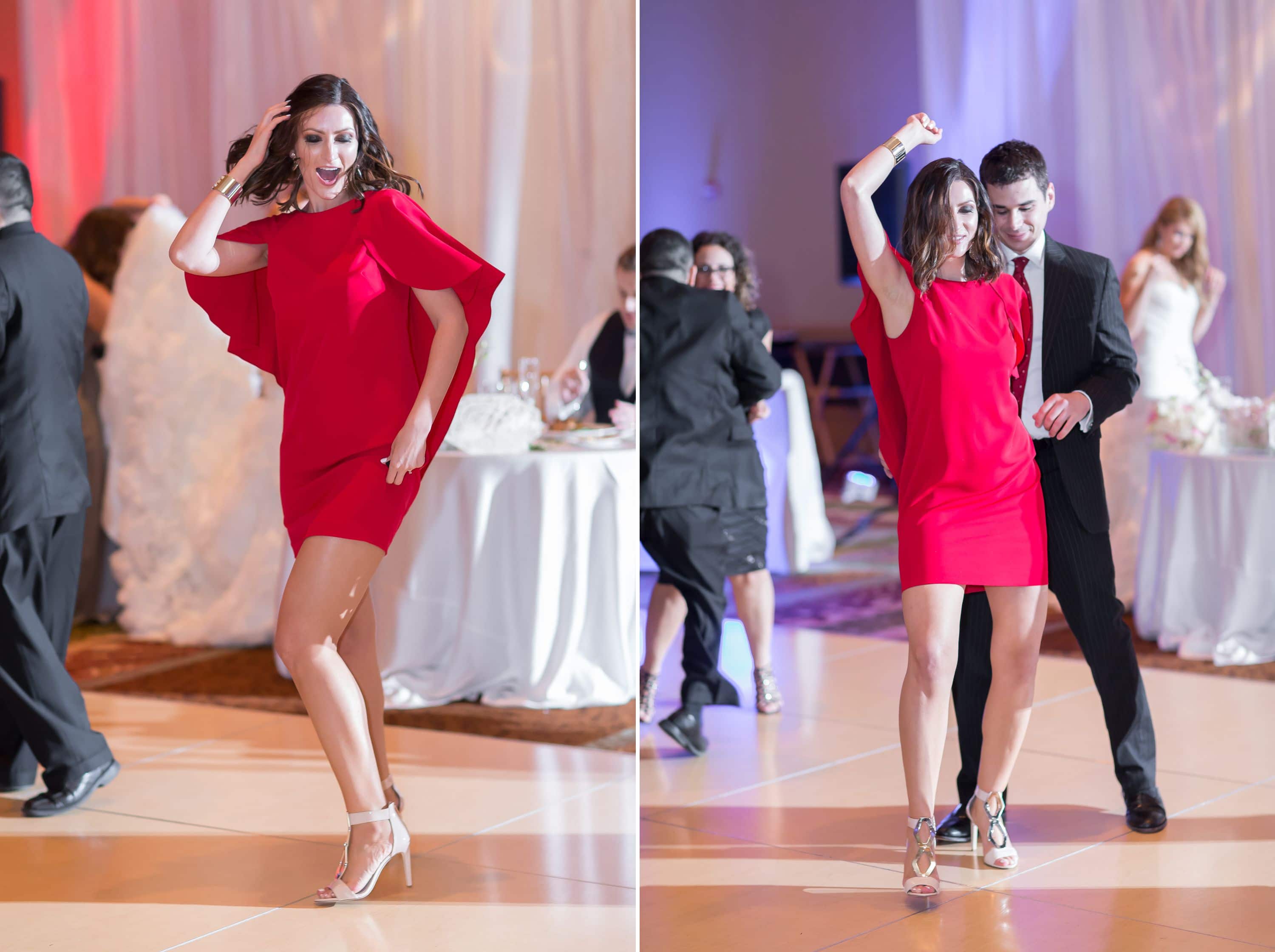 Yes, yes the girl in the red dress caught my attention. 🙂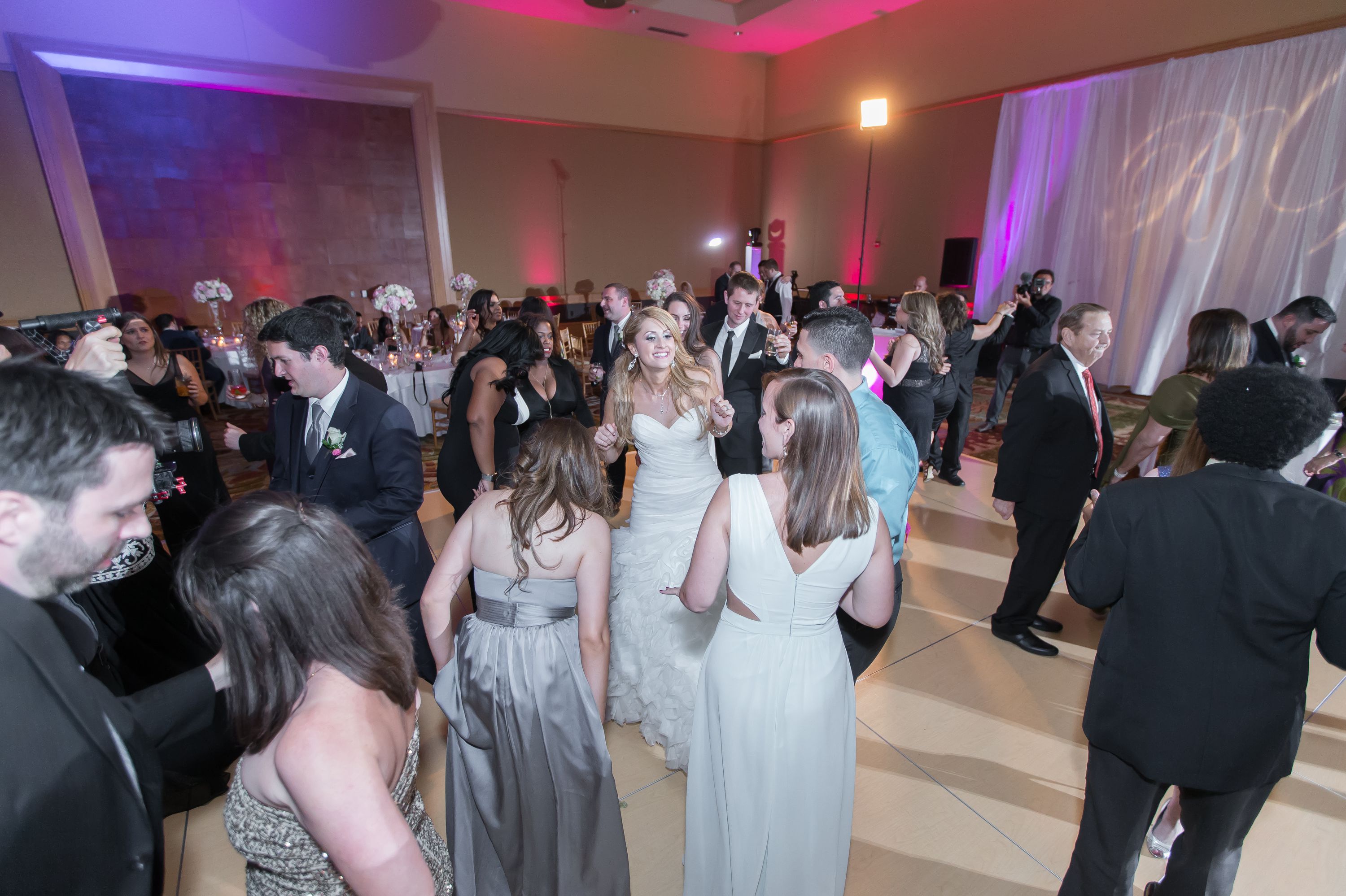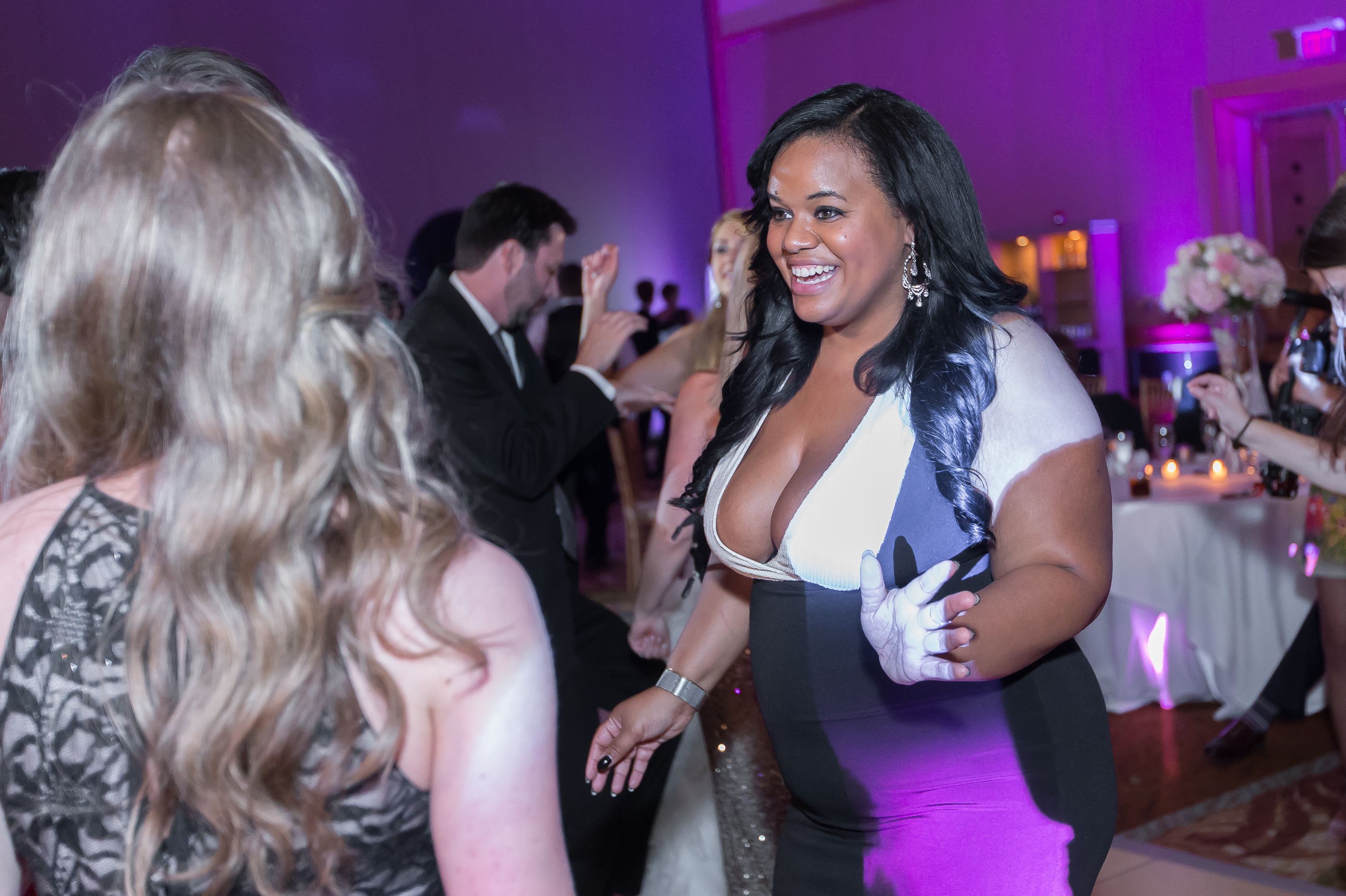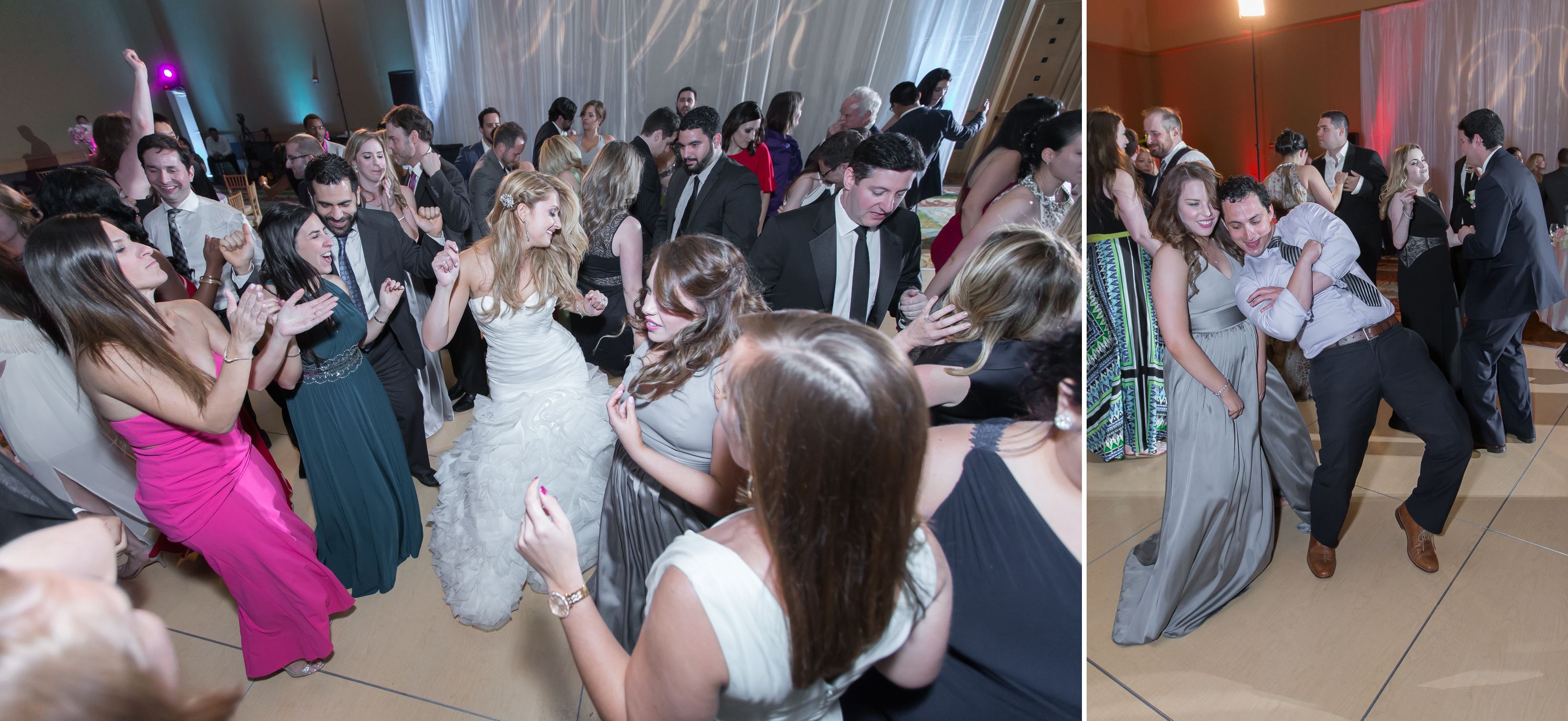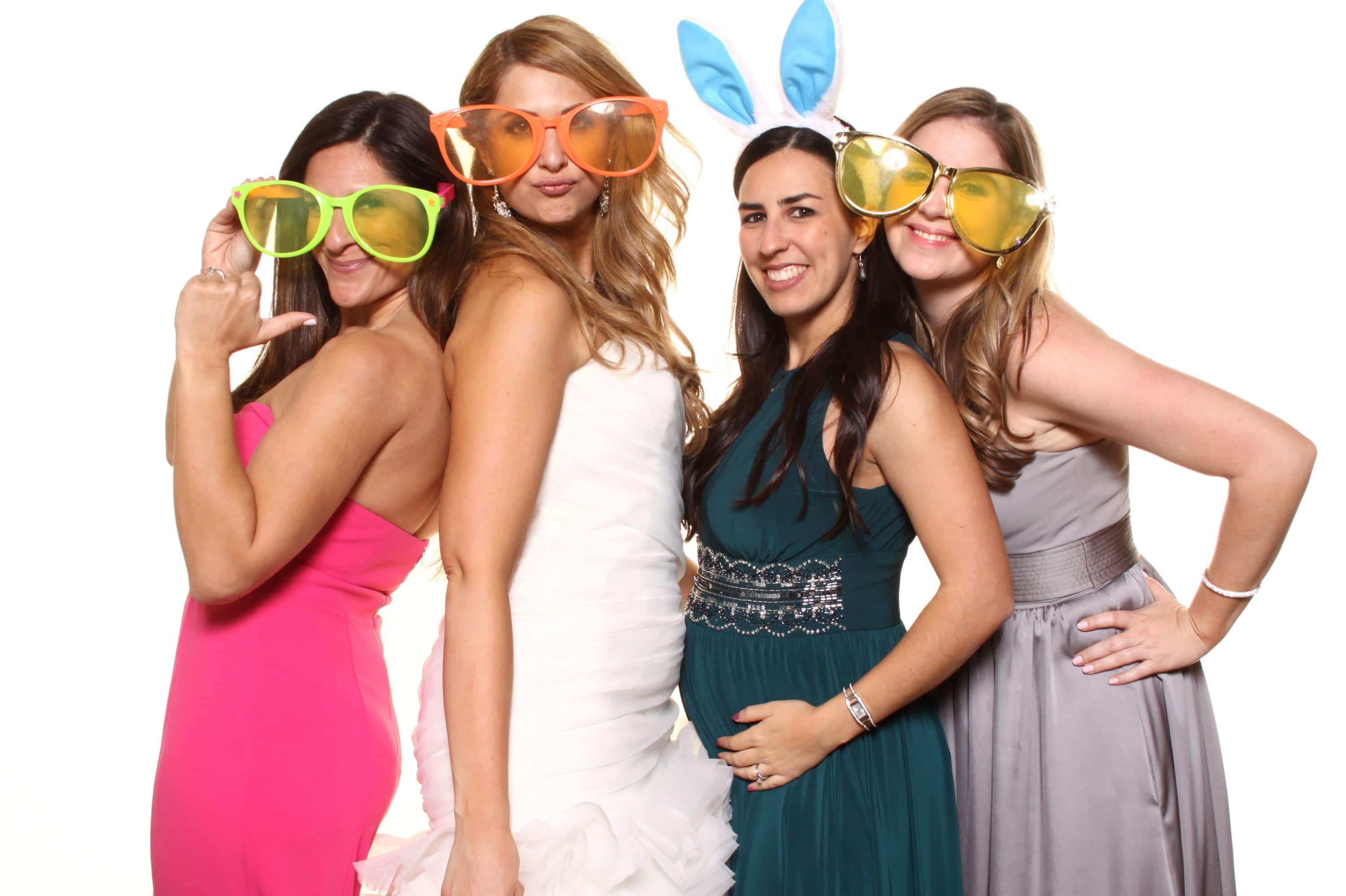 Did you know that I have the best photobooth anywhere in Miami?  Yep, its true.  THE BEST!  Why?  well because it can accommodate large groups of people, is super fast, and projects the images as they are being taken life size on a huge screen where everyone in the reception can see!  So much more than just a "photobooth" this is entertainment!  You can learn more about my photobooth by clicking here.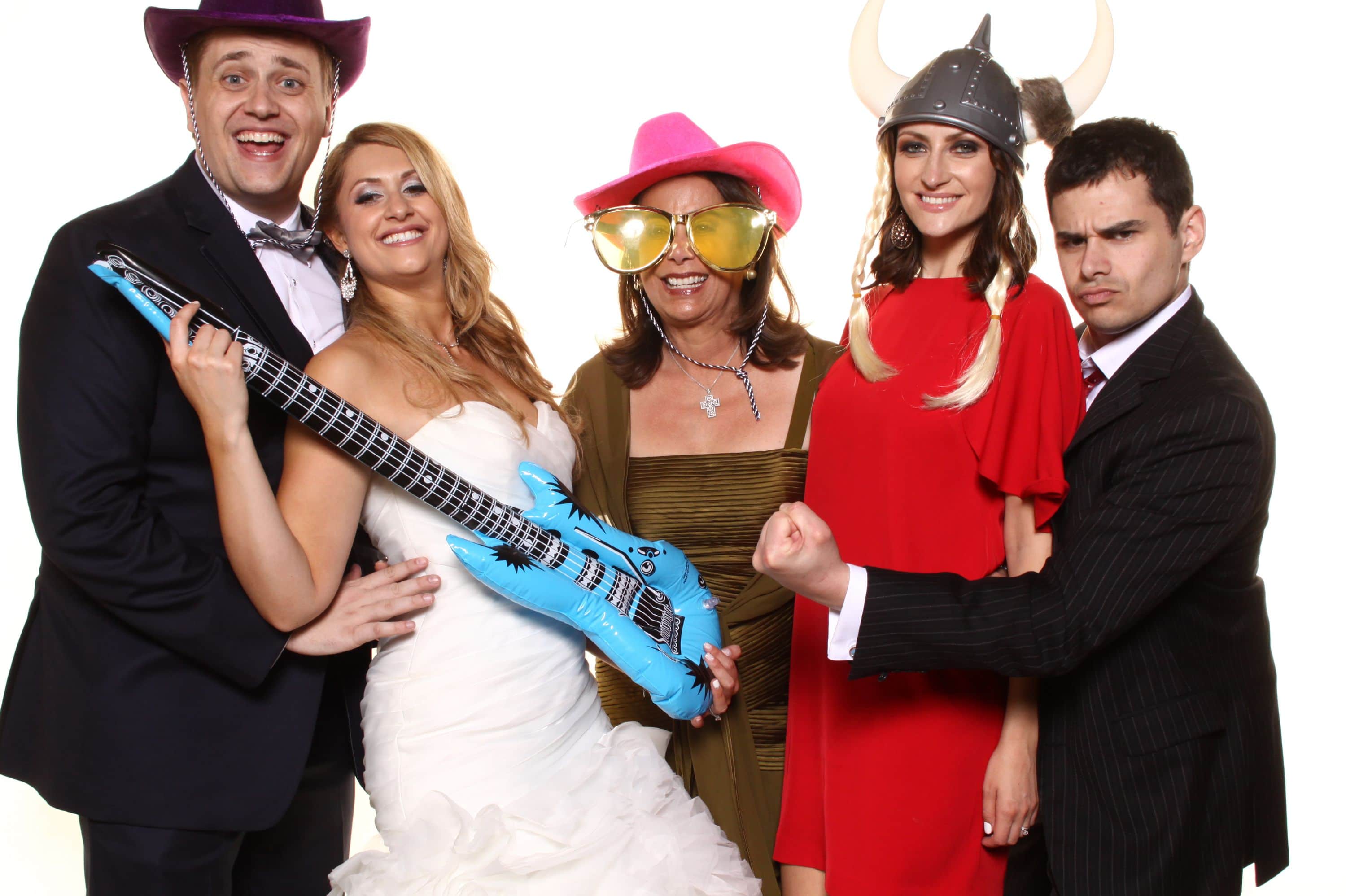 Now, normally this is where my blog post would end..  but for this Diplomat Beach Resort Wedding, no, no, no..  there is more to talk about.   Remember in the starting paragraph when I spoke of that I was glad that I waited to post this wedding?  Well the reason is because when I flew to Las Vegas and taught my 5 day workshop on lighting..  I needed a bridal model and who do you think was up for the challenge?  Yup!  Rita!  She loved the opportunity to put back on her Berta Wedding Dress, fly to Las Vegas and join me in some amazing photoshoots!  Now, I have a whole blog post dedicated to just that trip (you can see that here).  But here are a few clips from Rita's time with us out in Las Vegas..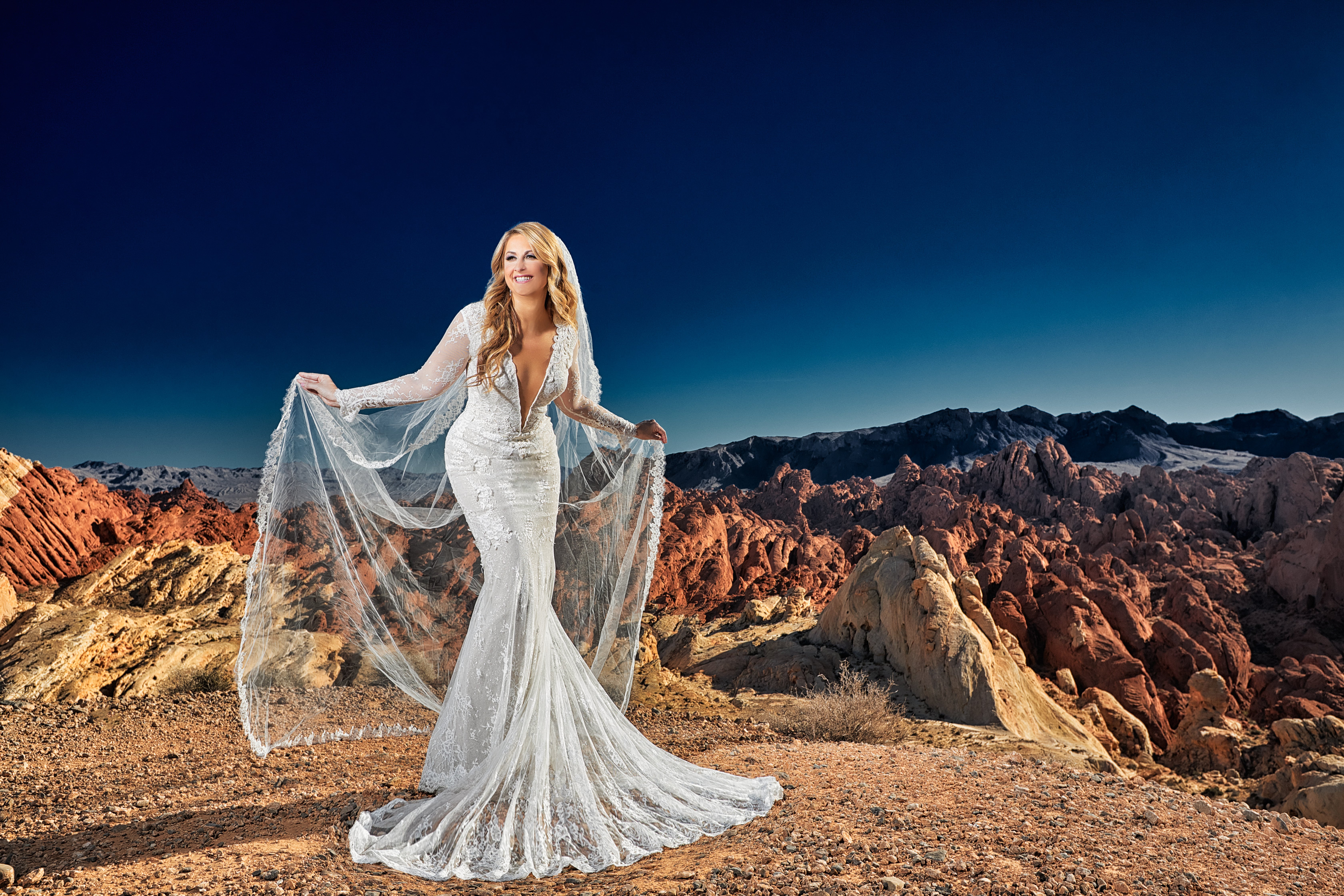 This image of Rita in the desert, with her Berta Wedding Dress has to be one of my favorite all time photos.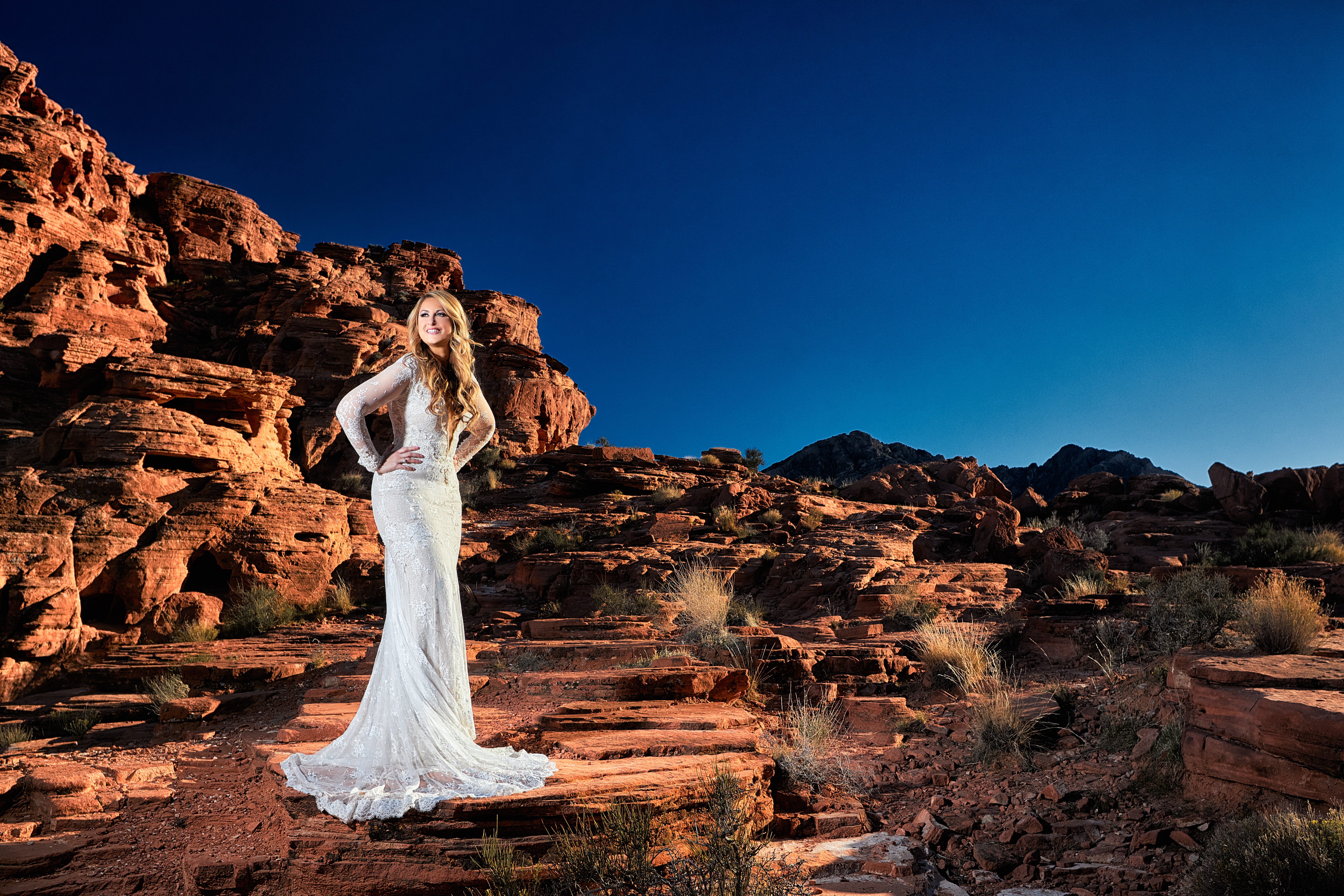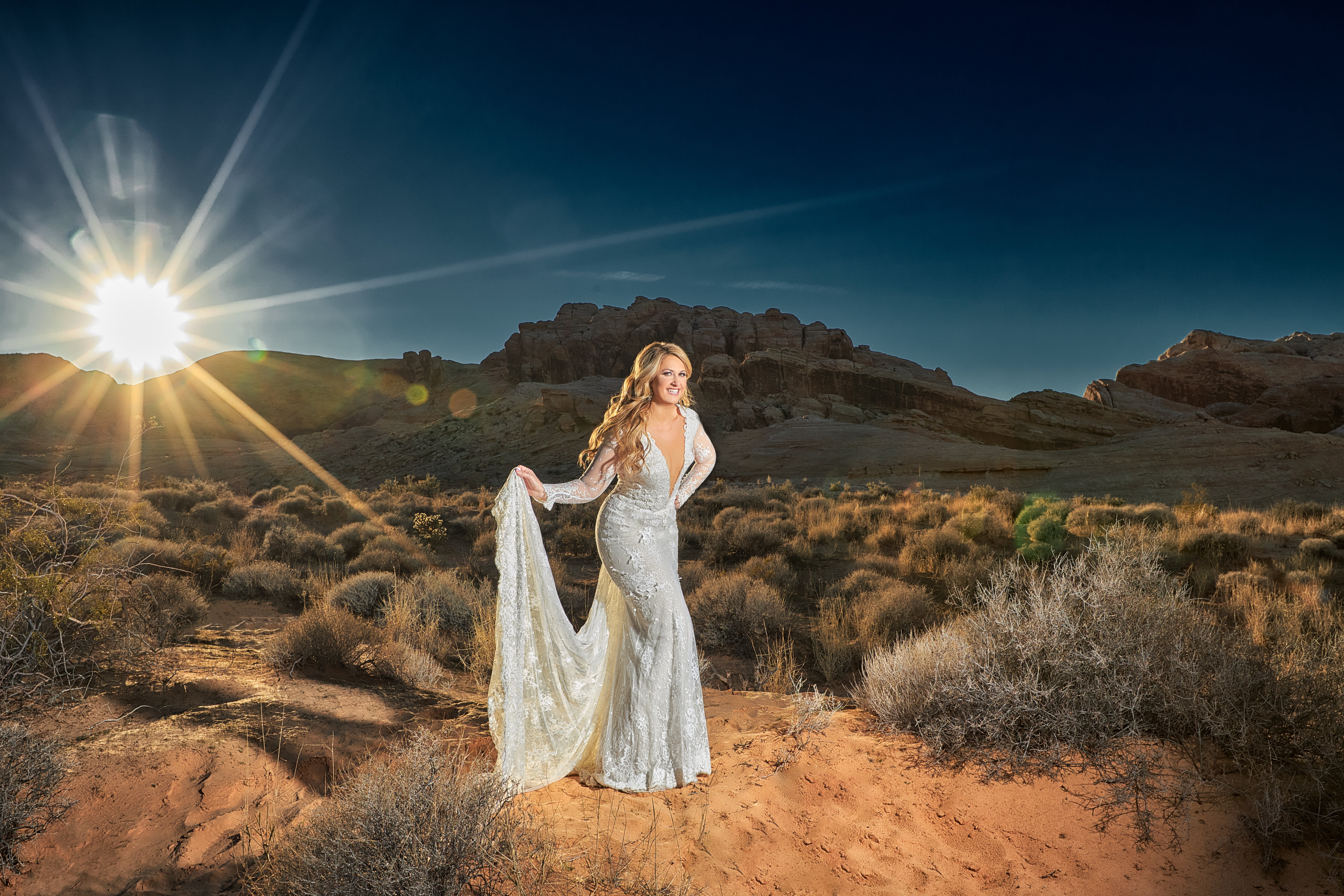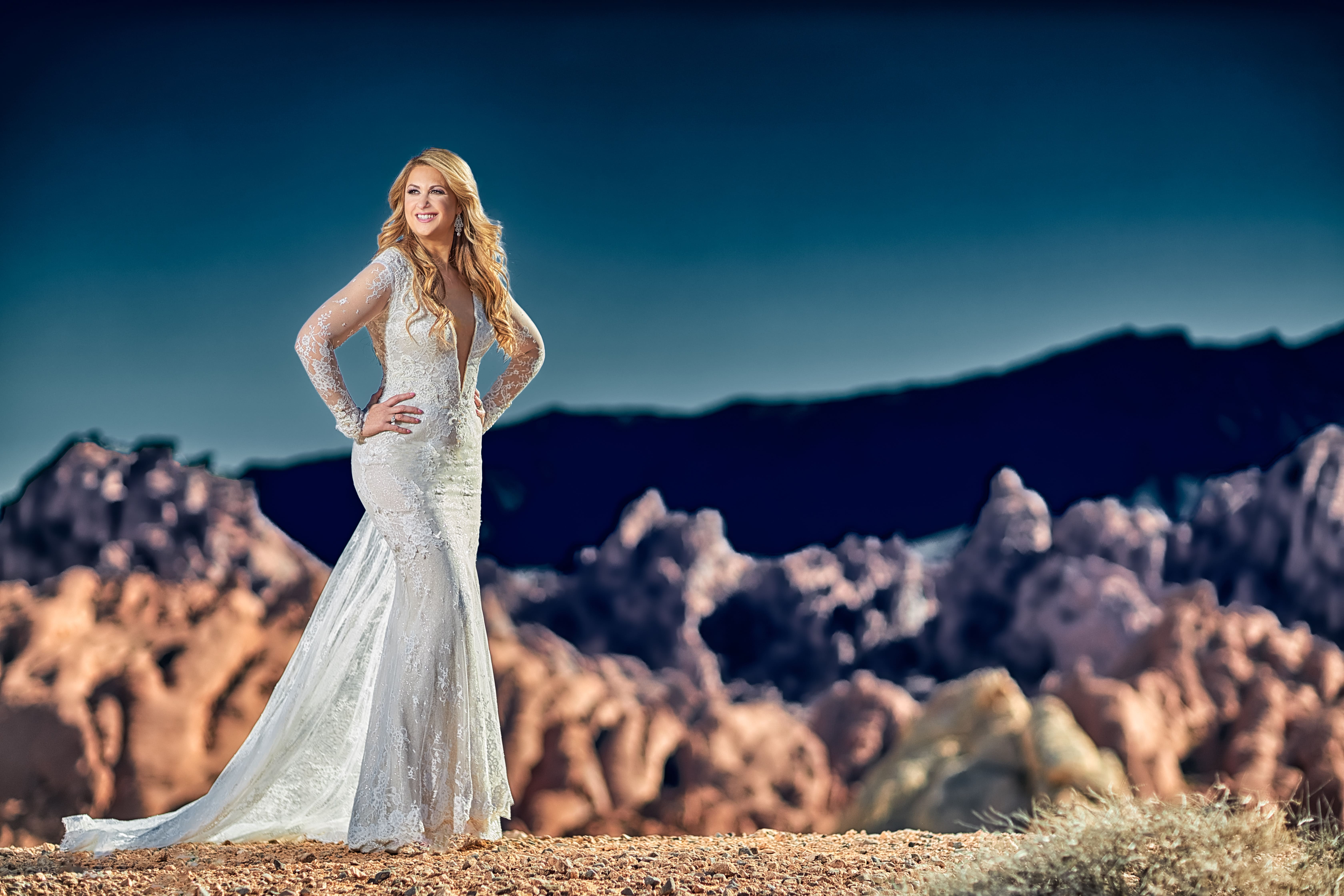 You can also take a look at some really cool Behind The Scenes Video that we made with her here:
I will end this Diplomat Beach Resort Wedding post with this..  Most of my clients,  I have amazing relationships with.  Some more than others, but thankfully I generally only now work with people who really appreciate what we do.  This is important because people have expectations (as they should) and understanding who I am, and what I do will go a long way in you being happy with any end result.  With photography there is no "right or wrong" it just is, what it is.  Either you love it or you don't.  I am so happy to have gotten to know Rita and Rob, I love them very much and am so thankful of all the time we had together!  If you are up for a great adventure, send me your ideas and lets talk about it!
T